---
VIDEO: https://youtu.be/yEZ4SBmoMvY
PLANS: See step-by-step instructions on Shaper Hub to make this project with Shaper Origin
DavePolaschek saw me tweeting about hand planes on Twitter. Said, "hey, check out lumberjocks.com" (or something to that effect) and I started posting projects. Then he said "hey, check out this swap I'm running" (or something to that effect) and I started brainstorming.
I like doing things differently. I was raised to value character in things we build. I strive for perfection, but when I fall short, I value the earlier imperfections as character and move on, creating new and more interesting things. When the chance to make a hand plane (and have some poor sucker suffer the results) presented itself, I knew this was my chance to try something wild and crazy which could kick off something beautiful.
I thought about making a plane entirely out of acrylic.
I thought about making a plane entirely out of stone.
Too many challenges for me to overcome given the amount of time I had for the swap (a little over 2 months). So I continued thinking.
While I know I've never seen a hand-plane made out of:
+ glass
+ stone
+ acrylic
It suddenly hit me that I've also never seen a plane that incorporated any of those materials either. I started thinking about stone inlay. I started searching for "thumb stones" to inlay into the toe of the plane; somewhere to put your thumb when planing. I got the idea from when I restored a Stanley No 8 and noticed, through painstaking restoration performing an almost-maddening amount of flattening on the sole, that I realized that the placement of one's thumb on the toe of the plane while jointing an edge can, over much time, create a low-spot in the steel. Since I was making a wooden hand-plane, I thought to bolster that area with something that could withstand the test of time (more-so than wood). Stone seemed to be the answer.
Searching for "thumb stones" led me to find "worry stones" which are stones with a thumb divot. Practically perfect for what I needed them for. However, such stones rarely ever come in perfect rounds and doing an inlay with something other than a circle is more challenging. I wanted something that I could pocket out a circle for and be done-with. No tracing and getting slightly-close—I wanted to get snugged up to the stone with minimal epoxy squeeze-out.
When I exhausted my search for the perfect round worry stone, just as I was losing hope, I discovered something amazing. It turns out that what I really wanted was a cabochon. Cabochons are just variously shaped ingots of natural stones, gems, or other precious materials. They are often put into a setting and worn as pendants on things like necklaces and bracelets. However, here's the key:
While not all cabochons are round, a great many are.
It gets even better:
40 mm round is a standard size in the cabochon world. 40 mm round stones, 40 mm round gems, 40 mm round pendants to hold the stones/gems, whatever. 40 mm round is a very easy thing to come by on eBay and they are not expensive
You just have to be patient with shipping. They usually come from places like India, Indonesia, China, etc. and take weeks to arrive.
I started amassing a collection of 40 mm round cabochons. I made sure that every single one that I bought rated at MOHS hardness 6-7 or greater because I want the stone to last a lifetime and remain scratch-free.
The idea of the CAB40 hand plane was born.
I began researching for days-on-end if I could find any examples of anyone doing stone inlay on a hand plane. Nothing. Not a single example. It was brass inlay in wood or wood inlay in steel (an infill plane). That's pretty much it when it comes to categories of materials used for inlay in wooden planes. This saddened me while making me very excited that the prospective idea was a winning one.
Next came the issue of where to get the adjuster. I would sooner drop out of the swap at an early stage than ship a plane without an adjuster. Acquiring an adjuster, just a single one—let alone many for a serious run given the amount of cabochons that I purchased—proved exceedingly difficult.
If it were not for Dave P. offering me his one and only Lee Veritas kit, my only other option was a Norris kit from St. James Bay Tool Co, which made me nervous because I didn't know if I could succeed in learning how to peen AND ship something quality on-time. Doing an infill was a bit beyond what I wanted to take-on at the moment. I felt confident that I could put a Veritas kit plane together, no problem.
ASIDE: My confidence in the ability to utilize the Veritas kit was largely based on the fact I had 2 months at my disposal and I have a Shaper Origin.
I wasn't readily accepting of Dave's kit though. I wanted to make a Jack plane (because I don't own one). That fell through because I couldn't find any non-infill kits with adjusters that had the right size blade.
I split the difference and took Dave's kit and would make a 9.5" smoother out of it. That's larger than the plane Lee Valley suggests you can make with their kit with a 1.6"-wide blade, but I didn't care. I didn't want to make a block plane (because since the beginning, I knew one thing—I was going to put 1/4-20 threaded inserts in the sides so that I could attach depth skids, a fence, a nicker, a handle, whatever it needs/wants; and a block plane was not going to be very accommodating to accessories).
ASIDE: Yeah, I know BCT makes a thicknessing plane with depth skids. The HP-12 is much more useful in my opinion than their tiny little HP-8.
Of course, wanting to make more than one, I was SOL. Lee Valley wasn't shipping anything I needed at the time. I did purchase a kit to build myself this plane after the swap. I ordered that in April and it is set to arrive July 2.
EDIT: It didn't arrive until September (almost 6 months after order).
ASIDE: After I make myself this plane with the same kit, I'm going to switch over to using HNT Gordon blades with my own adjuster that I designed and am having manufactured (by the same guy that turns knobs for Ron Rock). I was just so stressed-out trying to get the dang adjuster, I realize that what I have to do is make my own, from scratch. I also know that it has been hard shipping and manufacturing for not-just Lee Valley but many folks during the pandemic, so it's possible that I might base more planes off the Veritas kit, but the fact that I had to go around Lee Valley to get one and have to wait almost 10 weeks (and counting) for one from them directly has really left me with a desire to become self-sustaining in the production of hand planes.
So that's the back-story. Let's get on to the photos (because there are many)
EDIT: For video, see link at the top of the page
Made out of wood, steel, brass, and stone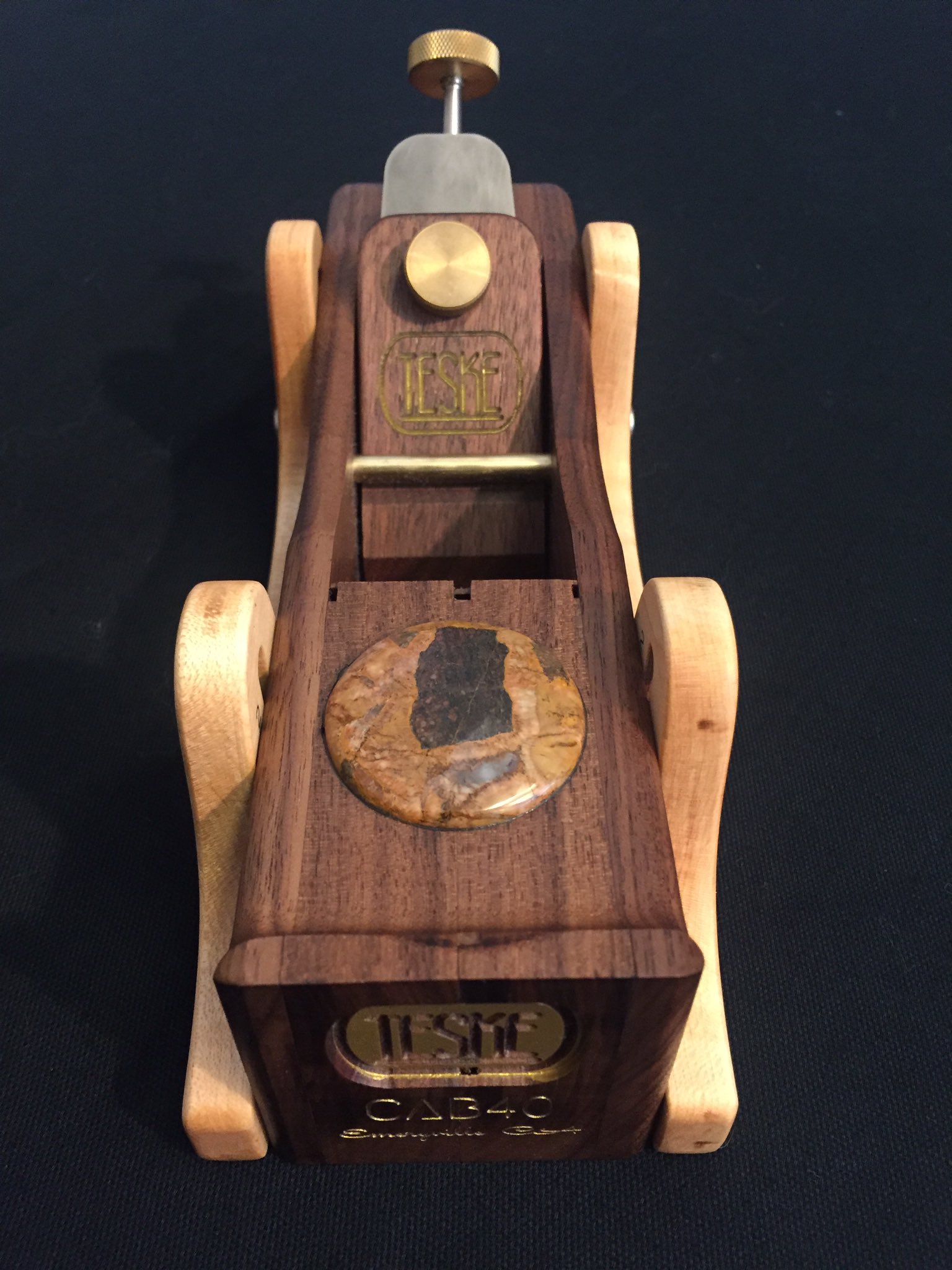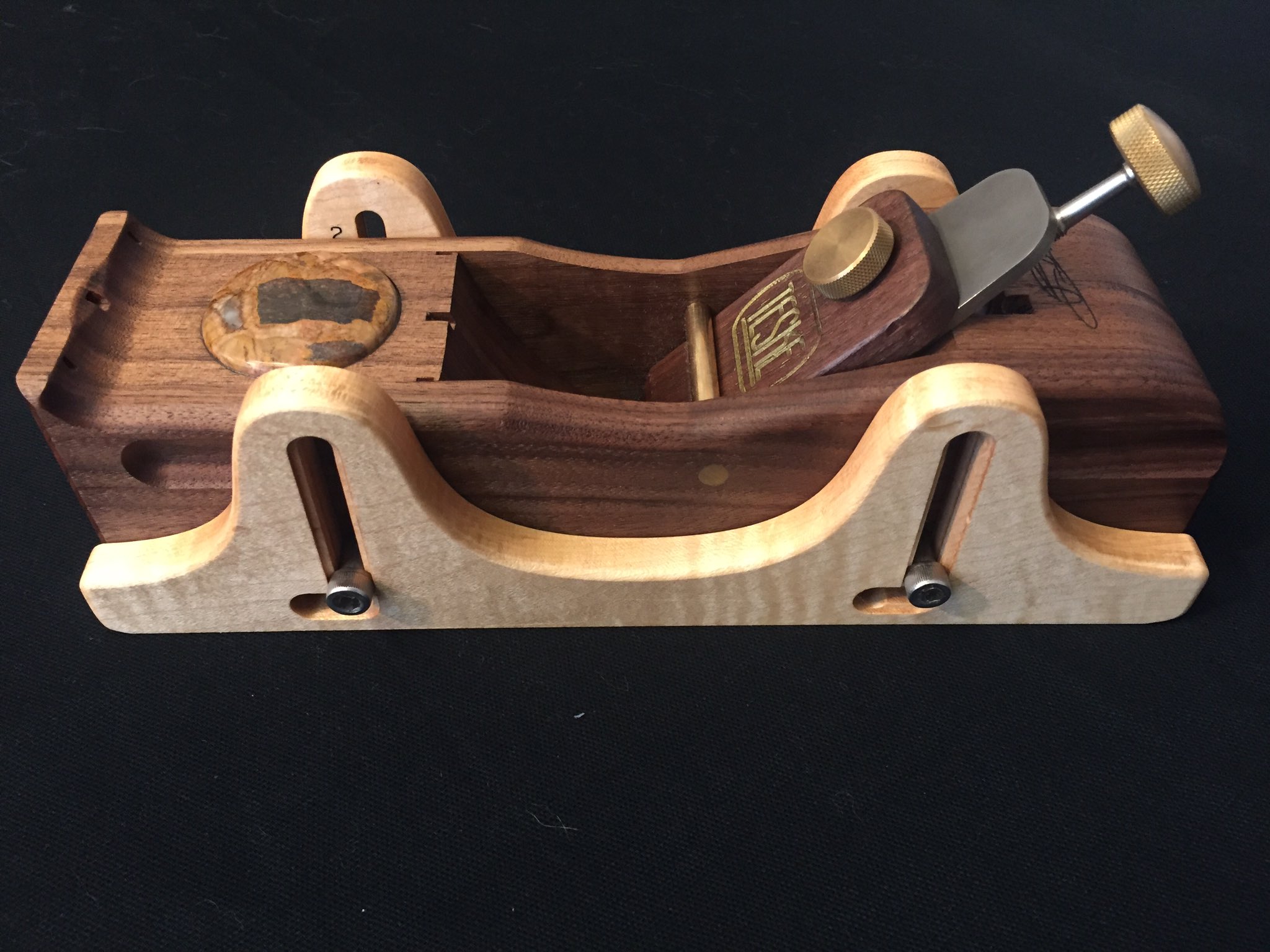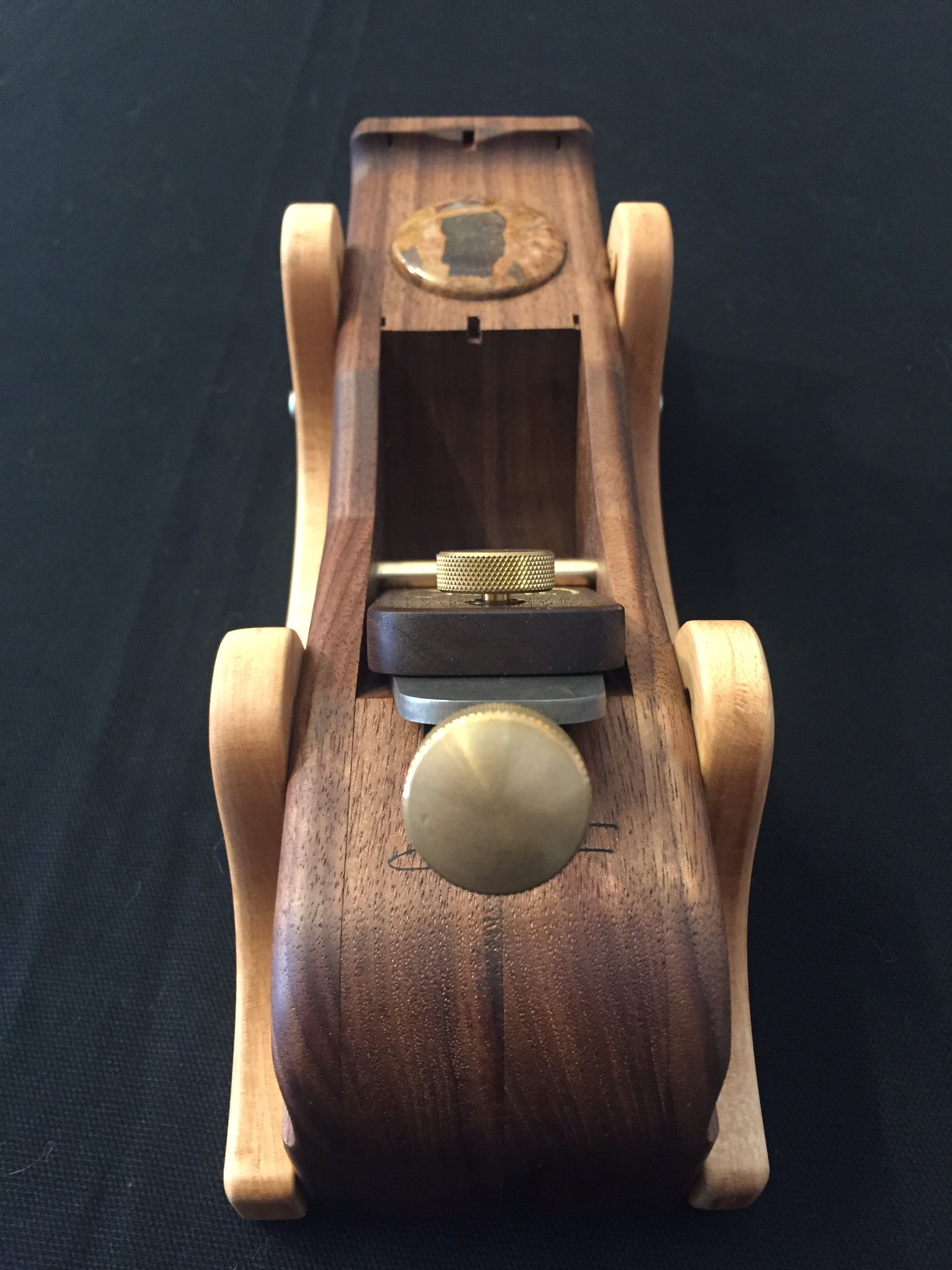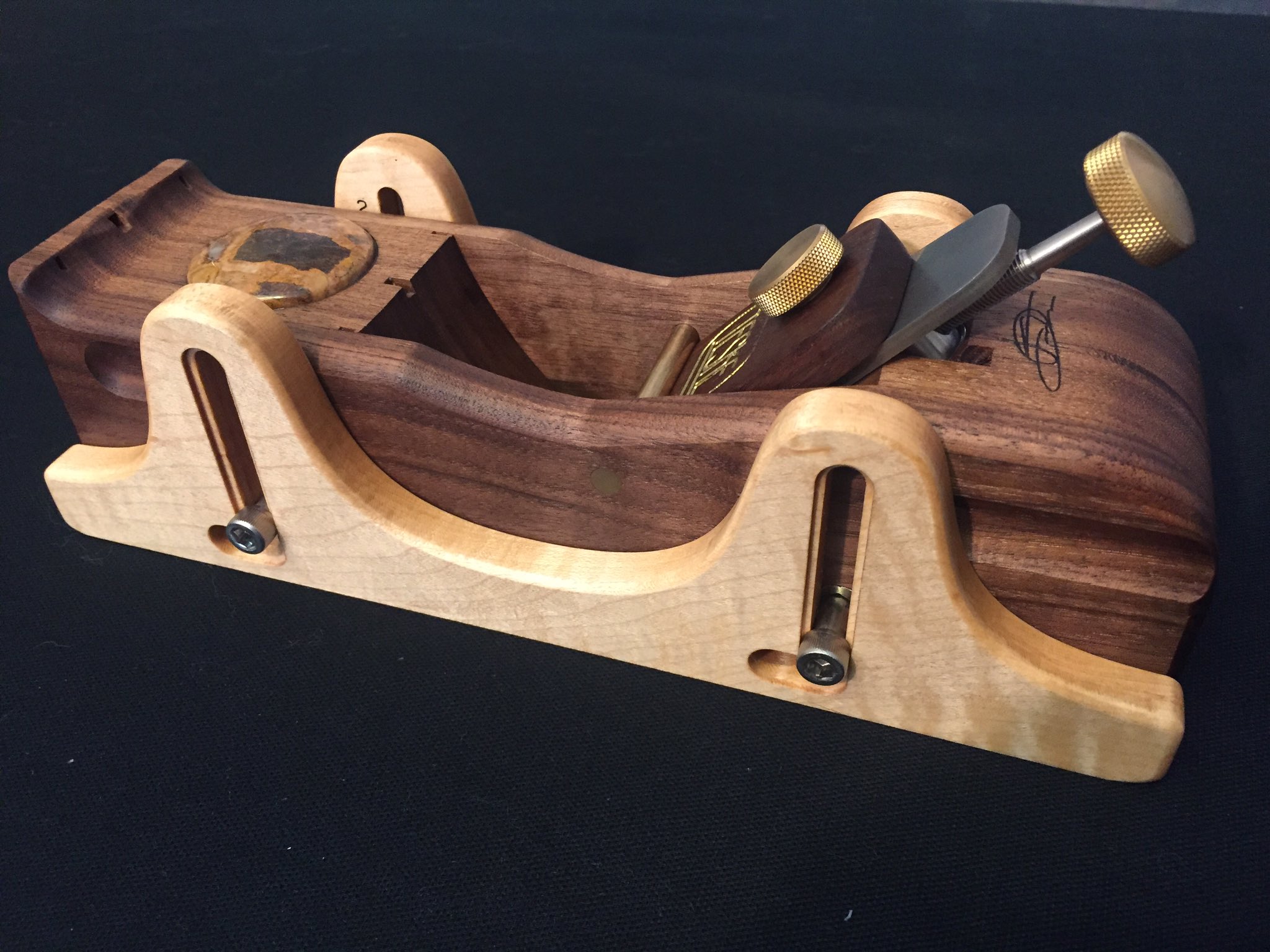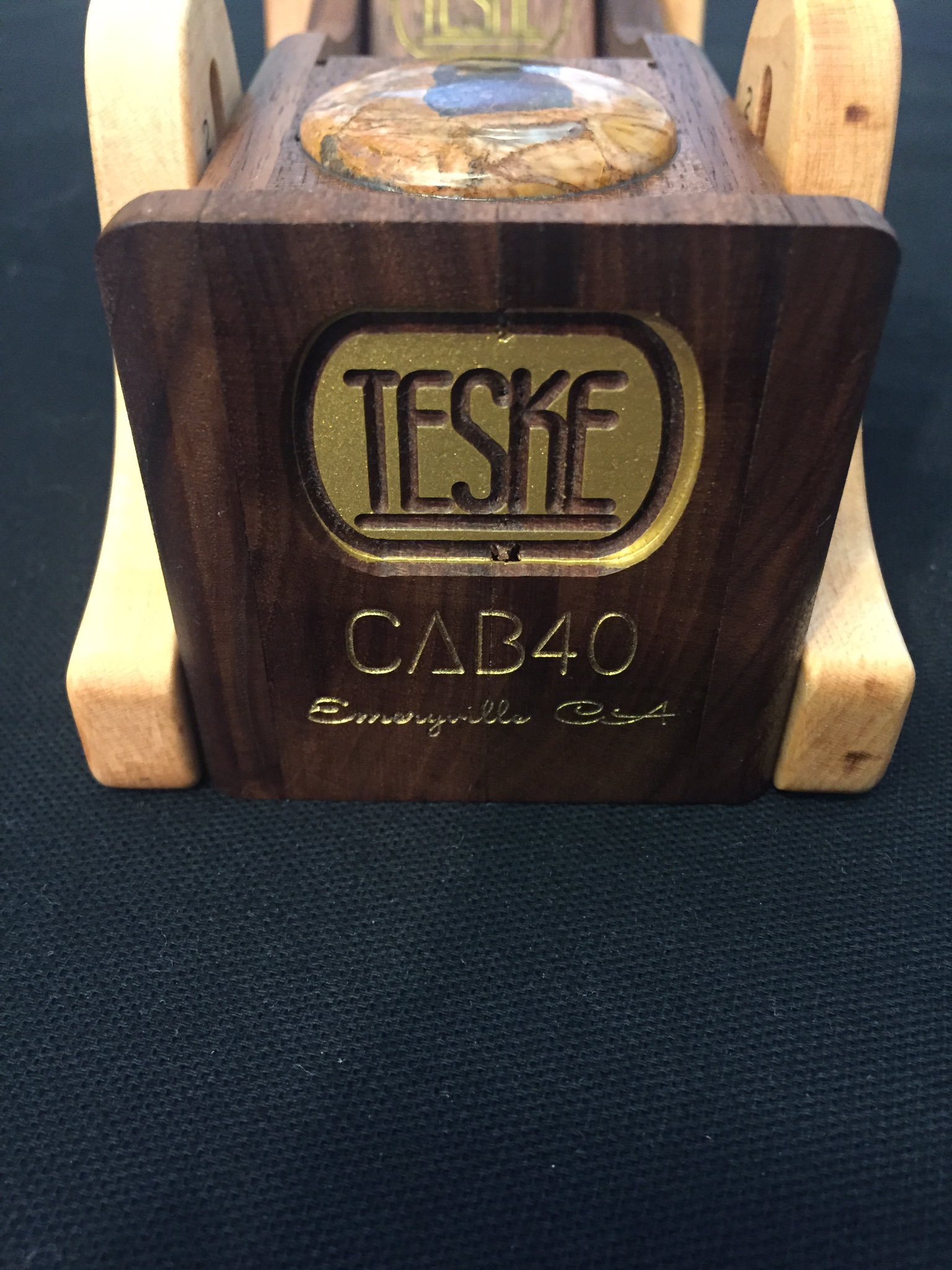 2 different kinds of wood, 4 different kinds of steel, 2 different kinds of brass, and a unique stone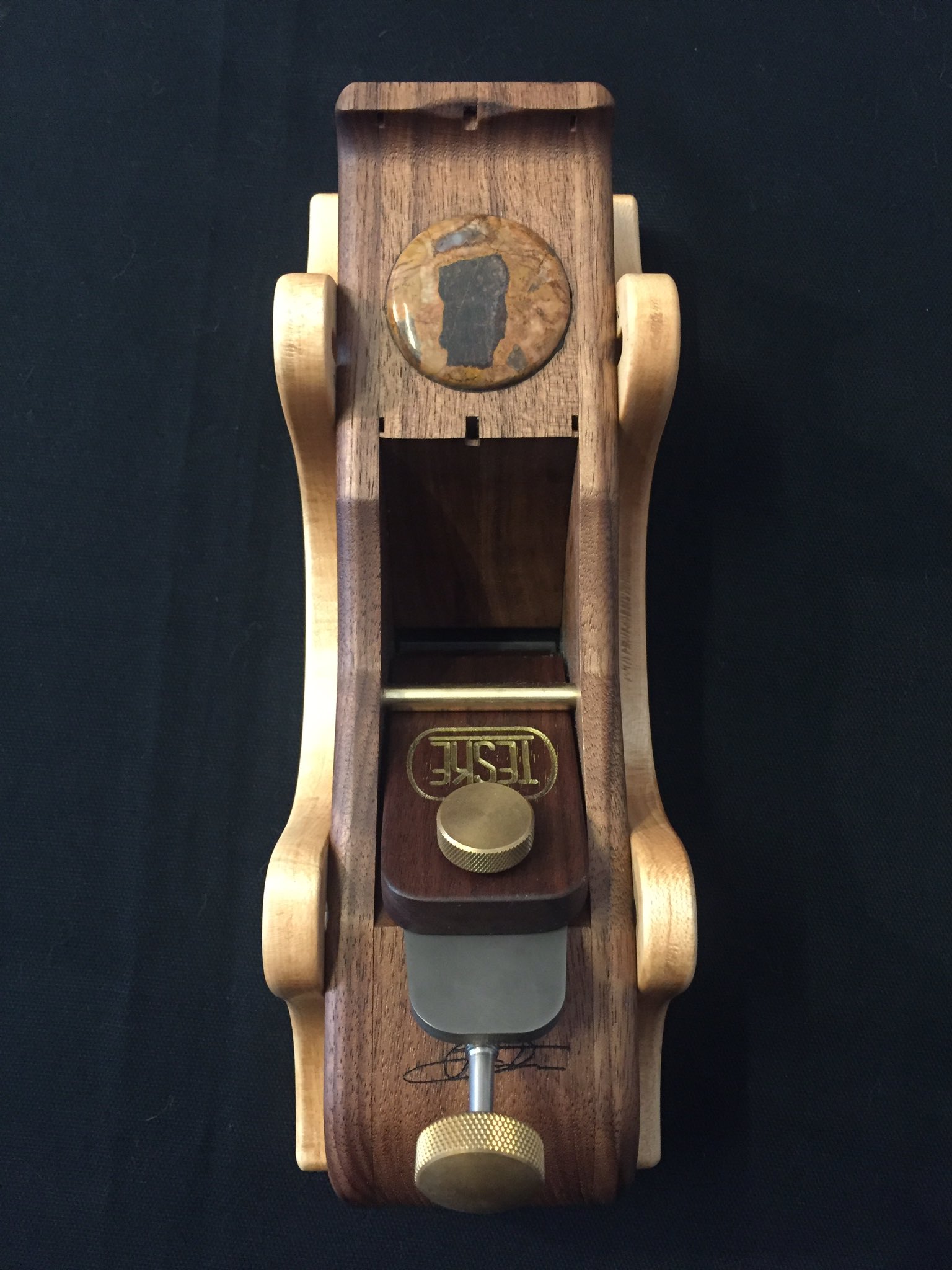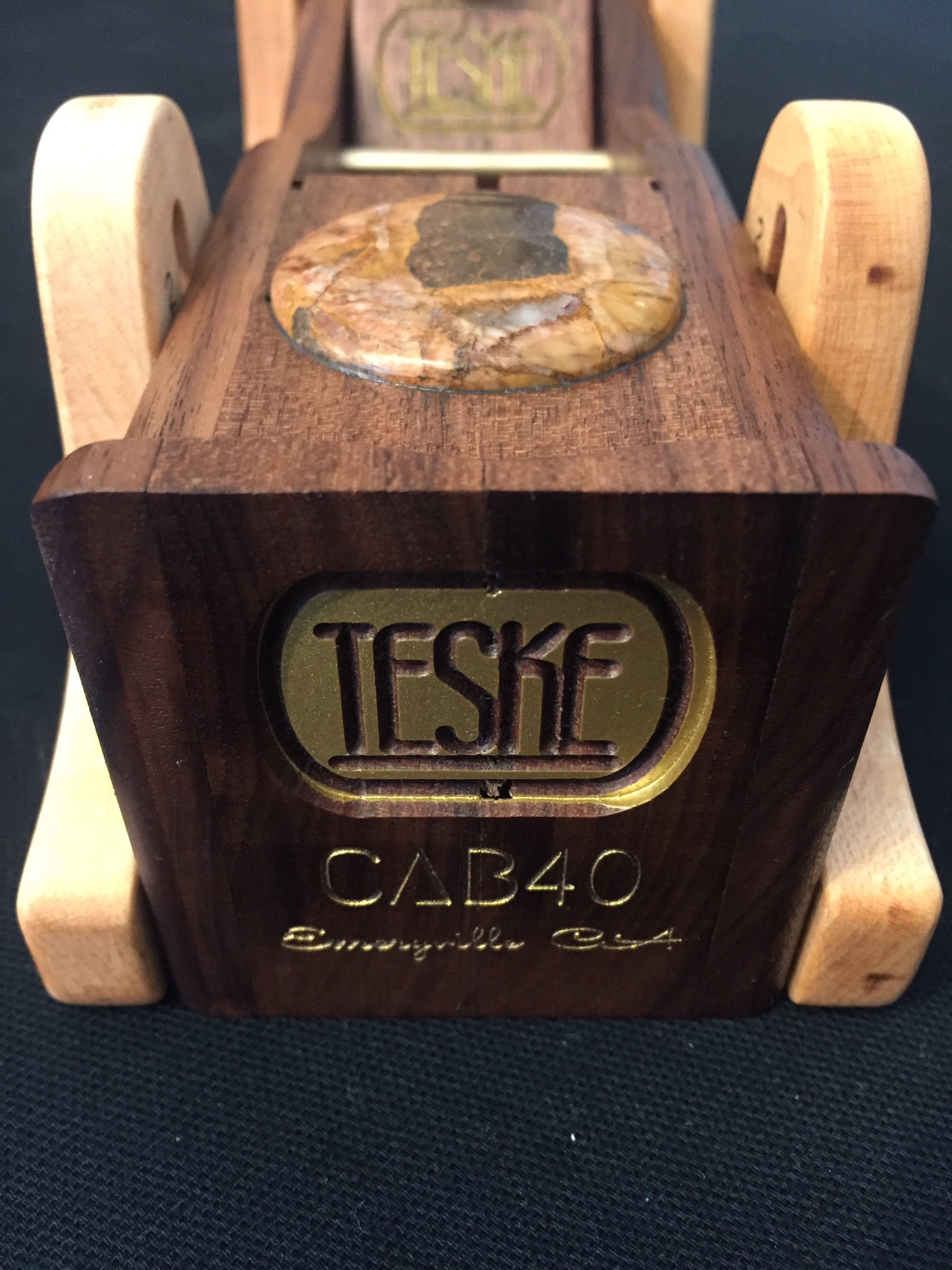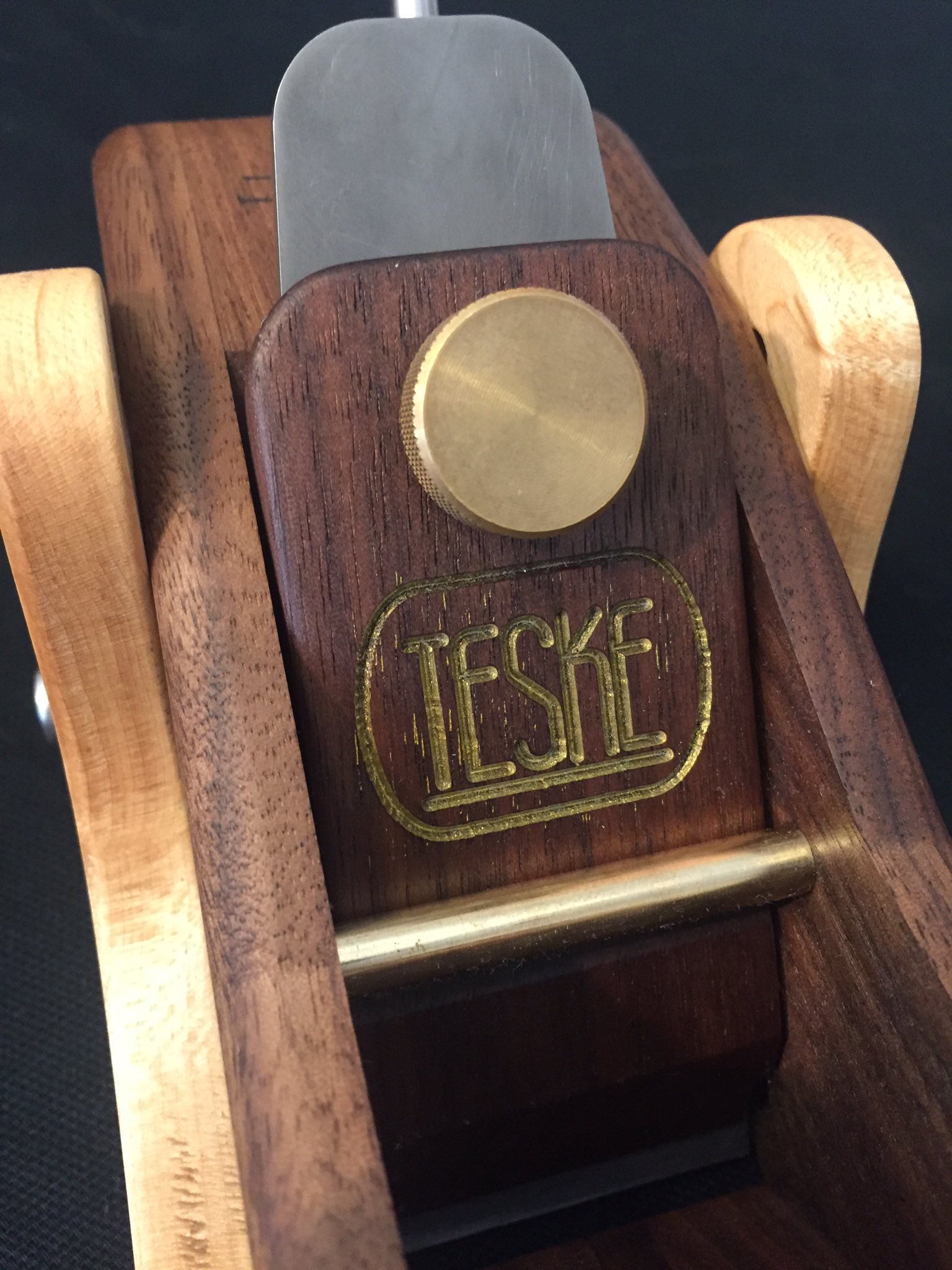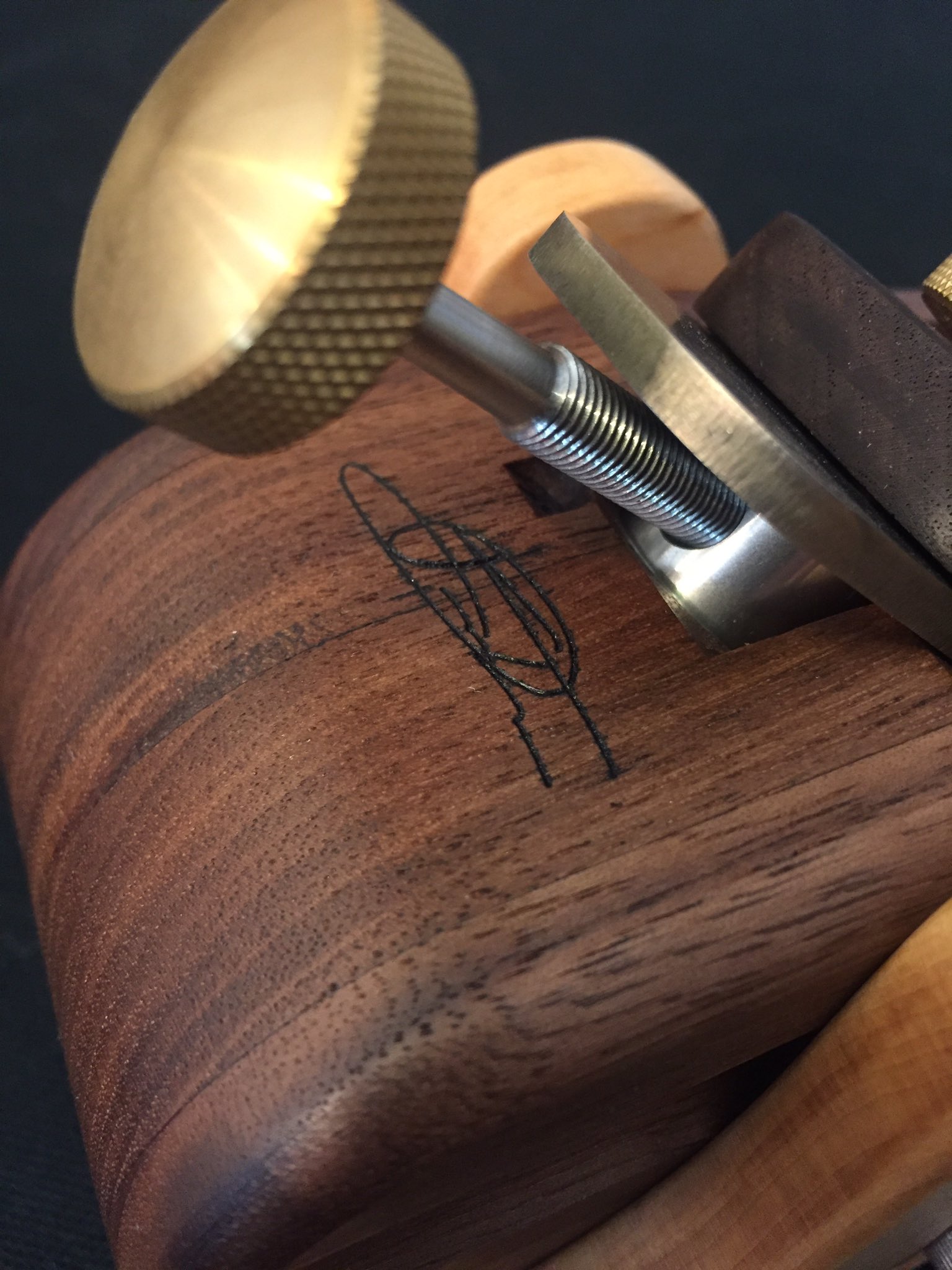 Black Walnut and Hard (curly) Maple with a hint of tiger stripes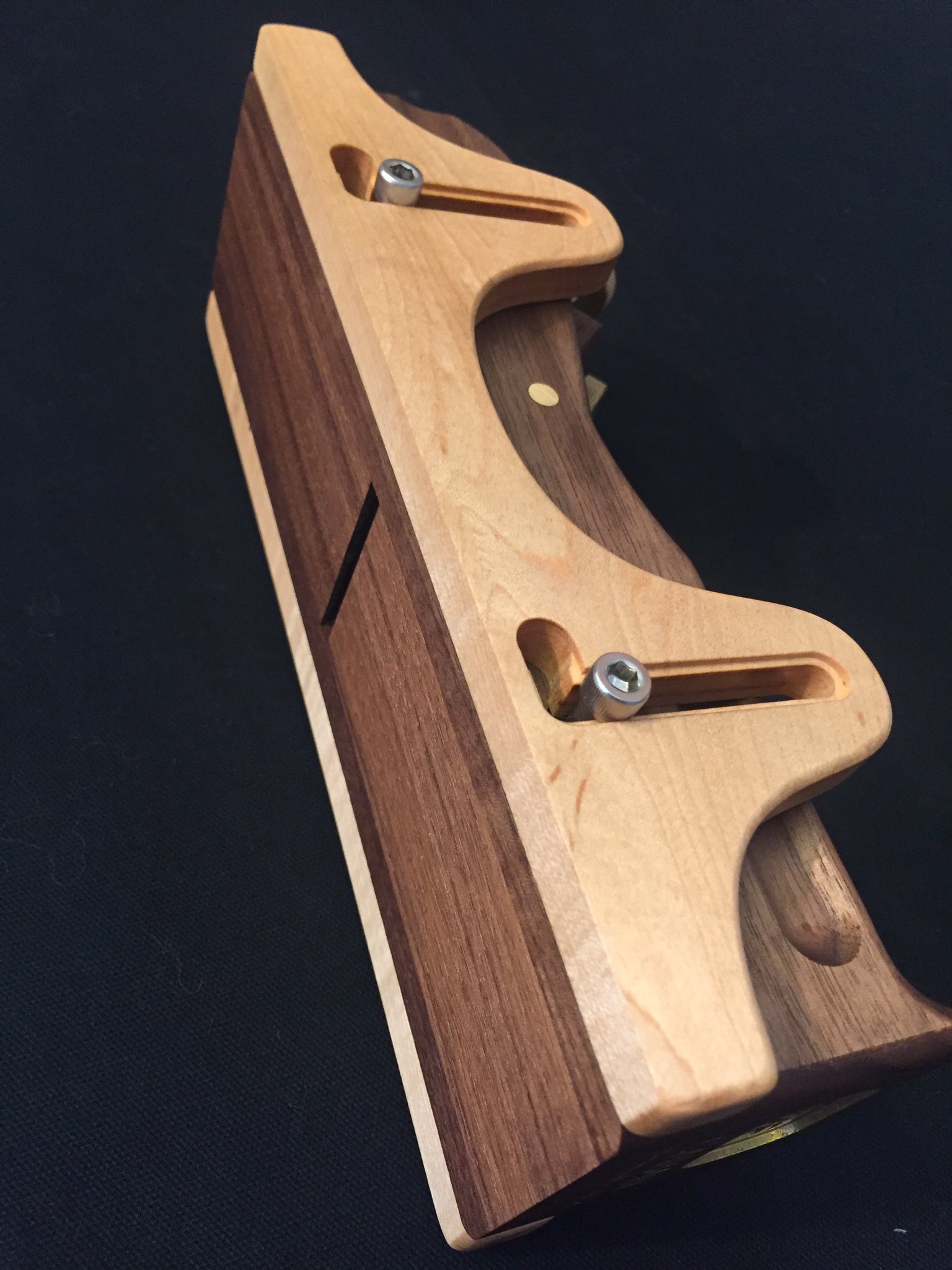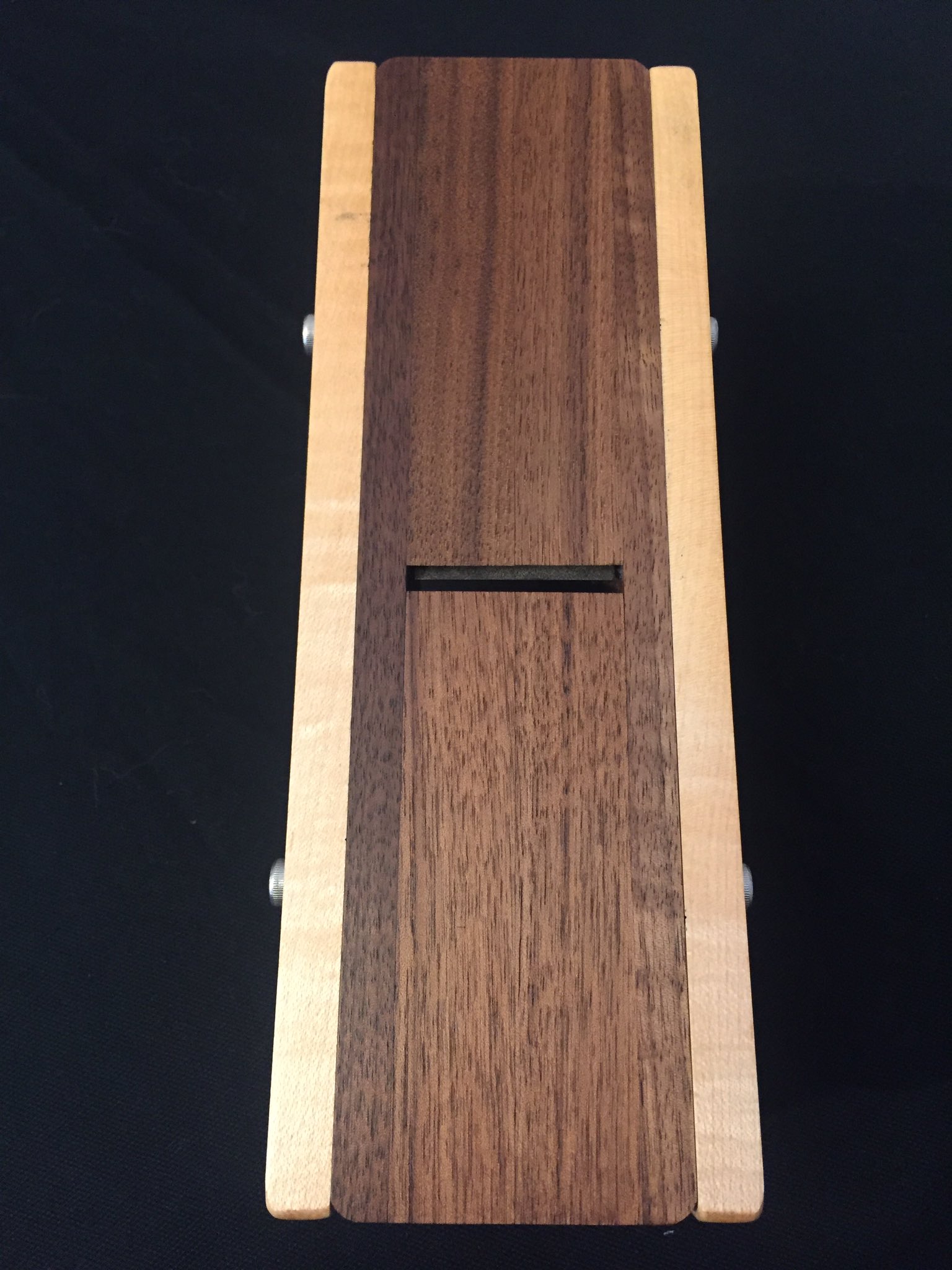 It has a pair of removable depth skids which have rulers engraved inside to act as depth gauges. Turning this smoothing plane into a ~2" thicknessing plane
ASIDE: You do not have to remove the socket cap screws to install/remove the depth skids. An 1/8th of a turn and they are unlocked from their position where they can be raised and slotted over to a hole that the cap screw head fits through. I originally planned on also making an edge-jointing fence that would sit right in front of the blade to help you "feel plumb" to get a perfect 90 on those edges. However, I decided to skip that for this swap. The fence would have had the same style allowing you to install/remove without fully unthreading the bolts. This was to allow the bolts to stay installed permanently and when needed can allow swapping in/out accessories very quickly.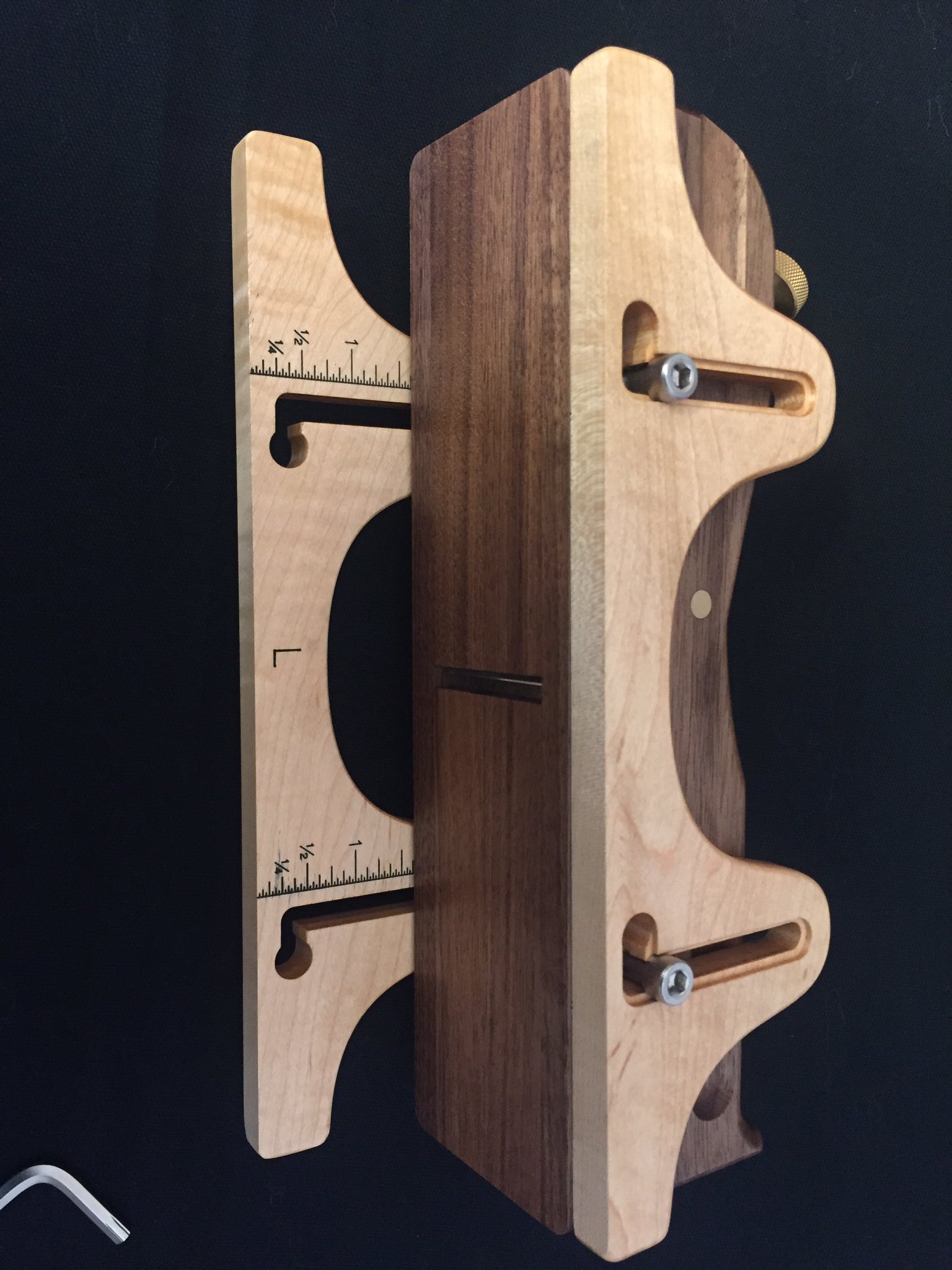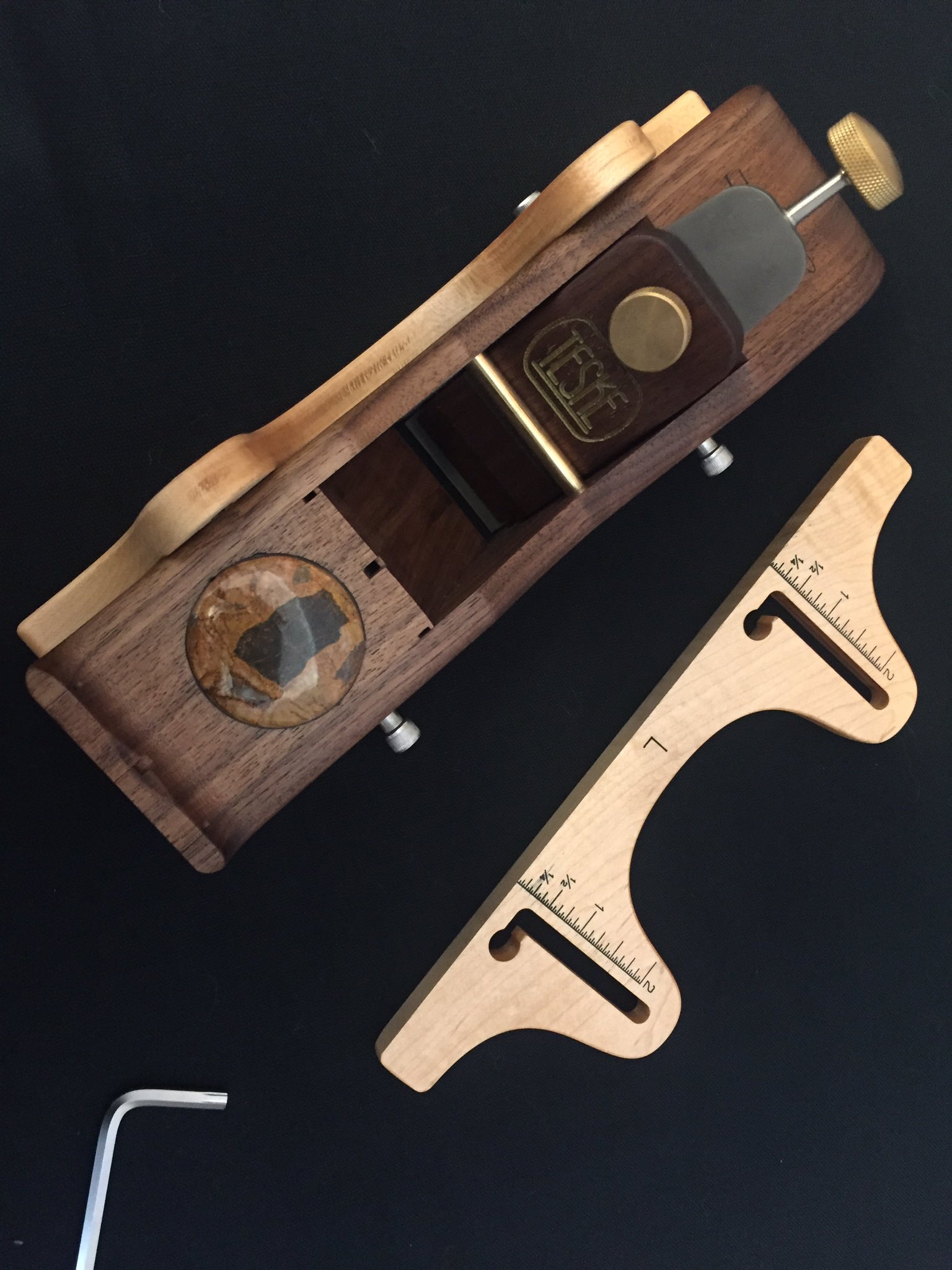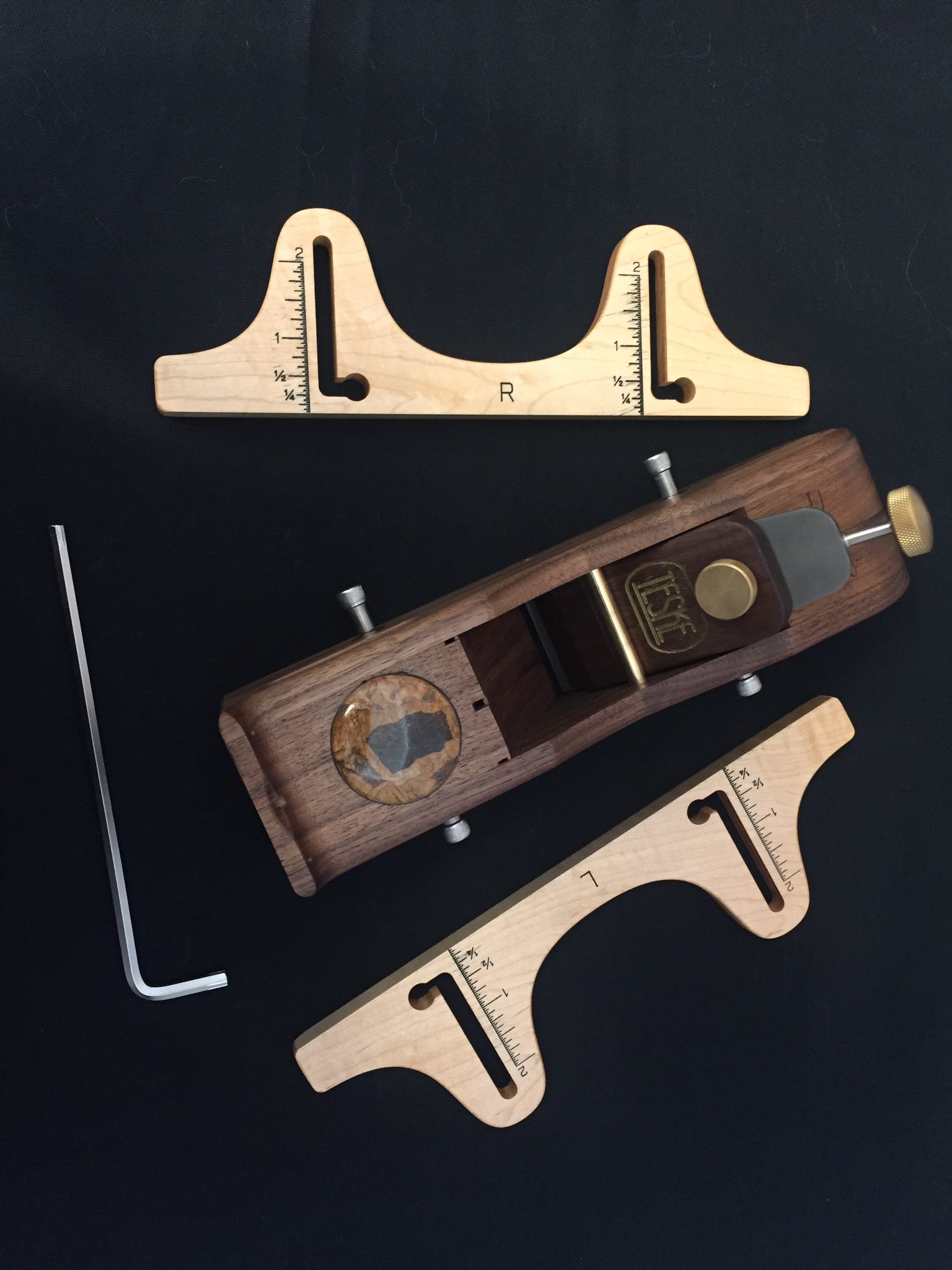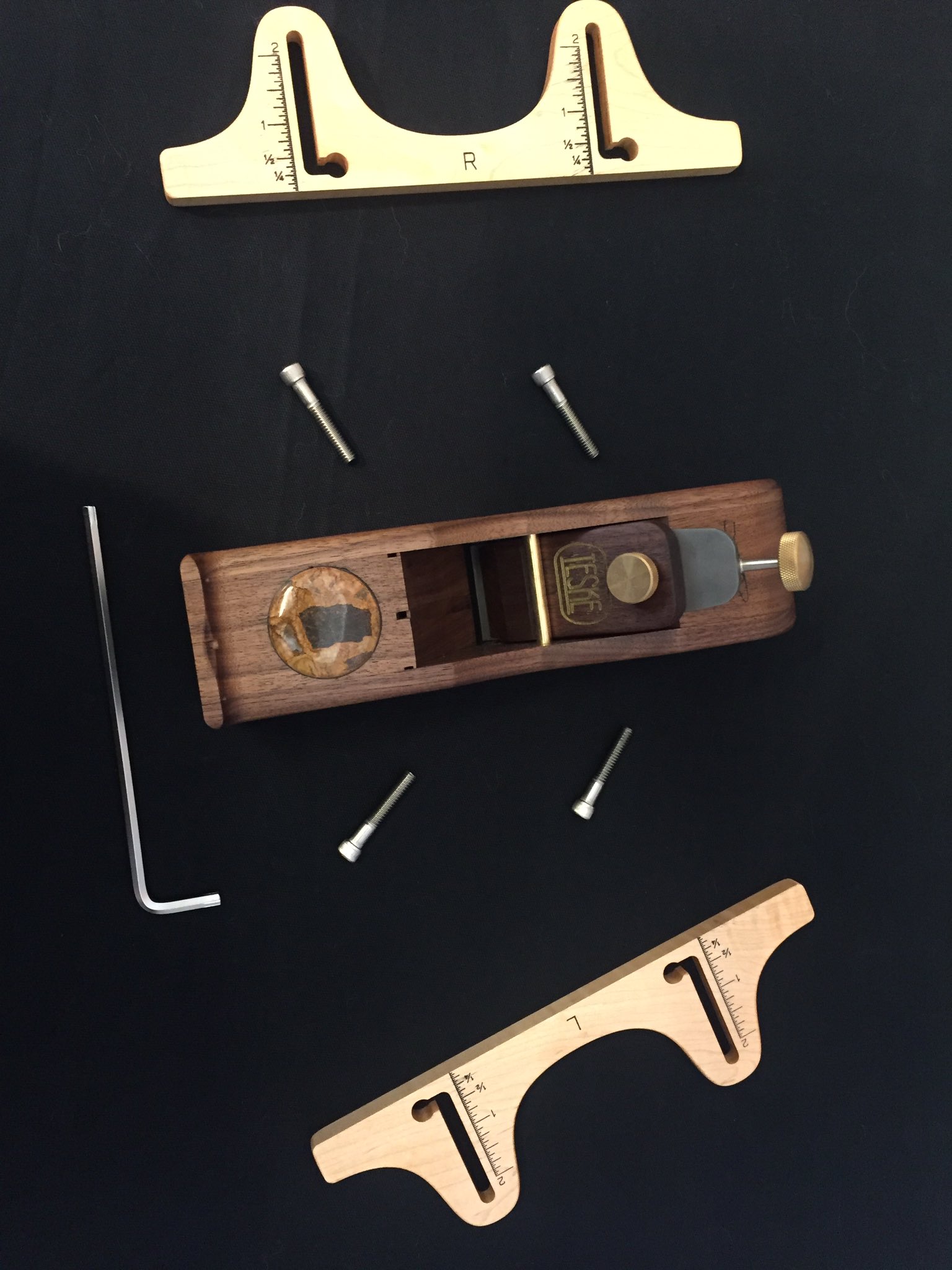 9.5" long, this smoothing plane uses a 1.6" wide PM-V11 Veritas blade from
@LeeValleyTools complete with Norris adjuster and even blade set screws for keeping the blade aligned
ASIDE: There is a wide enough counter-bore around the threaded inserts to allow for a standard-size hex nut to snug-up to the threaded insert without touching the wood. This allows you to lock a nut to the face of the insert for making offset accessories. The threaded inserts are epoxied into the wood to make them secure. There is a 1/4" hole passing between each threaded insert which allows you to pass a fully threaded rod into one insert and out of the other. This is possible because the threaded inserts are fully thread-matched into the wood with each other. Finally, the inserts are sunk below the surface of the cheeks to ensure that you can use the plane on a shooting board. The sides are squared with the sole for this purpose as-well. A handle with 1/4-20 male stem can be installed to any of the 4 threaded inserts to make use on the shooting board easier.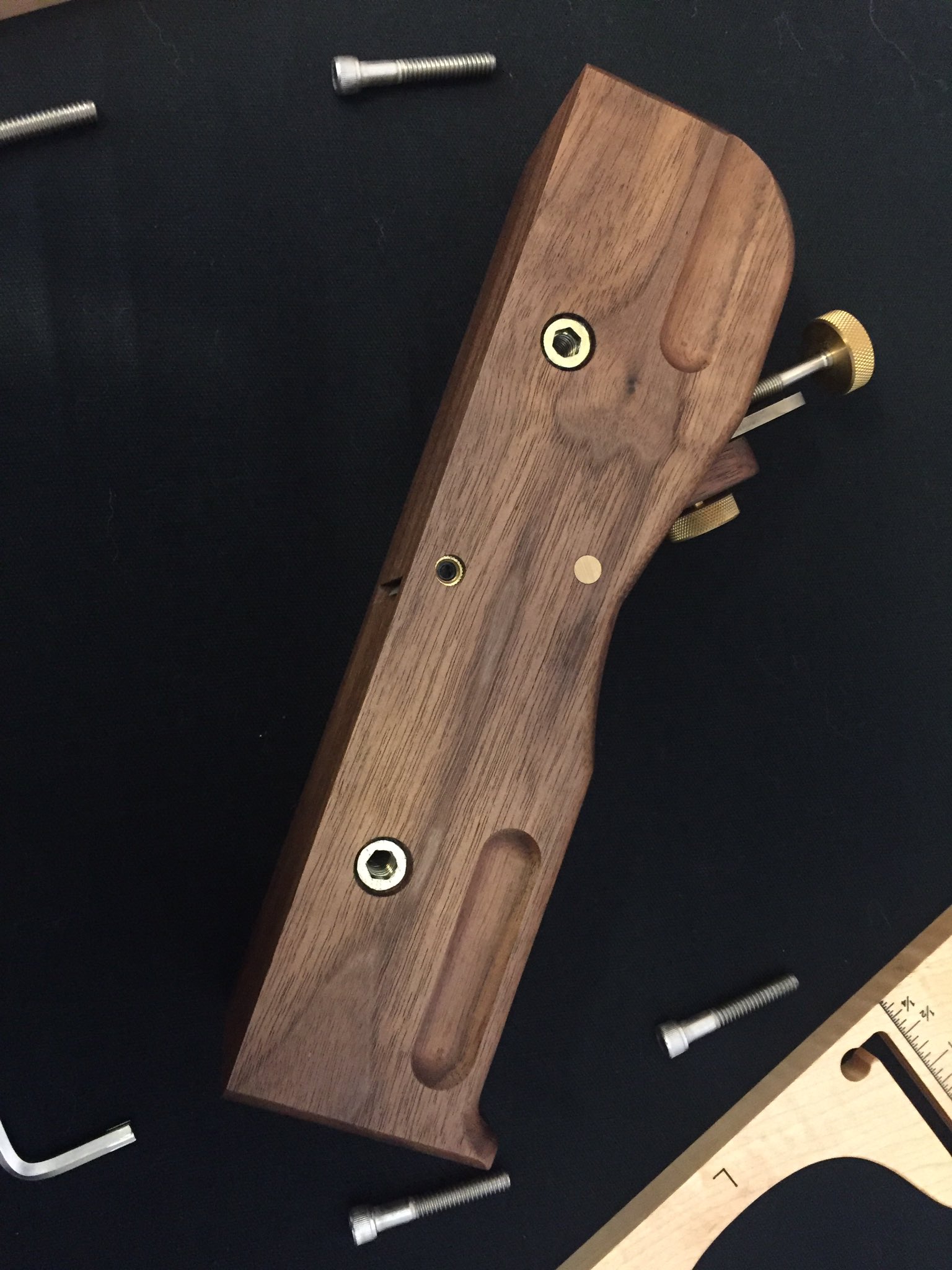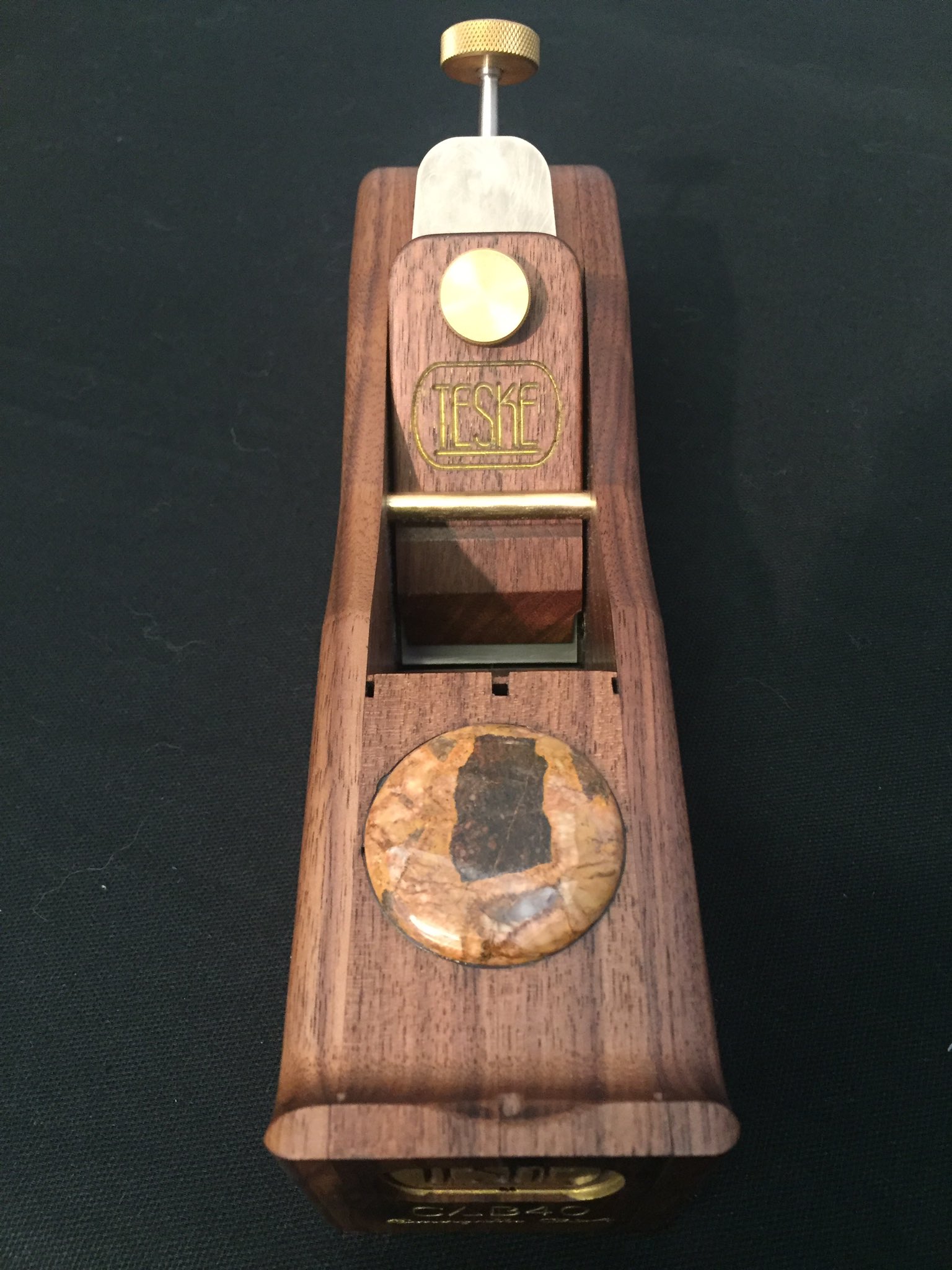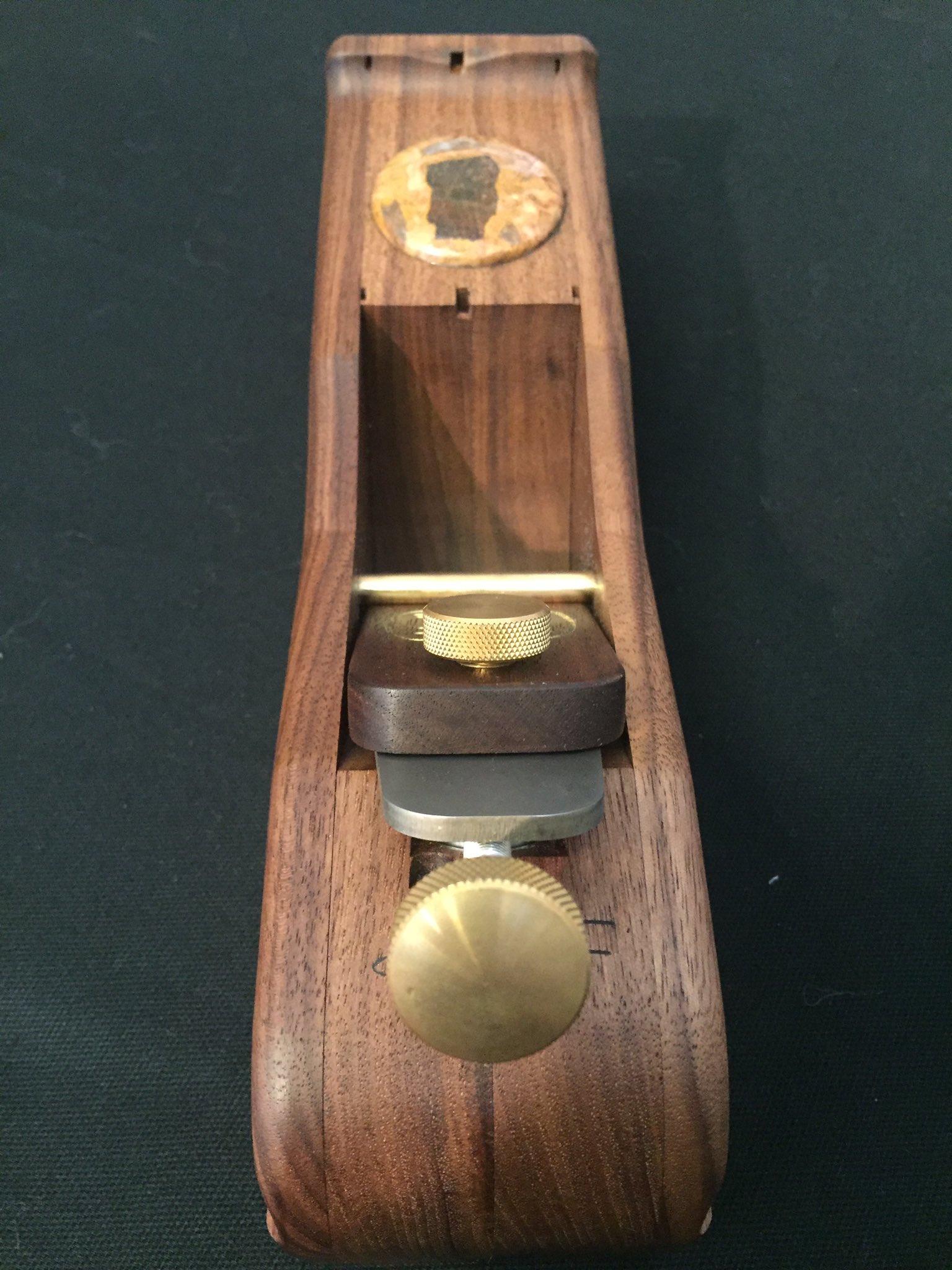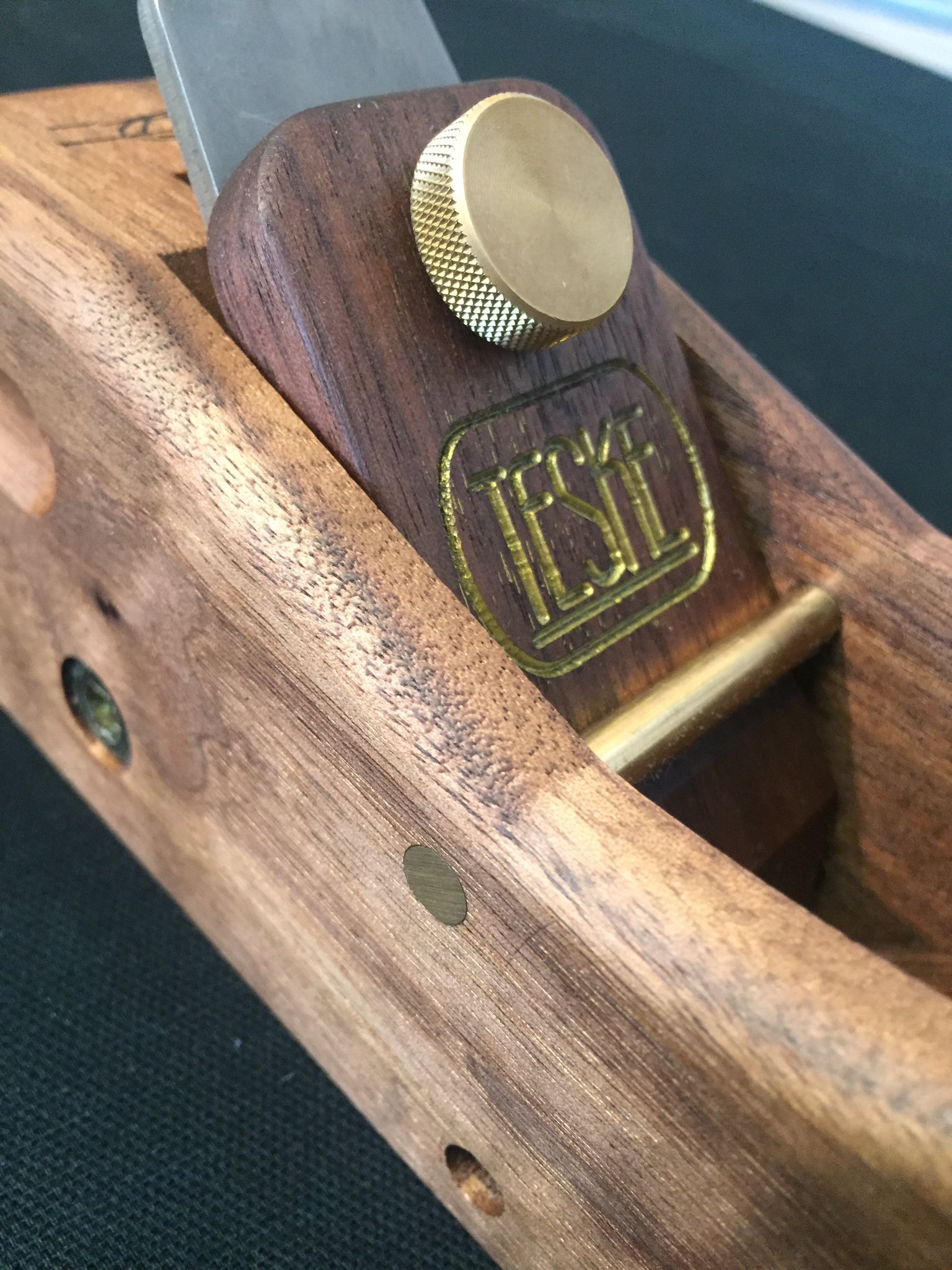 The bevel-down blade is sandwiched between a lever cap and the Norris adjuster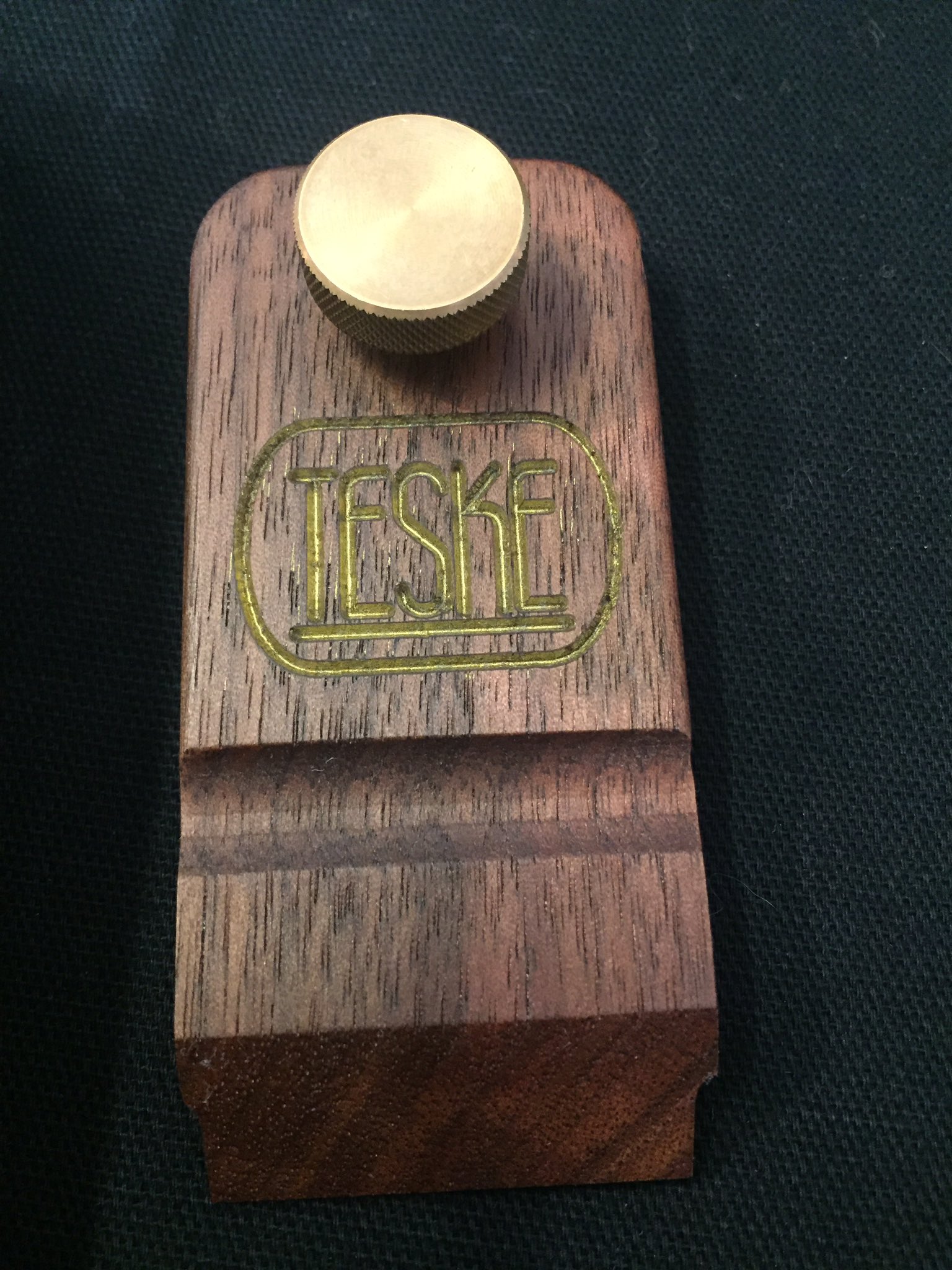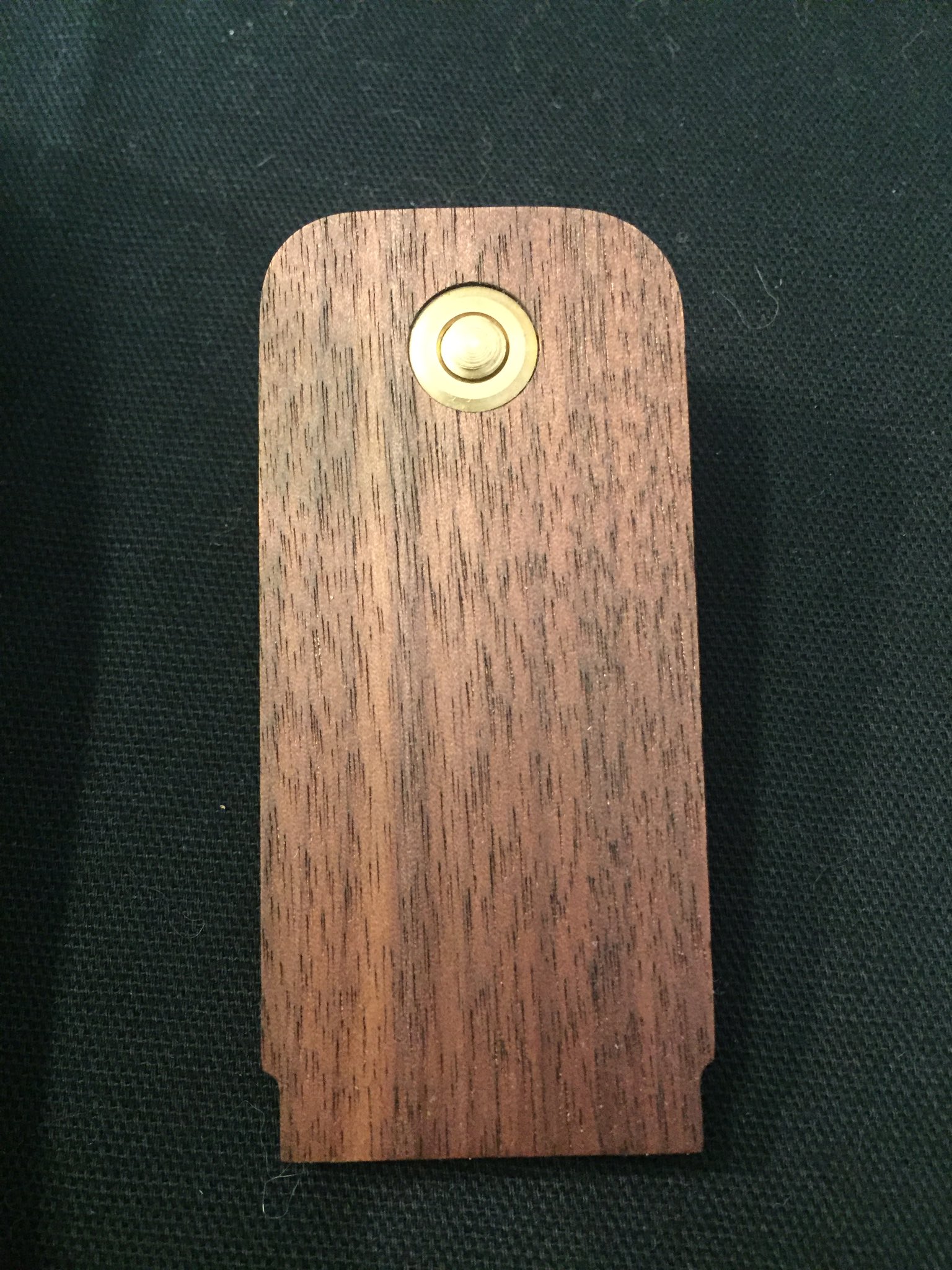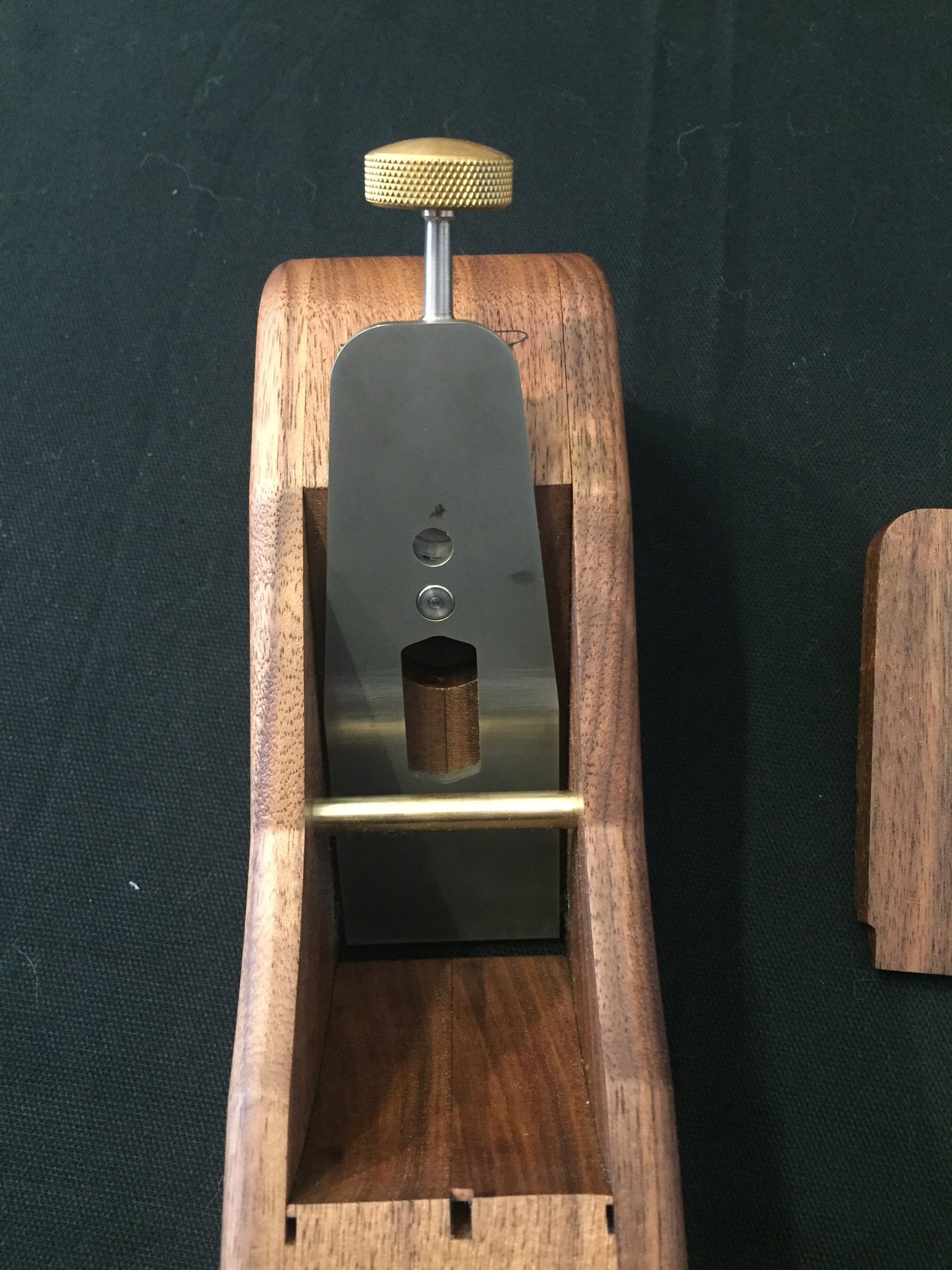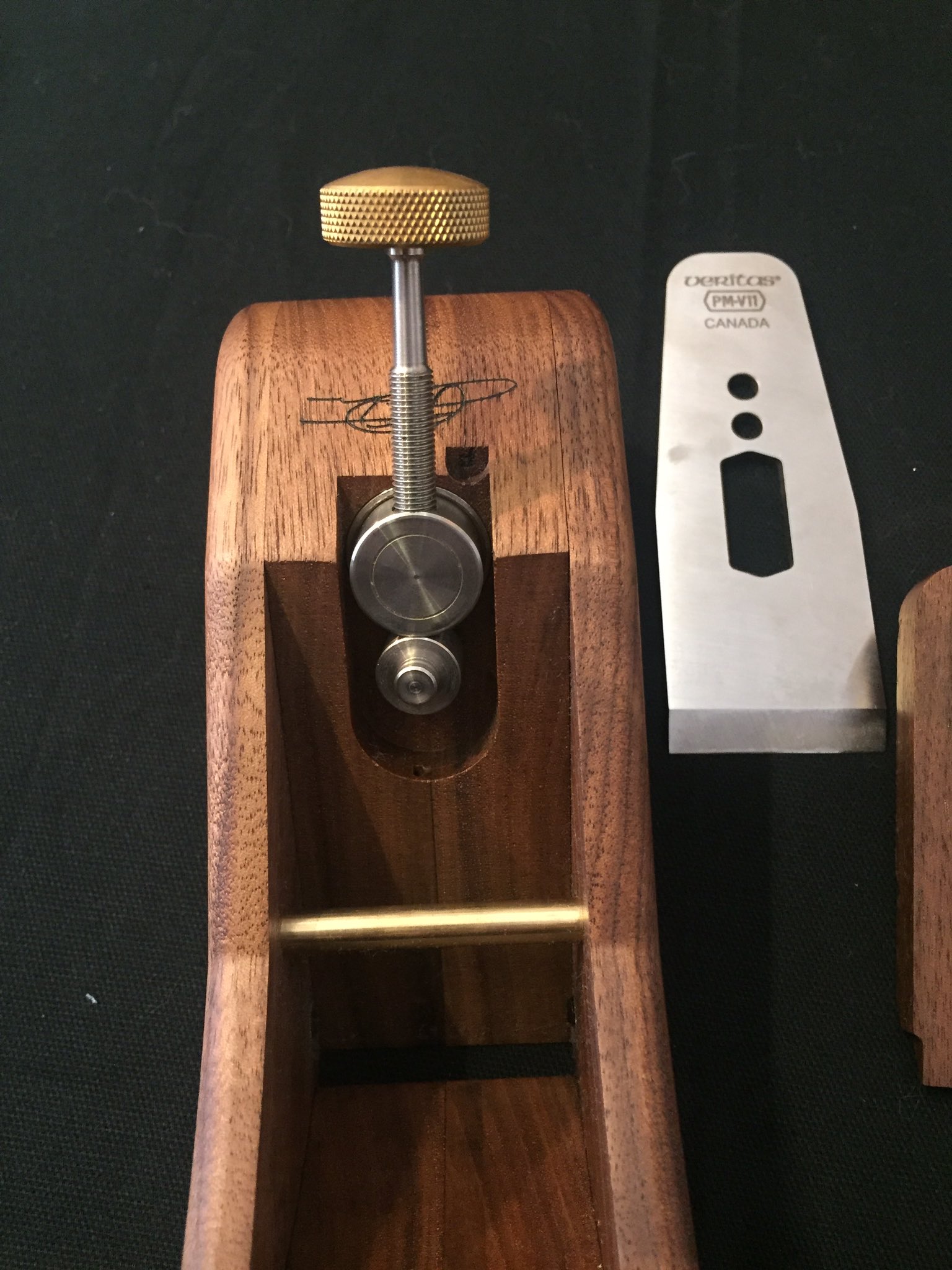 The blade is 4.5" long, 1.6" wide, 1/8" thick high carbon steel quenched by powder metallurgy and protrudes out of a narrow slit in the mouth with less than 0.01" of clearance for the finest of shavings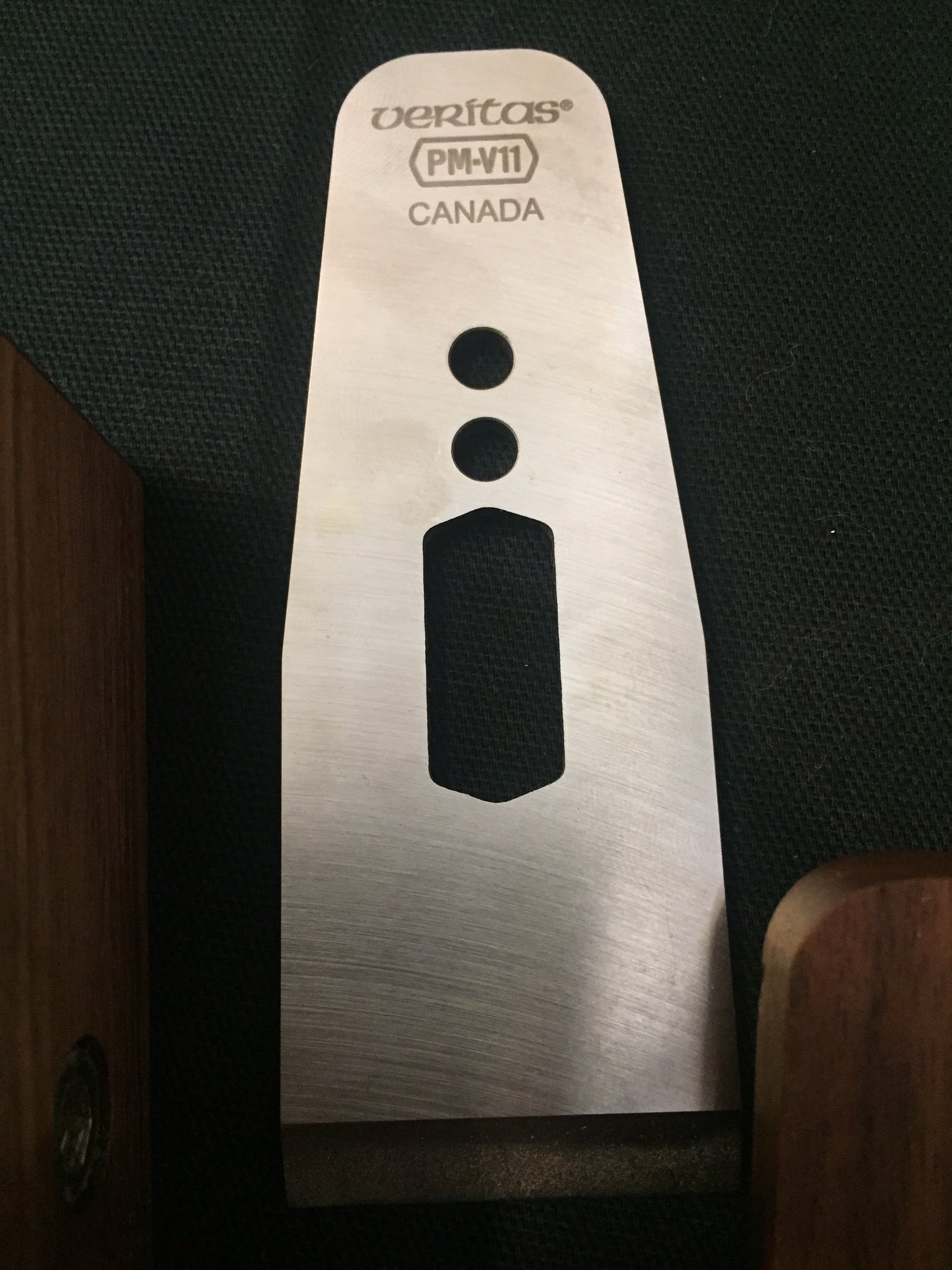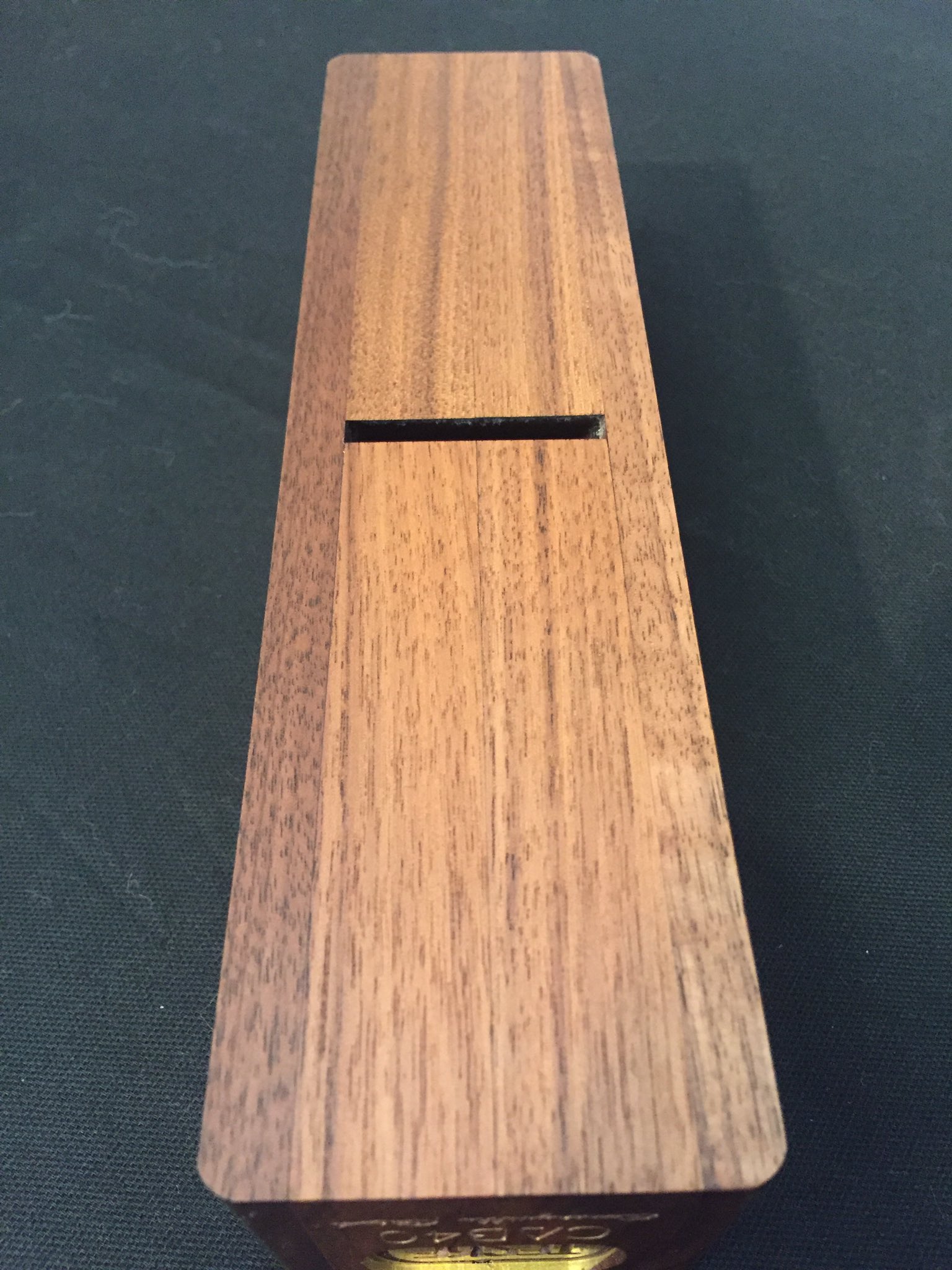 I used a 3/4" ball router bit from Canada to make the contours for your fingers/thumbs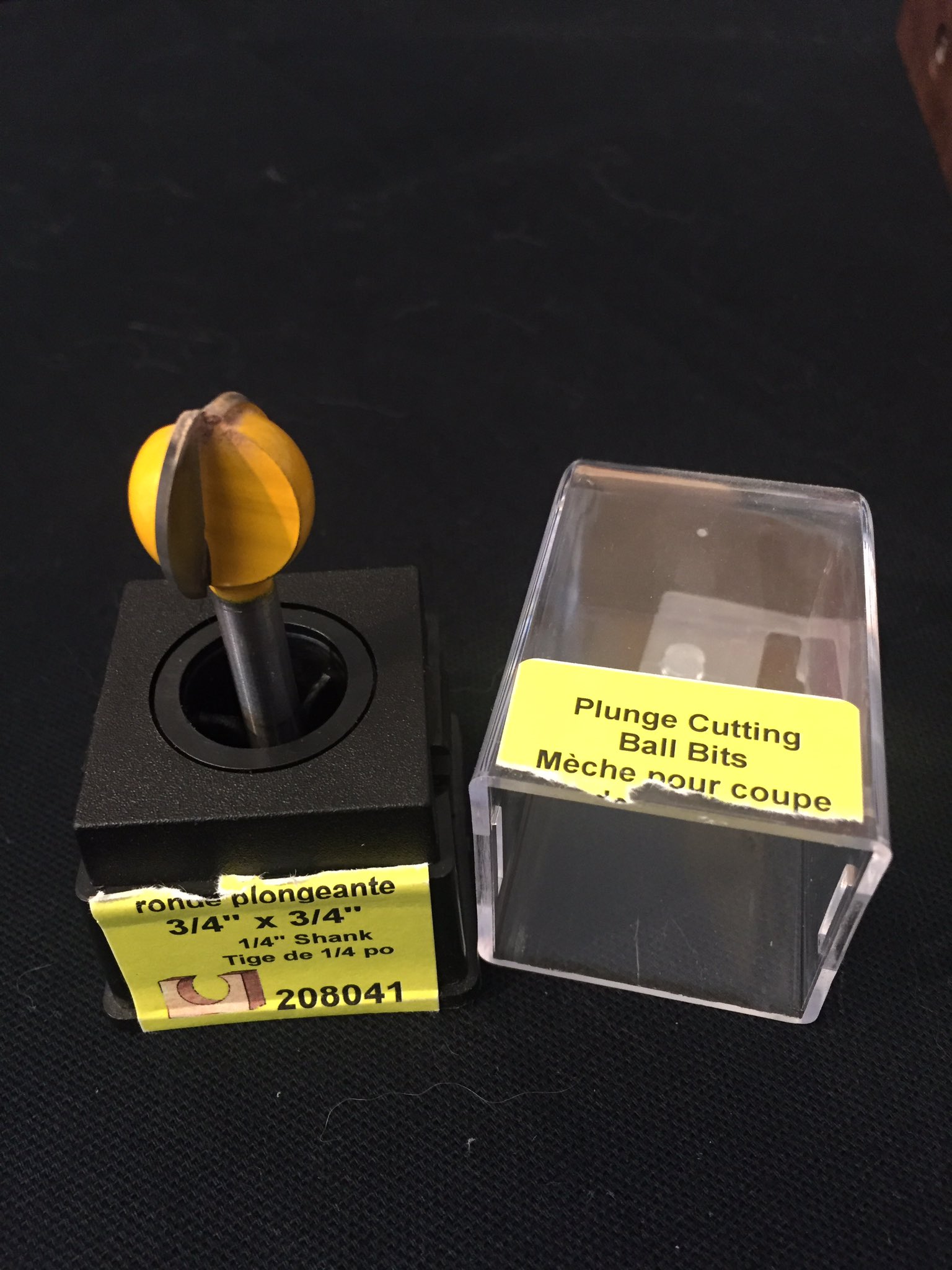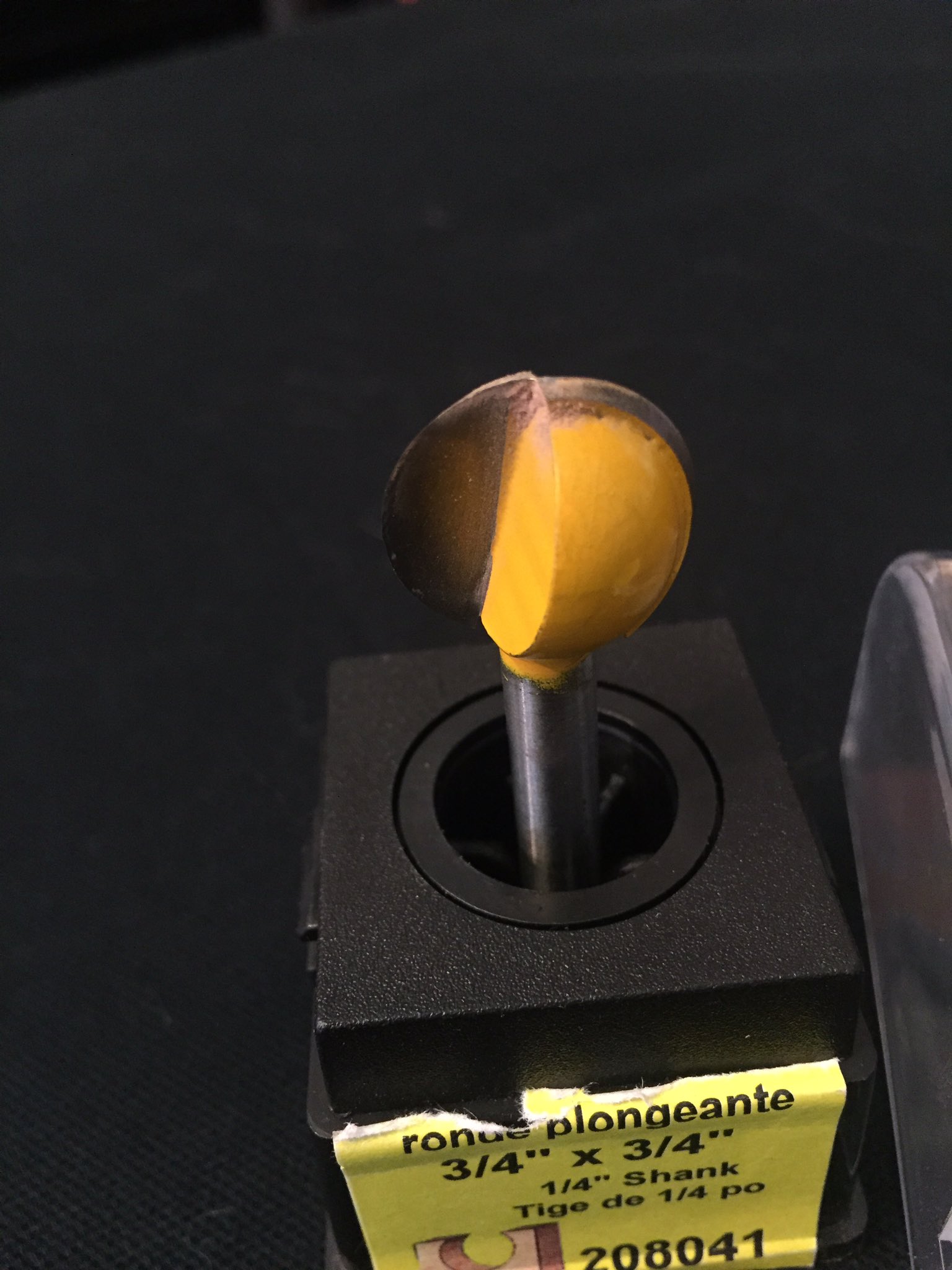 A 3" wide 1/4" round brass cross pin was cut to length and made flush with the wood which was dimensioned entirely by hand
ASIDE: This is NOT the cross-pin that Lee Valley gives you in their Veritas wooden plane kit. I had to cut/shape my own because the one provided in the kit is not long enough. I used Dave P's advice on how to epoxy the rod into place.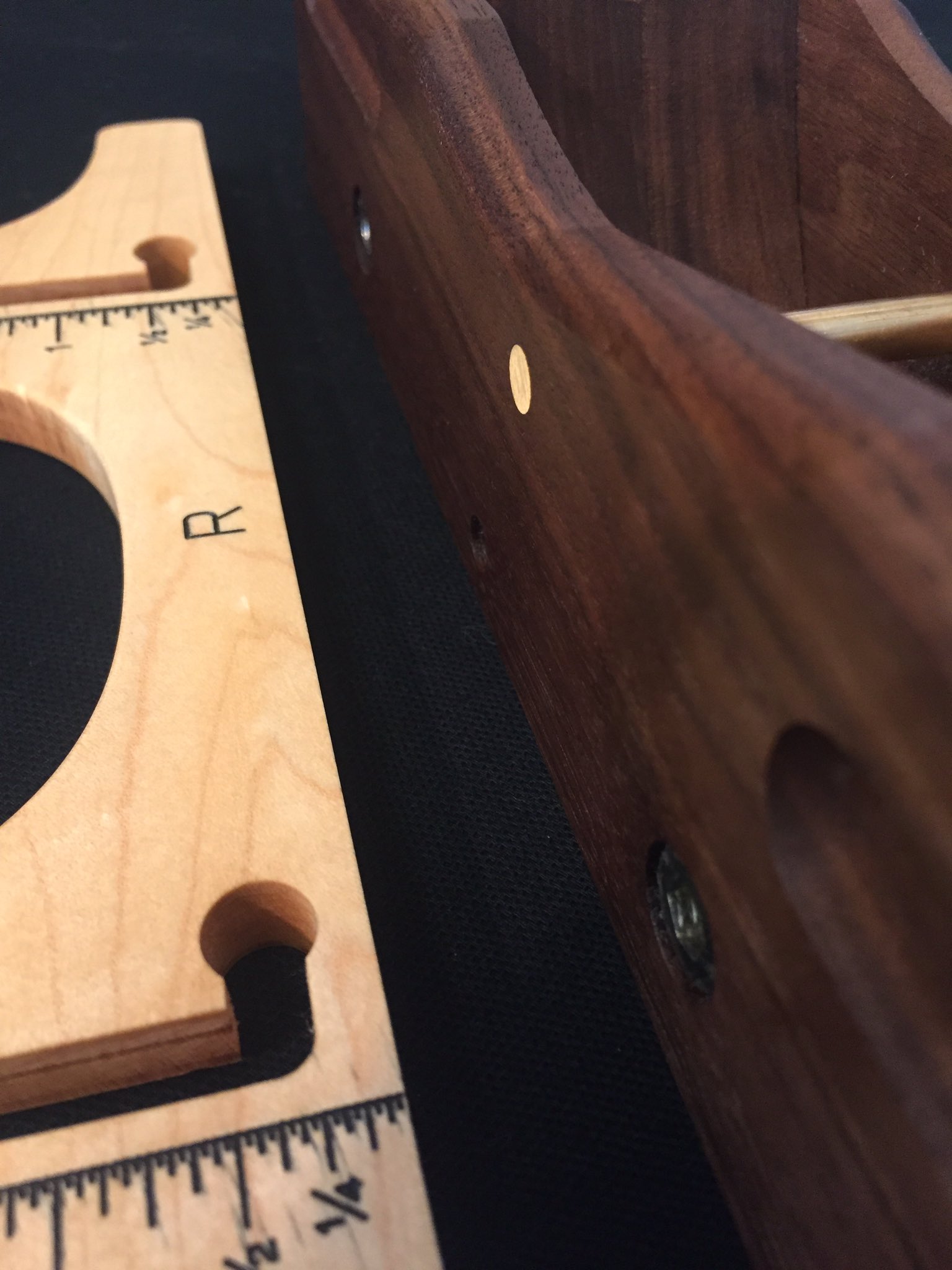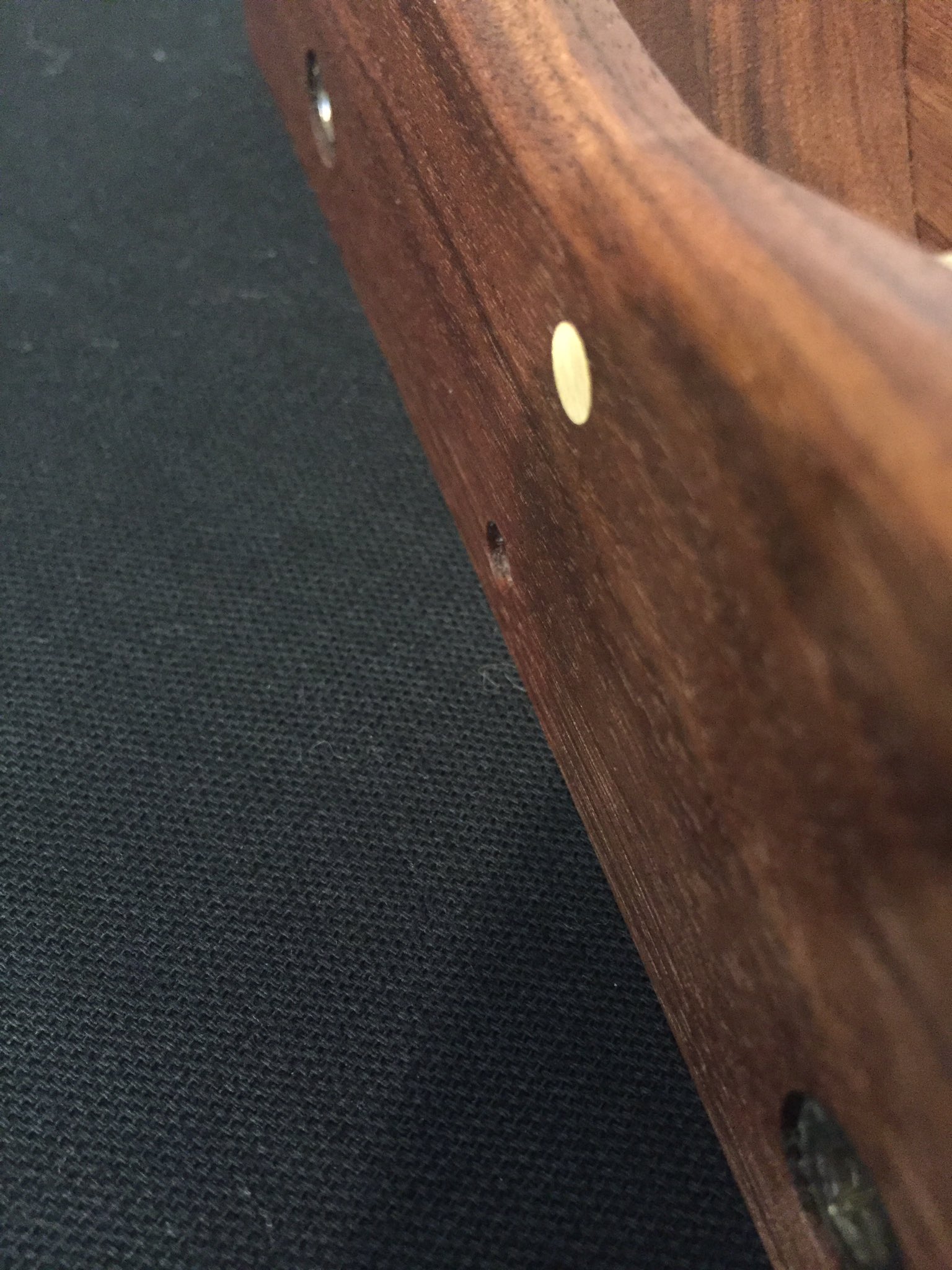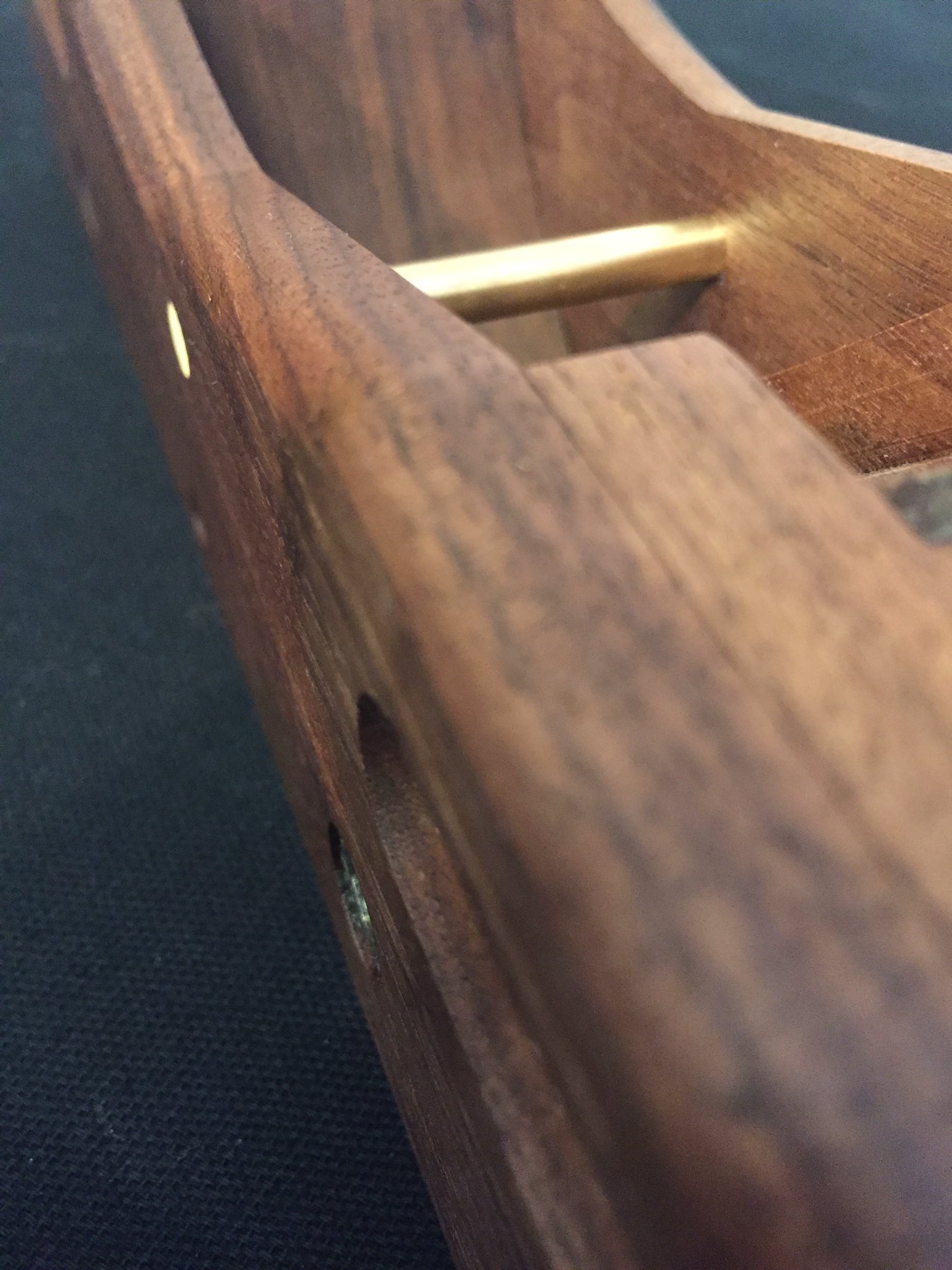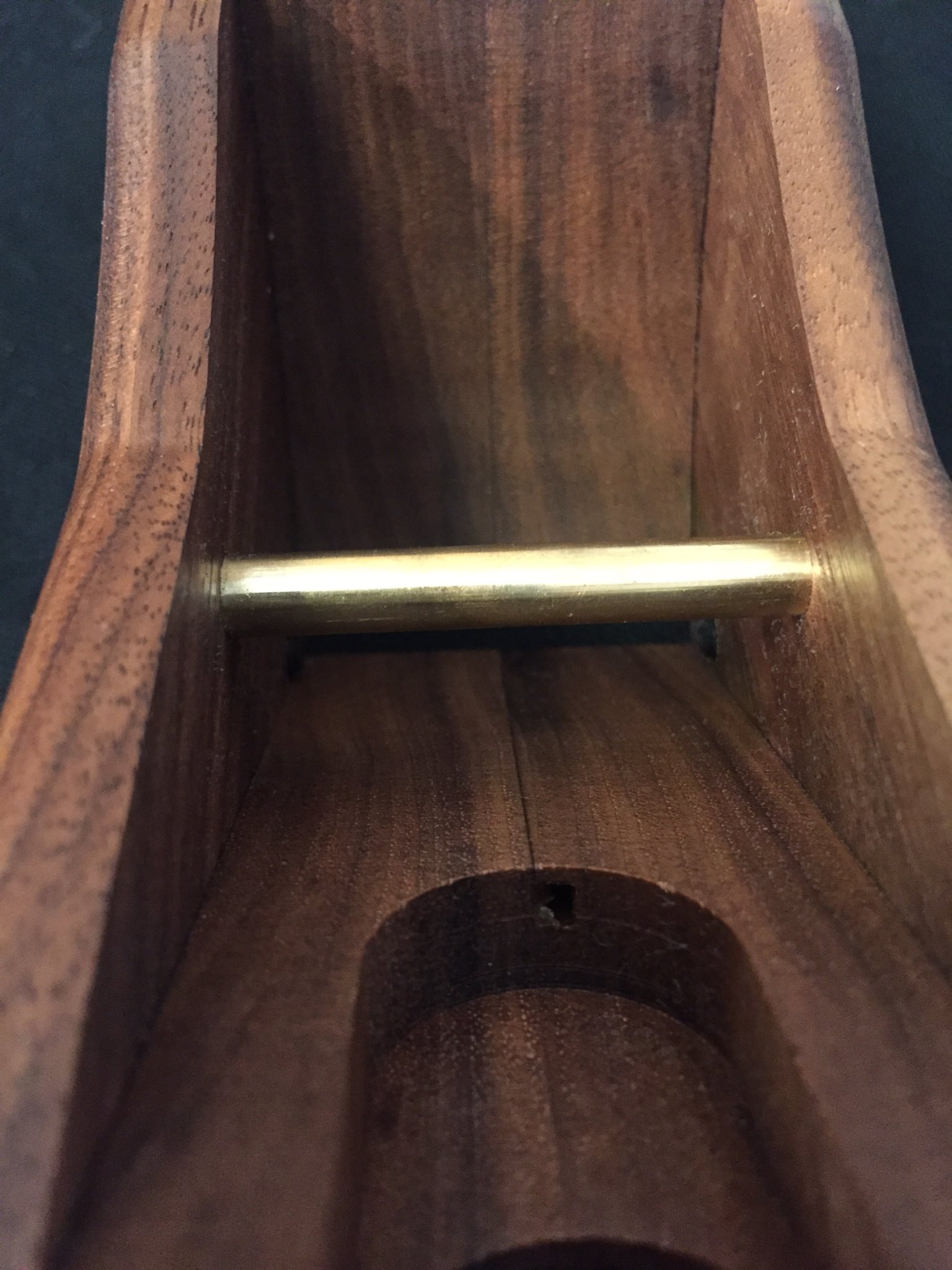 The fine embellishments are a 40 mm round cabochon of Bauxite Jasper (Bauxite being the principle component to Aluminum, appearing as the dark brown spot in the center of the stone), and gold/black accented engravings
ASIDE: Epoxy didn't flow as I had expected when I pressed the stone into the pocket. I had to use a pointed Q-tip and "float" some epoxy around the stone and then 91% isopropyl to clean up the excess epoxy on the wood/stone. That worked quite well to fill minor gaps between the edge of the pocket and stone.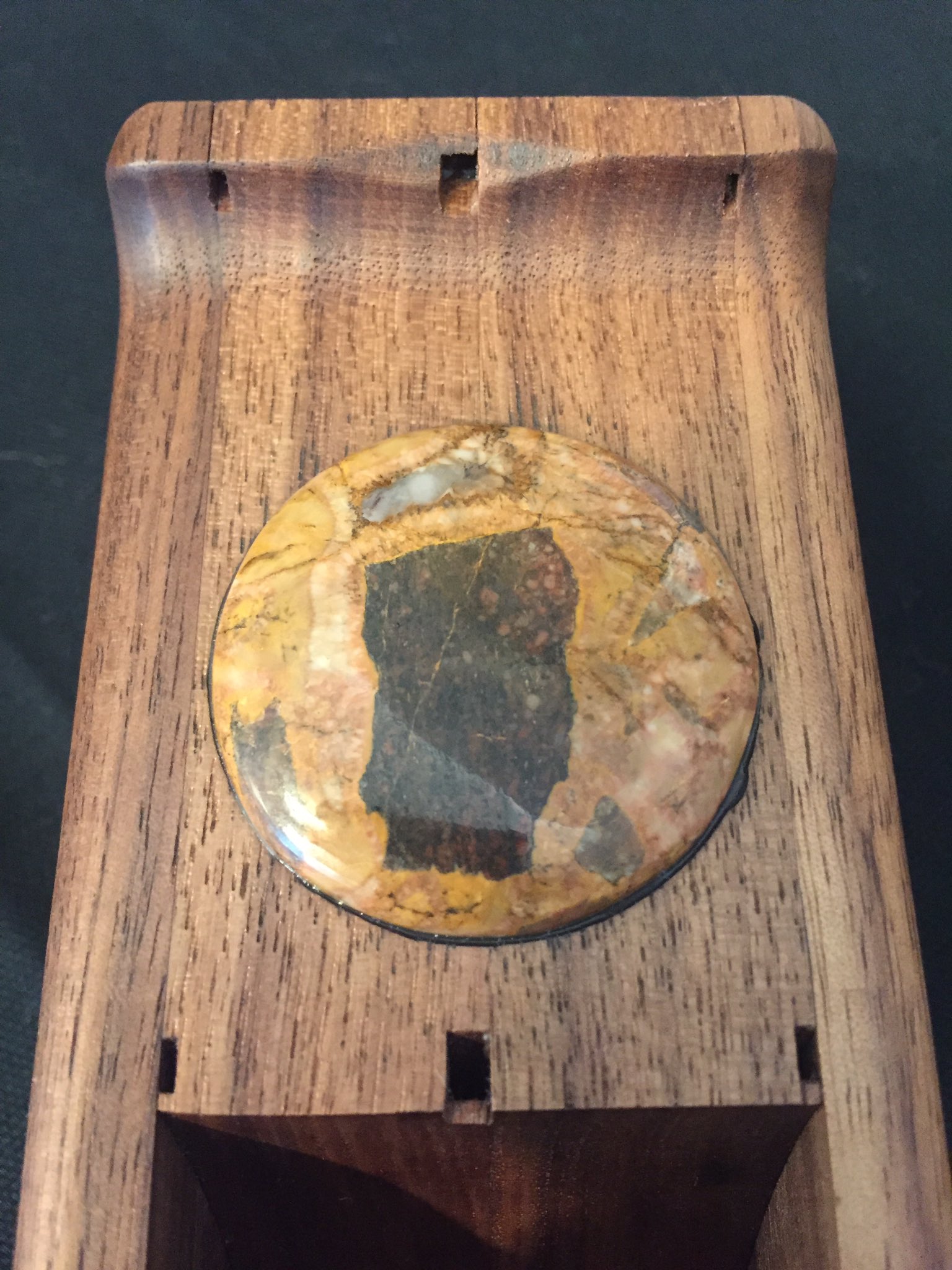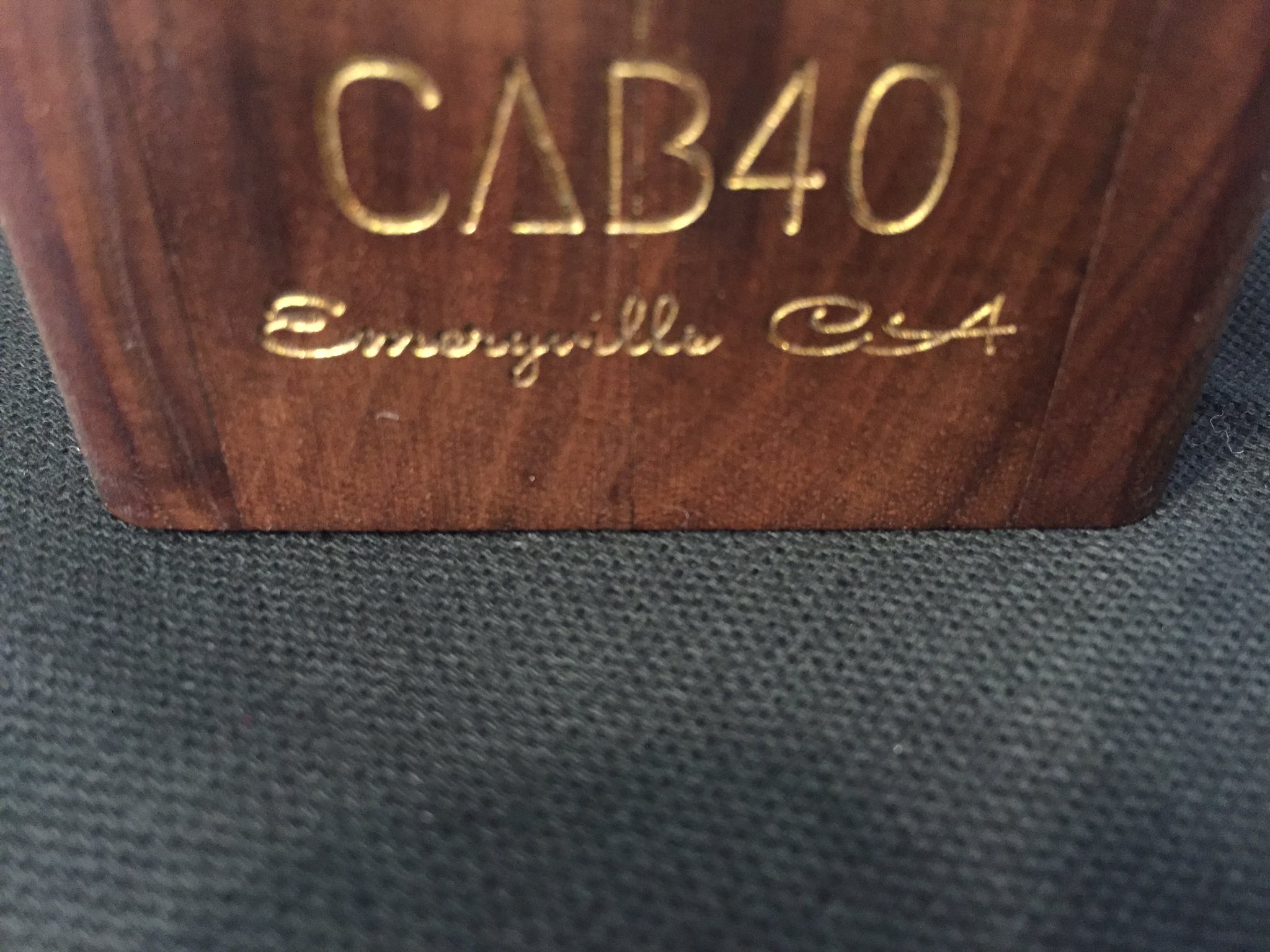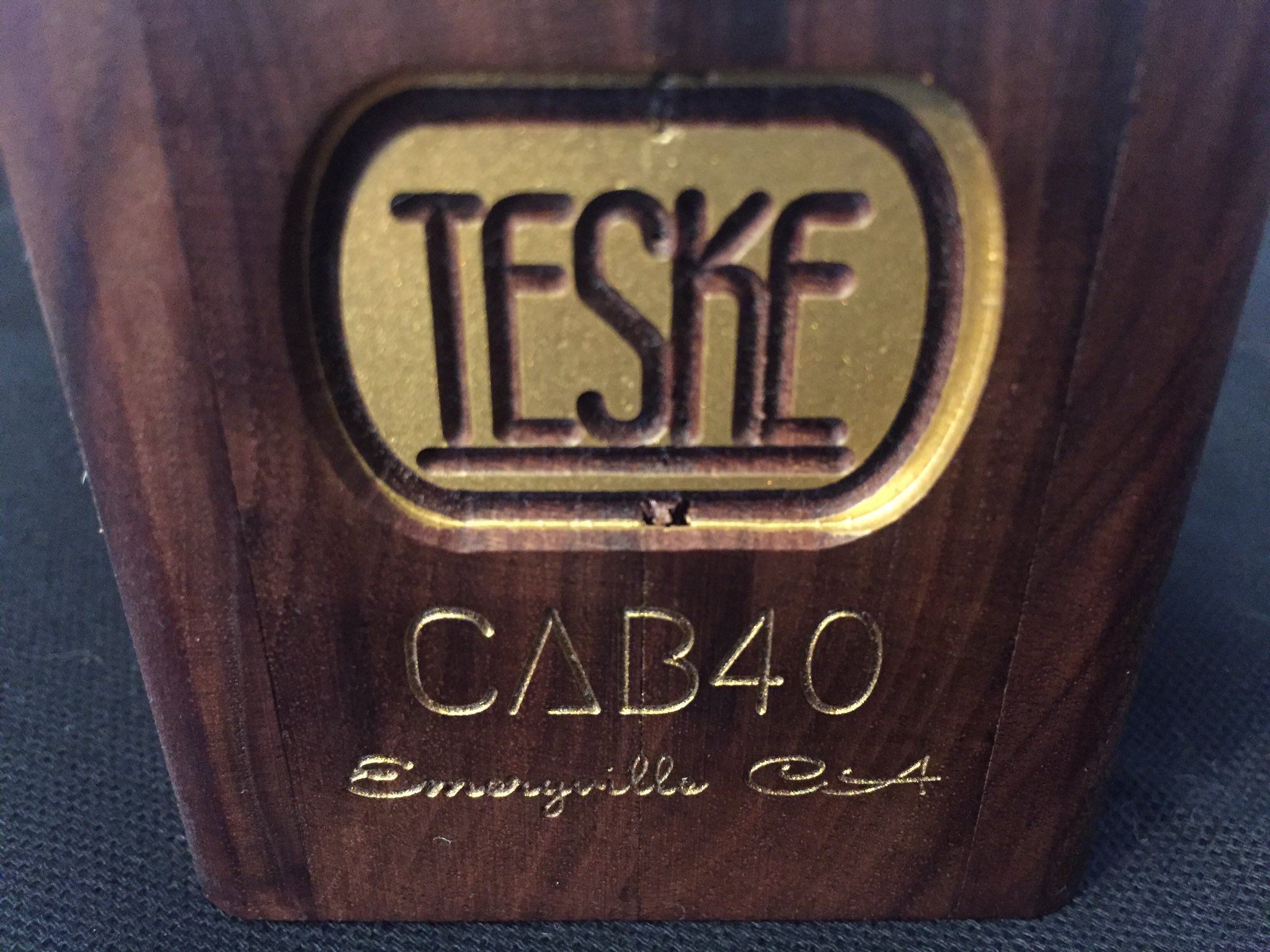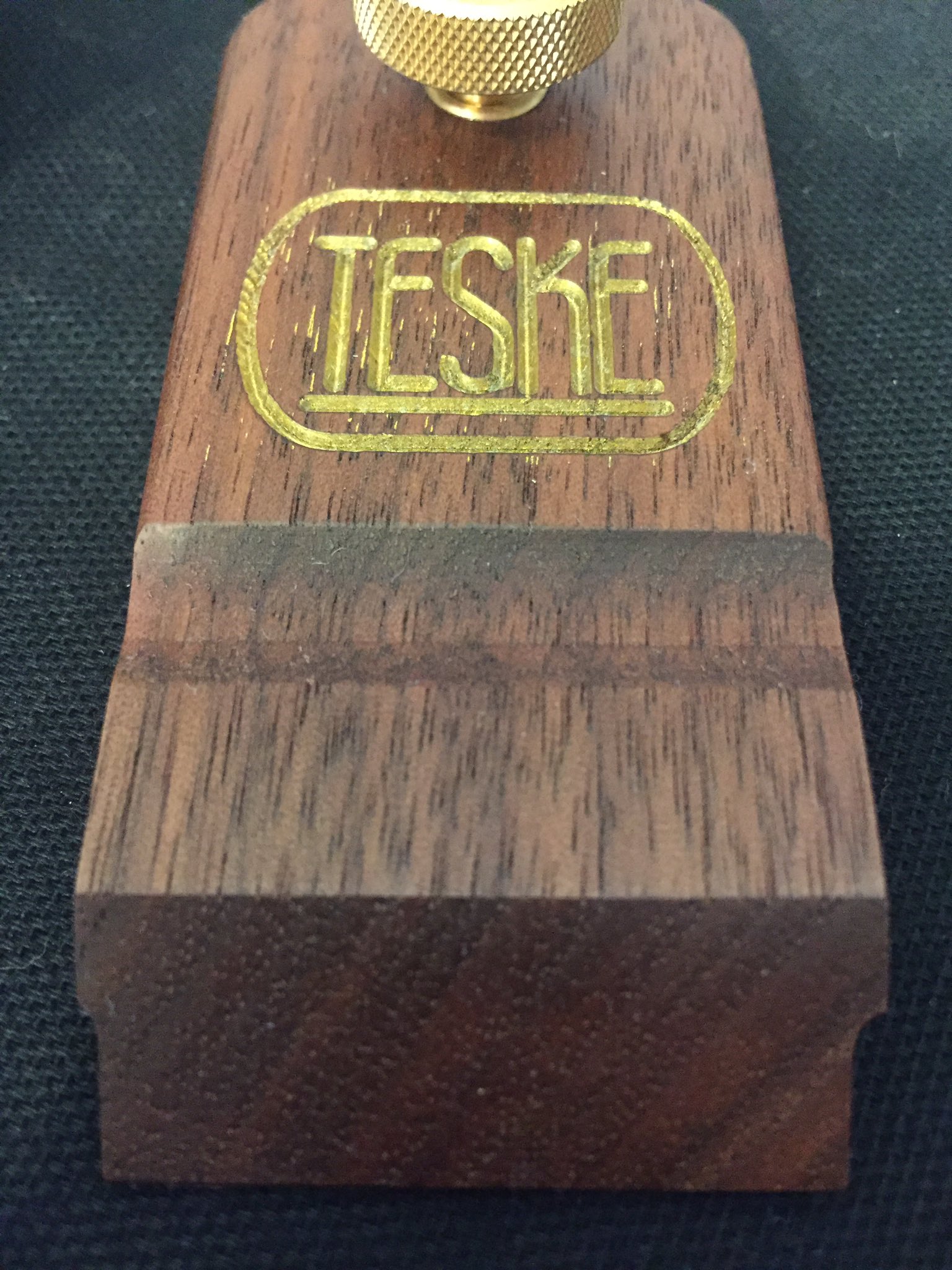 Deconstructed
ASIDE: Everything that can be removed is removed for this photo.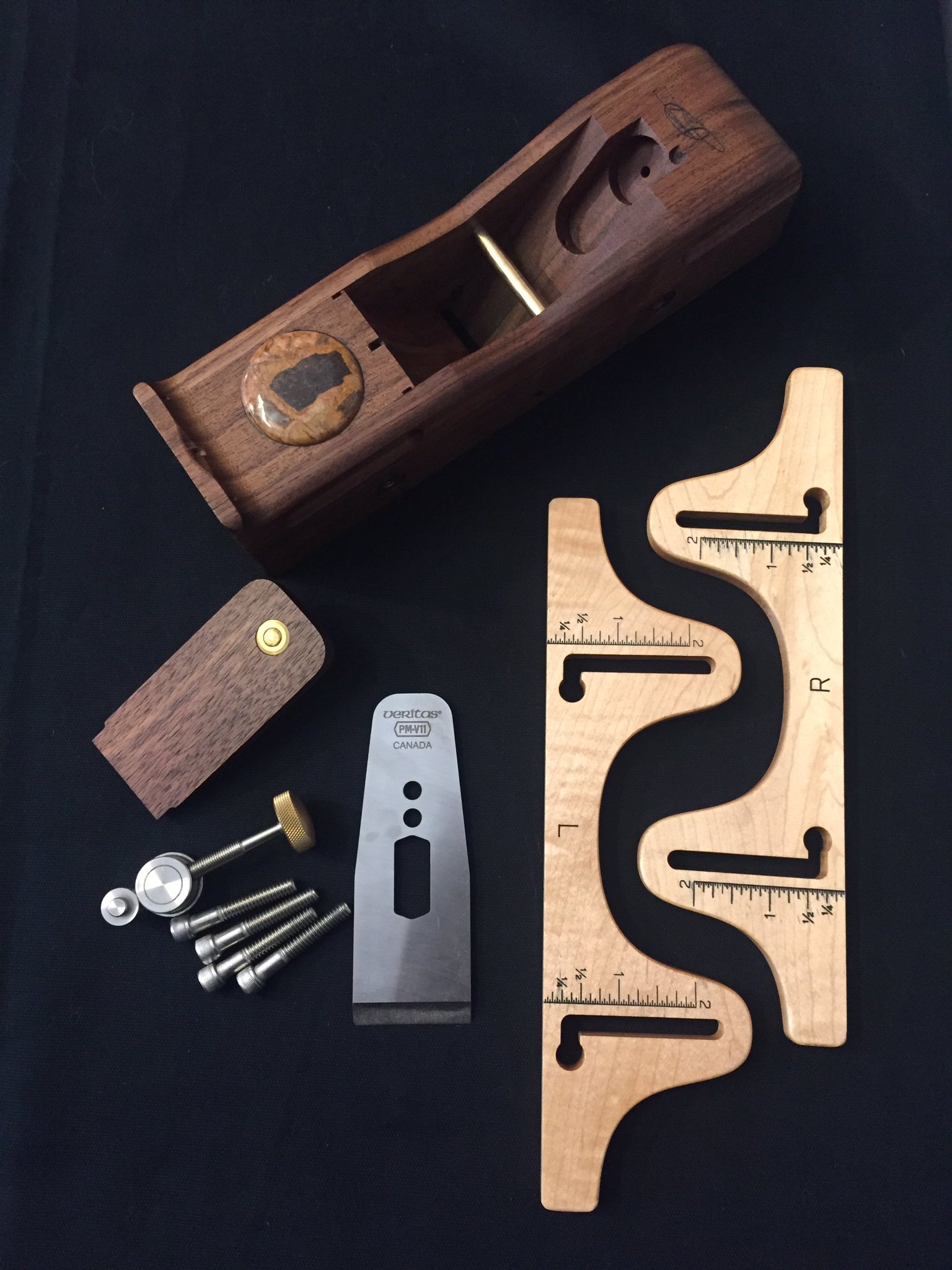 And here is without any of the moving parts. All moving parts removed.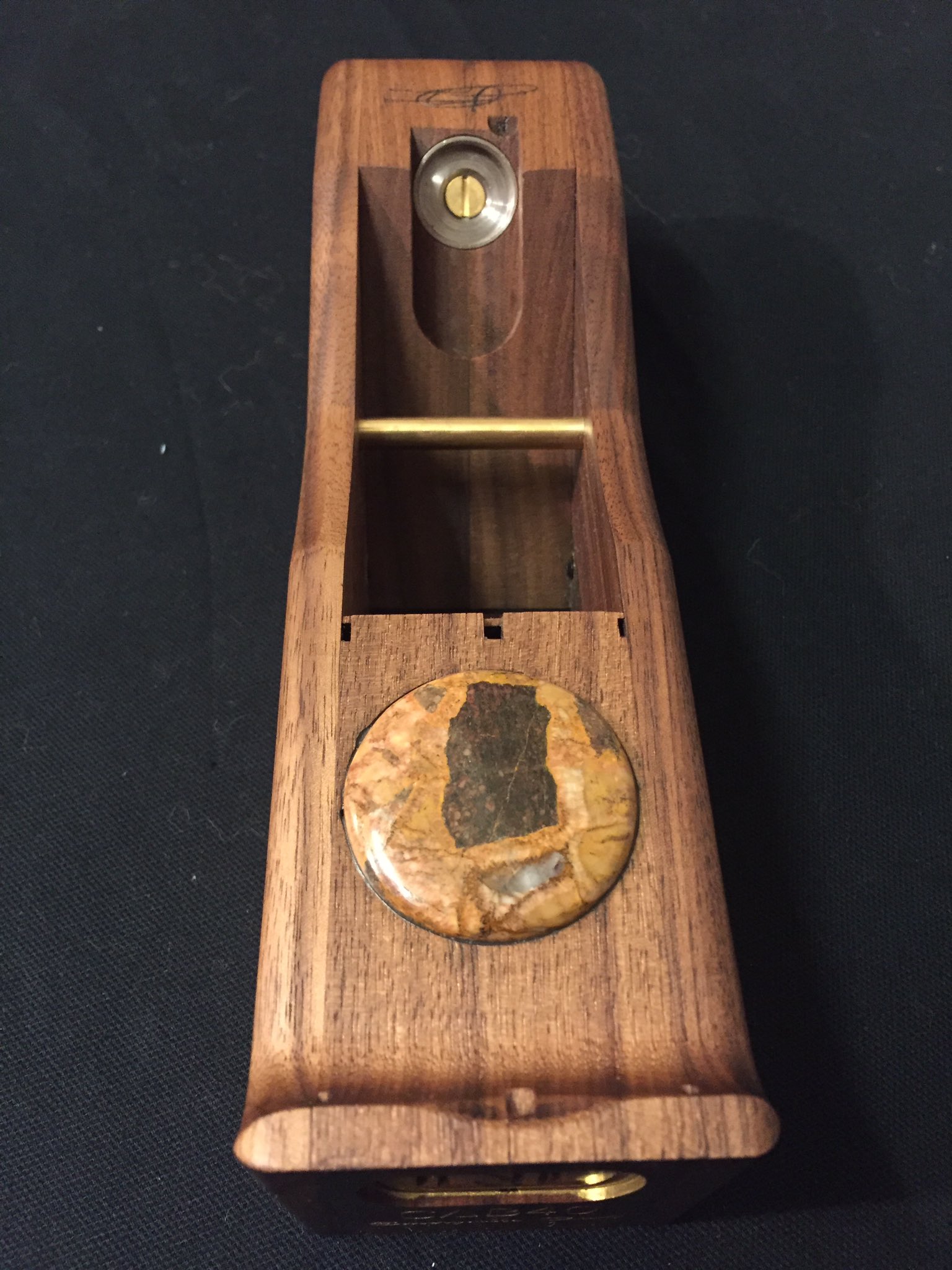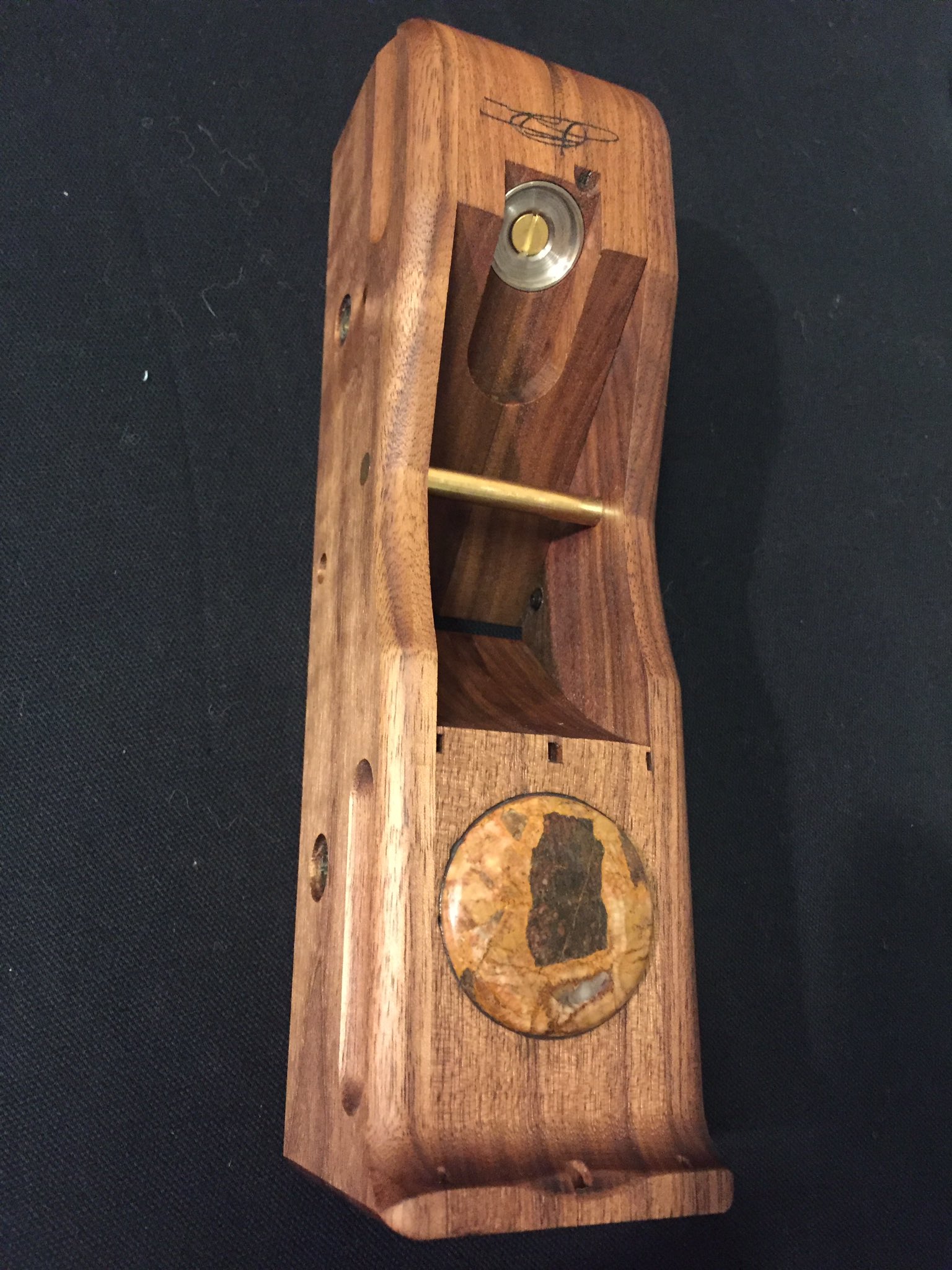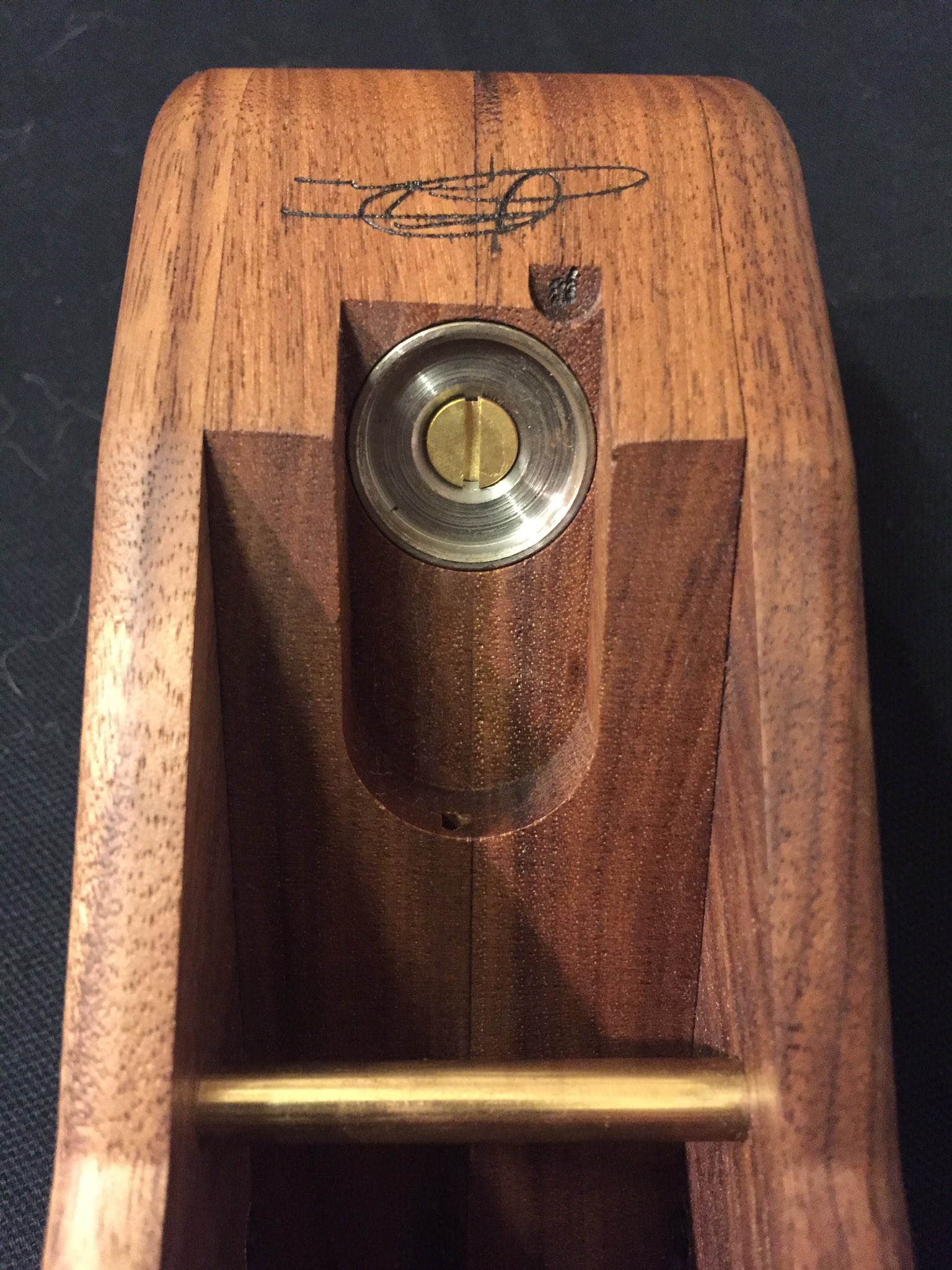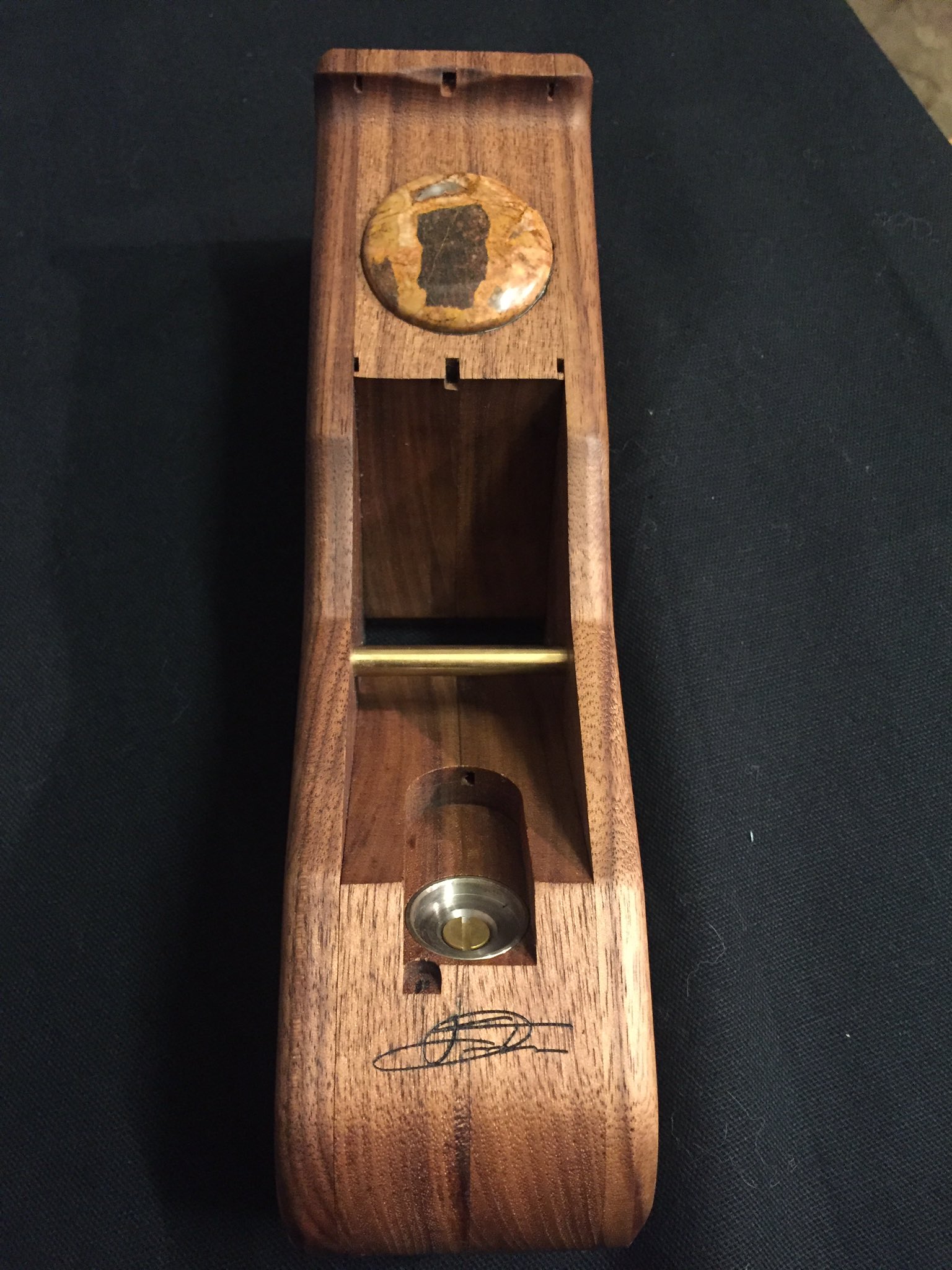 The blade sits on a bushing provided by the Norris adjuster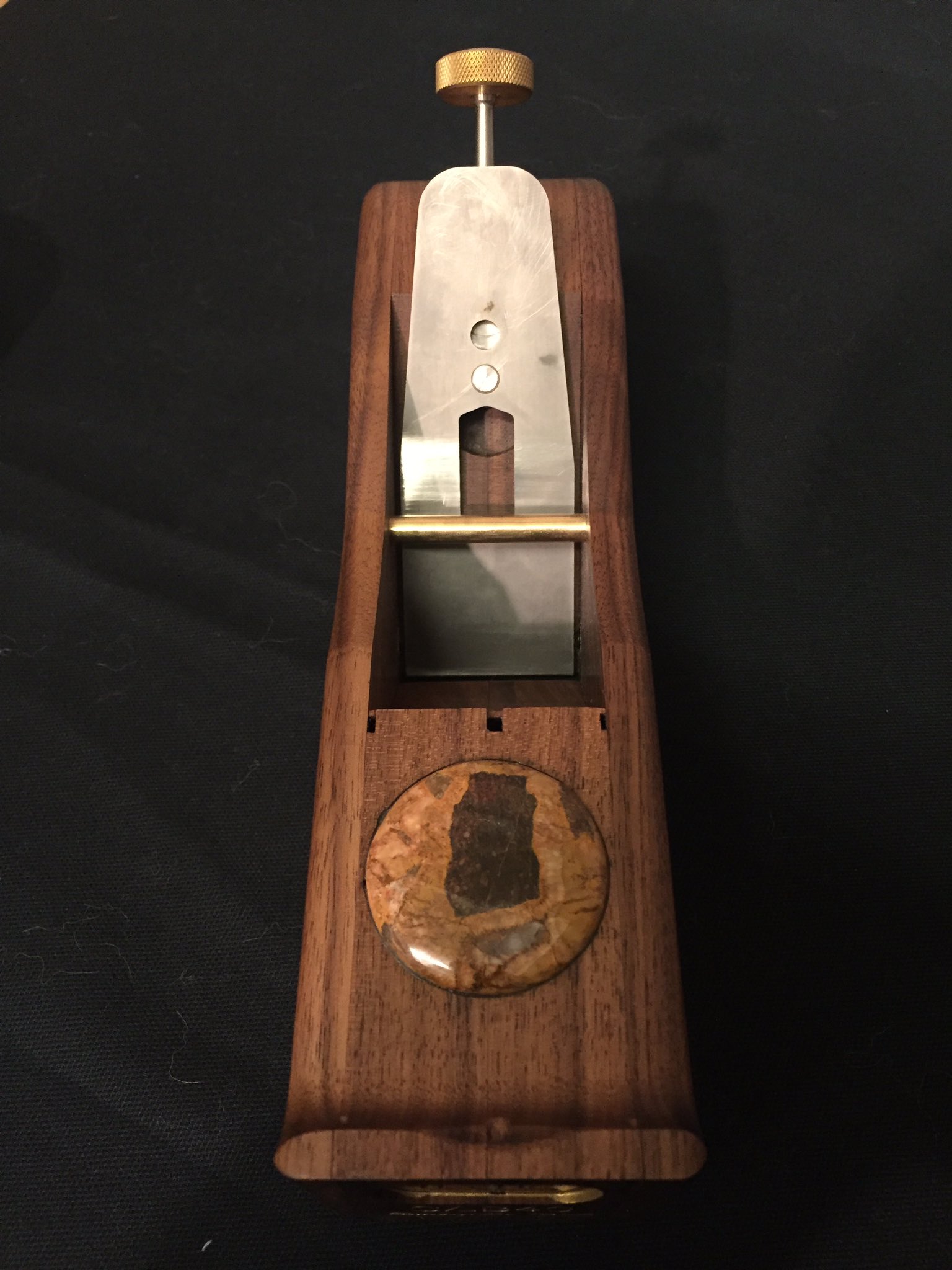 All this got shipped off to Eric as part of the 2021 Plane Swap run by
DavePolaschek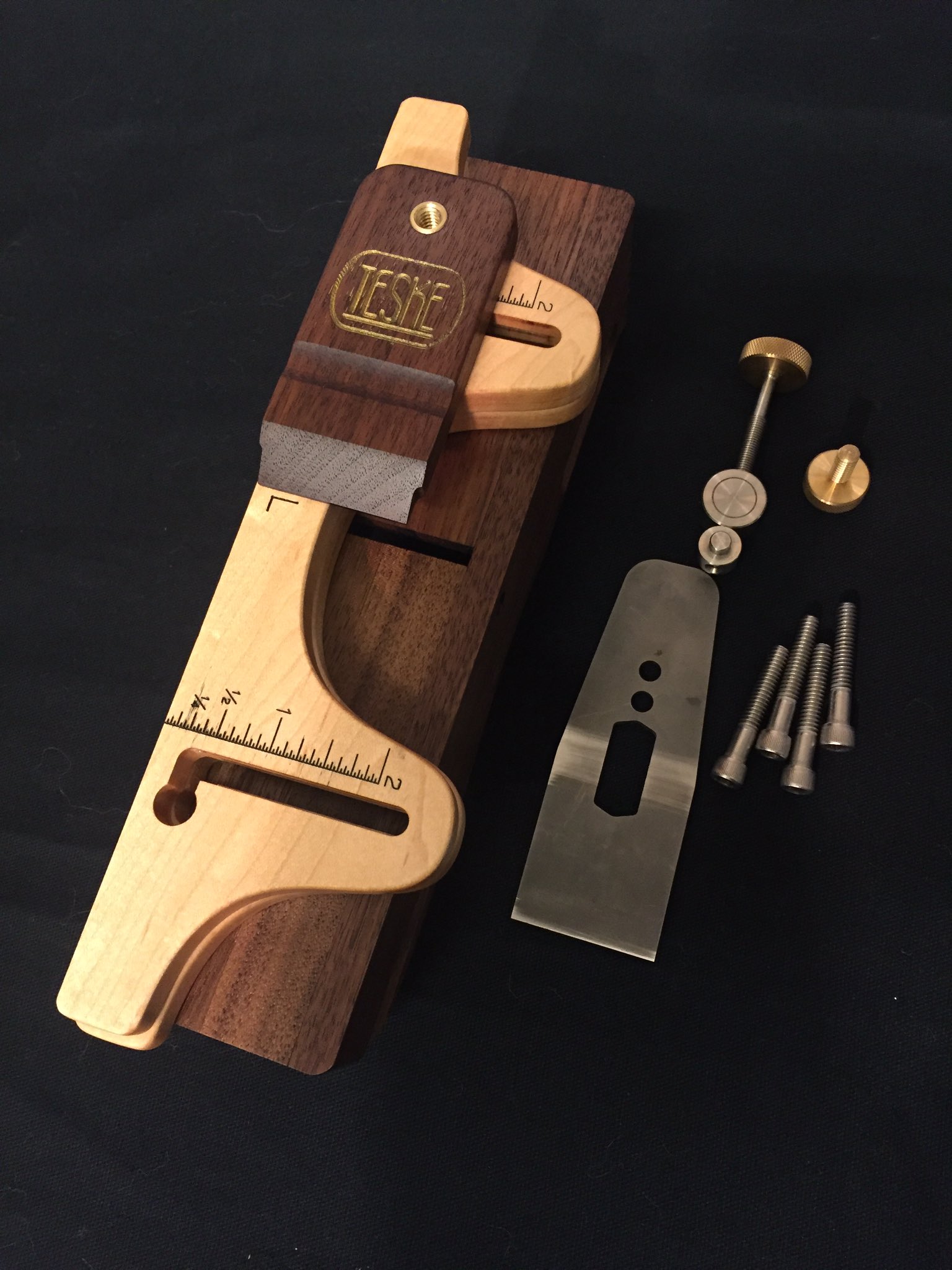 For added fun, I shipped the plane in a box 5x larger than the plane itself and packed it full of shavings (that I produced from making the plane itself)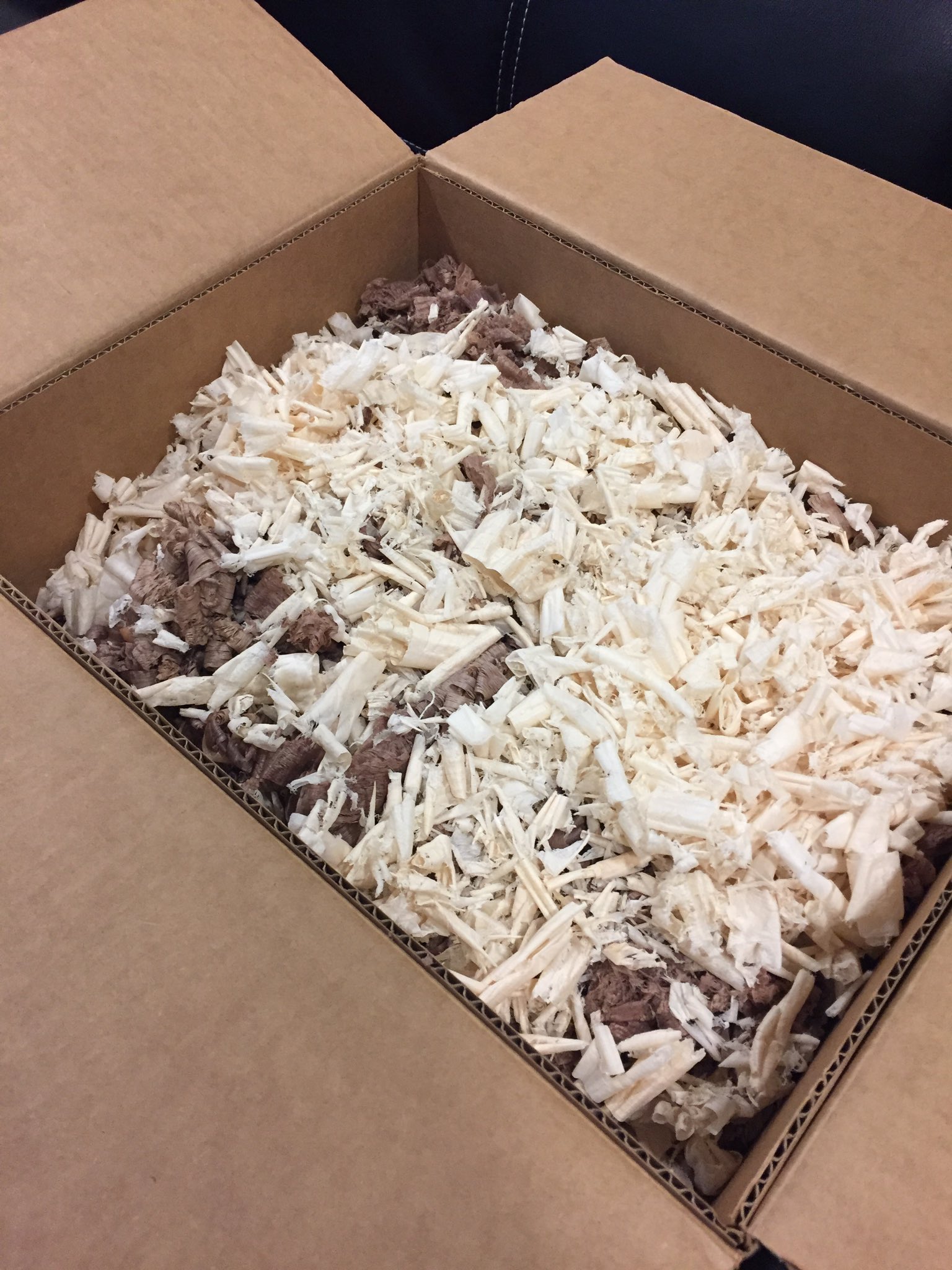 To top it all off, I threw in 25 pages of documentation typed on a vintage 1982 IBM Selectric typewriter (using the Letter Gothic font ball).
ASIDE: There were typing mistakes and I hand-corrected them for a sense of personal touch. I also included printed diagrams of the plane that were used to make it with Shaper Origin.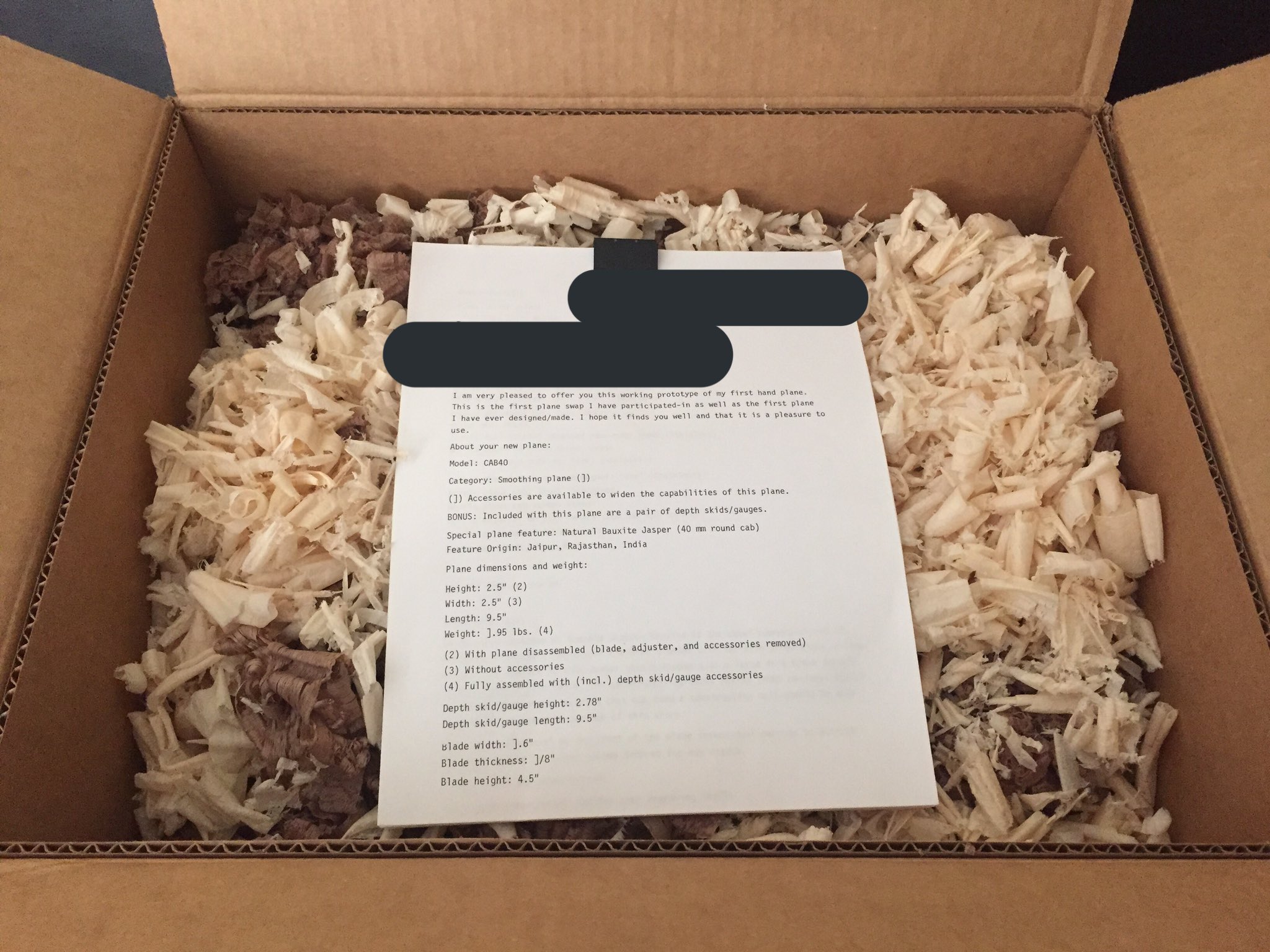 So, how did I create it? I will create some video which shows some of the novel approaches that got the results I wanted, but that will take some time. Until then, here are static images of the SVG files that I used with the Shaper Origin.
EDIT: For video, see link at the top of the page
First, I mocked up every aspect in 2D using Inkscape.


You can make my hand plane from 4 pieces of wood, 6 pieces, 12, 100, or more. The secret is the 0.246" hole in the body. Also note that to save wood, I flipped one of the pieces upside down so I could push the toe closer to the heel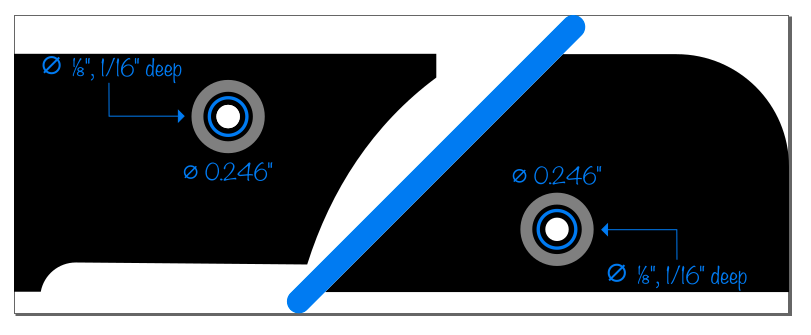 After the toe/heel pieces have been cut (however many of them you need in order to reach the required thickness), you have to flip them over and cut "glue channels" around the alignment hole to prevent glue from flowing over the threads of threaded rod used for assembly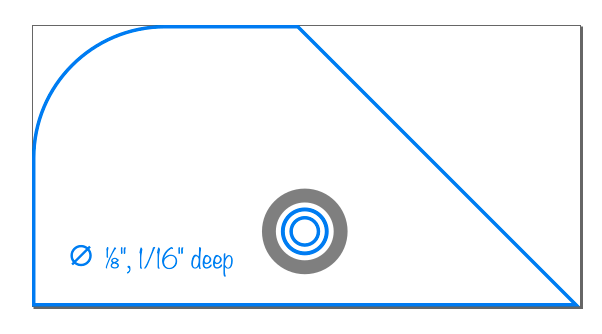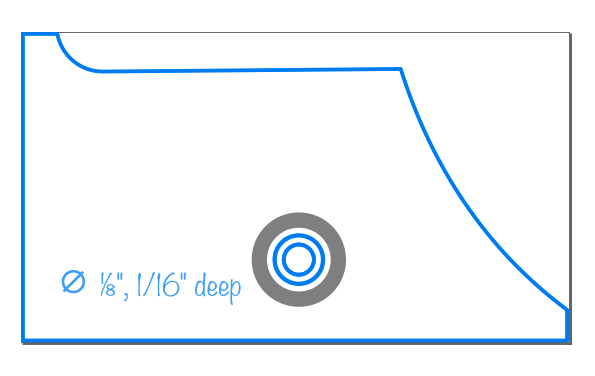 Like the toe/heel, I also save wood when I cut the depth skids by cutting them at the same time

After I cut out the depth skids, I have to flip them over and engrave the ruler and "R" vs "L" on the inside


On the sides of the plane we have 3/4" ball contours for your fingers/thumbs, we have 0.246" holes to snugly accept a 1/4" threaded rod, a 0.265" hole for embedment nuts (so we can put set screws on either side of the blade to center it), and a 1/4" hole for the cross pin




After the plane is assembled, I then widen the alignment holes to accept 1/4-20 threaded inserts


Then comes time to cut the lever cap which is designed to allow you to drop it into the blade cavity and have it stop and automatically center itself against the cross pin (versus a wedge-style lever cap which does not center itself automatically by gravity alone)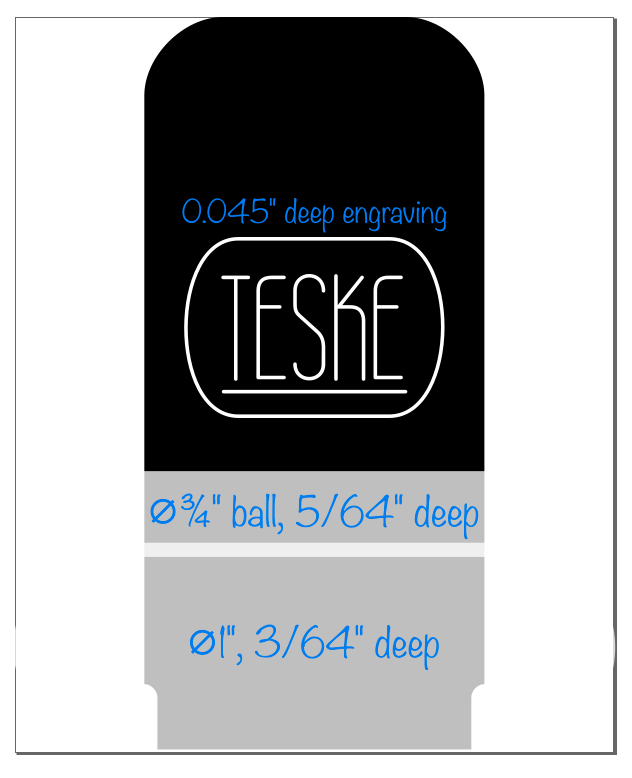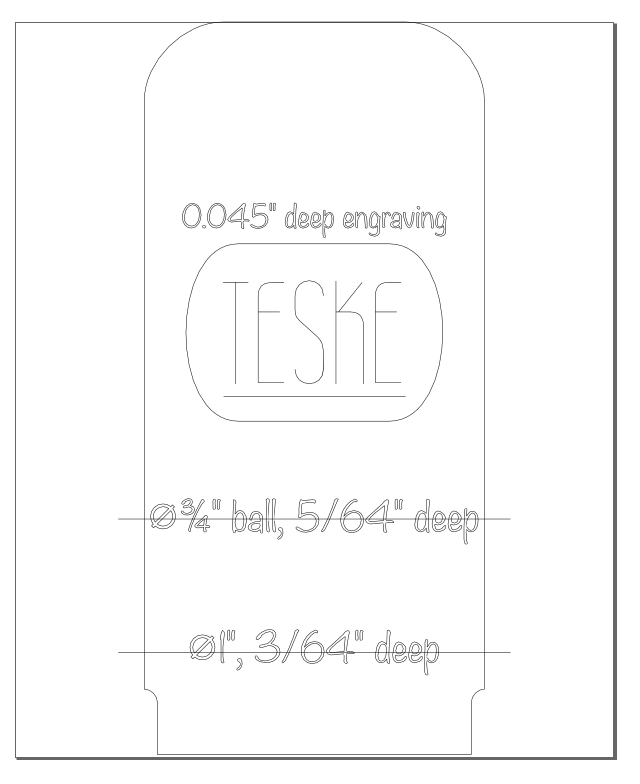 After I cut the lever cap, I have to flip it over to counter-bore for the insert that comes with the Veritas wooden plane kit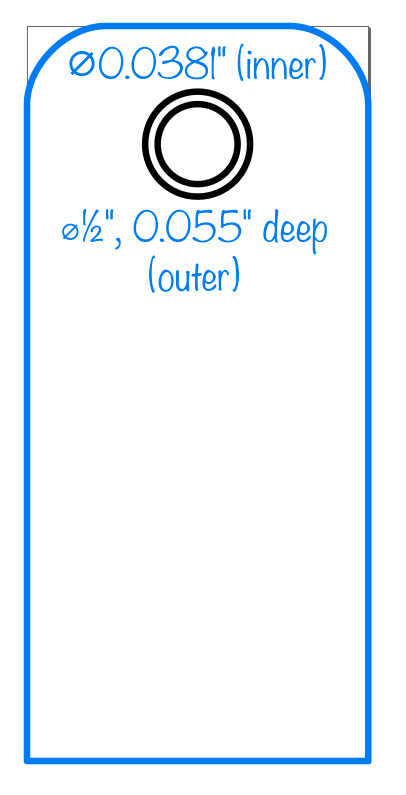 Process of creating a position for the stone is simple. I modeled what the completed plane looks like, positioned where I wanted the stone, made some notes to myself about depth and offsets, gridded to the corner of the completed plane and made the pocket with Origin

Making the necessary pockets for the Norris adjuster with Shaper Origin is a snap

But it was the front of the plane that took most of the work. I tested lots of engravings to get these settings and played with many designs before settling on this one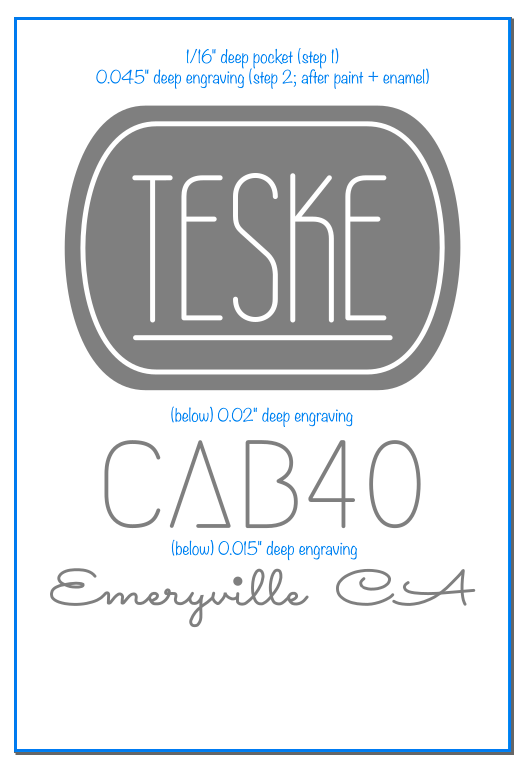 I even went so far as to model the plane blade in exact dimensions, down to 0.0005" accuracy, including radii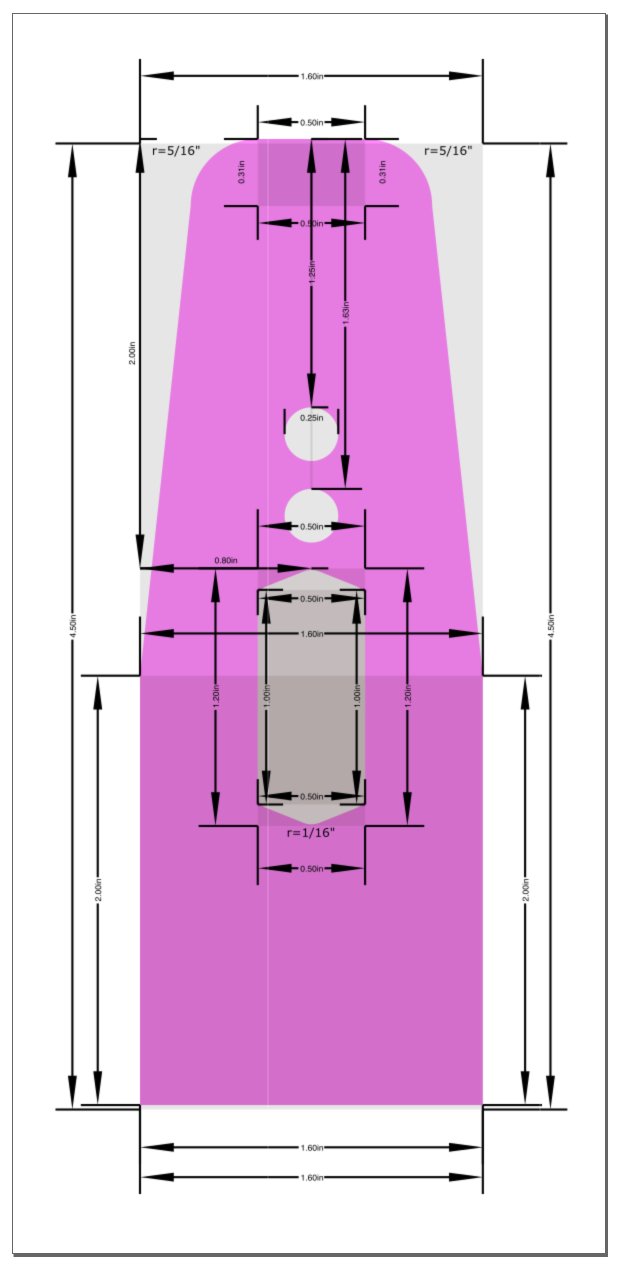 It was Inkscapes excellent "Simplify" path effect that made assembling all the cursive quite pleasurable. Definitely recommend using that path effect. It does an amazing job of automatically smoothing your paths for you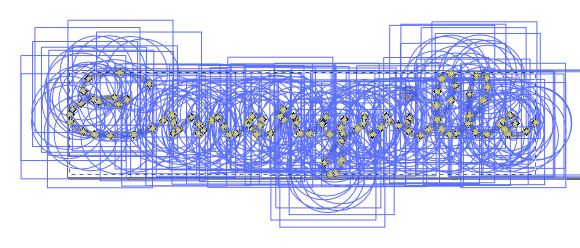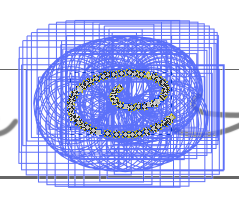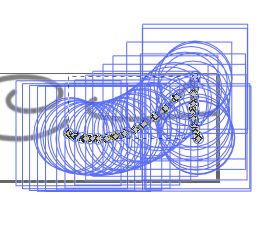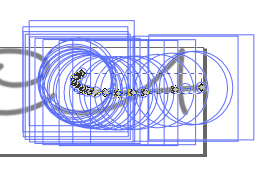 I am contemplating putting up a "lite" version of this plane (with fewer accents) on Shaper Hub if people express enough interest.
EDIT: I have posted a lite version on the Shaper Hub
-- Devin, SF, CA
---
---
---
---