---
Hello All,
I have been warning for months that I am going to finally get this dust collector hooked…well I finally did. Not that I didn't want to hook it up, it is just so expensive to do it right. I just thought that I would throw in a couple pics. I left the 10' of metal piping on the Griz and just joined it with the PVC. It makes grounding easier inside the shop and why tear down something that is perfectly fine. The reason why I went with PVC was because the joints are a piece of cake to make and I didn't have any success what so ever with my metal joints. But we won't talk about them. I have to be honest with you…nothing is of my own doing, except the work of course. I got the design of the pipe joints from Stan Harder at ( http://harderwoods.com/pipe.html ). You will have to click on the pictures below. I don't seem to be able to get them to fit right. PIPE FITTINGS: The only thing I did different from Stan's joints is that I used white caulking on the outside, just in case the CA wasn't perfect. I used paintable caulking because when it is all done, I am going to get everything painted up on the ceiling the same colors, so it doesn't look like a big spider on top of me. Here is a picture of the tools I used. I ordered the CA glue and the accellerant from Rockler. You have to spray one side of the pipe with accellerant and the other joint has a line of CA glue. Don't skip the spray, it won't work with out it, trust me! You also don't need to buy a ton of this stuff. I used only a 1/3 of a 4oz bottle setting up the entire line. See the above pictures for the joints.
BLAST GATES: The blast gate design was from Phil Bumbalough at (http://www.benchmark.20m.com/articles/BlastGate/blastgatebuilding.html). I used Gorilla glue to secure the blast gate halves to the pvc pipe. Make sure you sand the pipe first, it makes the hold a lot better. I forgot to do that on a couple and I was able to pull the pipe out with some moderate force. I didn't glue any of my blast gate halves together like Phil did. I drilled them out, countersunk the holes on the upward side of the blast gate and I used drywall screws to secure the halves. I also used the same harden board material for the spacers as I did for the gate. I wrapped the spacers three times with black electrical tape. This gave me a cushion of adjustment, about 1/32 on each side, which was a total of 1/16 per spacer. I used screws (instead of gluing) because I could adjust the restriction of the gate by tightening or loosening the screws. Also, I mentioned earlier to have the screws face upwards on the blast gate, this allows for future adjustment with moisture content or even new gate material in case you bust one off. This picture is the main line, running through the end of my outfeed table, underneath to my table saw.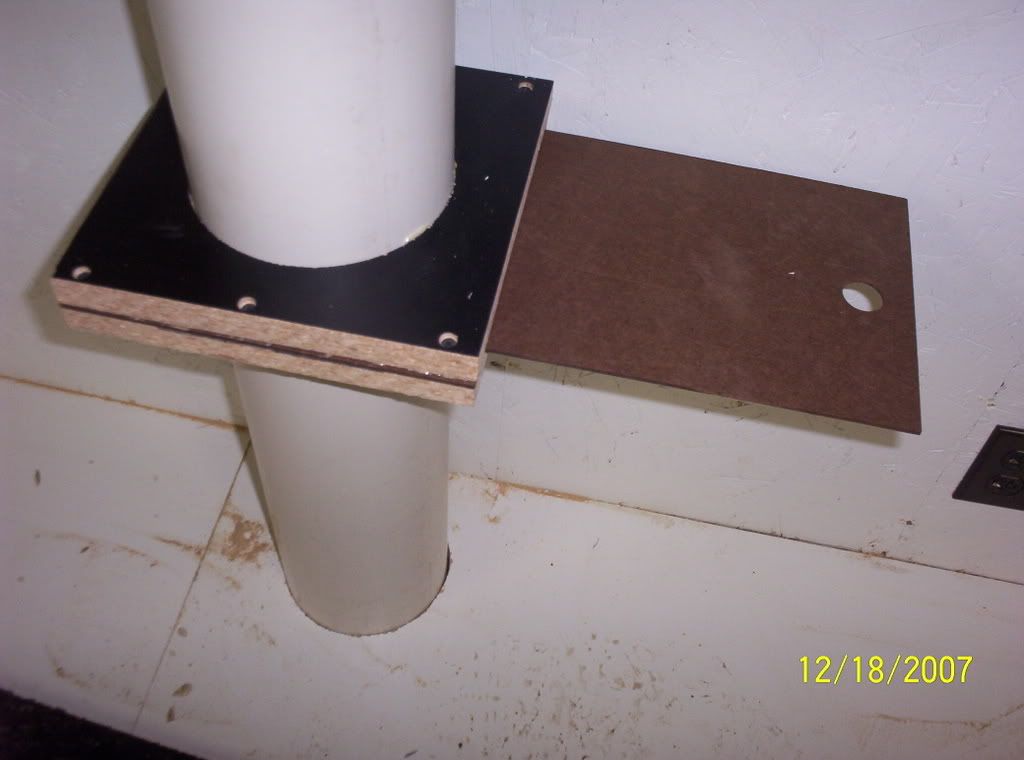 This is my picture of the jig I made of mdf to router the holes on the blast gates. You can see the black piece of melamine in the bottom of the jig and I used a spiral bit to cut the holes out.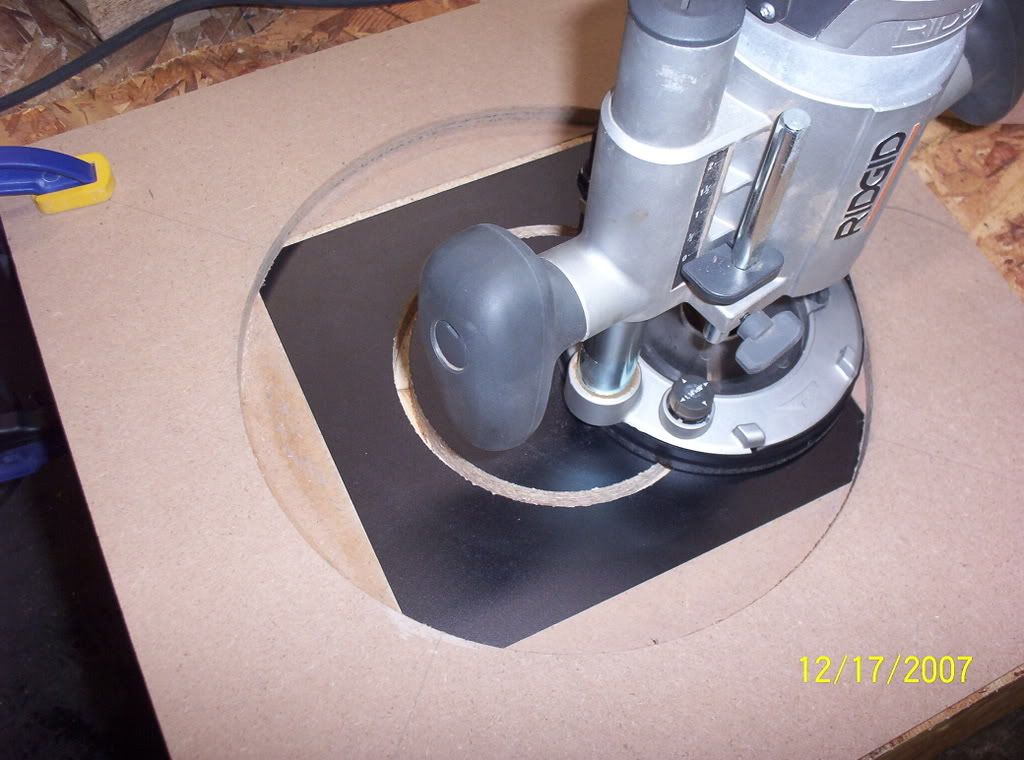 Both Stan and Phil helped me out tremendously and I really appreciate their information they post for us. And not of which is to be considered the least of important: of course I learned about pipe spacing and things lilke static buildup etc., from Bill Pentz at (http://billpentz.com/woodworking/cyclone/Ducting.cfm#Fittings). I encourage people to take the time and learn what to install and how to install it first. This was a very expensive venture for me and I would hate to have anyone set up their system and find out that it was all the wrong layout and pipe supply. I have over $700 in the machine and about $500 in the piping and fittings. That might not be a lot to some, but to me, that's a new planer and about 500 things from Rockler. If anyone has any questions about making these joints let me know. My email address is [email protected] Make sure you put in the title something about lumberjocks or woodworking or dust collector or something else because I don't read my junk mail. Thanks guys for looking.
-- Allegheny Woodshop
---
---
---
---