---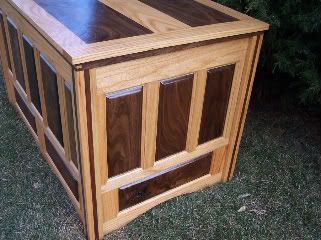 This over-sized chest was crafted for my eldest daughters high school graduating class of 2011, to benefit their post-graduation celebration.
Constructed with mortise-tenon and rail-stile techniques there are virtually no metal construction fasteners used in this project.
The project features: highly-figured Nebraska grown black walnut, Nebraska grown aromatic red cedar linings, removable/floating dovetailed maple trays, 8 coats of General Finishes Arm-r-Seal, wood keyed miters, a continuous hinge & slam-proof lid supports.

The walnut panels are lumber from the sawmill of our fellow Lumberjock friend saw4fun (Rastus) at Native Lumber & Sawmill. I really enjoyed using the unusual piece with an actual walnut that had somehow grown into the wood of the tree.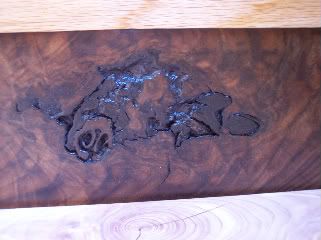 Perhaps this is common, but it is the first such "knot" that I had seen.

It is my understanding that the group is going to use this as a "Valentines Day" raffle. Other businesses are donating flowers, boxes of candy, meal gift certificates, etc to place in the chest. I hope that they are successful in their fund-raising, as the over-all goal is to put on a post-graduation celebration to help keep our beloved young people safe.
Lovingly handcrafted it is my hope that the future owner of this piece enjoys it in their home, as much as I enjoyed creating it.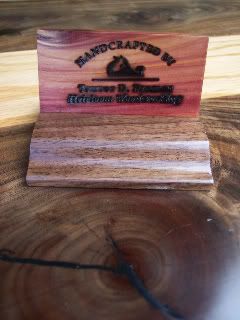 A photo album slide-show of this project can be viewed HERE
Trevor
-- Trevor Premer Head Termite and Servant to the Queen - Heirloom Woodworking
---
---
---
---