---
The client who contacted me wanted a custom net for her dad from his grandson.
The stipulations for this commission were many: A net that is: unique, has a black cotton bag, is personally inscribed, can be delivered by Christmas, has a pewter trout on it, is of a wood that compliments an amboyna burl rod seat on a custom rod recently gifted to the grandpa, and will pass the scrutinizing eyes of a discerning woodworker. I hope that I acheived those points with this net. I am certainly proud of it.
My website has many more picture for those who want to see other nets I have made. If you would like to commission your own net, please contact me here.
If you would like to see my nets that I currently have for sale and ready to ship, please go to my web store.
UPDATE- The client received the net before Christmas and had this to say about it, "Greg, I just received the net and it is BEAUTIFUL! I love it and I know my Dad will be thrilled with it. He probably won't want to take it on the stream. The inscription came out perfect – thanks for making that work. The only thing I wish I would have thought of was for you to sign your card and say that it was made especially for him. My Dad is so special to us, and finding him the perfect gift is extremely difficult. I think we hit it this year, I am so glad I came across your website. Thanks so much for working with me on the wood and the trout and getting it done in time for Christmas. It's perfect!
THANK YOU!! Happy Holidays"
UPDATE- I created a new Sierra Nets tag for this custom fly fishing net, wrote a personal note on it as the client requested, signed and sent it out. Here is a pic: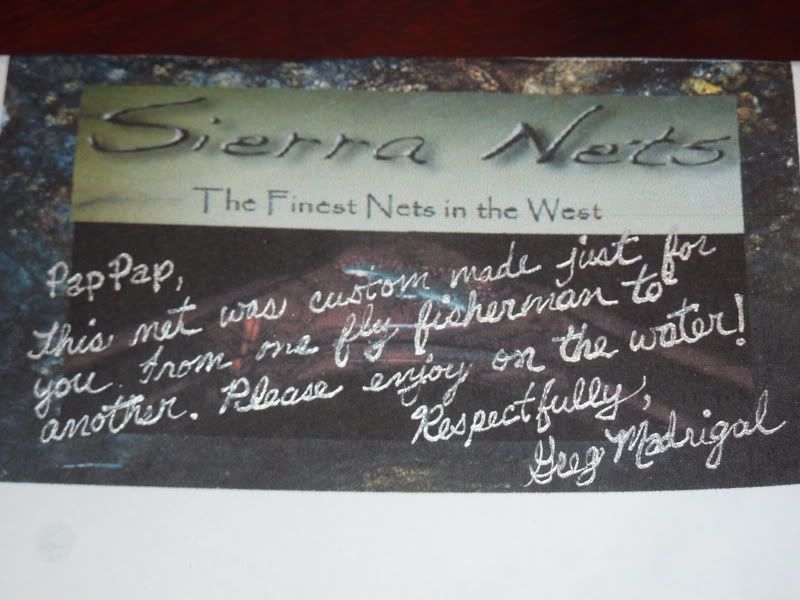 The handle is shaped cocobolo with a pewter inlaid brook trout originally carved by a good friend and neighbor named Phil Schuyler who was a staff artist at Marineland, Ca. during its hayday. I carved out a bunch of small craters to emulate the free stones of many trout rivers. The hoop is mahogany rimmed by wenge. I really like the contrast that wenge provides, and though it is splinter-prone, it bends and finishes beautifully.
The magnetic catch is an oak burl that I found in a wood lot in Temecula, California. A fellow LJer, Socalwood kindly sliced it up for me on his Wood-mizer and it's has been drying in my garage for months. It has a maple face. The fly fishing net magnetic catch allows the net to dangle off your back while fishing, yet is easily accessible and very easy to snap back into place after releasing a fish.
As with all my custom nets, I tie a custom lanyard with a snake knot, and sign/date the end of the handle. The rim of the hoop was inscribed as it was about the only place light enough to show a black permanent micro marker.
Thanks for looking and happy holidays all!
Greg<><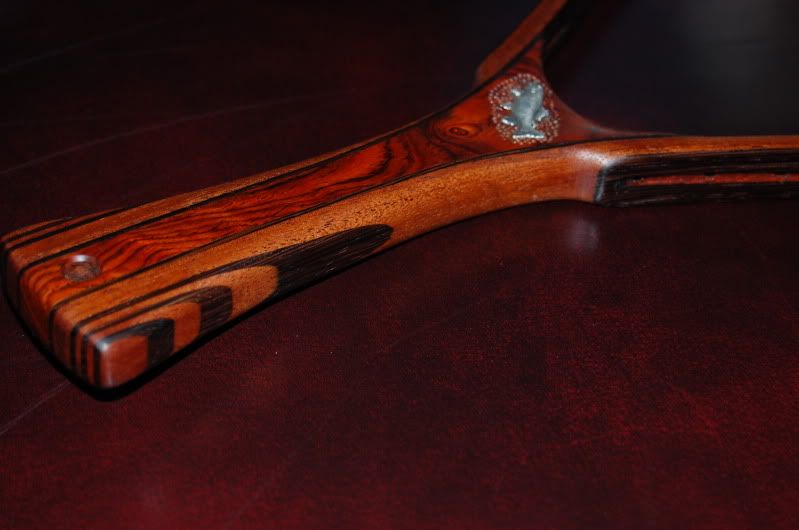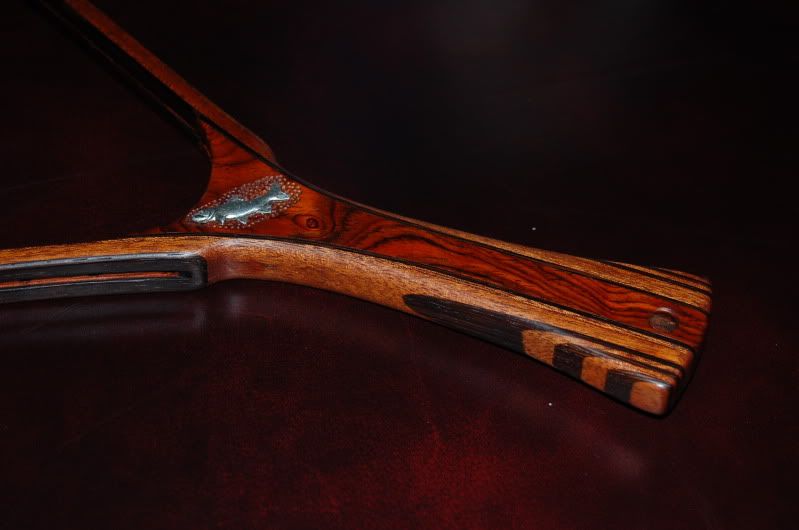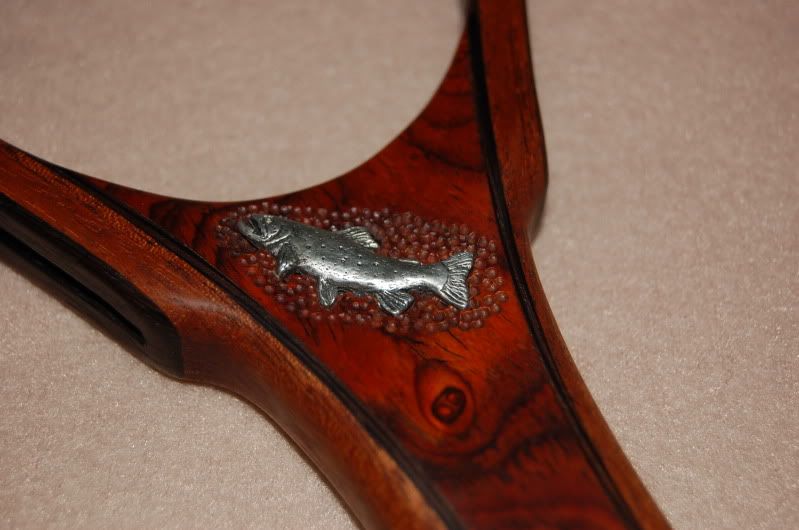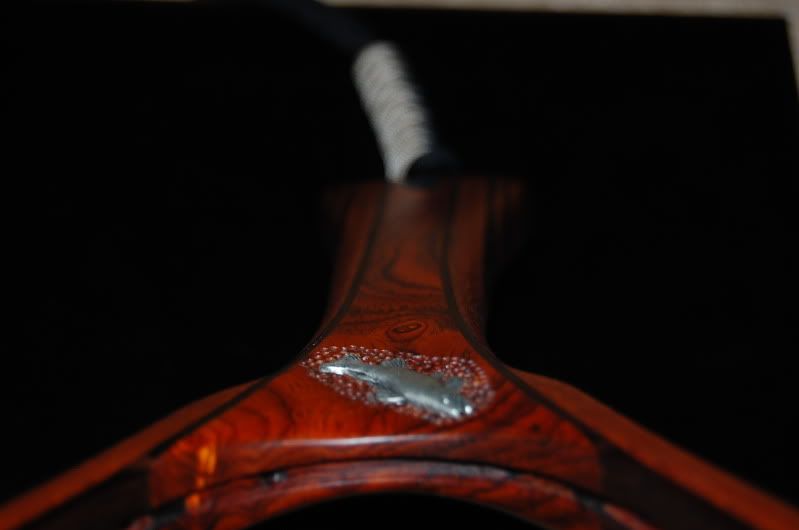 the back side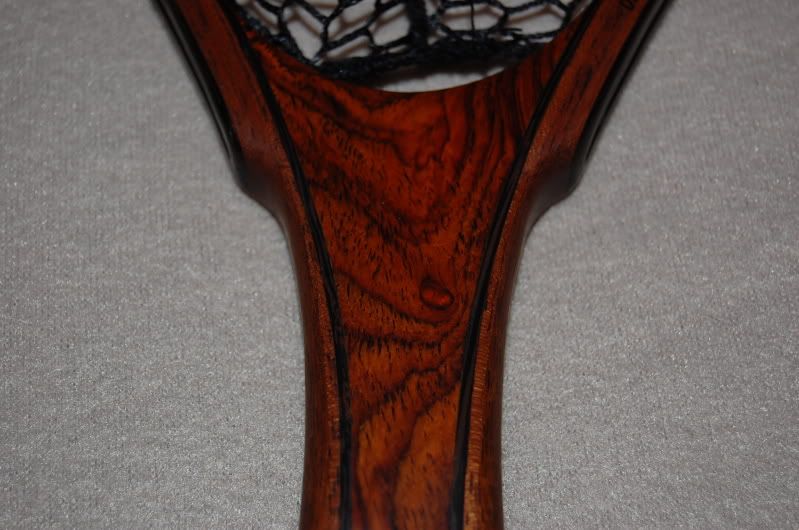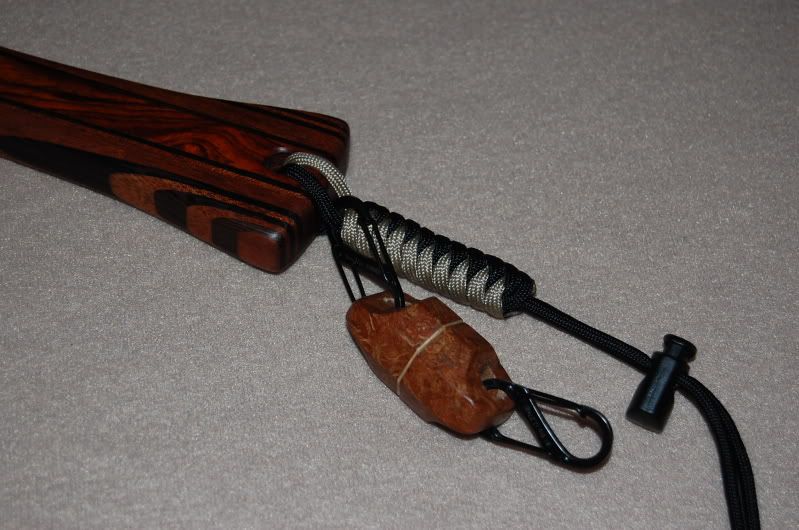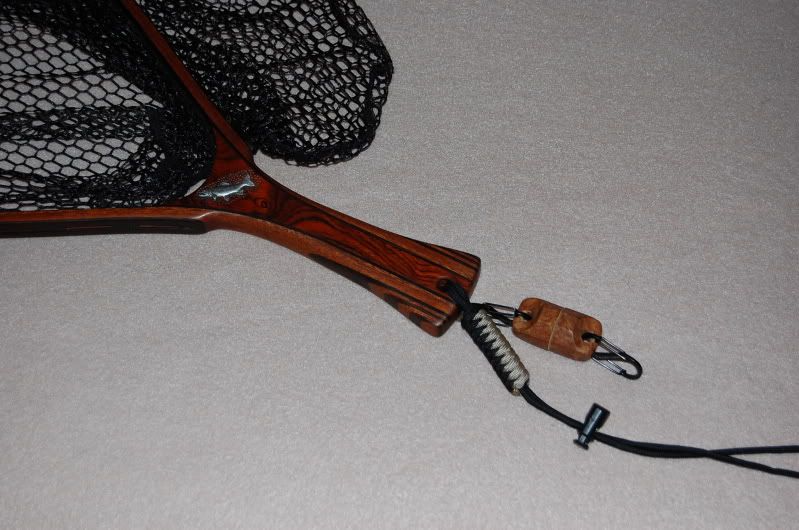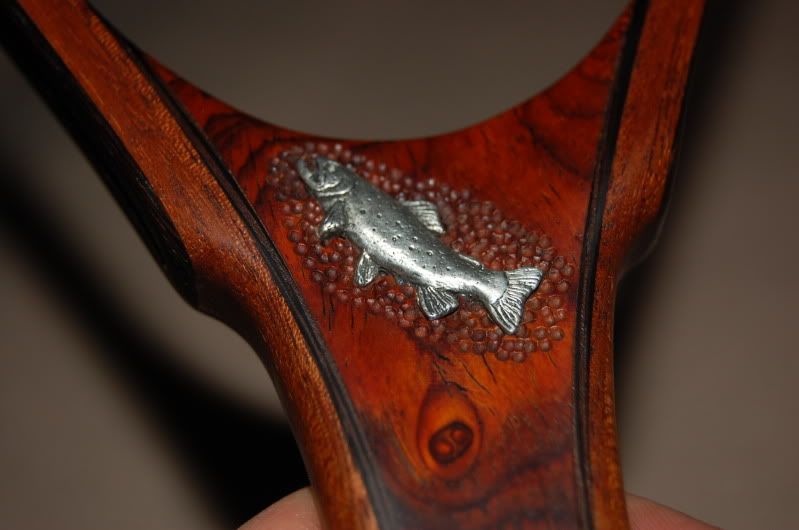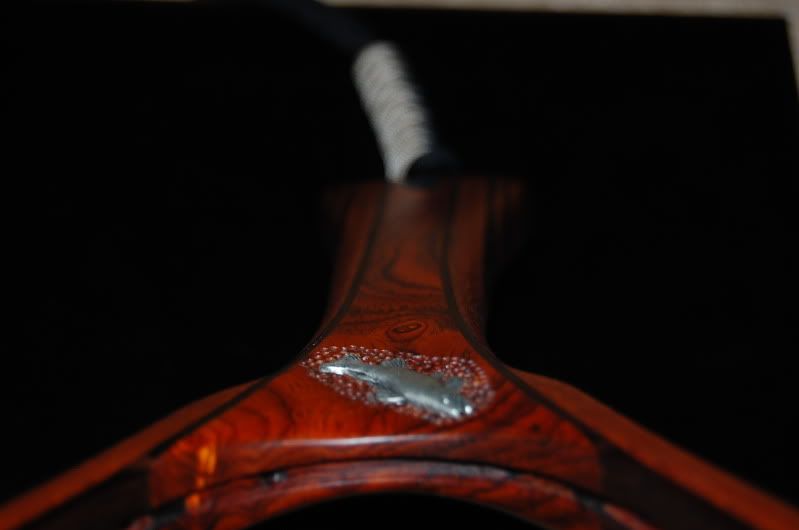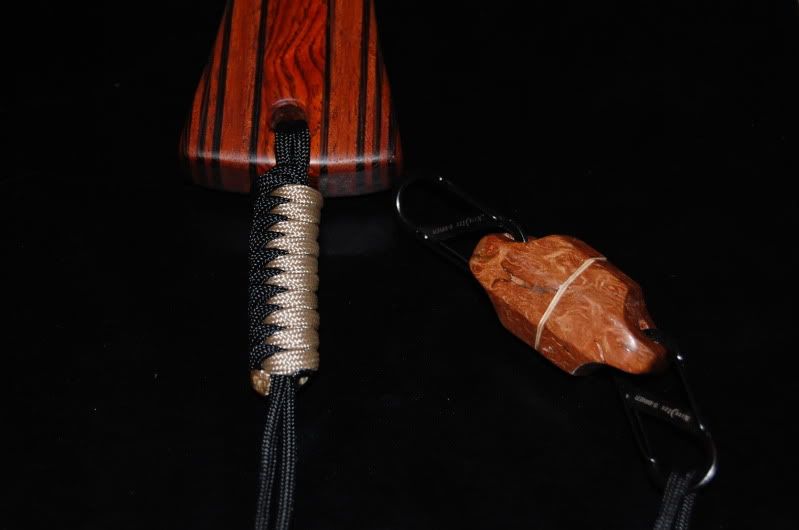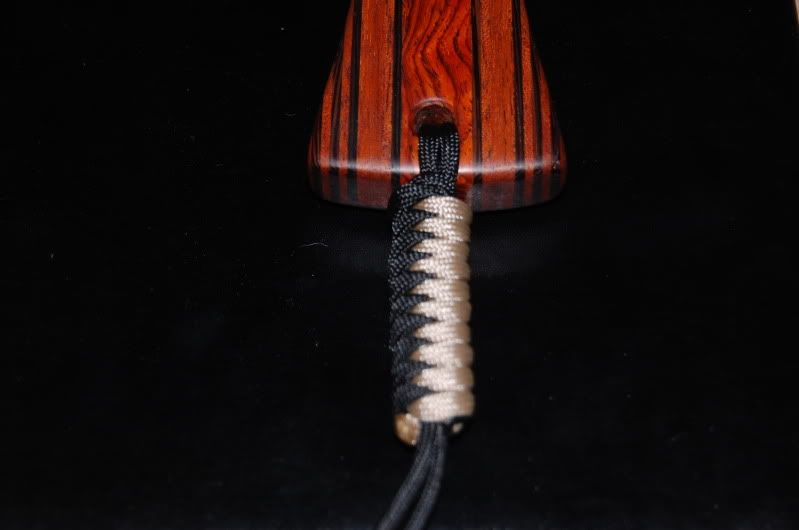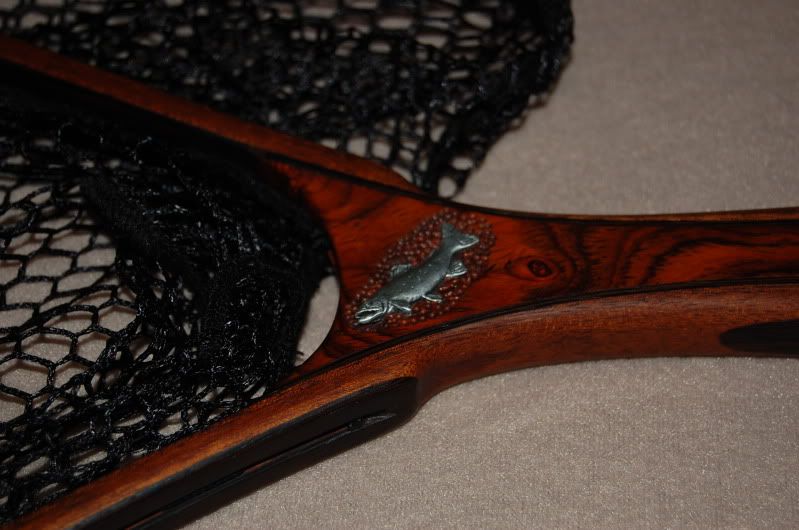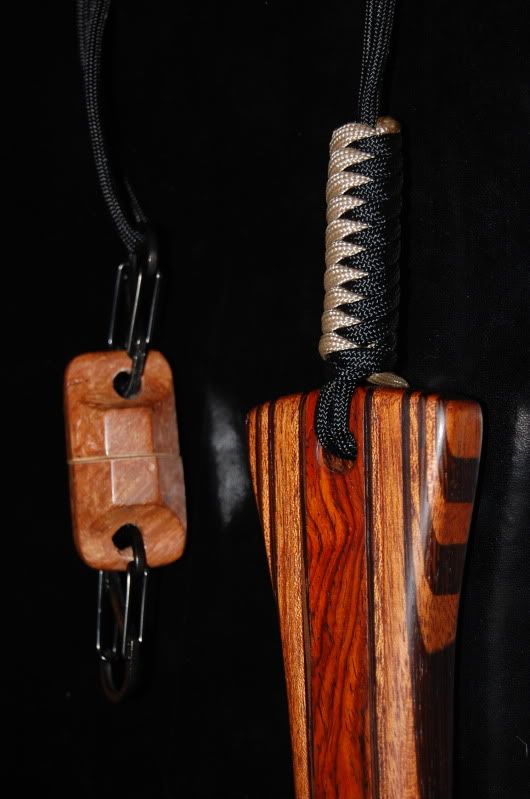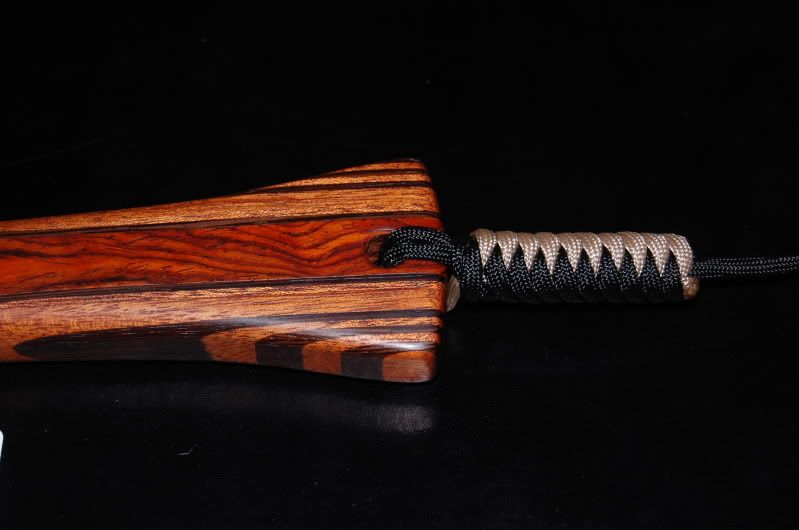 -- You don't have a custom made heirloom fly fishing Net? http://www.Sierra-Nets.com
---
---
---
---