---
Some of you may remember that I was at a loss to what to get for my husbands 50th birthday. Many of you mentioned that whatever I do or get to make it memorable, well I think I managed to do just that.
Firstly just in time I was given a piece of what I think is Red Gum Burl and as you can see in the last picture it was pretty well cooked. So my first job was to clean off all the burnt wood and rescue what I could. That was fun or should I say an experience!!!!!!! On the day that I decided to do it, it was pretty windy, I was outside with an attatchment on the grinder removing all the coal. By the end of day one I was absolutely filthy, covered head to toe in blackness!!!! All the while thinking that I hope the neighbours didn't have any washing on the line!! The second day was less windy but by far less clean- it was just a different colour!!
It took most of the week (couple of hours grabbed after work & on weekends) to get it to a stage where I was happy with the design of it. I didn't change it much on what nature had already given me but tried to enhance what was already there. Most of this project was varing stages and grits worth of sanding. I took it down to 600 grit and then sealed it with a shellac sealer and then used 2-3 of coats of burnishing oil. And then buffed it up. It soaked up up a lot and had already started to crack but I think it was me who was doing the cracking as I was working on it upside down putting pressure on it.
Anyway I was very patient and didn't post it until hubby was given it FULL of CHOCOLATE!!!!!
Since he loves the bush he absolutely adored it, he had only seen it when it was burnt and shortly after, I had to try & hide it from him and at times he was banned from entering the workshop!This project was so different from what I have done in the past I really had a ball and intend to do more of it when summer comes around so I can be outside.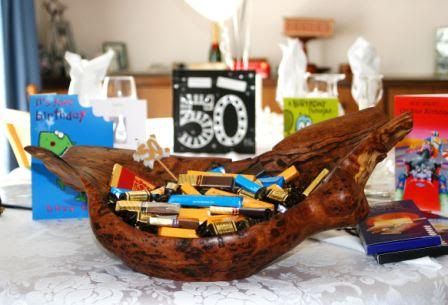 -- Theresa, https://www.facebook.com/derrymore/
---
---
---
---