---
I made an electric guitar for my oldest son a few weeks ago. For obvious reasons, the guitar quickly became known as the "Green Goblin". Knowing that he can be a little rough on things, I thought it best to put it in a case. Sticker shock prompted me to make one out of scraps from the shop.
The top and bottom are 3/8" pressboard, and the sides are paneling scraps. I glued and stapled the panels together into a 6 sided box, then made the cut for the top from that. The lid is held in place with some piano hinge remnants I had. I bought some heavy gray material for the cover and spray glued and stapled it in place. I used the original template from the guitar to shape some foam scraps, spray glued those in place, then spray glued the fleece fabric over that. It's a little heavier than I would have liked, but he's young and healthy. Material and hardware cost in the range of $25. It was nice to have a low keyed project that could be completed in a few hours.
On the horizon – A 15-20 watt tube amp and speaker cabinet for it….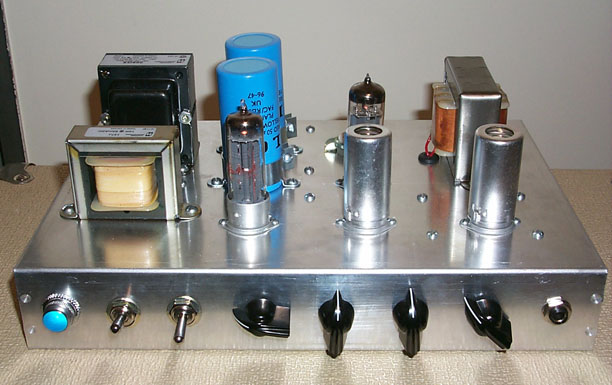 -- Happiness is like wetting your pants...everyone can see it, but only you can feel the warmth....
---
---
---
---