---
I wanted to build myself a business card holder for my Sierra Nets business cards, and had seen this design in the past. I couldn't find plans for free online, and wouldn't bring myself to pay 3 bux for the plans(yeah, I'm a cheap-O, I know) so I simply made my own plans, built a mock up, then built it this one in wenge & curly maple. I ended up finishing it up just in time for a meeting I had for execs to be coached in business.
I told them all about my new Custom Net Business, and handed them a card. I walked out of that meeting with orders for 5 more card holders, and a custom net for a guy's Dad who is going to Mexico on a 6 month sail. It was a good meeting.
So these lil boxes are kind of a PIA, but are pretty dang sweet when done. I used 14 gauge copper wire for the hinge pins. Interesting lesson learned: the copper kept "unscrewing" itself from the 5/32" x 1/2 deep holes as you opened and closed it. I fixed this issue by using a utility knife to score many barbs into the deepest 1/4" of the pin. This, in effect, makes them a 1 way deal- In, but never out.
Another lesson learned was that it was easier to jig up my 6"x48" belt sander to fine-tune the 45's on the frame pieces that try to cut off microscopic shavings with a 12" chop saw! Much safer too!
I made this one for one of the ladies in the group- It is carob (harvested locally) with a winge border and a curly maple frame. I made another but used purpleheart in place of the wenge-I forgot to take pics b4 selling it. Ggrrrrrr.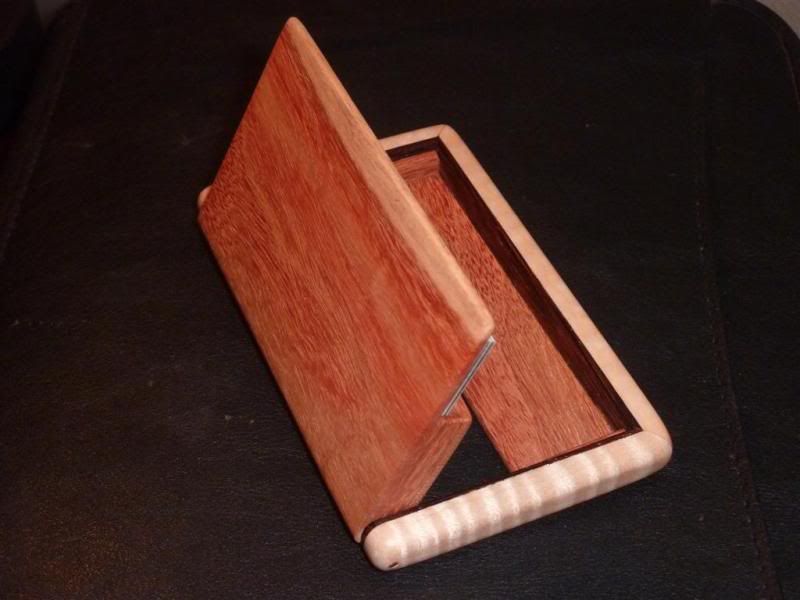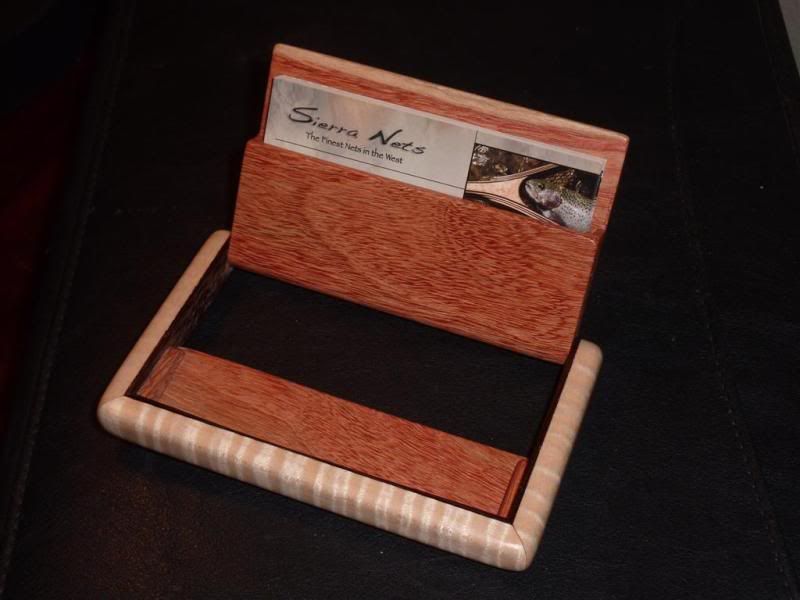 Now my cousin wants 2 more, and my mopther-in-law another one.
I made 12 in total and it took me 3 days. that included milling the carob from a log.
-- You don't have a custom made heirloom fly fishing Net? http://www.Sierra-Nets.com
---
---
---
---