---
I completed this project this spring while at IP. it is a eight drawer jewelery chest made from western maple and pacific yew. I wrote about my troubles with yew on this site earlier this year as the box was nearing completion. I have to admit that using Yew was the wrong choice, and I should have left it alone.
Picture of myself and my pacific yew slabs.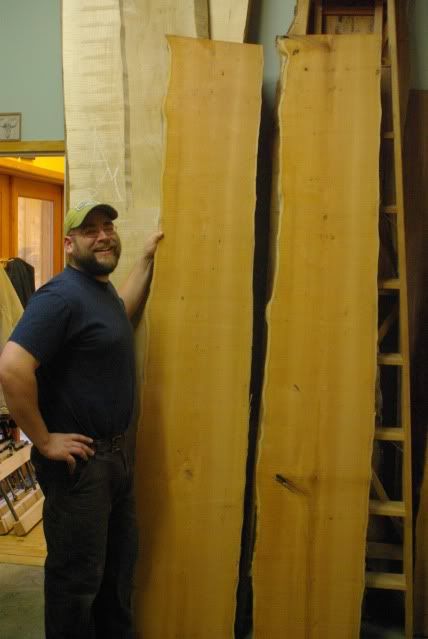 This piece was challenging for wood in more than one way. the carcass, dividers, and drawer bottoms are all sequence cut from a single plank, you will notice how the grain wraps around the piece. this also means no second chances, everything has to work the first time.
I chose a plank with the transition from heartwood to sapwood, to lessen the pop of the curly maple drawerfronts. again, sequence cut, so one messed up tiny dovetail would have been a catastrophe. matching back panel in the same wood.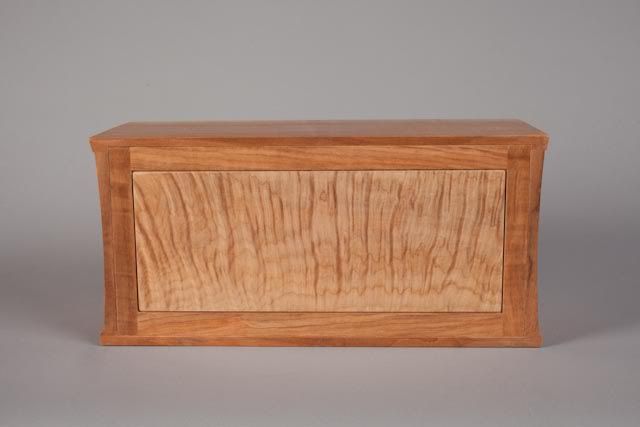 All the western maple in this piece was cut from the same tree.
pulls, I made from brass, the three tiers of drawers are actually different sizes, so different size pulls. I do not enjoy metalwork, but at school we learn how to make such things, so I did.
So, in retrospect, this piece was technically challenging, and I learned from it, which was the goal.
As a rule, I don't post comissions or projects I sell, but this piece is being donated to a charity auction. I hope someone enjoys it.
-- Junior -Quality is never an accident-it is the reward for the effort involved.
---
---
---
---