---
Finally a completed project from my shop this season! I seem to get time for fewer and fewer projects these days, and this one's been on my bench since spring. It's a mission style entertainment center made of quartersawn white oak and oak ply, with cherry bow tie inlays on the top. Dimensions are roughly 66"w x 24"d x 29"h. Construction is mainly glued dados and pocket holes. The corbels are doweled, and the door grids are half lapped. The finish is a mixture of early american and colonial maple, with a poly clear coat. Most of the QSWO was salvaged from the Widmer Wineries.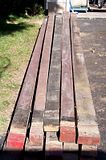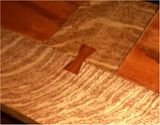 After removing the old entertainment center last fall to install a gas fireplace, we've been without serious music in the house….a tough feat for a recovering audiophile. Now I can finally hook up my beloved modified Dynaco 70 mono blocks to Sterling Acoustic speakers (made by yours truly) and have some decent sound again! Christmas just wasn't the same playing the family favorites through a boom box (wince
Next up…guitar build number two for another son!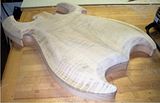 -- Happiness is like wetting your pants...everyone can see it, but only you can feel the warmth....
---
---
---
---