---
After their previous life as a flight of basement stairs, (Pine stringers and an oak support post – circa 1880) and (what I think is) the bed of a book press similar to this: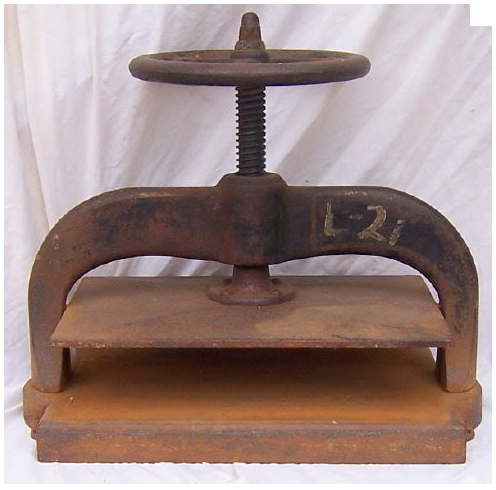 They will now live on (beautifully) as my new lathe stand! Handcut mortise and wedged tenons, 5 degree splayed legs. This stand is rock solid, and allows me to work at it very comfortably. My old stand, while heavy (and a huge dust collector) didn't really quite work for me. But as my projects show, I didn't let that stop me.
My daughter gave me the idea to use the book press bed as the top. The rails from the top come from one piece, the feet come from a second one I have. My Grandfather used to work at a book bindery, and has some cool relics that he passed on… with the proverbial " can you use this for something?" I always said yes, though I typically had no idea what yet. Sometimes I think he overestimates my creativity. I've long thought my daughter was already more creative than me. Ah kids. Anyhow, he also gave me most of the bits of a book sewing press – to turn into a table or some such.
Follow the progress of this project at the blog series:
-- I am always doing what I cannot do yet, in order to learn how to do it. - Van Gogh -- http://blanchardcreative.etsy.com -- http://snbcreative.wordpress.com/
---
---
---
---