---
A Mobius Loop Cutting Board made with walnut, cherry, maple, and Spanish cedar.
For the mathematically inclined: Yes I know it is actually a Double Mobius Loop, Mr. Smarty Pants. But did you know that a Double Mobius Loop Cutting Board has two surfaces? Ha. Take that.
Here is how I did it:
I tried to come up with a way to make this without a lot of fancy measuring and cutting. So I broke this design into three assemblies, and glued them together at the end. I determined that the only piece that was critical in size was the small parallelogram, because it is an interior part. All the rest could be trimmed once the assemblies were together.
I started by making 4 sticks of wood. These were all jointed square and then made exactly the same size; 3/4 inch thick and 1.5 inches wide. I made a sacrificial stick of poplar to try some of the cuts, but I did not use it much.


.
The next step was cutting the small parallelograms. This design needs three. These are the same shape that is used in many designs. The key is to get them to be 1 unit in size. A unit in this case is 1.5 inches. So I set the miter gauge at 30 degrees and kept moving the stop block until I could cut a block that was as wide as it is tall. Then I cut one of each wood.


.
Then I just rough cut the other pieces, making sure that they were all a little too long. Then I glued them up the three assemblies, so that the pieces stuck out too far.


.
When dry, I took them back to the saw. Again using the miter gauge to cut the right side of the assembly, I snuck up on the cut until I just got to the tip of the triangle.


.
Then I finished the left side cut using the fence. Like in a previous step, I want a parallelogram. But this one is 3 units in size. So I set the fence to the existing width of the assembly (3 units wide).


.
Then I rotated the three pieces and sent them through with this fence setting.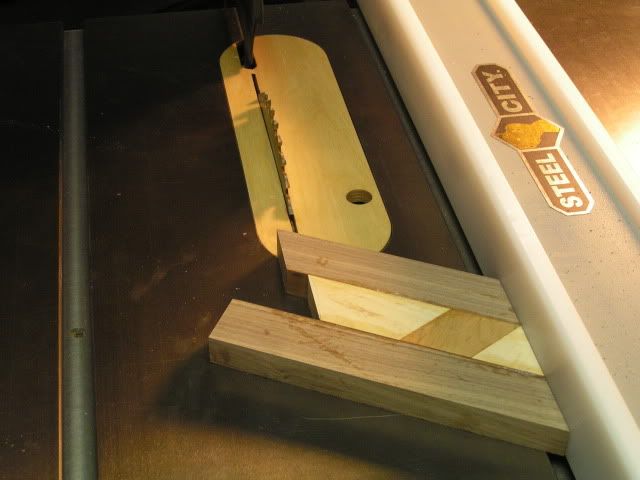 .
Then glued-up the three assemblies, sanded, and oiled.
If anyone wants to copy or modify, have at it.
Steve
-- -- I'm no rocket surgeon
---
---
---
---