---
I recently completed a chest of drawers for my wife, which we jokingly referred to as the Lingerie Chest.
The chest is built from solid woods with handtools, with the carcase in Makore and the drawer fronts in Jarrah. The secondary wood for the drawers is Tasmanian Oak.
This is an original design influenced by Bombe chests of the 17th and 18th century. The sides of the chest taper in a curve, while the drawer fronts are bowed. All the drawers fit the carcase, and required compound dovetails. The drawer blades are fitted via sliding dovetails. All joinery was hand cut. This project took a little over 12 months working weekends.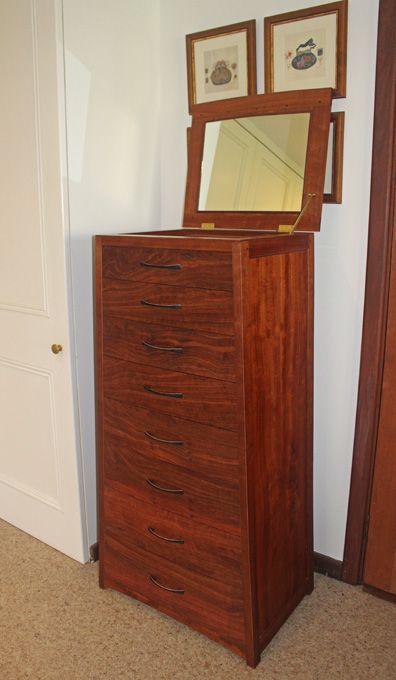 Facing the chest (48" high), my wife is tall enough to look down into the top drawer.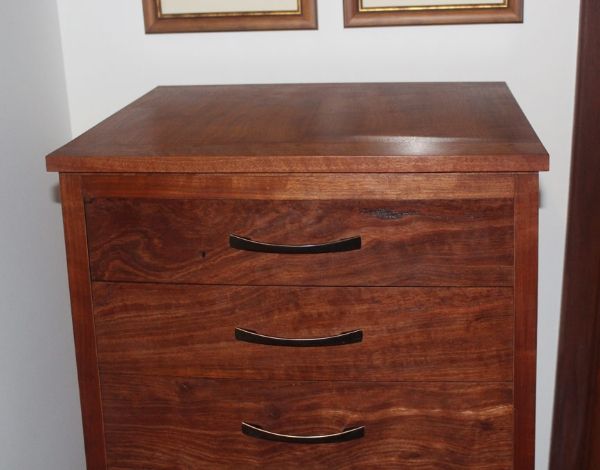 Since this drawer is to hold jewellery, it needed to be locked. I did not wish to add more hardware than necessary and so, instead of a lock-and-key, added a Quaker Lock.
A Quaker lock is simply a spring-loaded wedge under the drawer. It is made of the following parts: thin, flexible (straight-grained) strip of wood, a thin wedge, and screws.
These are put together to create a spring wedge, which extends to the rear of the drawer blade ..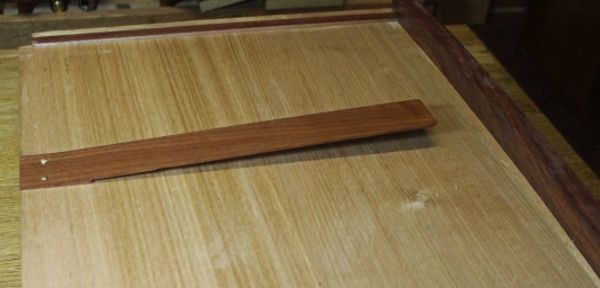 To release the Quaker lock, first open the second drawer, then reach underneath and push up the spring while simultaneously pulling out the drawer.
The top drawer opens to reveal the upper jewellery tray (spaces for ear rings) …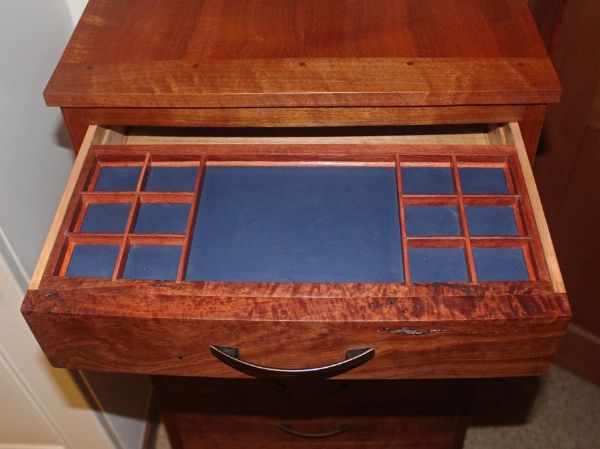 Sliding it back reveals the lower jewellery tray (spaces for necklaces and rings) ..
The drawer bottoms were covered in 1.2mm thick leather.
The mirror recess is also covered in leather …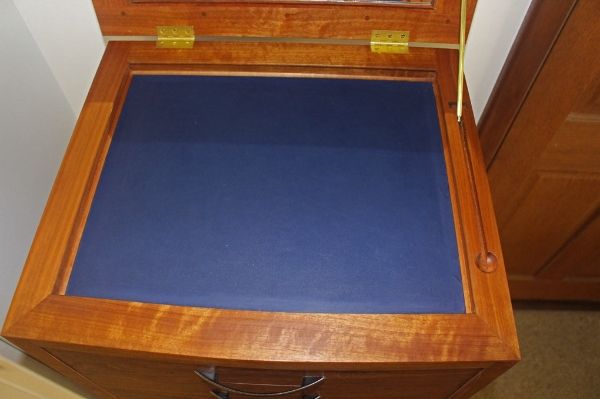 Here is one example of the coved beading around the mirror (so difficult to photograph owing to the reflections) ..
The complete build-along can be found on this Index page. Scan down to Lingerie Chest: http://www.inthewoodshop.com/Furniture/index.html
Regards from Perth
Derek
-- Buildiing furniture, and reviewing and building tools at http://www.inthewoodshop.com
---
---
---
---