---
This project was an attempt to copy a historical piece (Selig Z-Chair or Z-Sofa) as close as I reasonably could. A loveseat size wasn't made originally, but its just in-between the other two sizes. I've never seen a real Selig piece in person (but I have seen a fair number of knockoffs), so I had to scale photos, make a to-scale drawings, and reverse engineer it a bit from my drawings (the angles for example). The original design is hard to improve apon IMHO, its graceful yet strong; you can always tell a knockoff, they lack the grace of the original, I worked really hard to maintain that element. I generally design my own projects, trying to make a copy was quite an interesting challenge.
The piece is made from some old quartersawn cherry I found at an estate sale. That is one place where I broke from a direct copy, the original was only available in walnut, teak, or beech. I didn't have enough though so I had to pick up some new cherry, the back stretchers and seat support are made from new cherry.
The joinery is a mix of dowels and mortise and tenon. Almost all major structural joints are mortise and tenon. I used floating tenons so that it was easier to cut each joint to precise angles. There are a few spots where M&T just wasn't practical so dowels were used instead (lower back stretcher, back slats, arms).
Stock prep was done with handplanes. Angles were cut with a miter saw. Other cuts were made on the bandsaw. Mortises were cut with mortise chisels. Shaping was done with an angle grinder, a spokeshave, rasps, files, a ROS, and hand sanding.
The finish is a few coats of a homemade danish oil (1/3 BLO, 1/3 poly, 1/3 spirits) followed by some black Briwax.
I bought a sewing machine and made the cushions myself as well following some online tutorials. I should have done a better job straightening things for the photos though; things look a bit wonky when you first pull the cover over the foam.
A few more construction photos: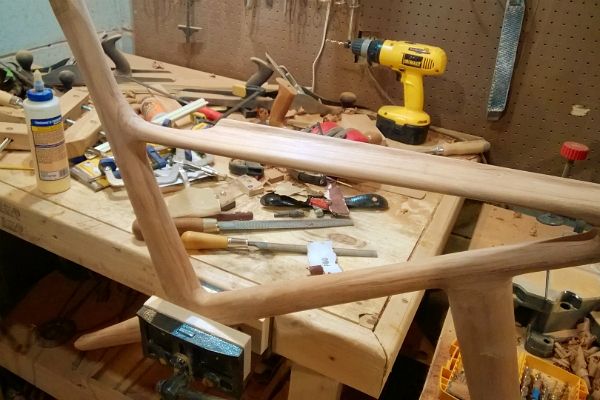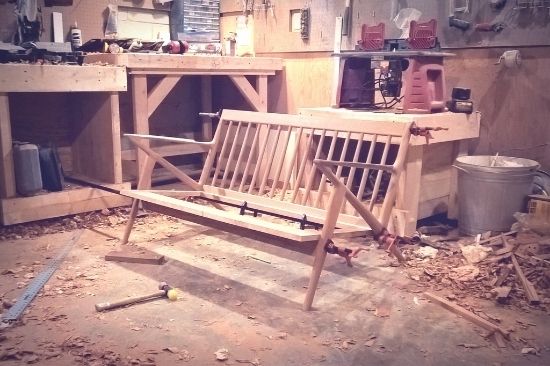 ---
---
---
---