---
I thought the old adage "you can't have enough clamps" was the key woodworking, but now I realize that "you can't have enough drawers" is the key. These drawers are a variation on full extension drawers. I really like to pull the entire drawer out and set it on the bench to work with, just must be aware that they will pull completely out !
.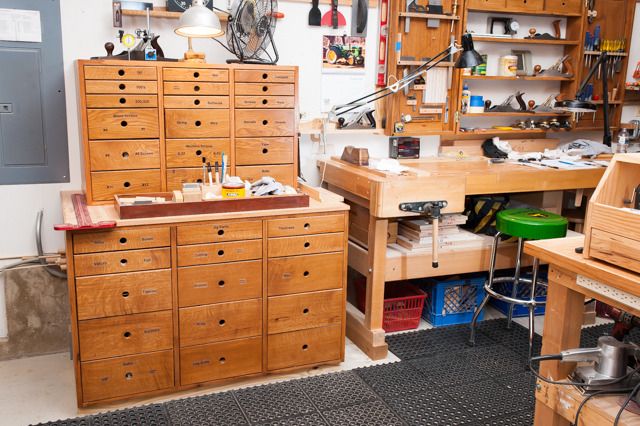 I built the upper cabinet 6 years ago. We use it all the time.
Design considerations: 18 drawers 15" wide x 18" deep. Drawer heights vary from 3-1/2" to 6-1/8". Must be extra sturdy drawers, must be able to easily pull out drawer and sit flat on bench. Environment: Workshop, year round controlled humidity & temperature. Cost: Minimize hardware to keep costs down.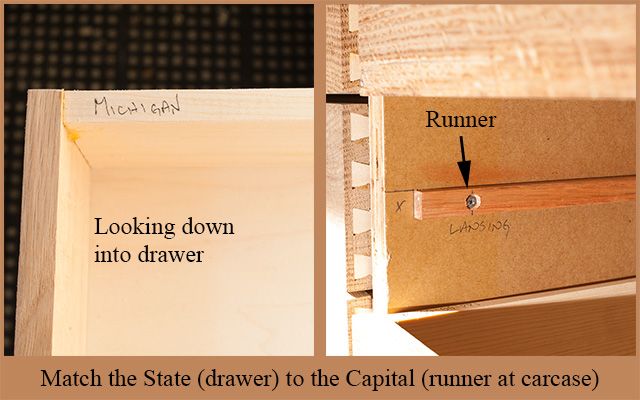 This is the "Michigan" drawer going into the "Lansing" runner. Got to know your States and Capitals! Runners are carefully screwed to plywood carcass with four #4×5/8" steel screws, and then waxed, no glue.
Construction:
¾" Oak Plain sliced Plywood carcass
Quarter sawn White Oak yard tree air dried. ½" thick Drawer faces.
Pine and ash ½" thick drawer sides
Dovetailed sides to front & back or drawer 384 Tails and 384 pins!
1/4" birch plywood bottoms
Top is simple ¾" birch plywood. 48" wide x 30" deep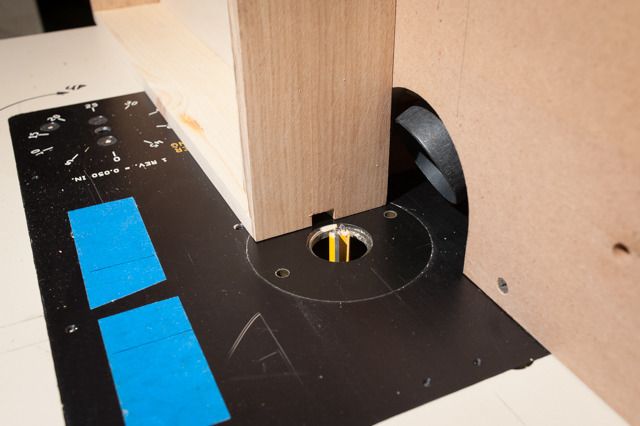 Groove the drawer sides on router table with 1/2" straight bit, ¼" deep. Line on blue tape is stop line so you don't cut through the front. Run a second time to enlarge groove by 1/32" to 1/64", test each drawer for fit.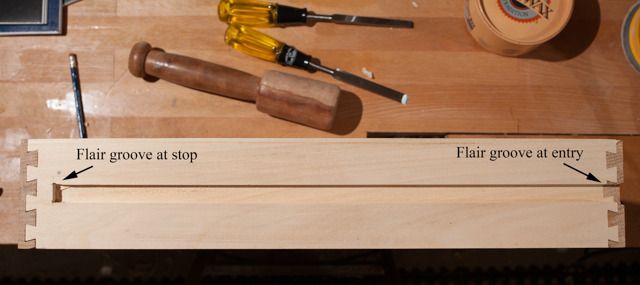 Flair groove with a chisel at the stop and entry.
.
.


Thickness Drawer and till. Felt bottom.
.
.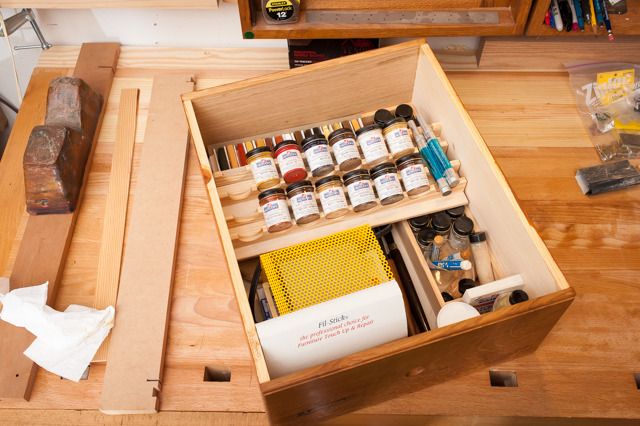 Touch up drawer pulled out and set on bench to work with.
Project was quickly finished with pigment stain, & shellac. Hardwood runners and drawer grooves waxed only
This was a great project, but I filled the drawers immediately, so I still need more.
Thanks for looking.
-- JJ - Northern Illinois
---
---
---
---