---
Well it seems like forever since I submitted a project for my fellow Lumberjocks to view and critique. I have been busily working in the shop lately making progress on several items, and tonight I finally found time to dig out the digital camera and snap some photos of some of the current items that I am finsihing.
This sofa table is a venture and experiment with using a new wood for me, honey locust. I found this wonderful lumber while on a buying trip to a Nebraska sawyer and fellow Lumberjock, Rastus Snow. His sawmill near the central Nebraska town of Litchfield is named Native Lumber & Sawmill
Rastus gave me a tour during my stop and I must say I was impressed with his inventory of walnut, ash (beautifully figured!), white oak, aromatic red cedar, hackberry, elm, boxelder and english walnut. If you are in need of some nice native nebraska lumber, give him a call.
As is typical for my projects, I started this table with no drawing or even a real plan of what I wanted to make. I had purchased 2-16"x60"x1" rough boards and they exibited some wonderful grain patterns that I wanted to show off…a big table would have been nice…but I did not have enough lumber for an entire large table, what to do? In the end, after much hemming and hawing… this is the creation that came from it all.
The contruction is made entirely with mortise and tenon jointery, making it very stable. Because there was so much grain and color differentiations in this wood, the glue "seam" in the leg glue-ups and the top became very hard to hide, so I hit upon the idea of insetting some walnut inlay strips to hide the glue edge. I like how the contrasting wood adds a certain uniqueness to the piece, and they also make the legs appear to crafted from a single piece of honey locust.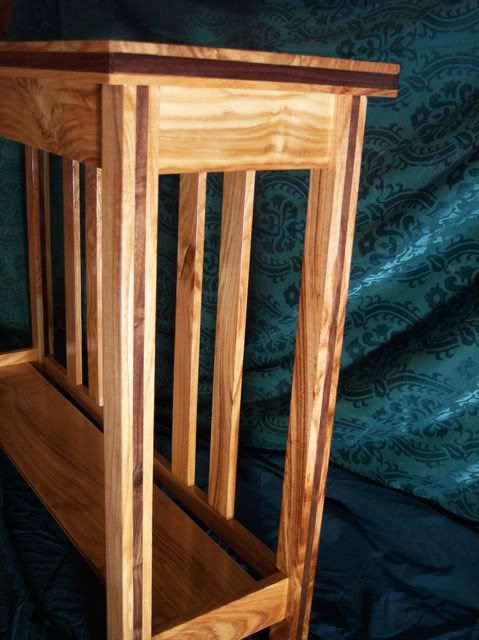 Fisnished with a good drenching of natural danish oil, 3 coats of General Finishes Arm-R-Seal Gloss and 5 coats of Semi-gloss, the furniture should stand up to years of use.
At this time I plan on giving this table to my mother as a Christmas present (ssssh! don't tell her!)
Thanks for letting me share.
Trev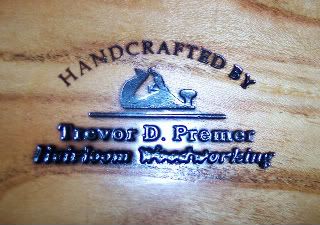 -- Trevor Premer Head Termite and Servant to the Queen - Heirloom Woodworking
---
---
---
---