---
Although I started using this bench several weeks ago, it is officially completed! I am very pleased with it. The Record style vise on the end is lined up with the dogholes (Which my wife keeps calling the dead dogs, can't seem to keep the dog holes and the sliding deadman seperate in her mind). I lined that vise with cherry and used a piece of tiger maple to replace the stop. I will replace the handle on the leg vise when I find a piece of wood that I like for that location. The top is hard maple and finished out at 23 5/8" by 9' 2", plenty big enough that I don't think I will ever build another bench. I hand planed the surface flat. The base is primarily oak with some unknown wood, maybe ash, that I laminated together to make the legs and strechers. The shelves , leg vise and sliding deadman are ash. The whole bench has a coat of BLO to help make keeping it clean a little easier. The last two pictures show the shelves in a more natural, clutered state…I had to sweep up and clean everything for these pictures.
I have my first project lined up and ready to start, here's the preview.


So all of you jocks who tell new bench builders to get to work on a project (like me), I'm ready to get to work on a "real" project. As a mild bonus rant, how's this pic for the 27 sample finishes I made before getting one approved by my son/client who I am going to build a 4 poster bed and some additional furniture.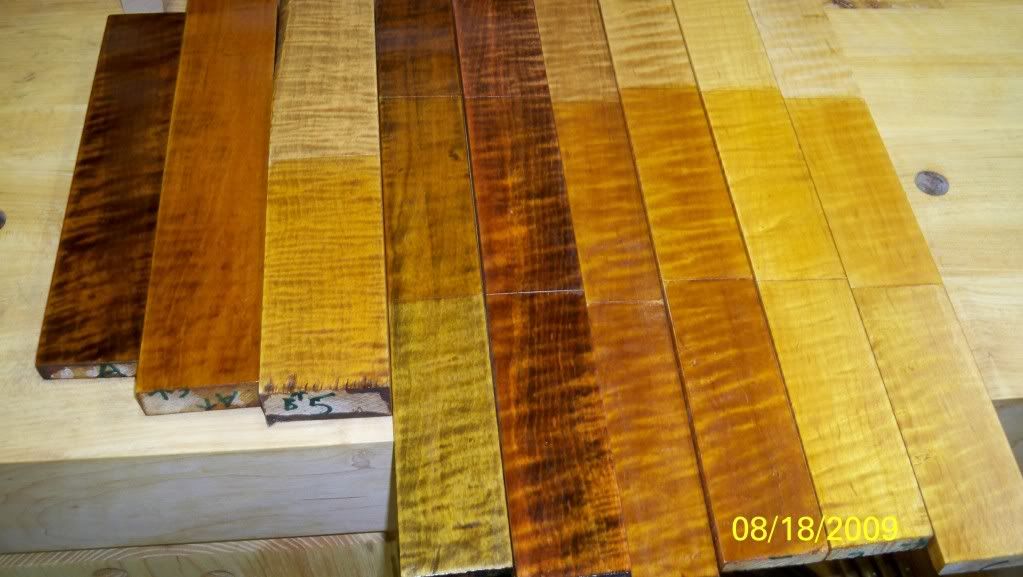 That bed was my reason/excuse for needing a new workbench. Anyway, thanks for looking at my new bench, I have a few blogs on the build process that have a few hints. The only thing that I think I should have done different is to have raised the parallel guide up about an inch so it would clear my mats easier.
-- Every cloud has a silver lining
---
---
---
---