---
This is the first project I made on the new table saw I got back in May(PM2000). I saw the tool cabinet in a Wood magazine a few years ago (Issue #172, October 2006) and decided I would make it one day. While not named as such in the Wood article, I have heard this design referred to as "clamshell" for obvious reasons. I can't remember who, but I have seen a post on this project by another LJer. As you can see from the "before" picture, I had my hand tools hanging on peg board, sprawled across a section of wall measuring about 5 feet. This tool cabinet allows storage on both sides of all four doors plus the entire back of the unit which measures about 31" square. There's lots of storage space all within a relatively small footprint. It measures just 12 5/8" deep and houses all four doors when closed. Although only one is pictured, there are two adjustable shelves. It hangs on the wall via a 1 ½" wide cleat that has a 45 degree bevel. This gets attached to the wall with screws. I was able to catch two wall studs along its 31" length and my walls are made from T-111 panels so there was a pretty solid base for the other screws. A matching cleat is attached to the rear top of the cabinet. The unit is quite heavy with all four doors attached but I was able to stand on my wall mounted workbench and hoist it into place by myself.
The cabinet is made from one 4'x8' sheet of birch plywood and a 4'x8' sheet of pegboard. The plans call for ¼" pegboard but the home center only had it in 3/16"so that's what I went with. Glue and screws hold the basic unit and the doors together and the doors are hung on lengths of piano hinge. The doors are held closed with magnetic catches. The design is well thought out and there is not much room for play when all the doors are closed. As you can see, there is quite a gap between the closed doors. This is because they are not intended to be opened simultaneously and given there 4 1/8" width, they would not be able to pass by each other without sufficient space. Below, I show how the doors are constructed.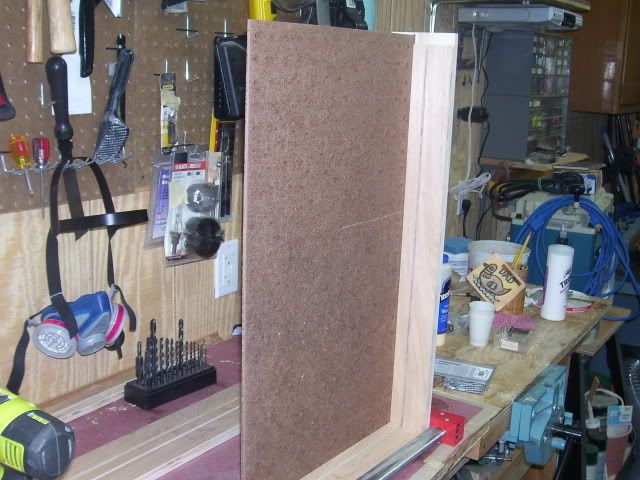 There is a gap of about 5/8" between two sheets of pegboard. This allows room for the hooks, etc. to hang on both sides of each door.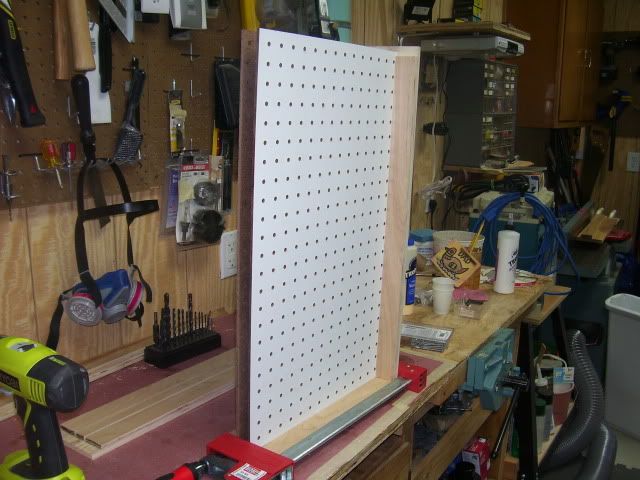 This shows the two pieces of pegboard with the gap in between. You can also see the rabbet cut in the side piece to receive the top.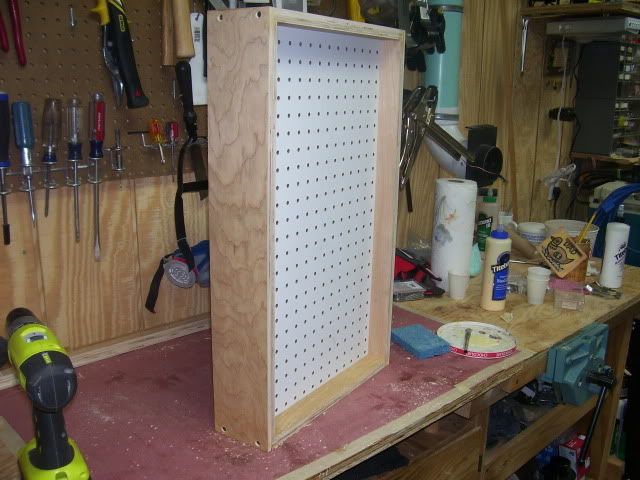 And the finished door.
I applied three coats of Minwax wipe-on poly with light sanding in between. All the tools that were hanging on the pegboard in the "before" picture, except for a few clamps, are in/on the cabinet with plenty of room to spare. I have also placed two cordless drills, bottles of glue and wood filler materials in it. I placed the most frequently used hand tools to the outside and the lesser used to the inside (drills are an exception). I am happy with the results. It makes for a neater and more organized shop.
As a footnote, this is the first project I ever made on a table saw and I learned a lot while making it. For example, I had resolved to use the blade guard and riving knife for everything. Well I learned that if you're not making a through cut, like the grooves in the doors for the pegboard , you can't do that on a table saw without the guard and riving knife removed. I will still operate the saw as safely as possible and employ the safety features whenever possible but that was an eye opener for me. In short, I just love the table saw! It is such a versatile and accurate tool and a pleasure to use. Thanks for stopping by and checking out this post.
-- On the eighth day God was back in His woodworking shop! Lenny, East Providence, RI
---
---
---
---