---
I'm always complaining about not having enough space in my workshop. It's something I think about every time I get bogged down with a mess that I make when working on a project. Every time I'm looking for things to learn on YouTube and Lumberjocks I seemed to keep running into these "Flip Tables" and don't ask me why but I always thought they were a bit goofy. So early this week I said what the hell, I'll give one of these Koo Koo looking flippers a try! Well I'm so glad I did and I think I missed the boat by about 14 years!!!! That's how long I've had the shop I'm in now. Anyway I really don't think this is goofy or Koo Koo anymore! I may have lost time but now I have gained some SPACE!!!! 3 day's and Bingo! Oh and it's mostly made using all scraps!
Thanks for looking in! All comments welcome good or bad!
Link to a very short 48 second video showing the table movement.
I added 4 new places to hold my Sanding Belt Work Rest, Sanding Belt's, Belt Erase's and Miter Gauge.
Here are some basic measurements. I found a few mistakes in my lilst so I edited this on 10/3/15
Base foot print is 35" X 24" I used 2" x 4" framing lumber to built the base. (The overhang is 6" for the tool rack.)
Total height without wheels , 27 3/4" H
Wheels are your choice.
Table top 26" w x 24" d X 2 1/2" thick. Two 3/4" plywood pieces for top and bottom. Use 3/4" pieces sandwiched between the tops leaving 3"x 3" opening on the corners for the eye bolts. Use 3/4" filler plywood to encompass the rod. Sides are 24" H
Table height 20 1/2" from bottom of flip table to top of base.
Width between sides is 27".
I used a washer on the rod on both sides in-between the side frame and table top to hold a gap so the table wold not hit the sides.
1) Zinc Rod 5/8" x 30 5/8" L (HD's or Lowe's) comes in 36" length's so you'll have to cut it.
2) 1/8" Spring clip for end of rod. You'll need to drill a small hole at the end of the rod for those.
4) 5/8" washers, Large size.
4) Eye bolts 5" x 3/8"
4) 3/8" T-nuts if you make your own knobs.
4) 3/8" lock nuts to use as stops at the end of each eye bolts. (keeps the knob from spinning off the bolt)
4) 5" x 3/8" bolts to bolt planer down, use 4 lock nuts
4) 5" x 5/16" bolts to bolt the sander down, use 4 lock nuts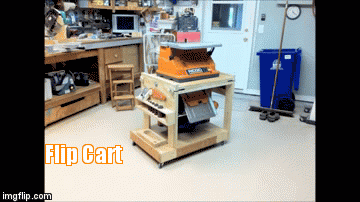 -- St Augustine FL, Experience is the sum of our mistakes!
---
---
---
---