---
This project was inspired by Jeff (jcoulam) who posted the first cyclone dust collector a couple days ago. I do not want to take away any credit from Jeff for his brilliant design and willingness to share his work. As I was building this dust collector, I took a few pictures to document my progress. I will be glad to write a blog later and share with you how I built this project.
The most difficult part was the cone. I tried Jeff's suggestion and just couldn't twist the metal sheet enough to form a decent cone. I managed to get a small cut in my hand in the process. Ouch! So I decided to learn from my wife who uses paper pattern in making her clothes. I cut a paper pattern that can form a cone and then traced the pattern onto the metal sheet. I then bent a lip on each edge of the sheet so they can hook on each other. Instead of using sealant, I decided to solder the seam.
The intake tube was cut exactly as Jeff described and I taped a piece of sandpaper to the cone so I can sand the tube to the same contour. I then use 2-part epoxy to glue the tube to the cone. I use a dust collector adaptor to anchor the collector to the 5-gal bucket. Other than the adaptor I use the same materials as Jeff used. Here are a few pictures of the construction.
The final product works extremely well and exactly as Jeff described. Once again, I want to thank Jeff for a wonderful idea. It took me a couple days of off time and about $20 to build this collector. Thanks for looking.
PS. In order to make this whole system mobile this is my latest upgrade to this system.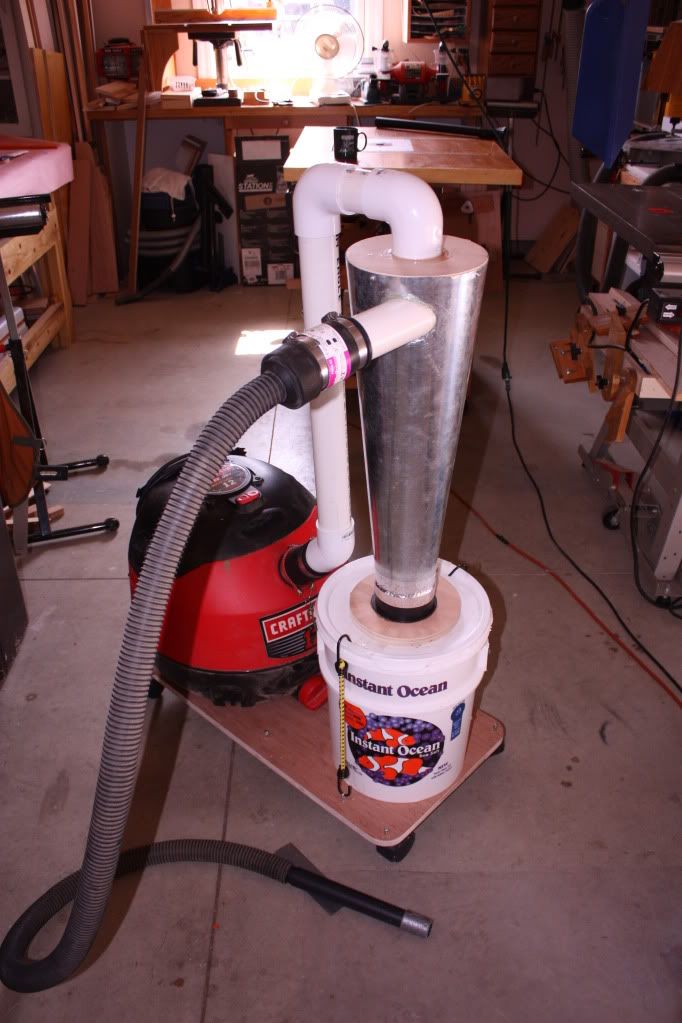 -- Simon, Danville, IL
---
---
---
---