---
first of all , i would like to thank all of you , that consoled me , and my family .
on the passing of our brother , joe . i plan on sending them each a copy of your heartfelt words and input .
i hadn't yet got to process this event , until i started reading all your responces .
it brought light to me , and opened me up and helped me to process this event , as i'm sure it will for them .
also i sent some pm"s out to some of you , and hope you can forgive my somewhat dark demeanor in them .
that being said , please no more condolances , we did that allready !
.
when i finally got joe's ashes , in a cardboard box , the size of a six pack of beer ( some how appropriate ) !
i thought to take them to the rio grande gorge ( smaller than the grand canyon , but just down the road )
and ask God to watch over him , and let the wind have him .
then our brother star wanted some to take to mexico , were joe was born , and have his prayer there .
our sister judy was fine with this , but couldn't do anything because of her health , but her son james wanted
some to take to a spiritual lake near here , to do his own prayer with his son , for joe and another uncle of the sons
toghether .
well , i suddenly had to expand my horizon , and instead of sending joe in a jar to each of them , i decided to make a box for him instead , and hold him there until everyone was ready to do their thing .
one thing led to another , and the other night , when a friend came to visit , and was watching some thing on tv
i got up and went into the shop , and this time with no plan , just got all the exotics out , and ripped some off of each
and procedded to make this.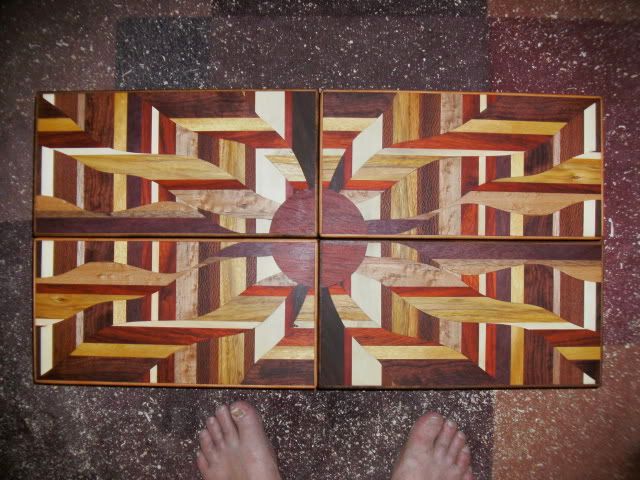 there are 4 boxes here , all bookmatched together , tops , sides inside top and bottoms .
because of the process , each is some how individual .
my thoughts are that each of us will get to do our goodbyes in our own way ,
and have a reminder of joe that is quieter than he was ?
i might even ask him to guard my money in mine !
this all just happened on it's own , and i am very greatfull for the way it is working out .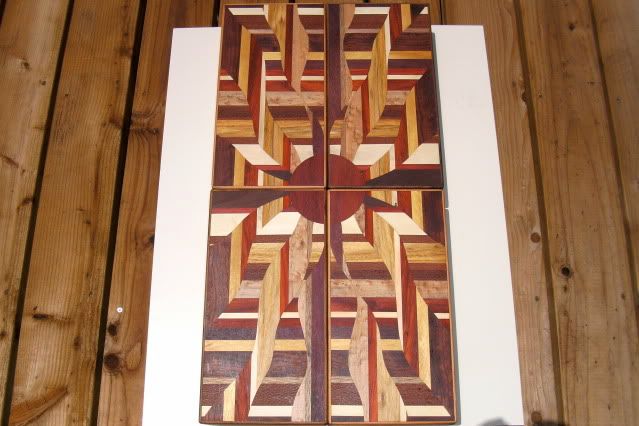 each box has sides and ends that continue around each box ,and all together ,
the boxes have the sides continuing around all 4 boxes .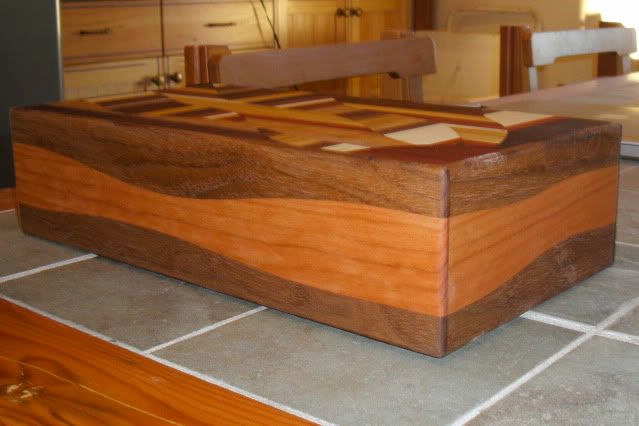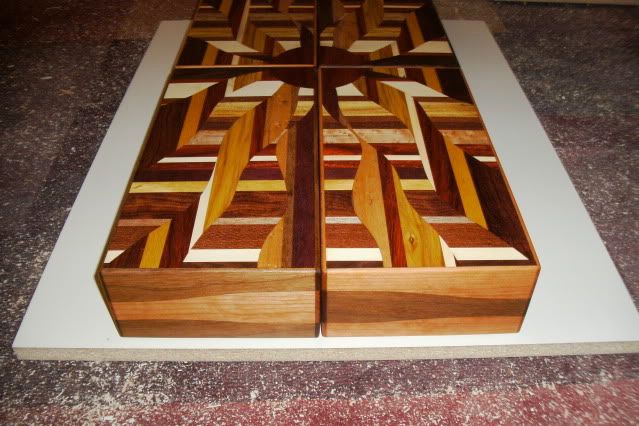 .
so lets get on with the movie !
.
this is the first step , whether this or any other cut and switch project .
make boards the same size , whatever woods you use , or weather you stay with the grain ,
or alternate it or the colors of the wood .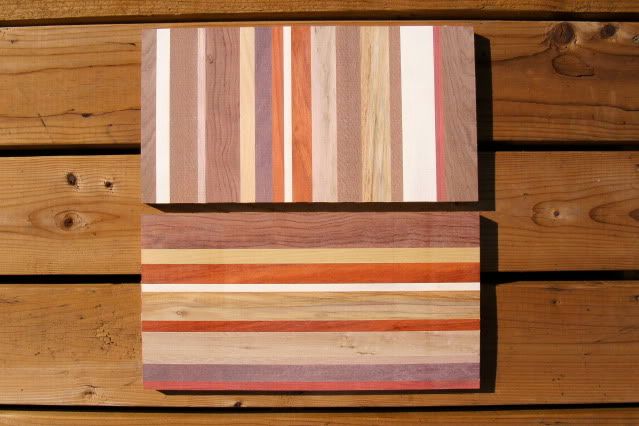 double stick tape the boards together ,
i always start out with boards larger than finnished size , as saw kerfs eat up some of the dimensions ,
and you want to recut and square letter .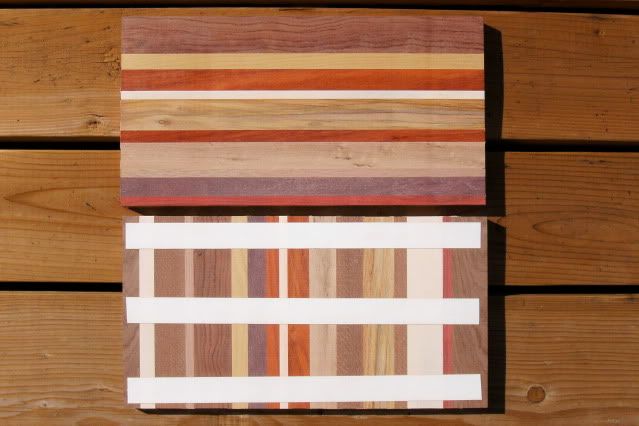 now just cut however you like , in this case i did a starburst from the corner .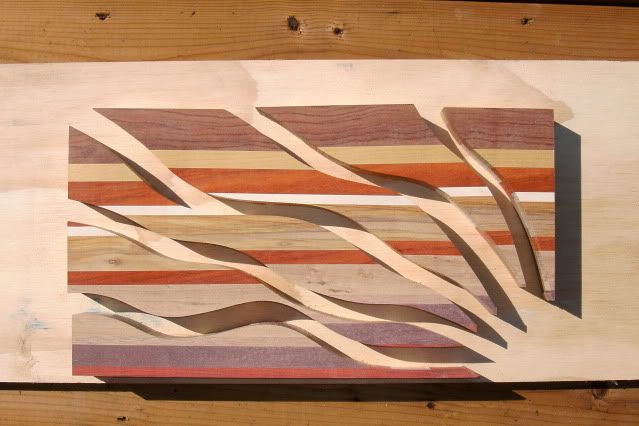 now switch every other one ,
you still have 2 boards , just reverses of each other ,
but with the same " book match " and grain !
up until this point in time , i had made many matching
boxes this way , ( for a married couple , or for sisters or brothers ) .
but when i walked into the shop the next morning i realized that
i could make 4 of them by spliting each in half .
wow ! 4 tops !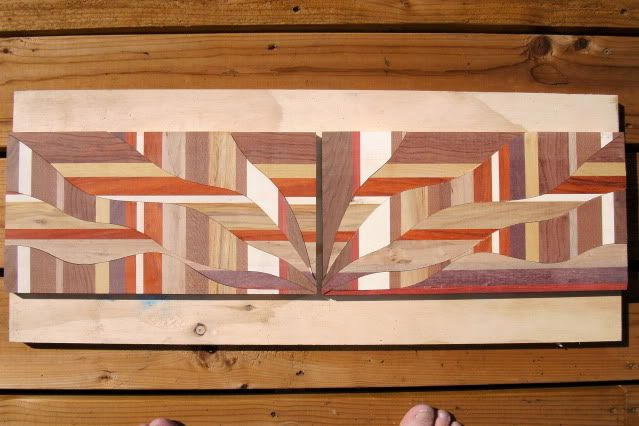 glueing up the " puzzle " .
after cleaning up (sanding ) , and recutting ,
i added the " sun " to the corner , and recut again to make everything square and even .
forgot to take photo of this .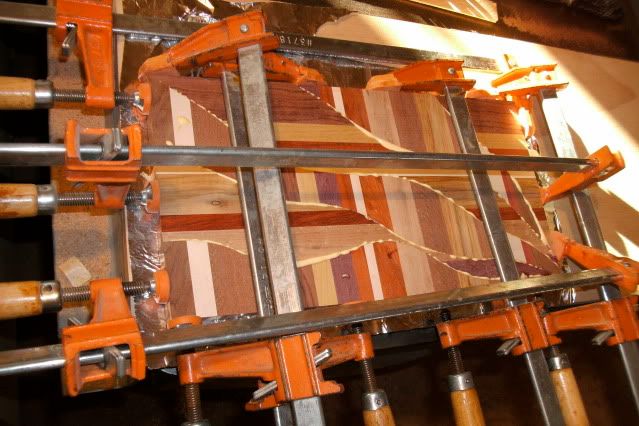 now i am spliting the pieces on the tablesaw to score both sides for the bandsaw
to track in . ( note : keep the same face against the fence for this )
as my band saw dosn't have resaw abilitys yet .
also note stop on outside of piece , this helps keep the piece straight and from wobbleing .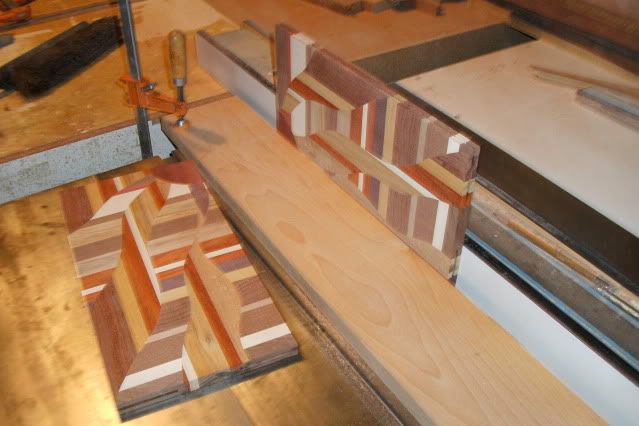 now for the box sides and ends ,
here i used black walnut and cherry ,
as that is what i could find at the lumber store .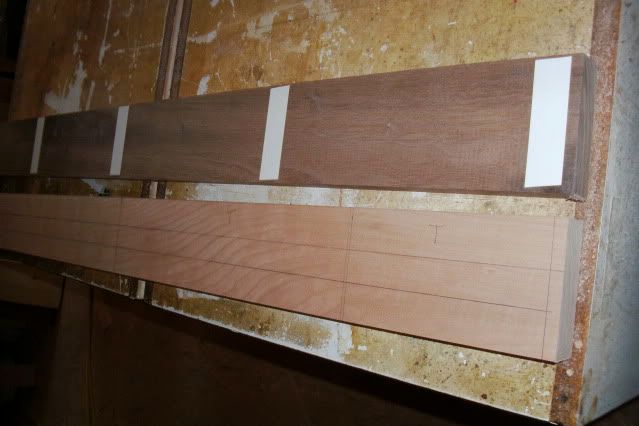 after glueing up and cleaning and dressing the boards ,
rip them into 2 boards , and dressing them also
the important thing here is to mark the corners of the box to be
on the face on both ends ,
and in the bandsaw cut to be parallel to the sides of the board ,
if you dont do this , you wind up with " pointy corners " .
hold your hands as if praying , and keeping tips and heel toghether
open them apart to form a square ,
this is how the sides and ends are tacken from the boards .
1 side and one end from 1 board , the other side and end from the other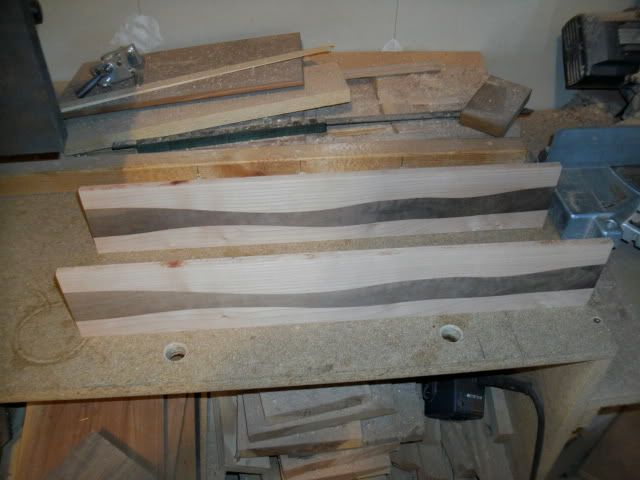 with all parts ready cut to size , i rabbet the top and bottom sides of the
sides and ends , and the ends of the sides only , not the ends ,
as they fit into end of side .
cut top and bottom to fit also .
this is just how i do it , anyway you make your box is fine ,
it is your statement !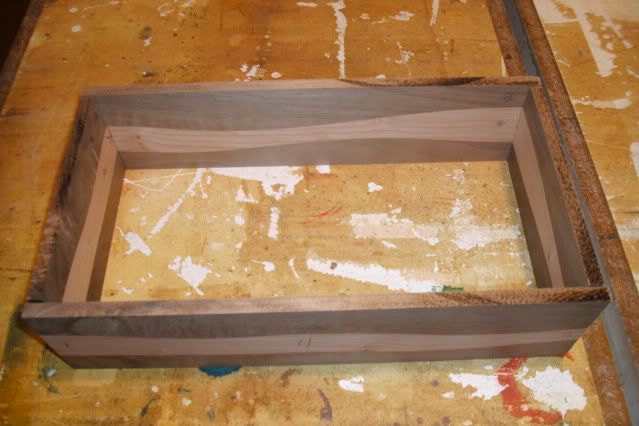 lay out everything in its proper place making sure
that parts are not mixed or spun around .
sand all insides now . .


and glue together , trying not to run glue inside ,
as it is a pain to clean later .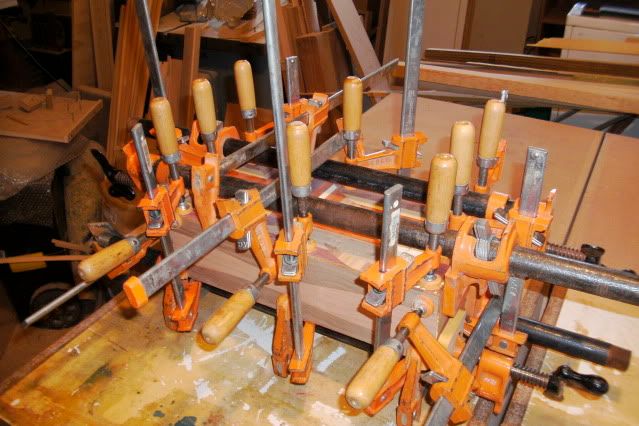 so thats about it , as you can see ,
i am the lazyest carpenter i know ,
i look for the simplest way to do something ,
and let the tools do the work.
the rest is just cutting open and oiling the inside (watco )
and applying some stop hinges from lee valley ( they are not here yet ) ,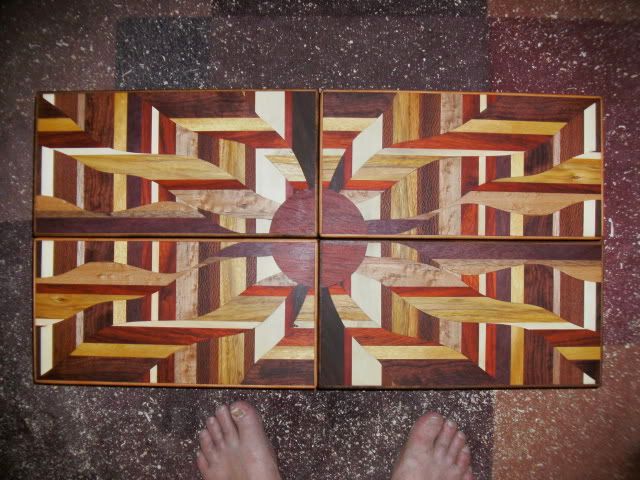 so thank you for this memorable experience ,
and bless you all !
-- david - only thru kindness can this world be whole . If we don't succeed we run the risk of failure. Dan Quayle
---
---
---
---