---
Follow the entire build blog series here.
This clock was built with cherry and took seven weeks to complete.
As part of this build, I produced several "how to" videos demonstrating how to make some of the more difficult pieces. For example, one video shows how to take square stock and make the fluted columns using a handheld router.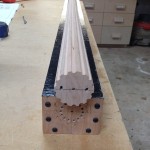 The plans, glass and movement came from Klockit. The plans are most detailed and complete woodworking plans I've ever worked with. Their customer service is excellent!
One interesting element of the build was the finishing process. I literally gave the clock a suntan to help age and color the cherry.
Thanks for looking!
Follow the entire build blog series here.
-- Randy, Tupelo, MS ~ A man who honors his wife will have children who honor their father.
---
---
---
---