---
My shop time for the last two weeks has been spent cleaning up, throwing out and rearranging my shop – and building a new workbench. The only tool that didn't get relocated was the router table. The inspiration for this was watching Ron Paulk's Youtube videos on his Workbench for about the fourth time. Then I saw Jay Bates' version on casters and that clinched it. I finally ordered the plans for Workbench II and now I wish I'd done it a couple of years ago.
While Ron designed his Workbench to be portable for use on job sites mine will probably not be moved from my shop. It is, however, mounted on 4" casters and rolls easily. Overall height was dictated by the need to use this as an outfeed table for the table saw and chop saw. I also wanted to store a little used small lathe so I needed at least 16" of space above the bottom shelf. Height above the floor allowed me to hang a 4" pvc dust collector pipe for the table saw – first time since 2002 that a pipe from the ceiling hasn't been in the way of the tablesaw.
I also increased the height of the worktable sides from the 7" in the plans to 9". Squaring of the bottom of the holes on the sides allowed me to make 4 47" sliding drawers that extend the whole width of the table. Nothing fancy here. I just used ¼" plywood for the bottom and ripped 2×4's in half to make the sides and ends. The drawers rest on runners also from scrap 2×4's that have a coat of paste wax and they slide easily out of either side of the table. Works great for me!
I've never had a bench with dog holes and didn't want to spring for the $$ for the special clamps Ron uses so I've adapted some things I already had. See photos below.
While cleaning up I found 5 pieces of gray tinted plastic that I scrounged from work several years ago. I think these will help me protect the table and keep glue from getting on it.
I'm super pleased with my setup now. Going from a 3×6' table that couldn't be moved and was only accessible from one side to a rollable 4×8' table accessible from both sides and rearranging the tools makes my shop feel twice as big.
A big thanks to both Ron Paulk and Jay Bates for their outstanding woodworking videos!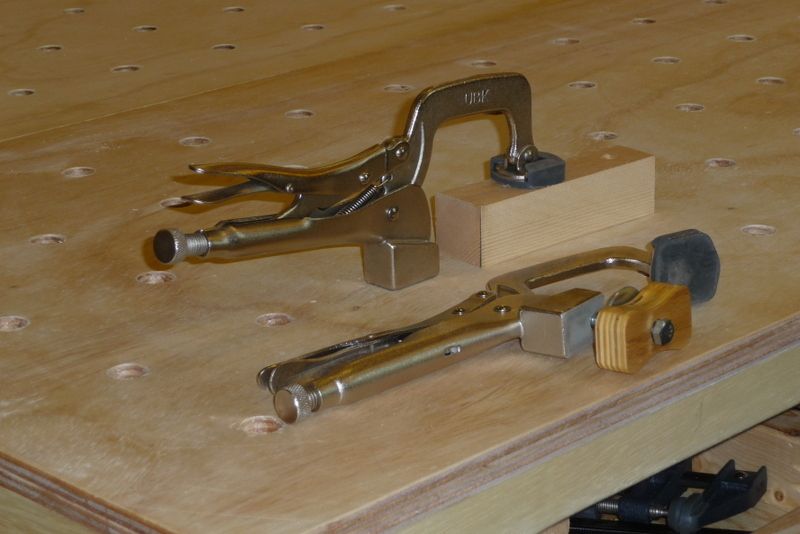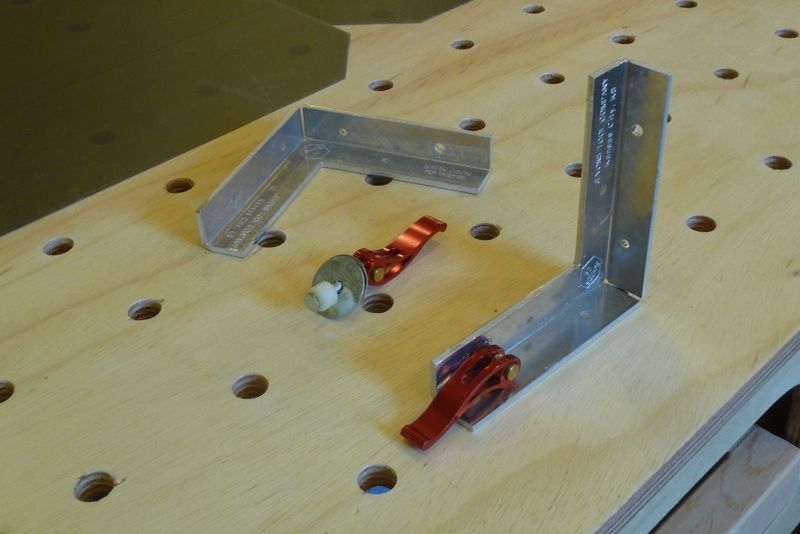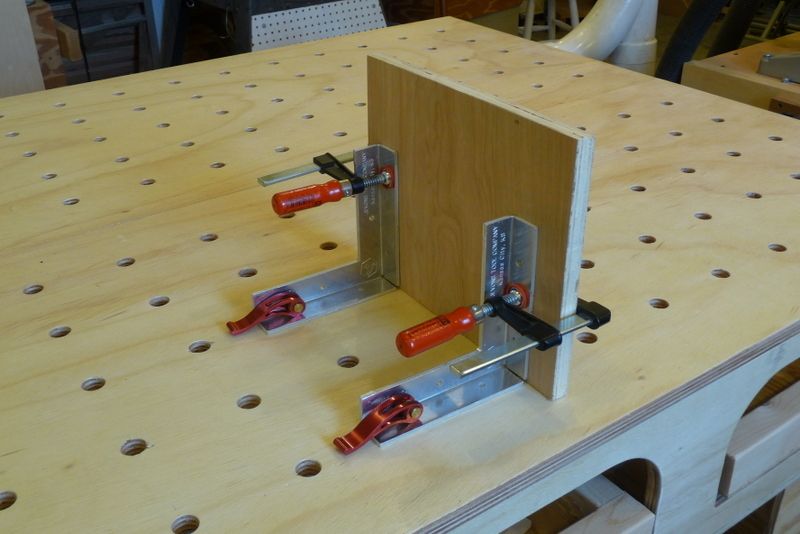 -- Visit my Youtube Channel: https://www.youtube.com/playlist?list=PLFZY9FU6f7lo2tUgJOnqCzBV3qxJzAVDA
---
---
---
---