---
A Cherry Display Pedestal
This was an interesting project to build despite its small size. This was a small commission piece to display a bronze of General Ulysses S. Grant for a Civil War aficionado. As a woodworker, the interesting aspect was to witness the evolution of the design from an initial sketch that arrived via FAX to the final full size construction drawings that made it out to the shop.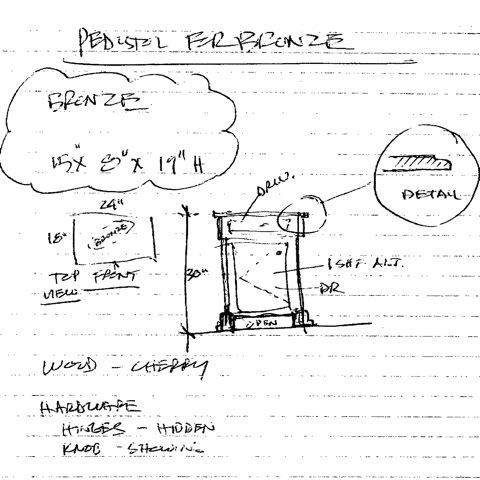 Original Sketch FAX
My initial design was worked out on SketchUp referencing the concepts from the FAX sketch. I solicited input from a number of sources and slowly refined the design. The exciting part of this was for me to step outside my straight linear "blanket chest" comfort zone . . . well I know I have a long way to go but it is a step in the right direction!
Initial SketchUp Drawing
Leg Options in SketchUp
Spending time in the drawing process was very fruitful. It gave me an opportunity to work out reveals and molding details, as well as, carcase construction details. Having the full size drawing hanging on the shop wall was extremely useful and kept me on track during the build. This was especially helpful during breaks where I wasn't able to work on the project because of my regular job or family obligations.
Top Front Corner Detail from Full-Sized Drawing
Bottom Front Corner Detail from Full-Sized Drawing
The main wood is solid cherry with solid poplar as a secondary wood and MDF panels veneered with maple and flat sawn cherry.
Milled Cherry Stock Stickered and Adjusting to Shop Environment
I used maple as the interior veneer to add a sense of brightness. I carefully choose and positioned the cathedral pattern of the flat sawn cherry veneer for the exterior panels. To do this I made a small MDF frame that approximated the panel opening. I used this frame to position the grain pattern and to lay out cut lines on the veneer.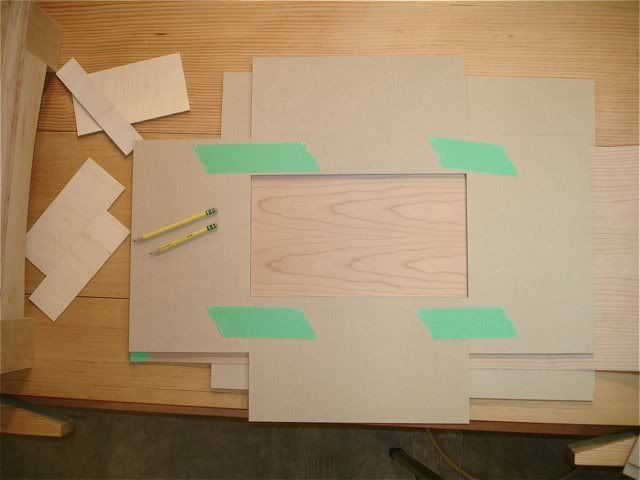 MDF Frame Used to Lay Out Door Panel Veneer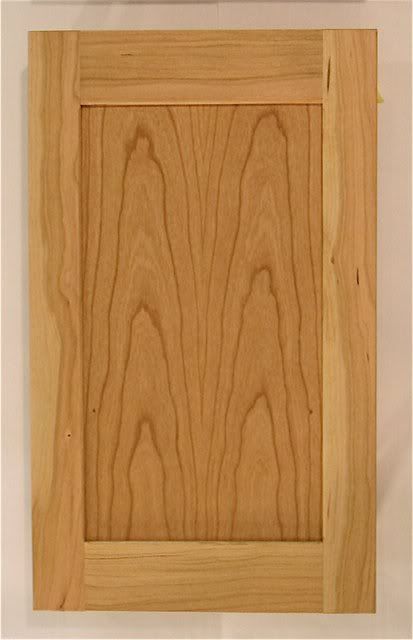 Veneered Door Panel with Centered Cathedral Pattern
I always try to include leg levelers if possible to accommodate any uneven floor surfaces. For this project, I used 1¼ square white oak with ¼-20 steel threaded inserts and felt covered leveling feet that were concealed behind the cabinet legs.
Shop Made Leg Leveler
The finish was ½# shellac wash coat to prevent blotching followed by 1# cut amber shellac for tone followed by 6 coats of WaterLox Original Formula thinned 50:50 with mineral spirits. Two coats of clear wax completed the finish schedule. The final touch was a makers-mark giving appropriate due credit! This makers-mark was a white water slide decal made on my computer.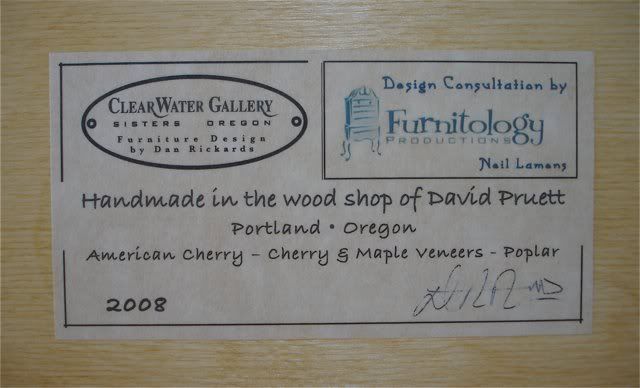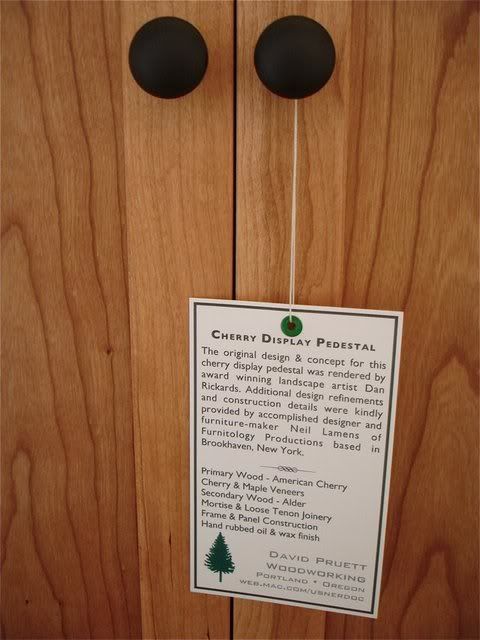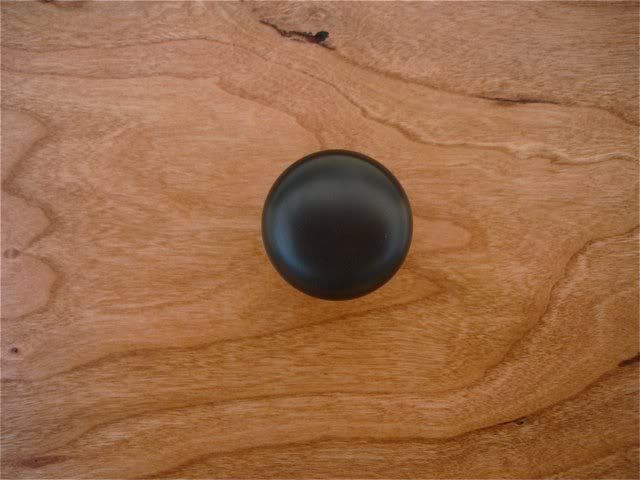 -- http://foldingrule.blogspot.com
---
---
---
---