---
Back in March of 2008 I was helping frame a house that a church was giving to a disabled couple. Kind of like a Habitat House except the owners were not going to have a mortgage at the end of the process. This was a gift from the church members. The materials were paid for by church members and with a fund raiser. Most of the labor was donated and labor that was for a fee was also paid by the church. A huge undertaking to say the least. The house took over 2 years to complete because the money had to be raised on faith… they got the money for basic plumbing and slab so they poured. Waited for the money to black in and then they did it. ETC…
I got involved at in the framing stage and asked about the kitchen. The lead man said they would buy the material and I agreed to donated my time. I added another facet to the project and got a Boy Scout involved for his Eagle project. Luke did a fantastic job of rallying the scouts to help. The Scouts were a great help priming sheets of MDF and moving them to and fro.
The Scouts getting a safety briefing after painting the MDF sheets and before rough cutting. (That's my youngest son texting his friends. I am sure it isn't about woodworking :-))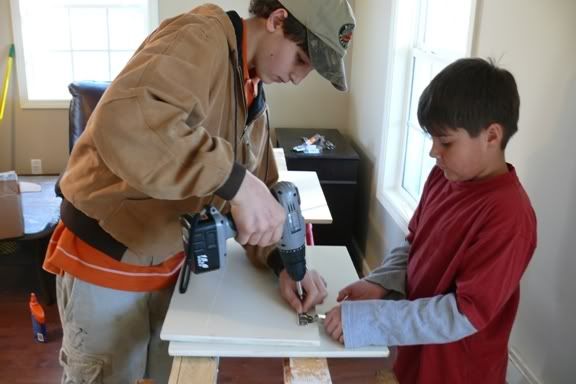 Luke (Eagle Scout candiate) and Zake (grandson of homeowners) attach hinges on doors.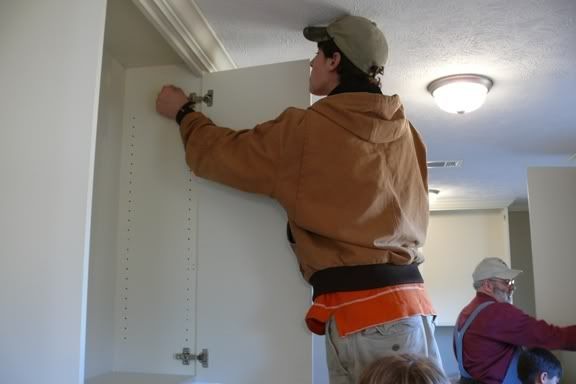 Luke clips doors on cabinets while Old Sawdusty adjusts the hinges to fit.
The material is mainly MDF. I did pick out full extension drawer runners and Euro-style hinges. The house is just over 1,000 square feet and the kitchen/laundry area measured around 8 by 15.
The cabinet doors have a routed faux raised panel look. All of the upper units have adjustable shelves and lowers have drawers. The church members finished the cabinets with white paint and brown glazing.
Didn't like working with MDF but that was not my choice. I would have like to use solid woods but the budget didn't warrant it.
The project was very rewarding for me and I highly recommend all woodworkers to give a little of their time.
Thanks for reading this far and for looking at this project.
-- The more skilled you are at something, the worse you are at it when someone is watching.
---
---
---
---