---
This box is made with a couple types of pine. I found the darker – what I'm guessing is fir, in that it's similar to the wood I used in my take on the Thorsen table – in the basement.
The lighter wood, used on the lower portion of the lid, I snagged out of a stack of balusters at the BORG. Was labeled Hemlock (despite being thrown in with the Red oak ones… so lets go with that.) I knew when I saw those twisty knots in the wavy grain, (quartersawn on all 4 faces!) that it would redefine my project in progress.
This box is approx 8" x 5" x 5", sanded smooth and finished with Howard's Feed N' Wax.
I cut two grooves in the fir, about 1/2 inch apart to fit in a bottom, as well as a permanent false bottom. three sides of the box are glued together, the 4th side is only held in with brass pins. I also glued in brass pins on the glued side for the sake of the illusion. I thought I'd also have to use magnets to keep the side nice and snug, but between the friction fit of four 1/8th inch brass dowels, and the snug fit of the bottoms (1/4" ply) there isn't the need.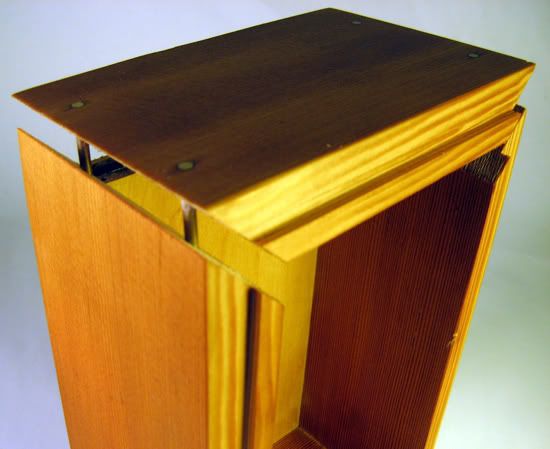 The secret compartment in the bottom would hold a secret stash of several bills, small notebook or somesuch.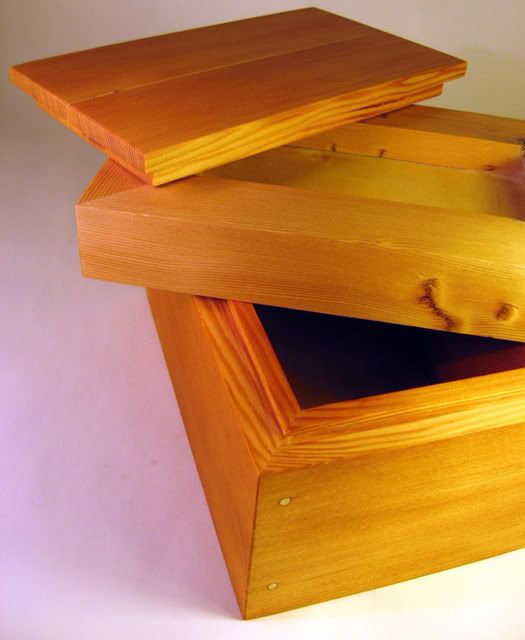 I also snuck a secret compartment into the lid. The base of the lid is a mitred frame made from 2×2 stock, with a 1/4 ply bottom to the secret compartment, and the lid of the lid (as it were) is more of the same fir (two pieces glued up into a panel, with a thin band of the hemlock down the middle), attached with a friction pin (which also works as a hinge) and magnets to register it back in place.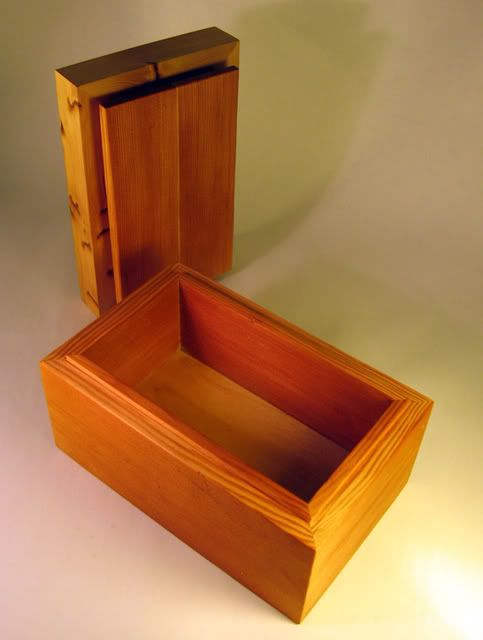 Luckily I only needed two sets of 1/2" magnets, they are strong enough to snap the lid back into place, and you can even lift the lid off the box by the upper lid and it will pick up the entire lid assembly as one unit. The top compartment is much easier to open and close then the lower one, and is therefore more likely to be discovered… yet who would suspect such a small box to have a second secret to it? The one helps to hide the other, don't you think?.
Oh, and aren't these knots awesome?

-- I am always doing what I cannot do yet, in order to learn how to do it. - Van Gogh -- http://blanchardcreative.etsy.com -- http://snbcreative.wordpress.com/
---
---
---
---