---
This isn't a serious entry in 2009 Winter Awards as it's not exactly 'Fine Woodworking' but I think it's an interesting story that happens to fit the theme.
When my step-daughter moved into her C18th country cottage in Yorkshire, she found this wreck of a bureau amongst the debris in a garden shed. It was being used to store flower pots and old seed packets. "You don't think you could clean it up for me??" said she. What can a fella do?
I imagine it dates from around the 1920s, so it was worth bringing back into use.
To remove the accumulated filth, I used a mixture of linseed oil, vinegar and methylated spirit (denatured alcohol) in equal parts; applied with fine steel wool. Yes, I know I shouldn't have used steel wool on oak, but there's no sign of any problem after several years.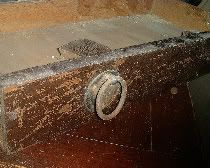 'Cleaning it up' included replacing the craftsman built(?) shelves with something a little more stylish. See above.
I took the opportunity to incorporate some 'secret' drawers (and now I'm telling the world!) as was the tradition with some of the finer desks and bureaux. Picture # 4 (not a very sharp image) shows the four secret drawers. The two bigger ones were so secret that when I went back after a couple of years to take a picture, it took us half an hour to find them! The distressed finish, or lack of finish, was deliberate in an attempt to make them blend in.
-- Res severa verum gaudium - True pleasure is a serious business. http://www.folksy.com/shops/TreeGems
---
---
---
---