---
Well fellow Lumberjocks, here it is. I must admit that I had to hire a professional upholsterer to finish this chair. One thing is apparent, upholstering is a skilled trade!! It is nothing you can just walk up on, and do without a great deal of experience!! Making the cuts on the arms proved to be very frustrating, and after ruining 2 perfectly good pieces of fabric, I had had enough!!
I found an upholsterer while in Hancock Fabric getting more fabric, and decided to give him a call. I think he did a beautiful job! I did manage to do the seat, and do all of the underlayment, but the chair back was all his!!
Now on to the lumber, and joinery!! If you are looking for a serious woodworking challenge, this chair is for you!! Compound angle cuts, and tenons. Compound dovetail joinery on the front cross stretcher, man even clamping it up was a challenge!!
Once again, I used more of this scrap mahogany lumber I got from the local guy selling it on Craigslist that I blogged about earlier this summer. The only lumber I bought was the poplar for the covered wood.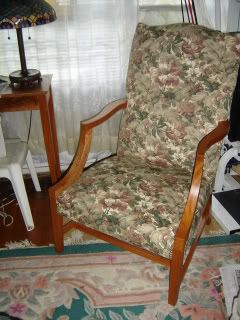 Here is the chair next to my beloved Cherry table.
Here is another satisfied customer (ma-roww)!!
I hope you guys like it, I LOVE IT!! I'm very proud of my new edition to the family!! Enjoy!!
-- Matt Garcia Wannabe Period Furniture Maker, Houston TX
---
---
---
---