---
This is a wall unit I just finished. I used partly clear pine part poplar. The face of the cabinet is tung and grove with a bead. It all needs to be painted still. The fire place was build by a mason. We collected the rock at the beach here in Oceanside. The mantel and hearth I cut out of Sebastian Sandstone. The design was done by my wife.
Oh, by the way, there are secret little doors in the side of one of one of the compartments?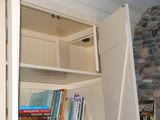 I had this project posted at http://homerefurbers.com/projects/108 for a while.
-- rhykenologist and plant grower
---
---
---
---