---
Well it's been a while since you've heard from me. I've been consumed by a very large order for a lodge in Colorado. It consisted of 58 chairs and three large tables. 38 of the chairs were a spindle back dinning chair made from walnut with maple. This chair has been popular for us lately. It features a carved seat, handshaped arms and headrest and a back lumbar support. Here is a photo of the chair made from mesquite.
12 of the chairs were a lowback chair that also features a carved seat, handshaped arms and backrest, also made from walnut. Between these 50 chairs there was some serious carving and handshaping. This is a photo of a lowback chair made from juniper.
The remaining 8 chairs were a "Green and Green" design made from walnut and juniper with turquoise inlayed and leather seat cushions. Here is that chair made from mesquite.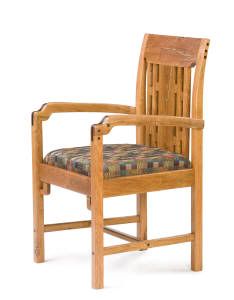 The tables were made from three 16ft by 4ft mahogany slabs with walnut breadboard ends. These were beasts to move around. Two of the bases were a trestle style in three sections to support those large slabs. The other base was more of a tuscan style with large legs. This is what the base looked like.
Like I stated before, this order just consumed us and put us a little behind schedule on our other orders. But we'll get caught up soon. We are very priveledge to have had this opportunity. I almost wish the lodge wasn't complete and full of beautiful items, so we could make more. They already have a few of our rockers and a desk and chair.
-- Scott NM,http://www.shangrilawoodworks.com
---
---
---
---