---
I just decided I should submit this as a project. I guess I never considered this as a woodworking project, because it's painted, & all of my other projects show the wood grain.
It's hard to believe this was done 42 years ago. Time really flies when you're having fun.
I had always been fascinated with sailboats, so when I saw the plans for this Catamaran in a 1955 issue of Mechanix Illustrated magazine, & I saved it.
Ten years later in 1965, I decided to build it. Just about every evening for 3 months I would go out in the garage to work on it until about 11:00 PM.
It's constructed of marine plywood, with fiberglass tape on all of the joints. The final finish was something new at the time, Epoxy paint.
Barb did all the hard labor of sewing the sail. Also she reminded me of the tough time we had trying to find some sailcloth. No one in our area sold sailcloth material, so we drove 75 miles to Duluth, & found a dealer, but the prices where beyond our reach.
One day I had to go to this old store called Virginia Auto Top. It was a real old business from the horse, & buggy days. They made everything from harnesses to convertible tops.
I notiiced this material on a rack. It was a Vinyl coated Nylon. I didn't know what it was used for, but I thought it would work as sailcloth. It also fit my budget.
I guess I didn't go wrong, because it's still in A-1 condition after 42 years. I don't think that fancy sailcloth would've lasted this long.
When finally finished, we launched the boat on July 16, 1965.
The funny thing about this story was that I had never been close to a Sailboat ever, so I didn't know the first thing about sailing, only what I read in books. It was quite an adventure.
About 10 years ago we finally named the boat, The Barbara Ann.
One of my sons' is in the vinyl sign business down in Arkansas, so I told him I wanted to surprise Barb by putting her name on it. He brought the sign material up on his next visit.
PS: All of the time I was working on the Sailboat, Barb was filling our freezer with goodies for when we went on our Sailing Adventure.
How revolting, & disappointing it was when we had our first piece of Date Bread, & it tasted just like Fiberglass. Our freezer was out in the garage at the time, so all of her hard work ended up in the garbage.
~~~~~~~~~~~~~~~~~~~~~~~~~~~~~~~~~~~~~~~~~~~~~~~~~~~~~~~~~~~~~
Some old pictures of Barb, Myself, & the Boys in 1965.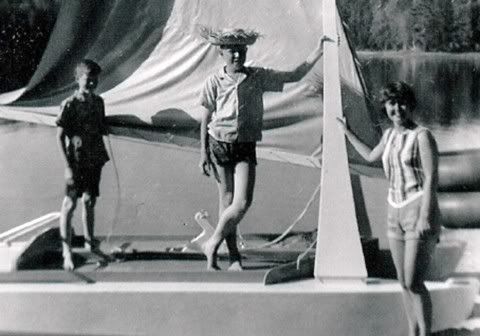 -- -** You are never to old to set another goal or to dream a new dream ****************** Dick, & Barb Cain, Hibbing, MN. http://www.woodcarvingillustrated.com/gallery/member.php?uid=3627&protype=1
---
---
---
---