---
88'' x 42'' x 30'' Walnut Dining Room Table.
The theme of this project construction was "unwieldy."
The top is made of 6'' boards, dimensioned on my Ridgid R4512 table saw with outfeed tables built for this specific project. Doing this on an uneven garage floor made it very difficult to keep the cuts precise.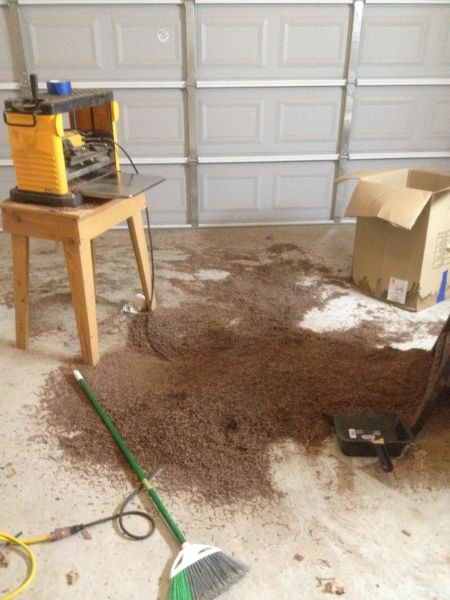 I then glued the boards up in pairs, then glued the pairs together.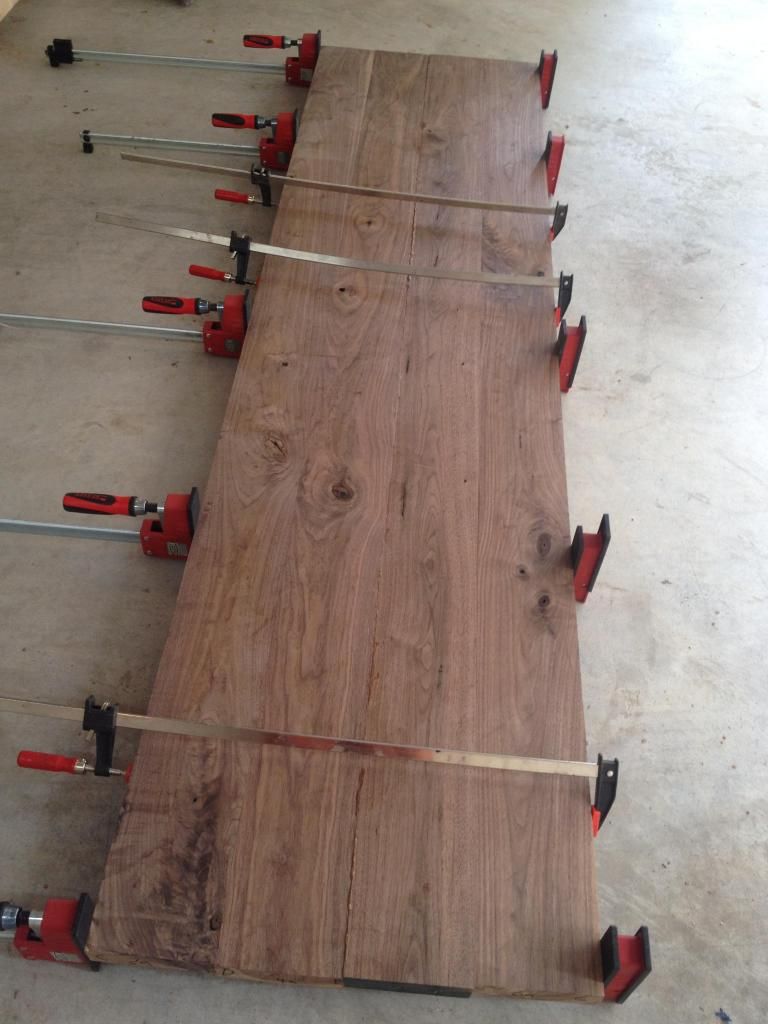 Lots of sapwood on the bottom: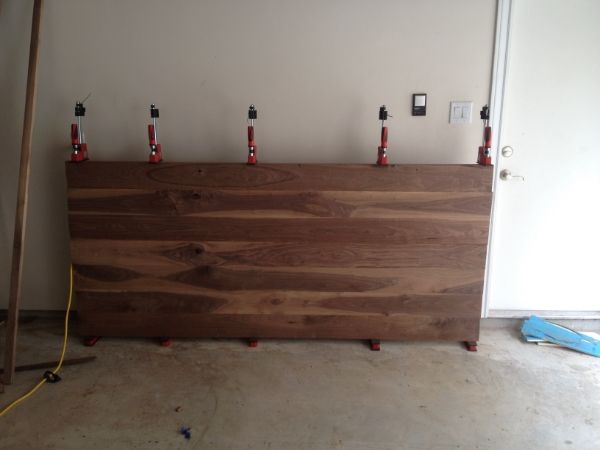 My original plan was to bring the table top to a local hardwood store and have them run it through their drum sander. Turns out their sander was not wide enough, and the other store I inquired with charged just too much for the service. So I decided to hand-flatten the top. This was not a trivial exercise as the glue-up was not well-aligned in a couple spots. Because I'm only able to work a couple weekends out of each month on this project, having to hand-flatten the top delayed the project by over a month. I also did this in the heat of the Houston summer. I don't think I've sweat so much in my life as I did over that month.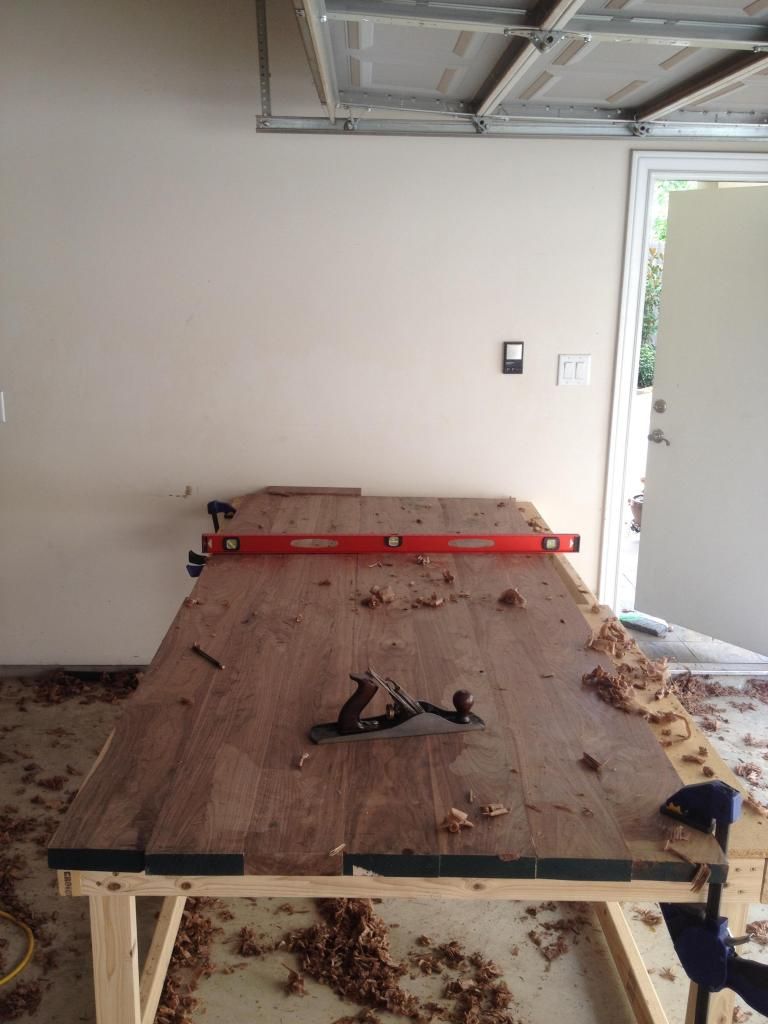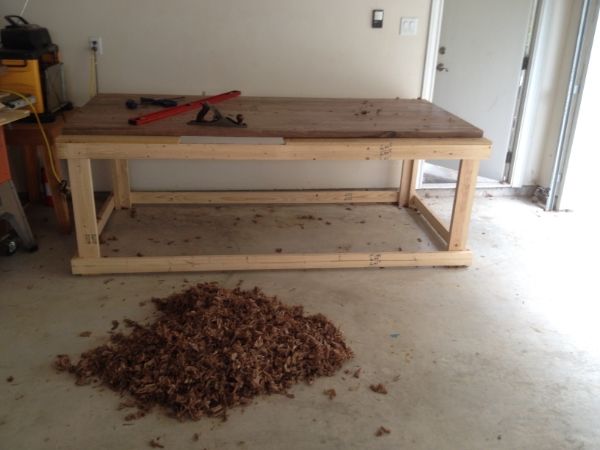 The legs are about 3.5'' x 3.5'', made by gluing up two 8/4 boards and tapering them on the table saw:
I made a router mortising jig for this project, too:
Gluing up the base:
I finished the project with three coats of Gloss Arm-R-Seal followed by one coat of Satin Arm-R-Seal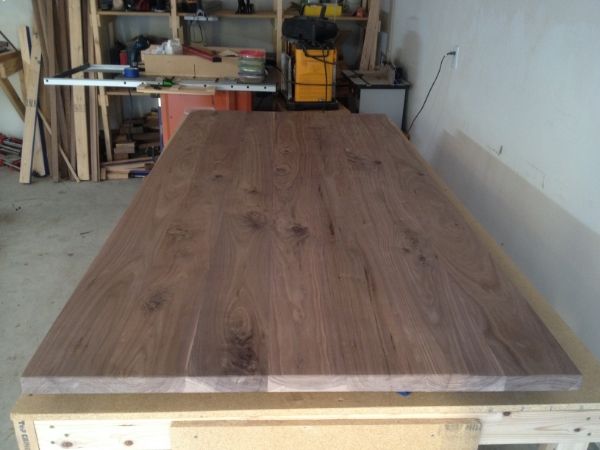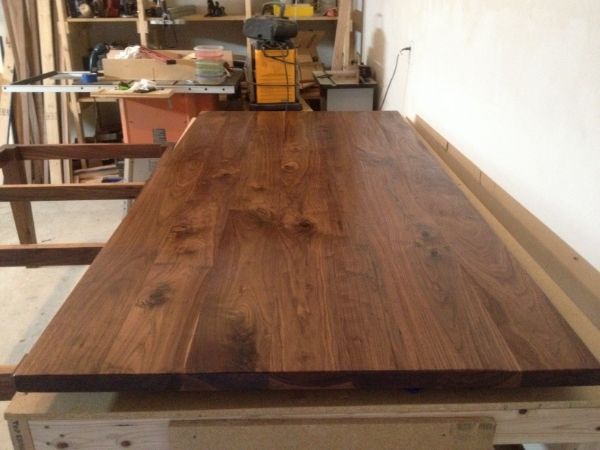 I had a couple big concerns throughout the project construction. First, because dimensioning the boards with my equipment was so difficult (no jointer, uneven garage floor made it difficult to get outfeed tables level), I was concerned about gaps between the table top boards. I ended up being able to touch up the boards with my Stanley #6 sufficiently to avoid that problem.
Second, I was concerned that hand-flattening the top would show a ton of imperfections once the finish went on. This also was a non-issue. I actually thought what few "imperfections" carried through to the end added some positive character to the table top. I was also concerned that slight thickness differences from one side of the board to the other would be noticeable once sitting down to eat at the table. Turns out the table is big enough to make this concern a non issue.
My most useful tool throughout this project was without a doubt Lumberjocks.
I think back to what my wife and I had as kitchen tables growing up. Even though we had relatively low-quality tables growing up, both tables are still in use today (my brother has our old one; we were using hers up until this project). Knowing the construction, wood, and design quality of this project, I know I have at least a half century to enjoy this dining table.
---
---
---
---