---
The Death Stick AKA The Elder Wand was the most powerful wand known to man in the Land of Harry Potter
Until now…
A friends wife asked me to make an elder wand door pull for her Harry potter room, underneath the stairs in their new house. I had some 3/4×3/4×5 Lignum Vitae blank from the only woodworking store I've ever been in. The woodcraft store in Houston. I picked these up as a novelty but never had a good enough reason to use them until now.
I started by making sled to round the square edges off.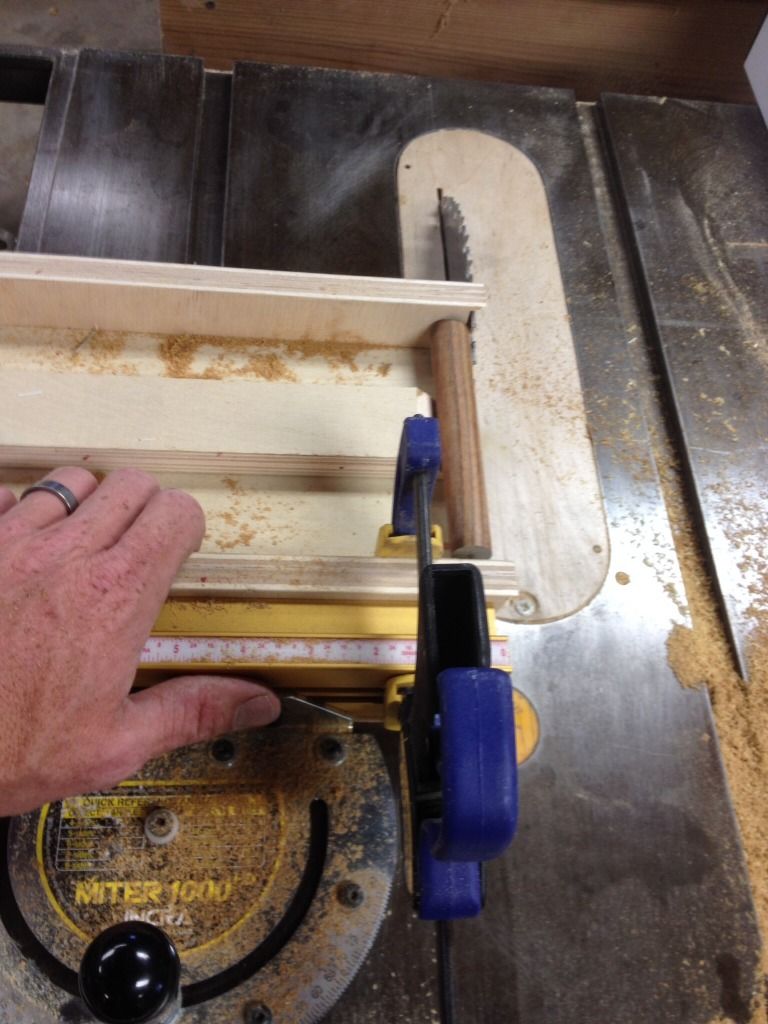 I used a push stick as a wedge between the sled and the blank to keep the blade from tuning it as I made a pass. I just turned it a hair after every pass, wedged it, and cut it again until I went all the way around. Now I have a dowel pretty much.
I don't have pics of the next step, but I needed one side of the piece small enough to fit in my drill press to chuck it up. So I turned the sled to face the blade and clamped it to my incra miter gauge. I started at the right end and pushed it to the blade and when it started to turn I I cut it down till I had about a 1/2" diameter cut. Then I just I clamped the sled and moved it over a blade length and repeated until I had a section a 1/2 long with a 1/2 Diameter.
I chucked it up in the drill press.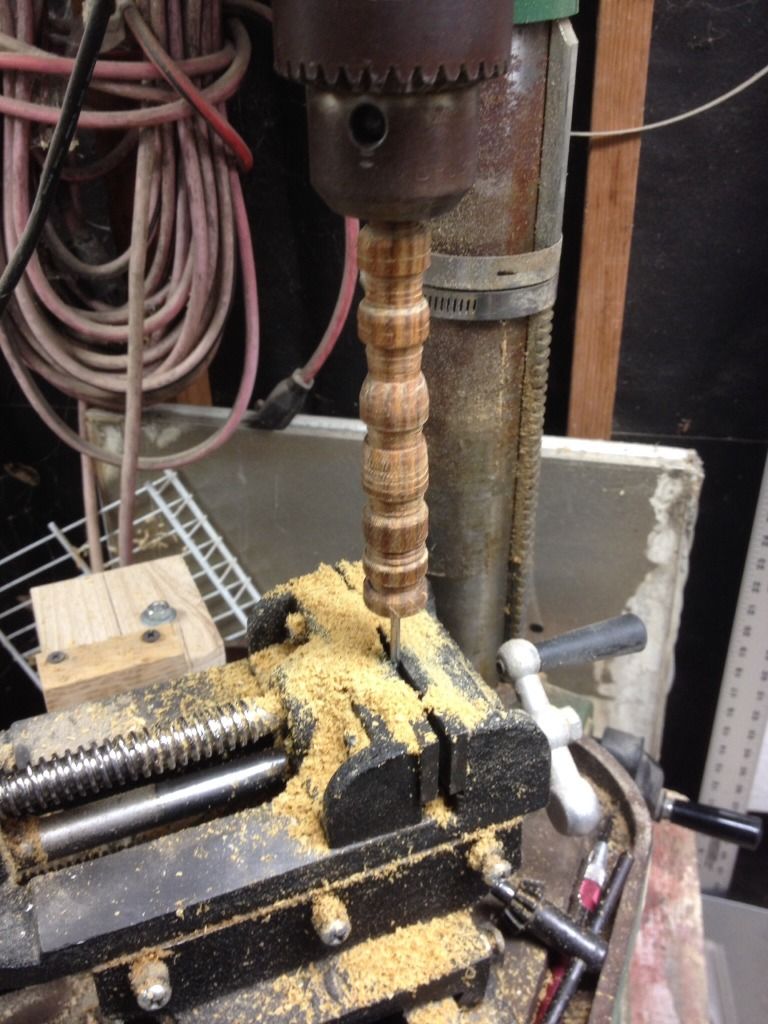 And used some cheap buck bros carving tools to rough out the shape. It didn't work so well so I tried hand carving the rest of the way, but after spending more time sharpening the tools instead of carving the Lignum Vitae I tried to think of different ways I could achieve what I wanted. This wood would chip if the tool wasn't razor sharp, and while I liked how it looked carved. It was very hard to shape it consistently because it was so hard to control the tool while cutting this rock known as Lignum.
So I came up with this setup.
I cut the end off the sled then cut out a strip of the bottom to make a window I could mount the wand in so I could turn it while routing it. I turned the sled over and nailed a strip of ply to the end to provide some support for the router base attachment of my dremel tool. Then screwed the hose of my shop vac to my workbench below the jig to suck up the dust and chips.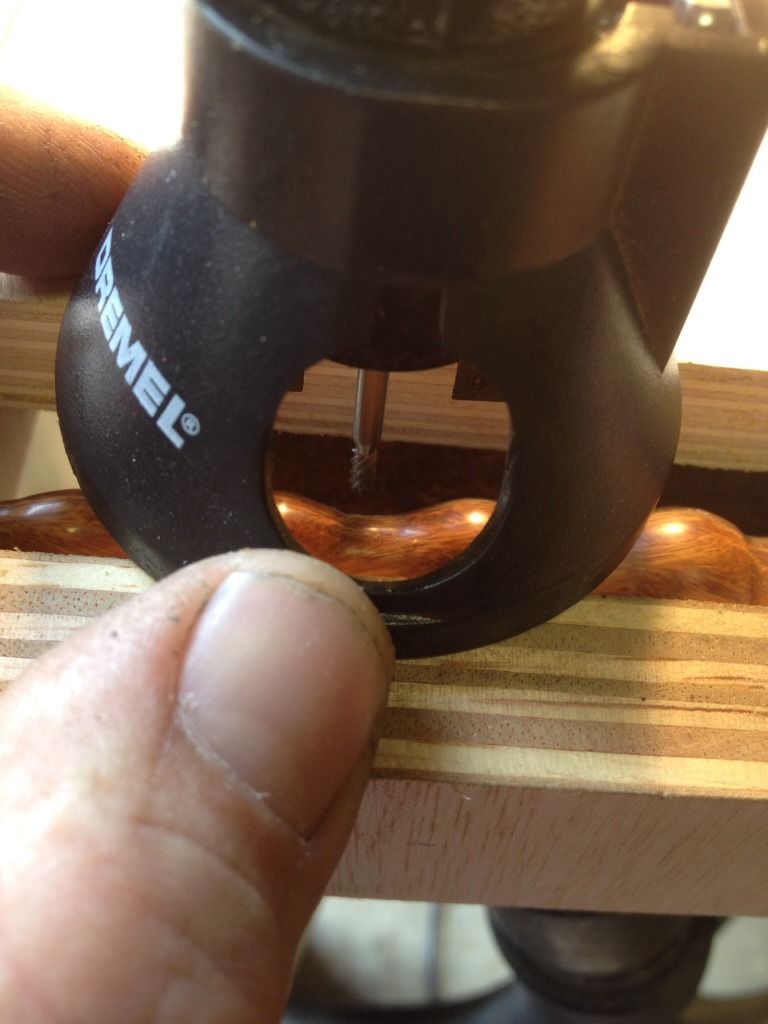 I used an 1/8" spiral up cut bit in the dremel tool. It would turn the piece as it cut, which was pretty awesome. It was a pretty clean cut unless it spun too fast, so I had to regulate the speed by hand and pressure of the bit. It only scuff the Lignum if it spun too fast because the spiral bit didn't have enough time to bite into the wood.
When I got the shape I wanted I chucked it up in the drill press again and used strips of sandpaper to sand all surfaces I could reach to 1200. The part that was in the chuck I sanded by spinning it in my hand. It took a lot longer than used the drill press but it came out good. I then used a piece of leather charged with mothers mag and aluminum polish and buffed it by hand to a satiny/gloss shine. The grain looks pretty awesome and it came out great in my opinion.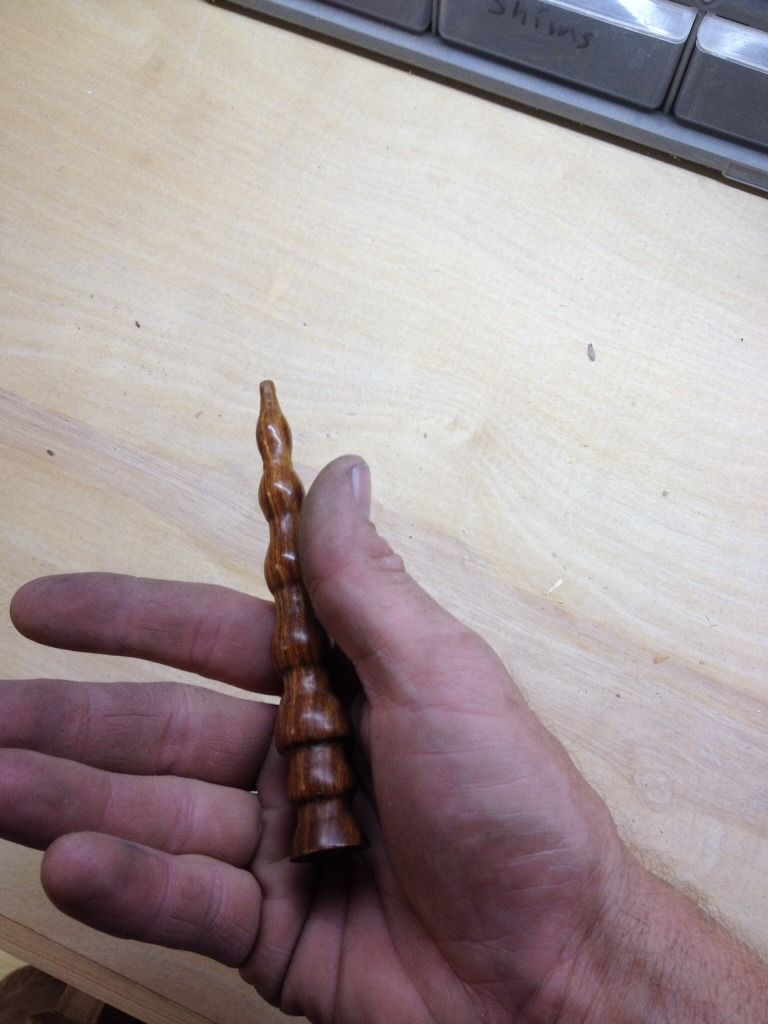 Shed better be happy with it… Or I will Avada Kedavra her!
Don't know how I will mount it to make a pull yet but that's another project. Thanks for looking.
-- Shooting down the walls of heartache. Bang bang. I am. The warrior.
---
---
---
---