---
Hallelujah it's done! It's not like me to let a project drag on, but I've been working on this doozy on and off for about a year. It's finished, and I love it.
What's a joinery bench? Heck, I don't know. I wanted a taller bench to work in conjunction with my roubo. I wanted a permanantly mounted Moxon/twin screw vise for dovetails. I wanted lots of storage for hand tools, hardware, and supplies. So, this is what I came up with. The driving inspiration was a bench I saw in Jim Tolpin's shop:

-
Anyway, I failed to blog the build so I'll just ramble about it now for those interested.
Part 1: El Bencho
The legs and top are made of 8/4 white oak that I source locally and very reasonably. This part didn't take too long. I just milled and edge glue pieces for the top. The tenons on the legs were made by laminating one piece longer that the other. I then pegged all the joints with dowels.

-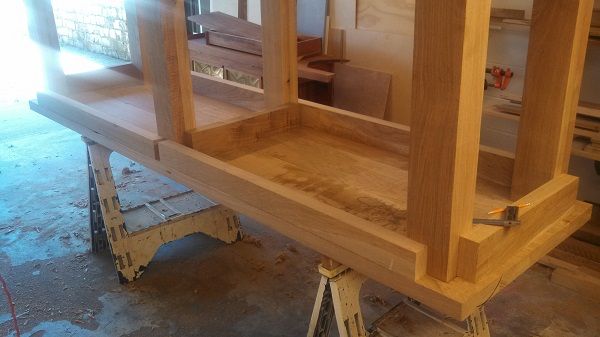 -
I was content to just have another work surface in my shop and left it this way for awhile. The standing dimensions are 9 foot long and 46" tall, and 29" deep.


-
Then came the benchcrafted hardware for a moxon vise: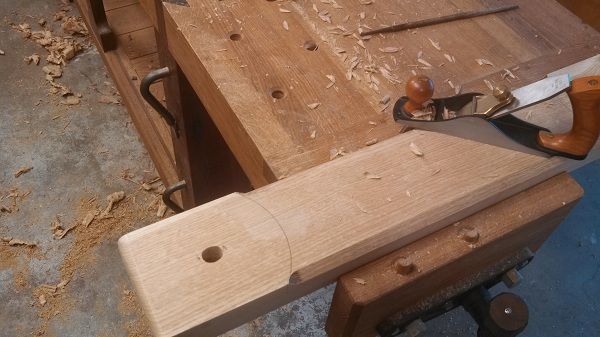 -


-
Part Deuce: The Lower Cabinets
These puppies ate up some hours. The design was to have wide hardware/whatever drawers on the right. Those would have full extension metal slides.
On the left there was to be a large power tool slide-out below, and small hand tool drawers above.
Walnut is the other hardwood I can get reasonably here. I had some rather gnarly pieces I didn't want to use on furniture, so joinery bench drawer fronts they became.
-
I bought one nice sheet of oak ply for the cabinets. I scabbed the rest from my plywood cart. There's probably 5 different types of plywood in those things. To finish them off I glued some 1/4" false frames to give them the appearance of frame and panel.
-
-
It was about this time that I began to embark on hand cut dovetails. What a great way to practice….on a bench ehh? So the drawers on the right have through DTs with false fronts. The drawers on the left have half blinds.
Oh ya, I made some drawer pulls with white oak on the router table. Soft maple for the drawer sides.


-


-


-
The space behind the moxon vise is used to store a shooting board and dovetail alignment jig. It also allows room for a holdfast through the top.
Once the drawers were done I revisited the top. I had some small issues with the air dried oak. The through tenons had shrunk a bit leaving gaps. I also had a few checks on the ends. So I drilled out the dowels, removed the top and fashioned some walnut wedges:


-
I guess I didn't want to stop at my first dovetails, so I attempted my first butterfly inlays on the splits/checks of the benchtop. I got carried away and put several throughout the top. I just love the look of 'em. I even put a ribbon of walnut in the front edge just for fun. Then I gave the whole thing 3 coats of satin polyurethane.
Last, I had picked up a ghastly purple leather hide on the cheap. So I'm using the suede side of that hide as liner for my hand tools. Very nice. It's gonna take me a while to sort out where everything goes. I don't have enough crud to fill these drawers yet….but I will.


-
-
There ya have it folks. I view it as my contribution of sorts. What a journey. As always I pushed myself and tried to become a better woodworker. I posted much of this build on various forums and I tons of good feedback, encouragement, and advice from various LJ's. Thanks to all.
Here's what she looks like tonight:

"I stand here in front of you today, all because of an idea, I could be who I wanted if I could only see my potential"
- Macklemore
-- "At the end of the day, try and make it beautiful....because the world is full of ugly." Konrad Sauer
---
---
---
---