And so it goes, according to Jerry Garcia! Is Karma involved here? Anyhoo, I was at one of few places in the city that actually has some interesting hardwoods. Their main focus is moldings, and they have an offcut box that generally goes unnoticed, but I have bought quite a few shorts of 2×6 maple and poplar, the ends of slabs that have checking or fade and unworthy/unsafe to put through their molders and shapers. They usually charge me a buck apiece, but today a sales clerk I'd not seen before tried to bite me in the ass for $15 for 3 small pieces and started barking at me about what a great deal it was. I politely refused and walked out.
Later, I went to work, and there was an email waiting for me, the 5-S co-ordinator had a load of dunnage wood for me, and I nearly fell over when I saw it! Fifty more pieces of American red beech 2" x 2" x 30" long!! Yahoo! One piece of 3" x 4" Black Walnut, 48 inches long!! and some red oak timbers of the same dimension as the walnut. Here they are: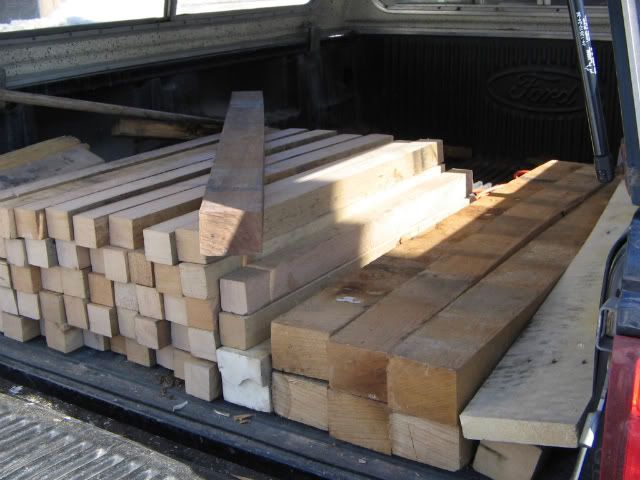 Sooo.. A well-spent day after all. That load in my truck, plus which also included dozens of poplar/tulipwood 3X3X12 turning blanks not pictured, was mine for $10, the standard charge for a load of discarded lumber where I work. It's used primarily for keeping heavy machinery stabilized in tractor-trailer flatbeds, or rail line usage. I'm happy!
-- Einstein: "The intuitive mind is a sacred gift, and the rational mind is a faithful servant. We have created a society that honors the servant and has forgotten the gift." I'm Poopiekat!!
---