After finishing my bookcases, I've started working on a pair of Shaker Candlestands. I turned the spindles last time I was at my in-law's house: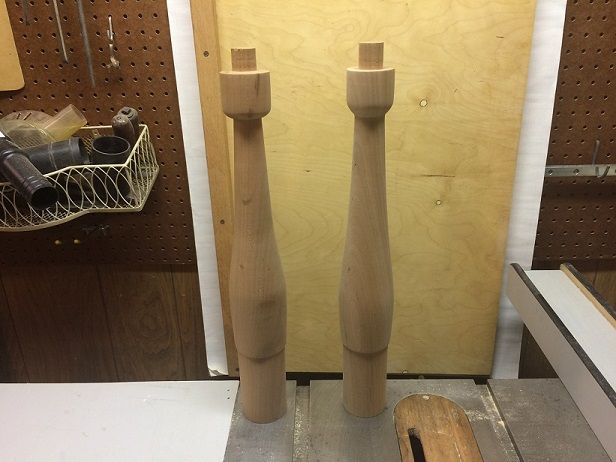 The tops will be from several panels I glued up years ago to use as shelves for a pair of end tables, then decided they were too nice to hide away. I'll post pics of those later.
This is a different kind of project than I've attempted before, and I want to get it right the first time. So, I'm going to validate the techniques & setups by making a prototype out of cheaper wood before I start on my nice cherry. I'm using (roughly) the measurements and dimensions for the candlestand from Making Authentic Shaker Furniture: With Measured Drawings of Museum Classics by John Shea.
I started by making a template for the legs, smoothing it, and using it to lay out rough pine blanks for the legs. I cut them out with a jigsaw, and then used double-side tape to stick the pattern to each leg for routing.
Here are the pine legs after routing with the template:

Overall, not bad. However, notice the tearout on one of the legs:

I don't know if this is just pine being pine, or if I didn't cut close enough to the line with the jigsaw before I started routing. I'll definitely try this on another blank before I turn to the cherry!
Next step is to figure out how to hold the spindles in place to route the dovetailed slots for the legs.
-- Phil
---