when last we talked ,
i was going to see about getting my water tank out of the ground ,
so i would have a place to collect water from my new rain gutters ,
here's how that has been going . just realize please , i am doing this all alone ,
just me and God ,(and buddy my new dog and boss ,lol) .
.
here is the water tank in the hole that was collapsing
(from rain no less ) ,the tank is 8'diamiter x 8' high .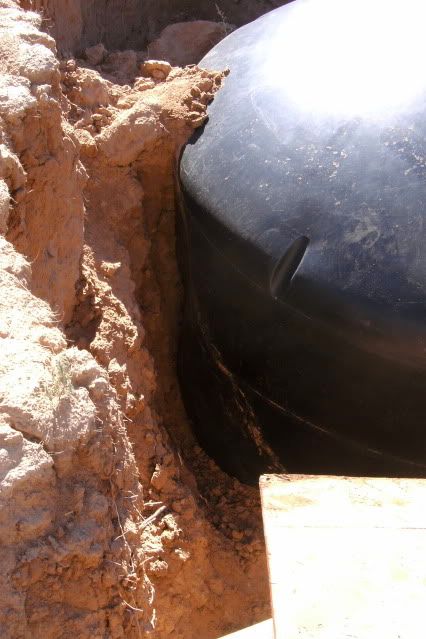 .
here i pulled it over to try and free it ,
after digging around half of it first ,
(the half with no dirt blocking it , where the pump had been hooked up ) .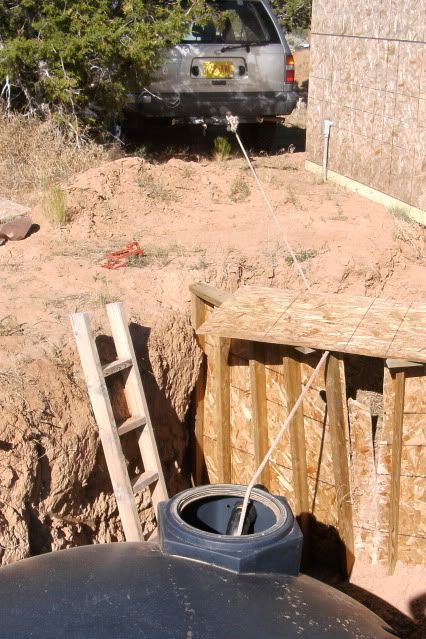 .
and it MOVED !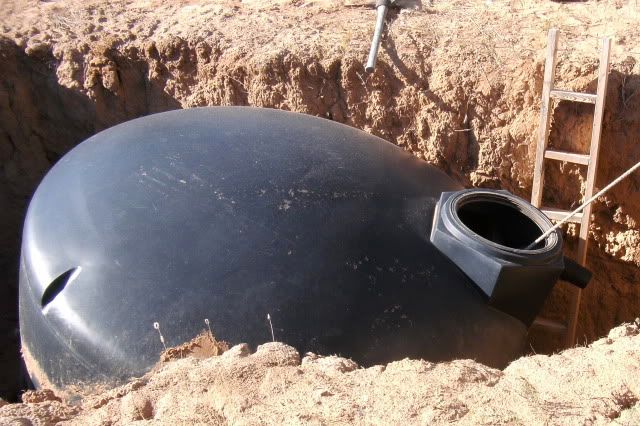 .
so now i was ready to come up with some way to get it up and out of the ground ,
using old form boards and construction weathered 2×4's and 2×6's ,
i rigged a triangle anchored at the base with steaks , and bolted the parts together .
and propped a 2×6 up and ran my rope and chain over everything ,
to the hitch on my 4W SUV .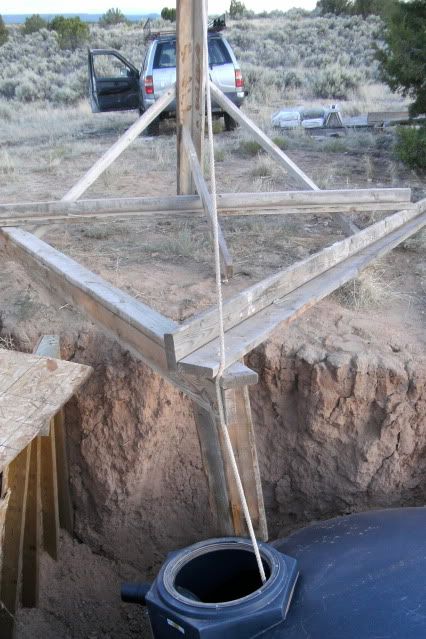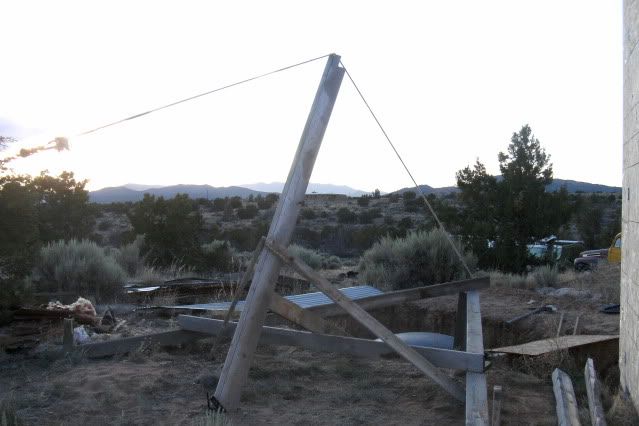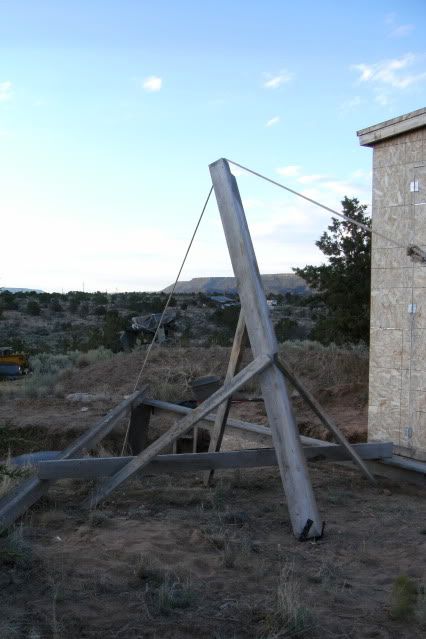 .
that was not happening , the lone 2×6 kept going sideways ,
so i rigged another triangle to run the rope over ,
that took another hour , it was getting dark by now ,
so i went for it .
THE 3/4"NYLON ROPE BROKE !
so i went inside and thought about it for 5 more days .
i did get a new wide tow strap for my next attempt .
i worked on the gutters some more , and started cleaning the house ,
thinking about this problem .
i did get some PM's from interested buddies on LJ's ,
my favorite was the one about using water to 'float' the tank out of the hole .
so i waited while it rained , but not enough to lift the tank (LOL) !
well today , my fellow LJ buddy margy , (who had helped me put this tank in the whole 10 years ago ) .
came by out of the blue , so we went and started digging the bank into a ramp slope ,
them my neighbor Te , (the one that had offered to help before) wandered up and grabbed a shovel too .
not wanting to make them feel bad ,i let them do the digging ,while buddy and i thought !
i rocked it more forward , and filled in the bottom on the back where it had come loose ,
for about three feet off the ground , and put 2×4's and wafferwood (from the one of many old roofs) ,
and some 2×6 corner forms , for the tank to slide on . ( for the pictures ,
the tank has been temporarily removed ,LOL ) .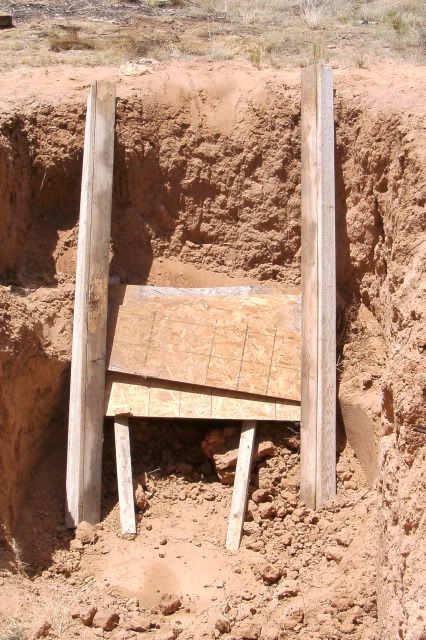 and pulled it up and OUT !
this is TE and MARGY posing with the tank upside down , the way it rolled as it came out .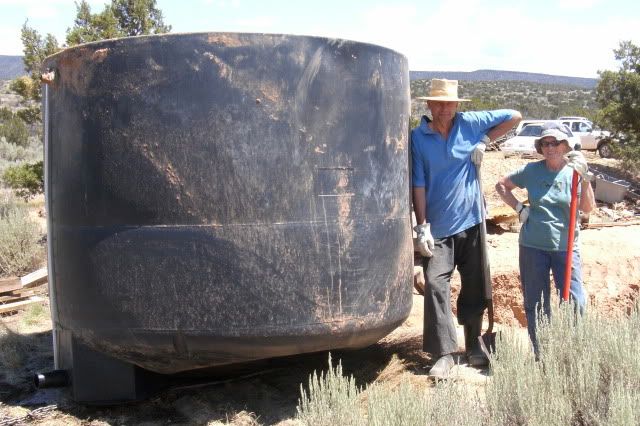 .
so we rolled it about 200' and left it where it will be used ,
as soon as i clean it well with the hose and clorox .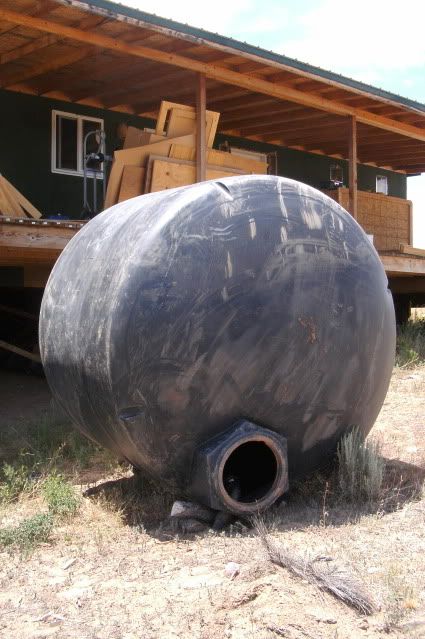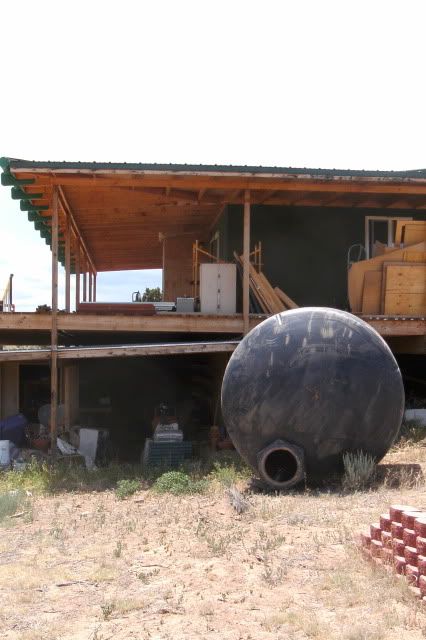 .
thank you all for the interest , without you all and your kind comments ,
i would probably just lay around and watch TV (LOL) !
and thanks to Margy and Te for the help in this .
buddy is resting now , tomorrow he want's to finish the gutters .

-- david - only thru kindness can this world be whole . If we don't succeed we run the risk of failure. Dan Quayle
---