some of you might remember my previous blog about my rain/snow gutters ,
i finally got some time to progress on them ,
as i have been working away from home for a while now ,
http://lumberjocks.com/patron/blog/16257
the first two pictures are from that post , about the cutting jig ,
and an actual 6" PVC x 20' pipes cut 1/4 out of ,
making a tube that wraps up and over my metal roof to catch rain,
and stop the snow from sliding off the roof ,
both of which have been just wasted water for me ,
as i have to buy water for the house ,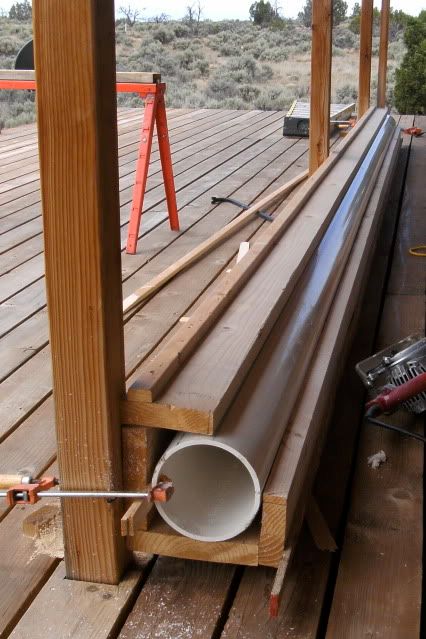 this is the jig and a pipe ready to cut on a track for the skillsaw to follow ,
top and side .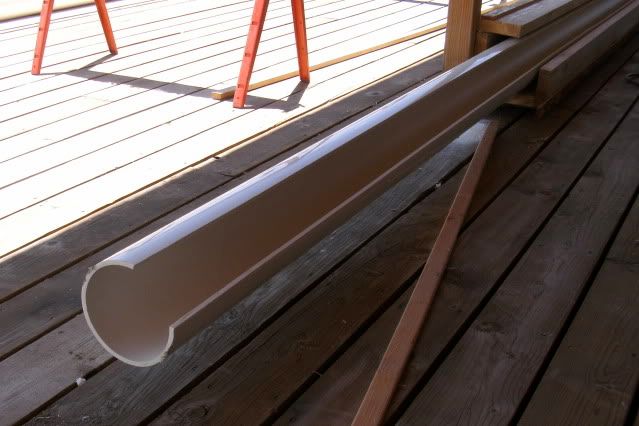 here is the cut tube , ready to be processed for the gutter .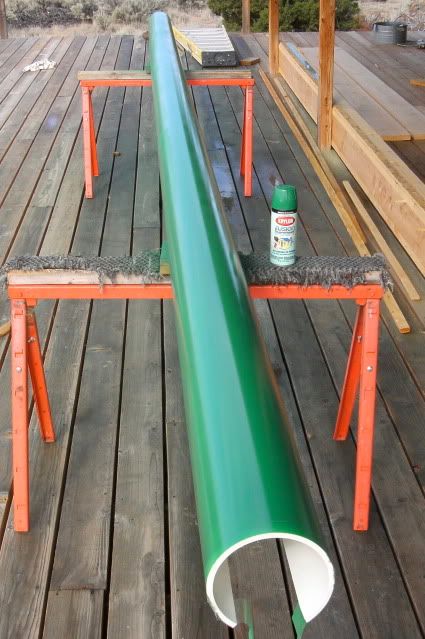 here is the tube painted the house color with 'fusion' plastic paint ,
notice the white ends , taped off , then ready for some 'bitchathane" ,
PVC shower liner , that i will use to bond the ends together and paint too .
the fittings for this size pipe cost anywhere from $30 to $75 apiece ,
and are big and bulky , i don't have money for that , so i am inventing as i go .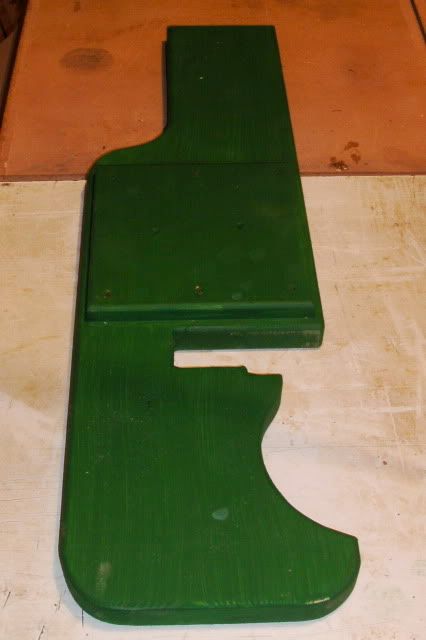 here are brackets i fashioned from 2×10 pine , i had to plane and mill them as they cupped badly by the time i got to them , and i put a plywood strap glued and screwed behind the fascia , so they don't split from the weight of the pipe they are thru bolted to the porch rafters , every 4' and hold the tube very well .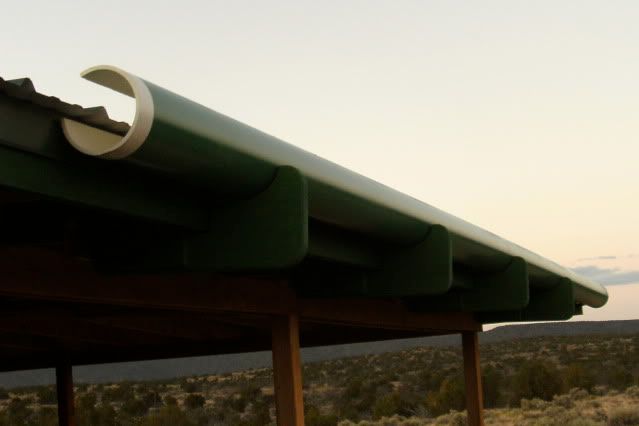 here is the first one in place , the lower fascia edge will be back screwed to a window seal gasket thru the fascia,so as not to leak there . i can use my air ratchet and hex pro-panel screws by reaching in from the roof side to attach them , and plumbers galvanized strapping bolted to the top edge of the tube , and down the face of the brackets , so they don't split either .
the idea is to have something higher than the roof , to stop snow from just sliding down and dropping off the roof . and to channel the water to a large water tank , where i can use it for house or garden needs ,
the down spouts , i will make from 3" PVC , hole sawed thru this one and glued to it and profiled inside .
as all these gutters will be 54 ft long , for a total of 172 ft , i wont have any pitch to them ,but water will find it's own level , so i think i am OK . if i put pitch on them , they would be to low at one end to do me any good .
WHY WASTE IT ?
IT'S FREE !
thank you for looking ,
play safe .
-- david - only thru kindness can this world be whole . If we don't succeed we run the risk of failure. Dan Quayle
---