this is the latest , in a series of about 12 animal/bird cages for re-habing wild injured animals/birds
that i have done with my LJ buddy margy who re-habs both .
this cage was built by margy , in her own shop , i helped when she needed it .
and for assembly .
we started them at her place for her own use , and over the years have improved the design
to it's present state .
we got an order some years ago to make one 16'wide x48' long x 12' high , for a flight cage for eagles ,
that needed a place to learn to fly again and get their own food on the ' fly ' as they had been injured , and
laid up for months or even years while they mended . they forget how to fly and how to forage their own food .
the only one that we had seen , was telephone poles sunk 4' into the ground , and the walls and roof attached like regular house construction .
the last thing the lady said to me as i was getting in the car ,
" can you make it portable , i don't own this property ,and will need to move these ( meaning us ) later "
so i got my drafting table cleaned off , and came up with this .
these panels are 4' by whatever long ( usually 8' , but for that cage 12' ) ,
that can be cut and assembled in the shop , and finished with preservative and transported , to be erected on a pressure treated 2×4 base , and lag bolted together , some are covered in plywood , for the corners , to make a sheltered place for the animals/birds to get out of the weather , and some have slats ( birds ) or wire ( animals ) ,
and some have doors .
most have tin poofs , but for the big flight cages ( we have made two now ) , i had to make some truss spreaders 16' long , to drop the same 4'x12' panels into the framing .
this cage is 8'widex24' long x 8' high , with a tin roof .
it is three rooms 8'x8' , the center one is the ' vestibule ' and food and supply's room . you close the entrance door behind you , so if the animals/birds get past you from their cage , they are still in the vestibule , and can be re-caught .
thanks for looking . enjoy !
.
this is the pt ground ' foundation ' , screwed together and wired , then flipped over ,
so the animals ( raccoons here ) , can't dig out , or predators dig in .
and the corner panels screwed together to brace each other ,
and the adjoining panels .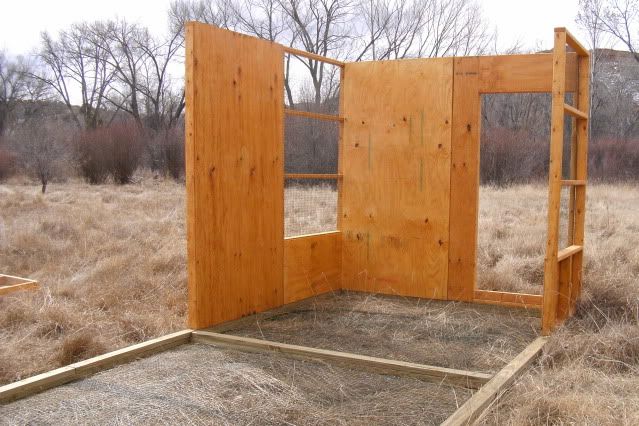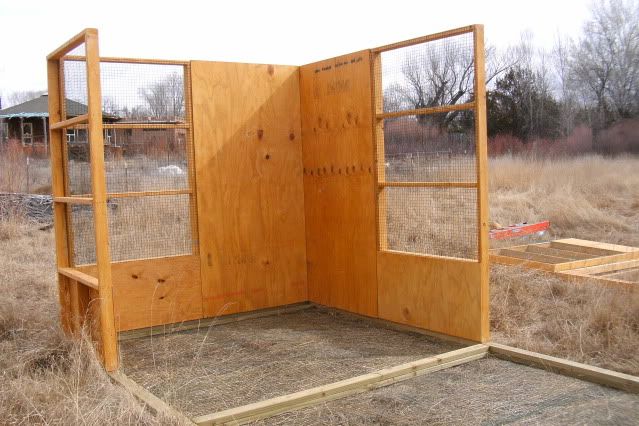 .
two more panels added .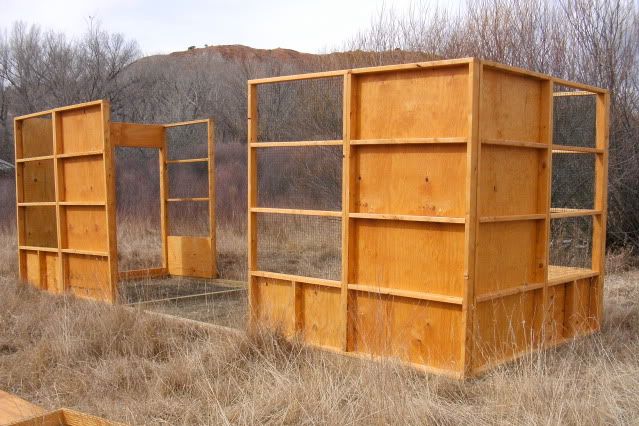 .
margy and jose ( our new helper , what a find , smart , strong and green card legal , even talks some english ) !
and more panels added to complete the walls .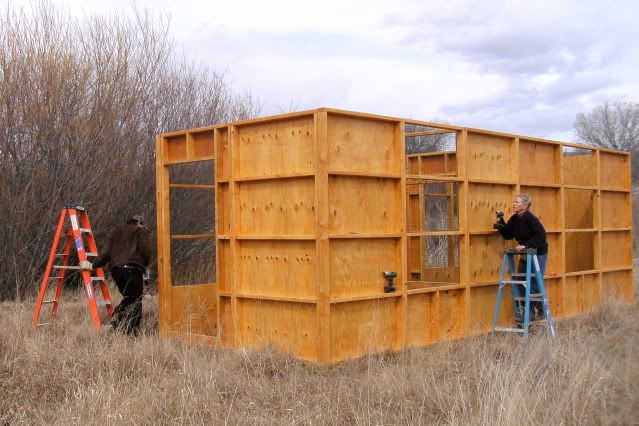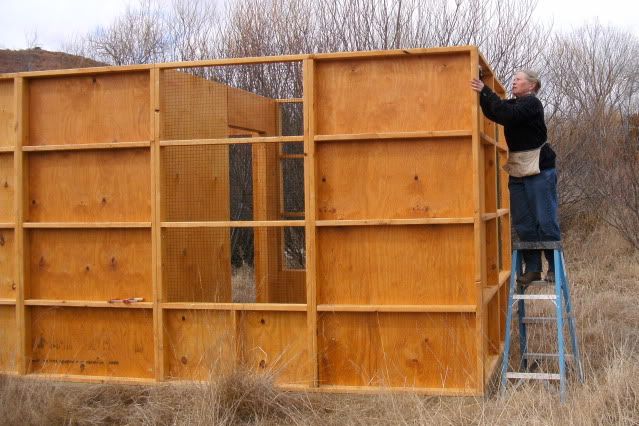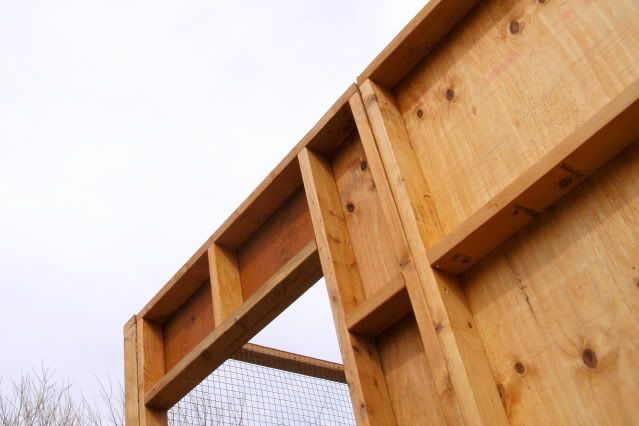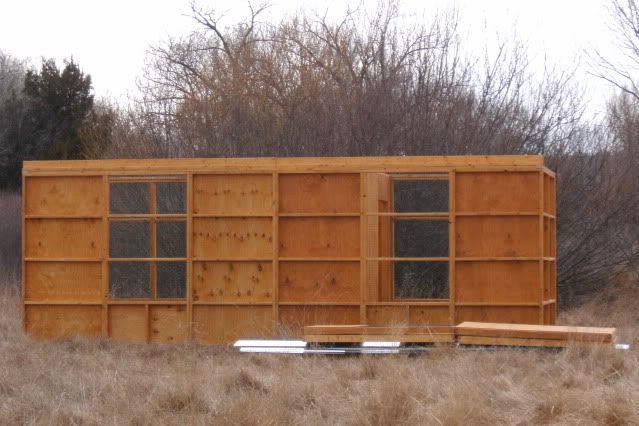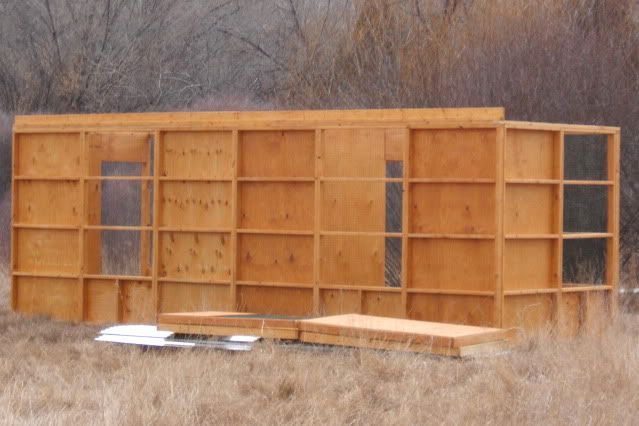 .
roof framing going up , with stringers crosswise for the corrugated tin .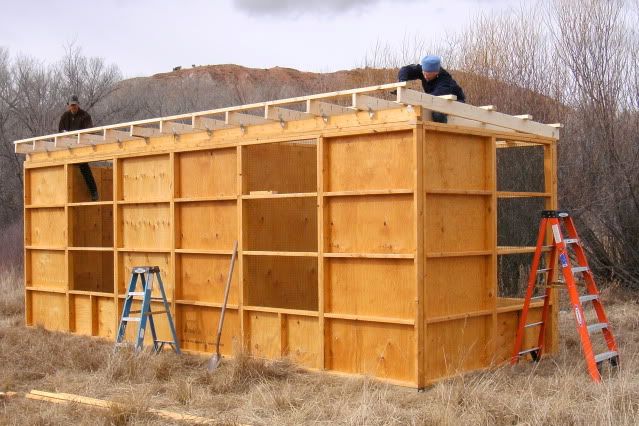 .
at this point margy went back to the shop to get something ,
and i started to put on the tin , with jose passing them up to me .
got about 3/4 done , when margy came back ,
and i had been on the roof for about an hour ,
it was snowing hard , and i was wet and freezing ,
so we called it a day . sorry no pics. , just imagine white !
we will finish when the client gets the rest of the $ together .
thanks for stopping in ,
play safe and God bless .
THANK YOU , POMMY !!!!
-- david - only thru kindness can this world be whole . If we don't succeed we run the risk of failure. Dan Quayle
---