I was looking around my workshop very early this morning trying to figure out what I was going to do… and hit myself over the head many times for keeping all sorts of small pieces of wood. I decided I would go back through the things I favorited, and see if there was something that will help to use the wood.
I linked up to Rah's "Tea, anyone?" project from last xmas: http://lumberjocks.com/projects/12223 and decided that would be the project.
As I started to draw out what I needed to do on paper, I remembered that I wanted to learn sketchup. So, I downloaded google's free program, listed to a few of the tutorials, and proceeded to sketch out the project.
First thing I did was make the size of a tea bag. Then I tried to make the surrounding shell… you really need to listen to all the tutorials if you want to do things with less pain. I spent probably 2 hours today trying to figure out why a plane would not act like a plane. There are many views to consult – and each different view can help you fix a different problem.
I working on this from about 9AM to 2PM. I learned a lot about sketchup, but still not enough. The resulting plans are below which need to be tested…. and I did not yet map out how I will be doing the finger joints.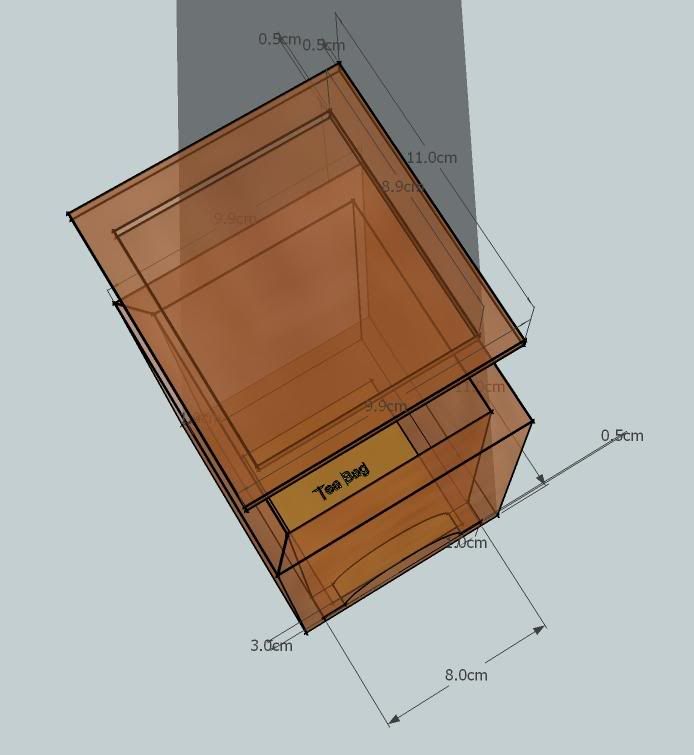 If anyone really wants the in progress .skb file I will certainly be happy to .zip it up and send it along. Those of you who are experts… if you see anything off the bat that I can correct – I would certainly appreciate the comments!
---