As Debbie mentioned in the latest eMag, we have declared June 12th as The International Day of the LumberJock. This happened in 2007 when we reached 1,000 members, just 2 years ago. Fast forward to today and we are more than 10,000 members strong. Unbelievable…
I had no time to post frequently in the last few weeks. I returned from Yemen two weeks ago and am still catching up. And as this site grows leaps and bounds I find myself spending much more time on the maintenance and support than on developing new features (the part that I enjoyed most). However that's the best part of this long-term project – I'm getting experience in so many different areas.
The most important truth that I learnt to accept during these years is that you cannot please everybody ;)
I'd like to thank our team on this special day. Judie is doing excellent job on the advertising front and her efforts are starting to pay off, Michal is managing GardenTenders and HomeRefurbers with a dedication and always optimistic Debbie is the best motivator you can find – believe me ;)
I'm just glad that most of you decided to keep this going despite it's obvious growing pains. I want to assure you that I'm reading all the feedback (suggestions, complaints, tips…) each day and am trying to stay on top of things. Most of the frequently discussed major feature requests (groups, attachments, ignore list) are already on my list and I'd like to deploy them one by one this year. However it seems like there are always more urgent updates that have to be done…
... like fighting the spammers right now ;) I'm sure you know what I'm talking about. I added another step into the registration process today. No account will be activated without an email verification anymore. Let's see how this helps.
Dan posted an idea about the Addictive shirt design today. I liked it so much that I decided to design it and add these shirts to our "apparel store". If you like it as well feel free to buy one for you ;)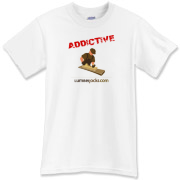 Last but least, I want thank all of you for making this site what it is!
And you should really start designing a nice garden bench instead of reading my ramblings because Summer Awards are coming ;)
---