LumberJocks raised the bar again with over 50 entries in our Bookcase Challenge. You proved that it's possible to be very creative even with such a common project and you made the judging process extremely tough for the editors of the Popular Woodworking.
Here's the summary of the event as well as the announcement of the winner and runner-ups by Glen Huey, Senior Editor of PW:
"Congratulations everyone. The LumberJocks excelled at designing great looking, buildable bookcases and we were certainly impressed with the group as a whole. This became a difficult task for the Popular Woodworking editors. We individually studied the entries to arrive at our own favorites, then brought those to a group meeting hoping we might see a consensus winner. Instead, we had 11 bookcases to work with to try and determine a winning design. Each design had aspects that we both liked and disliked (editors can be particular when it comes to projects for articles, you know). Even the top entries have design or possible construction techniques we would like to see tweaked, but here goes the list."
"At the top of our list, after much discussion, is Ryan's Shoji Screen Inspired Bookcase. This is a very nice design and will be a great article in our magazine. We look forward to working with Ryan as his bookcase comes to life in the pages of PW. Congratulations on his upcoming or recent family addition, too."
"Close behind Ryan's bookcase was Daniel's A&C Bookcase with Magazine Drawers. This piece was very close to the top and had strong support from each editor. In the end, we felt that Daniel's bookcase displayed too strong of a mixture of many A&C designs. And, the magazine drawers, when fully loaded, would be extremely heavy to access."
"Also a strong contender was Charlie's Sliding Dovetails Bookcase. What slowed our enthusiasm for this design was the difficulty of sliding dovetails, but when discussed further and a few suggestions were made in how this might become an easier project with a simple adjustment in joinery, Charlie's design gained momentum, but was just nosed out by Ryan's design."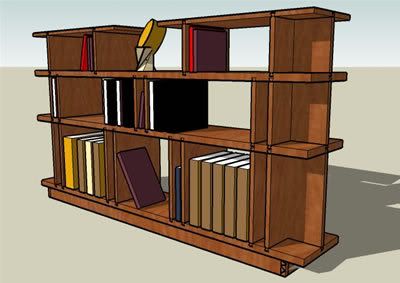 And here are three random winners of the LJ shirt:
Congratulations!
---