Here comes another nice upgrade that will make your blogging on LumberJocks even more enjoyable. Each of you is now going to have blog that can be proudly presented across the Internet. Old blog pages were quite messy… they were just paging across whole blog entries. And if the blog entries were longer it was real pain to browse through them.
New blogs feature nicely organized and visually much more appealing blog home page that prominently shows the latest entry. And just below the latest entry you can find the condensed view of ten older entries: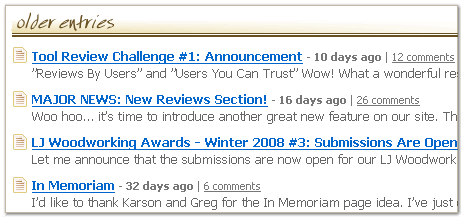 Instead of clicking through the long paged list of all entries you now have to visit just one – newly added – page Blog Archive. This page lists all of the entries in the respective blog in the chronological order. To make this page easy to find I've added big brown button to the sidebar on all blog pages:
Let me know if you like these changes… and Happy Blogging!
---