Let's see what you think about this update. I'm quite excited about it and am eager to see how it evolves down the road. I personally found home page a bit boring for some time and was thinking about the way to make it more interesting – possibly by adding a bit of competitiveness to it as it never hurts. The final update is more robust and it awards the most active projects posted daily.
So what's it all about? The most recent projects were replaced by Daily Top 15 on the home page. It is the list of projects that have been posted in the past 24 hours sorted by their score which is result of the secret formula that takes views, comments and faves into account. So the more you spread the word about your project on other social networks like your Facebook or Twitter, the better your chance is to get to the list. But it's not just about views because project has to be cool enough to generate lots of comments and faves as you know. The formula is quite robust and has the tendency to bring the most interesting projects to the top every day.
It looks like this on home page:
This Daily Top 15 list is refreshed periodically during the day. Making it to Top 15 is great as it brings even more views to your project but it can get even better… and that's when you make it to Top 3 – you will have much bigger project thumbnail on the home page and your project will receive life-long shiny DAILY TOP 3 badge on the project page: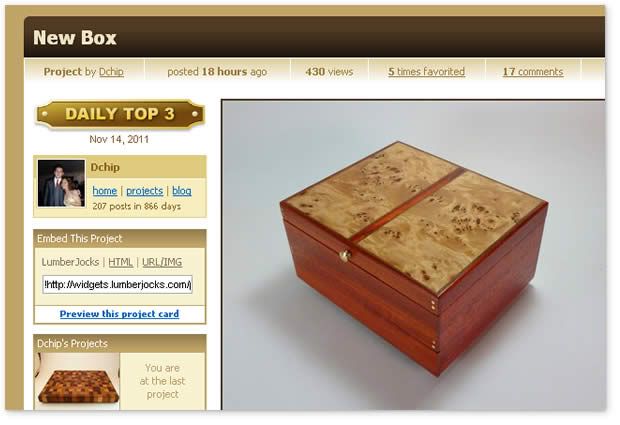 You will be notified by email when one of your projects makes it to Top 3 so you can check out the badge yourself. I'm sure it will make your day.
I think it was the right time to get rid of the recent projects from the home page and replace them with the daily best. That's what home page is for (latest projects can be browsed on the Projects page as always). And yes, I think refreshing the home page will get quite addictive to some :)
I've also created a script that is just going through all past days of LumberJocks history and is awarding the top 3 projects on a given day with the DAILY TOP 3 badge. You will not receive an email so feel free to check out your best projects and see if they made it or not. The script is on June 2010 right now…
Hope you will enjoy this update. Cheers!
---