I invite any LJ to comment on things I miss or correct me if I am wrong. Yes this is a long article.
I have an odd life. My "real" job I spend in an air conditioned, very sterile enviroment (hospital). My favorite job is sweat and sawdust, at mother natures mercy for temperature and weather. If you can't handle sweating or getting dirty, stop here and do something else. I am happy to say that this is my part time shop -
First remember that your "purpose" for being there is to get wood for whatever you need it for. Your "priority" is to leave with all body parts still properly arranged and the same blood supply you came with. Logging can be extremely dangerous if you aren't careful.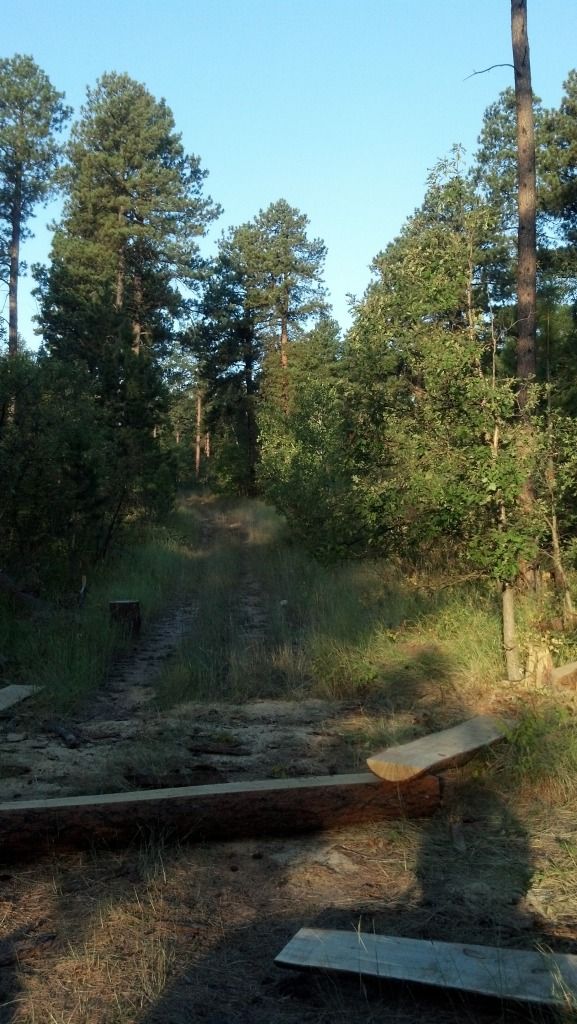 This size log does not take a 16" home owner saw. Commercial grade only. Mine is a Stihl MS660 with a 36" bar. There are others to choose from but adequate power is neccessary. I am actually considering the next size bigger, I have found trees that still give me trouble with this. Never go logging with only one saw. even the best loggers will pinch the blade occasionally. A second chainsaw should be with you.
There are other places you can read proper felling proceedures for making the cuts so I won't go through that. Regaurdless what direction you THINK the tree is going to go, park all vehicles, equipment and spectators at LEAST TWICE THE DISTANCE THE TREE IS TALL from you. There are various videos on internet showing the penalty for failing to follow this rule. Green trees can bounce. this is where most people get injured or killed. Next equally important thing, plan an escape route if mother nature chooses a diffrent direction for the tree to go than you did. Clear all trip hazards. falling with a running chainsaw is considered dangerous. Proper safety gear also. Goggles, hard hat (I have ahd stitches from falling branches), gloves etc.. I wear steel toe high top boots. Steel toes because I might might drop something heavey like a tree on them, and high tops because I am in areas where there may be snakes. I HATE SNAKES.
I will assume at this point you have the tree laying on the ground. Using the chainsaw, you will need to trim all branches from the trunk. Again clear trip hazards. Remember you just dropped a tree. broken branches may have caused new trip hazards. Cut the trunk into whatever lengths you want to work with. Since I am working on the stair project, the following pictures are from cutting a beam for it.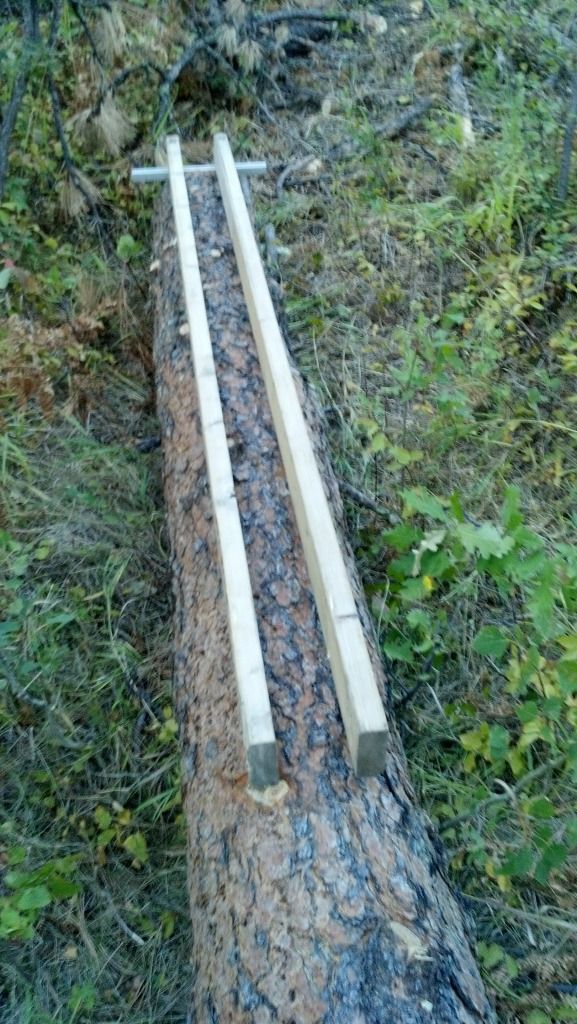 Start at the smallest end of the log. I am cutting oversized so I can plane and clean it up later. I need a beam 8-1/2" x 8-1/2" x 14-1/2' long. I normally only cut 8-10 foot sections so this takes a lot more setup to get right. Since the small end of the log is only marginally big enough for my beam I can't be off on the cuts. I use 2×4's for slabbing rails. This is not the best way to do it. I considered buying the real aluminum rails, but I am in the process of trying to get a bandsaw mill so I don't have to do this part at all.
After connecting the ends, THEY HAVE TO BE STRAIGHT FROM ONE END TO THE OTHER. everything you do from here on out is based off the first cut. A little off here is a lot off later. I do use nails along the log to secure it level. Make sure the nails do not got deep enough to make contact with the chain. Those who run chainsaws know that saws and metal objects don't make for a good day. Now it is a matter of adjusting the depth of cut on the mill and sliding it down the rail. Don't force the saw too hard. Although they are durable, chainsaws still don't really like this kind of work. Burning up the piston and cylinder is $328.68 plus tax. :-( It can take an easy half hour per slab to cut. Longer on hardwoods.
The second cut is easy. Set depth at 8-1/2" and slide down the previous cut. The Third cut is the most anal cut to make. Besides setting the rails the same as you did for the first cut, you MUST make sure that your cut line is as close to perfectly perpendicular to cuts 1 and 2 as you possibly can. Cutting a trapazoid doesn't sell products. The 4th cut is like the second. Set your depth and make the cut.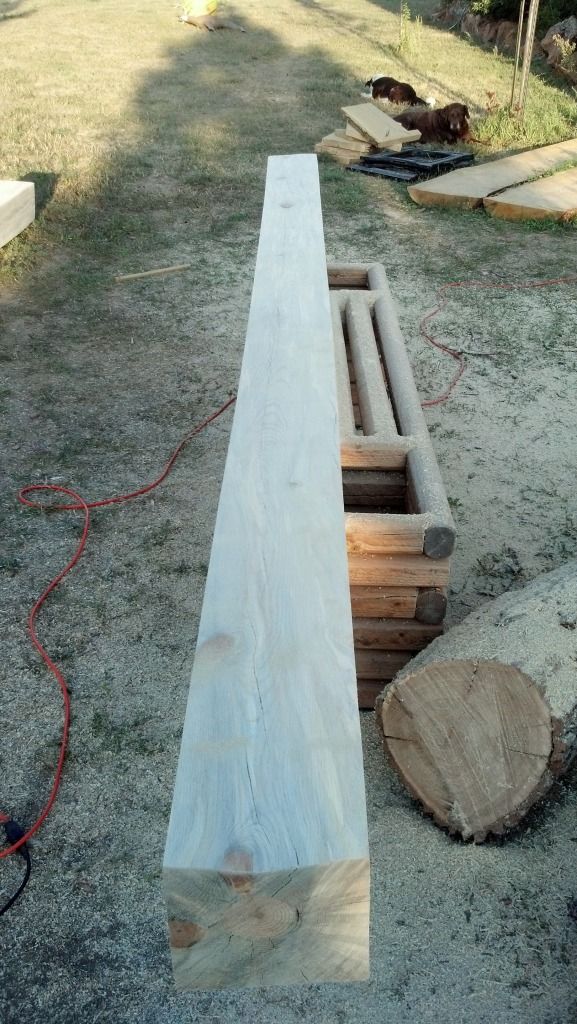 On a good day you"l end up with one of these (minus the dogs and the deer target). About 2 to 2-1/2 hours per beam in the field. Now just throw all 92 board feet of it in the truck and go home and clean it up.
Comments welcome
-- Nature created it, I just assemble it.
---