This is the third part of my series on making a Pencil Post bed that I am doing from the DVD that I got from Charles Neil at: www.antiquesbuiltdaily.com. I am now in the the not so exciting part of this project which is the sanding, sanding and sanding. There really is not much to say about the sanding but I would like to share something that I learned from Charles on my first trip to his shop in New Market VA that has really helped to improve the sanding on my projects. He showed me how to use what he calls a "trace coat" to show sanding marks or glue spots that need to be sanded out before you put on the final finish.
A trace coat is a very very diluted dye that is wiped on lightly before you start the sanding. On the first picture you can see the sanding lines on the cherry side of the bed rail that were left by the drum sander. On the cherry side I used a dark dye which will also help to bring out the curl in the wood when I put on the final finish.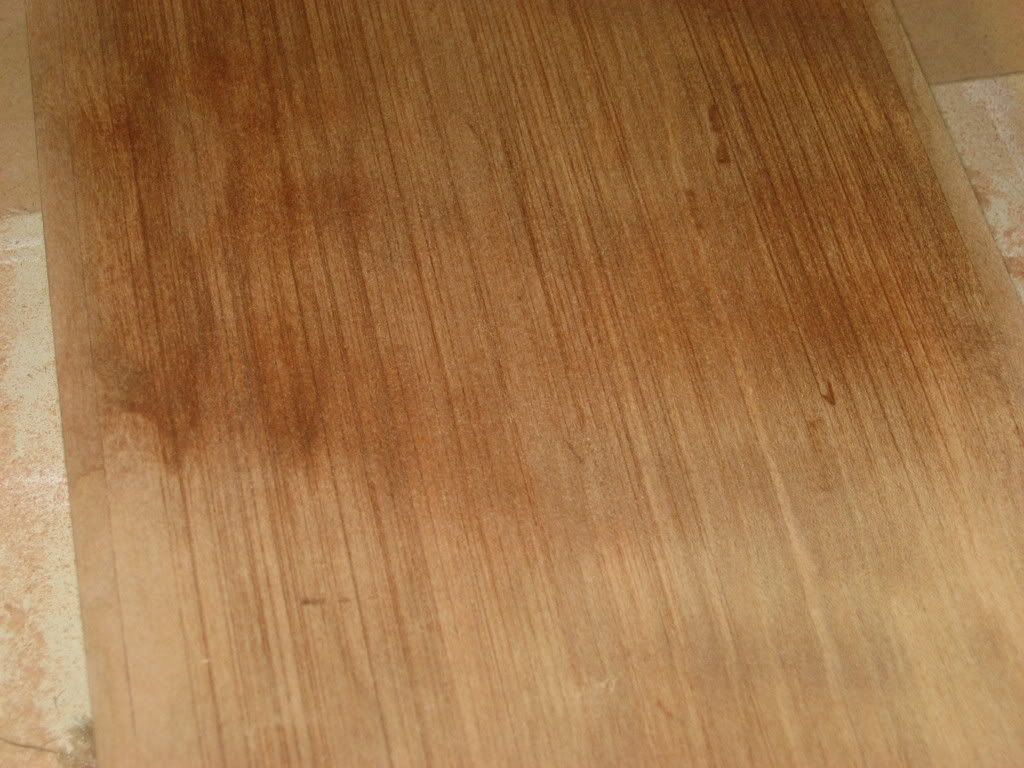 The next picture is the poplar side of the rails. I used a diluted Transtint Red dye for this side. Here you can see the glue that I thought I had gotten off before I put the dye on. After you put the dye on you sand it off with 120 grit then put the dye on again and sand it off again with 150 or 180 grit.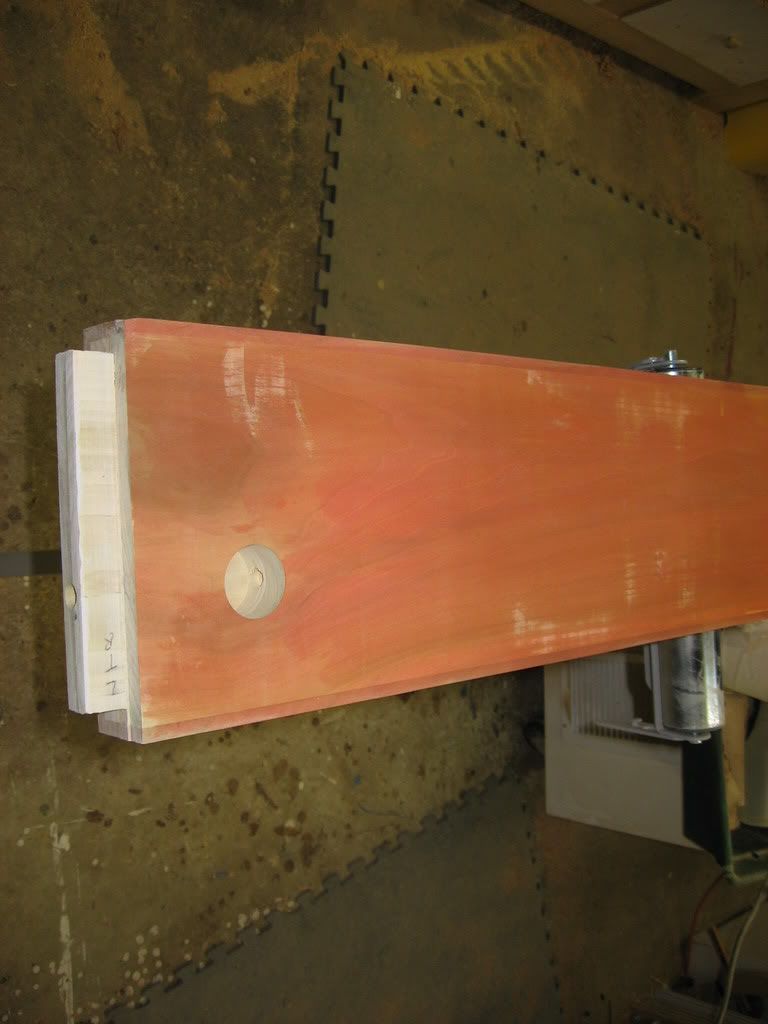 The bed rails are made up up 2 pieces of poplar with a 1/4 inch piece of cherry laminated to the face and top and bottoms of the rails. To hide the seam you need to put a 1/4 inch bead on the rails. I waited till after the rails were sanded so that the trace coat dye did not get in the crack and so that I did not flatten the bead when I was doing the sanding. After you put the bead on it looks like you have one solid rail that is 1-1/2 inches thick.

Another thing left to do is to turn some finials for the posts. I made up 2 samples for my son to pick the one he likes best (he likes the one on the right). Turning one of these was easy but making 4 that all look the same will not be as easy. I had planned on putting a canopy on the bed but when I was at my son's placed to measure his box spring and mattress I discovered that he has a ceiling fan in his bed room so the canopy will not fit (I don't think he really wanted one anyway).


If you have been following my blogs on this bed you will remember that I am building this in my basement and I mentioned in my 1st blog that I will probably wipe out a light or two till I am done with this project. While this week it finally happened. Nothing like having glass raining down on you.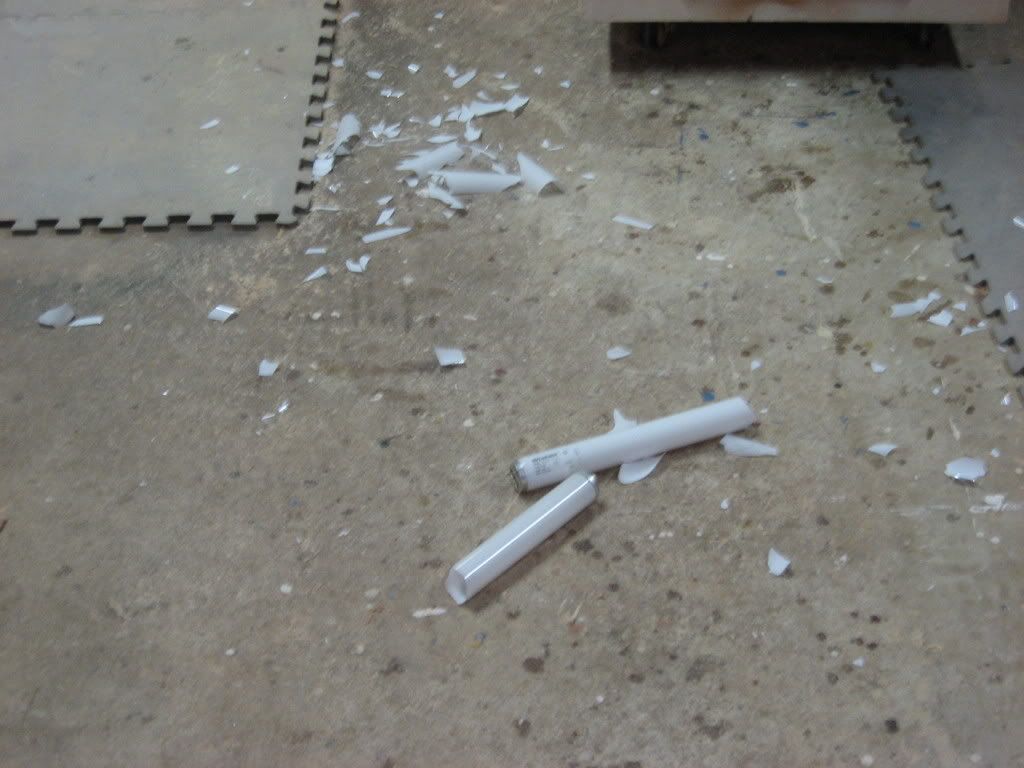 The other thing that I have been doing is working on some samples for the final finish. Here you can see my test board.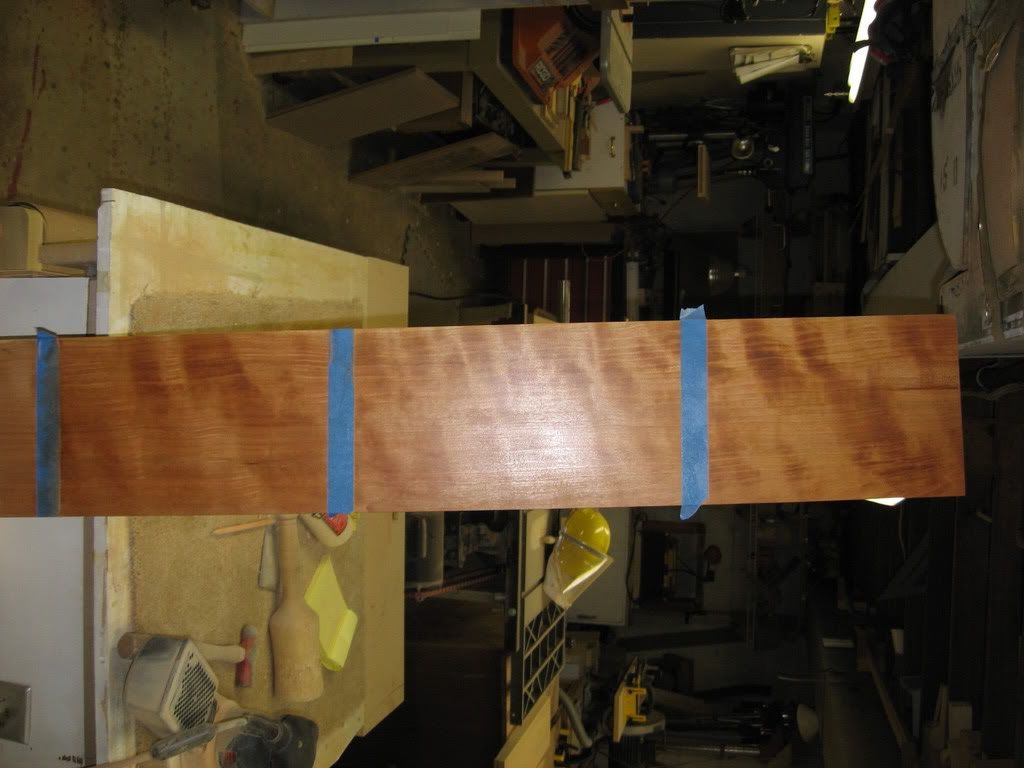 However on Sunday I got a phone call from Charles asking when I am gone to bring the bed down to be finished. So you guessed it I will be loading the bed up and heading to VA next weekend. I asked Charles what type of a finish we will be using but he wouldn't tell me. All he said is that it will be a surprise and that we will really pop the grain and that I will be spraying it. This should be interesting but at least I will have Charles there to bail me when I need it.
So stayed tuned in about 2 weeks I should be posting the final blog with the finished bed.
-- Mike www.flickr.com/photos/paturner
---