Last year about this time my son (Sean) told me that he was looking for a Pencil Post bed. Well after finding out how much they cost his next question to me was "Do you think you could make me one Dad?" I told him I would have to see if I could find any information on how to make one. I went to the Internet and typed in "How to make a Pencil Post Bed" One of the hits I got was 3 Youtube video's on just making the rails for the bed.
They were done by a guy I never heard of before CHARLES NEIL. After viewing the short clips I went to his web site and found out some more information about him. I found out that he had a complete DVD on making the bed and the jigs that you need to make the post. I ordered it right away. With the help of the DVD's I felt that this was something that I could do. One of the other things that I found out from the web site was that Charles teaches classes in his shop in New Market VA. I have been making things out of wood for a long time now but I am not a fine woodworker (I am what Charles calls a glue it and screw it woodworker) so I decided it is time for me to jump things up a notch by taking some lessons on what it takes to make fine furniture. Since New Market is only 3 hours from me I decided to sign up for a class on making a cabriole leg. Taking this class would do 3 things 1. find out if I liked this guy and the way he teaches 2. learn how to make a cabriole leg and 3. pick his brain with any questions I might have about making the bed. After just a few minutes with Charles my first question was answered. Right away he made me feel at home and he understood my level of wood working experience and was able to explain and show me things so that I understood them (even if he does talk funny). I knew right away that I had found a new friend and mentor. Within a few hours he had me banging out cabriole legs. I never thought that I would be doing that. Now for the 3rd thing, asking questions about the Pencil Post bed. In the DVD the first thing that he talks about is the size of the table saw you need to cut out the post. He said that if you only have a bench top saw to not even think about doing this, just send the DVD back.
Then he said that if you have one of those 1 1/2 hp saw that say they max out at 3 hp (right) that you are going to have a difficult time but you might be able to do it. Well that is what I have, but I was still not ready to give up. So my first question to him was just how hard of a time was I going to have. He said that I might be able to do it but I would have myself a real good cussin section till I got them all done. At this point I was begining to think that maybe I bit off more then I could chew. But I have friends that have 5 hp saws so maybe they could help me out. A few minutes later Charles came back to me and said "if you can say here another day we can cut out everything you need to make your bed" My next question to him was to ask to borrow his phone to call my wife and let her know that I would not be home that night. We spent that night and the next day cutting out everything I needed to take home to start building Sean's bed.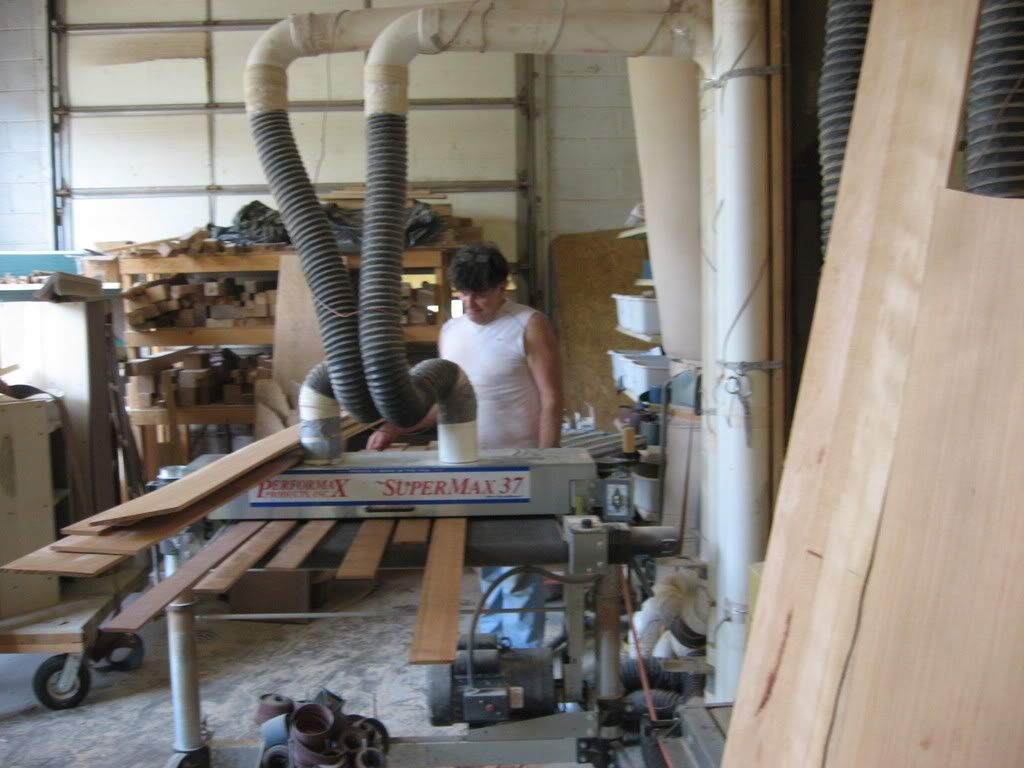 Here Charles is sanding the curly cherry for the bed rails.
So here I am back home ready to get started. As you can see from the next picture things are just a little tight in my basement shop. I will need to work between vent, lights and floor joist. Most of my equipment is on wheels so I can move things around to make it fit but I bet I will still break a few light before this project is done.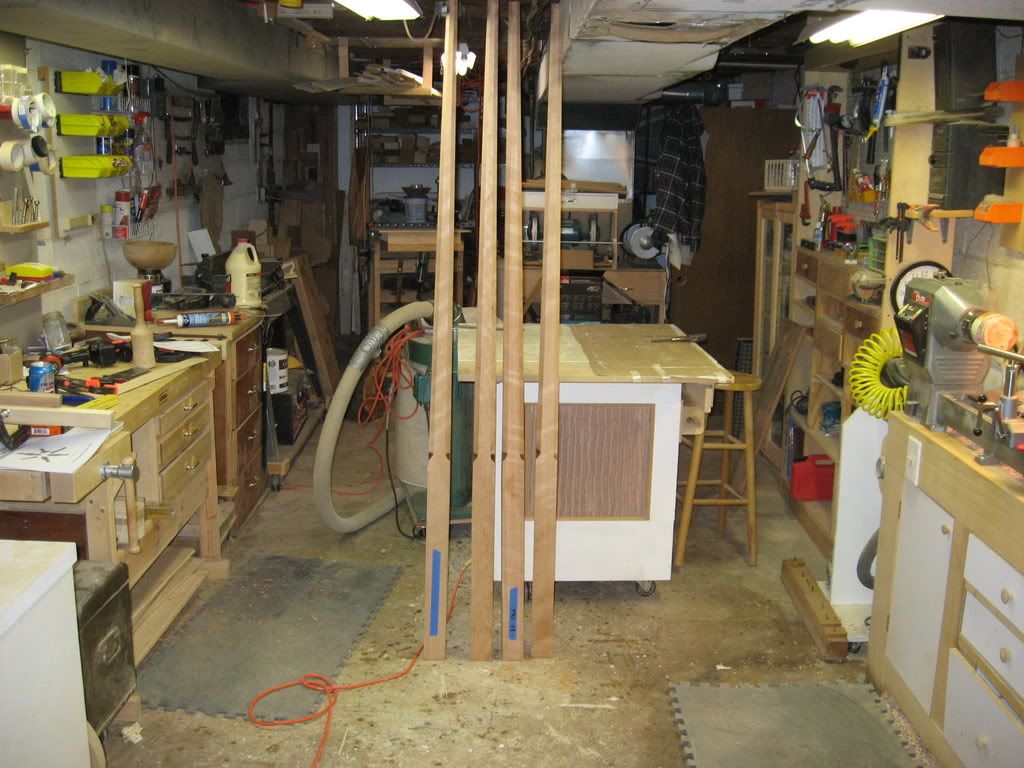 One of the things that Charles stresses on the DVD is to be sure to mark everything so that you have the proper position when you make your cuts for the mortises. I marked everything plus put the blue tape on the sides that I did not want to drill into just to be on the safe side.
The next thing I had to do is to lay out where to put the mortises. The layout is all explained in the DVD. I made a story board so that each one would be the same.


I do not have a mortising machine to make the mortises so I drilled them out on the drill press then clamped the post to my bench to hand chisel the rest.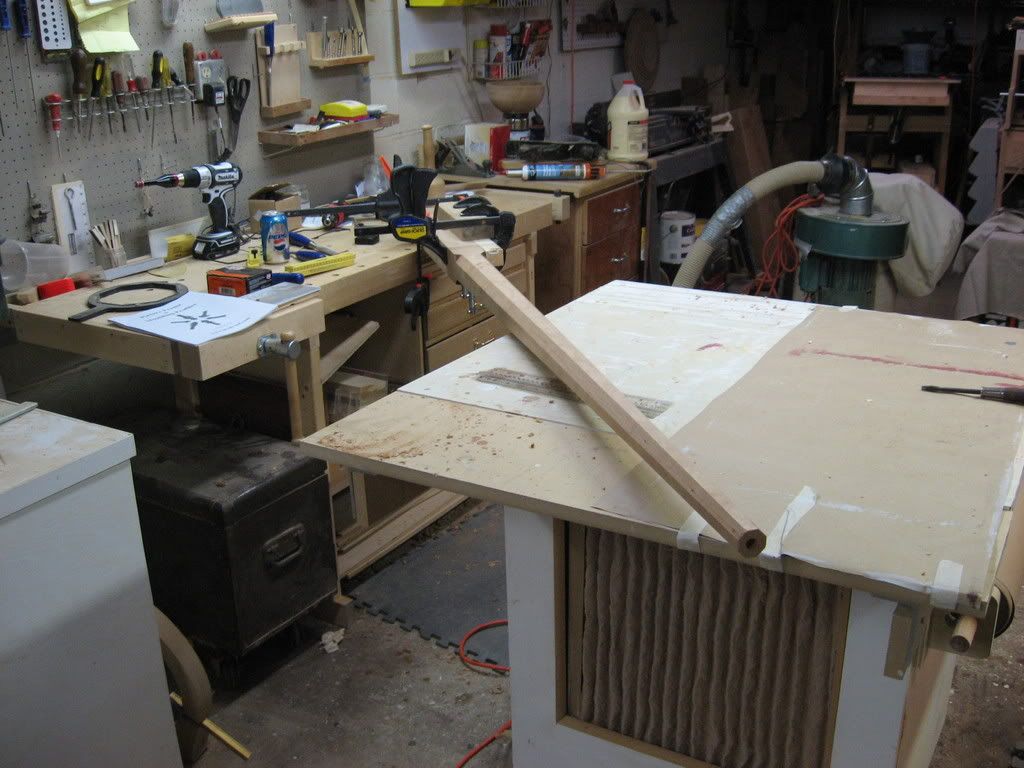 Here you can see a closeup of the way Charles shows to chisel nice straight walls when you do this by hand.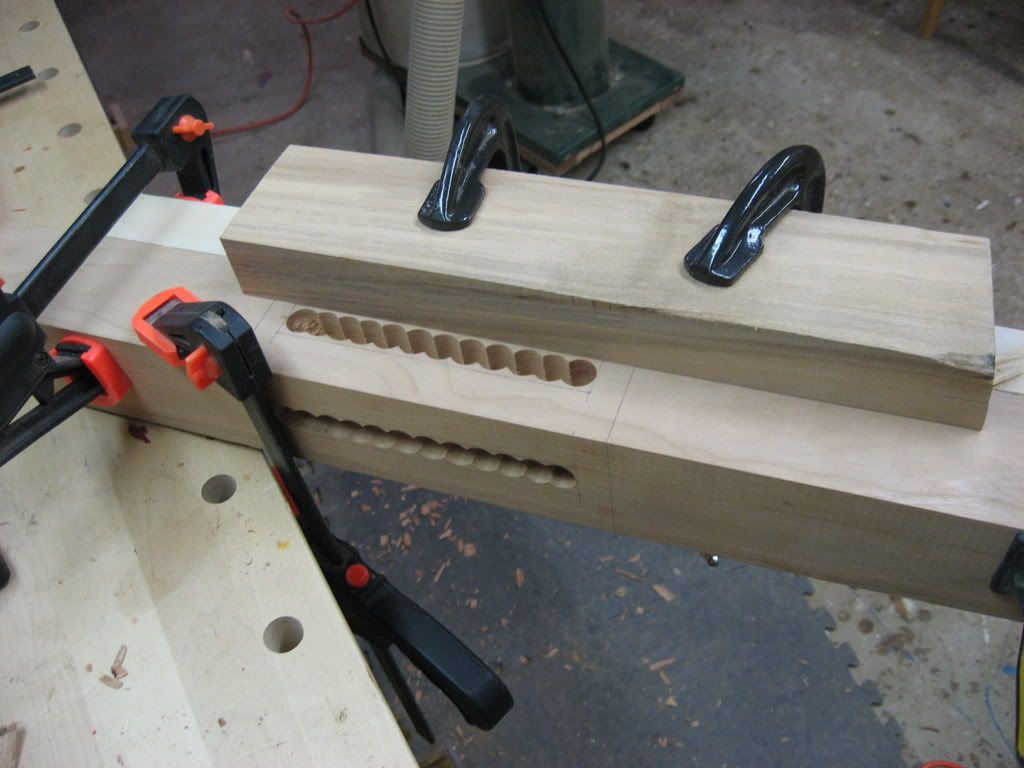 The mortises are all cut so now it is time to move onto the rails.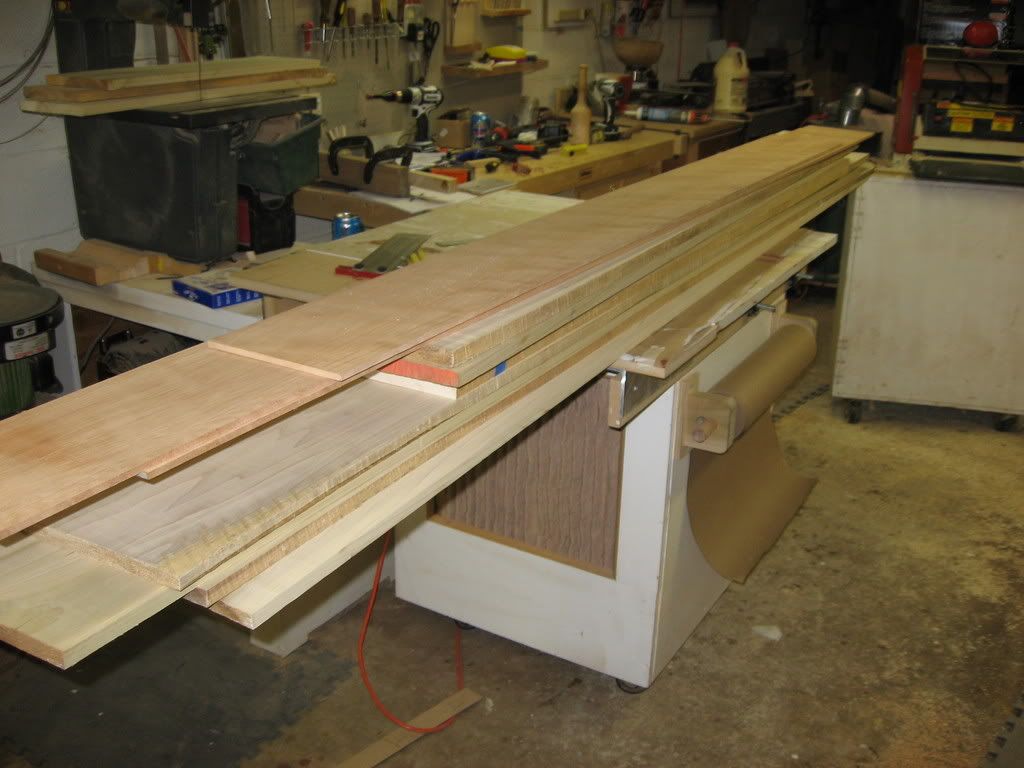 The rails are made up of 2 pieces of poplar and a 1/4 inch piece of curly cherry on the outside. Doing it this way Charles says he has never had any rail twist or warp. I went to the sawmill and got the poplar that I rough milled and left sit in my shop for a few weeks before doing the glue up. Glueing up the rails is a 2 man job so I called Sean and told him that it was time for him to come work on his bed.


I broke out every clamp in the shop and even borrowed some from my Dad to get these things glued up. I glued up 2 rails at a time so my biggest fear was that when I took the clamps off they would both be stuck together. But following the advice on the DVD I able to glue them up without any problems.
Here are the rails ready to be cleaned up and have the tenons cut on them.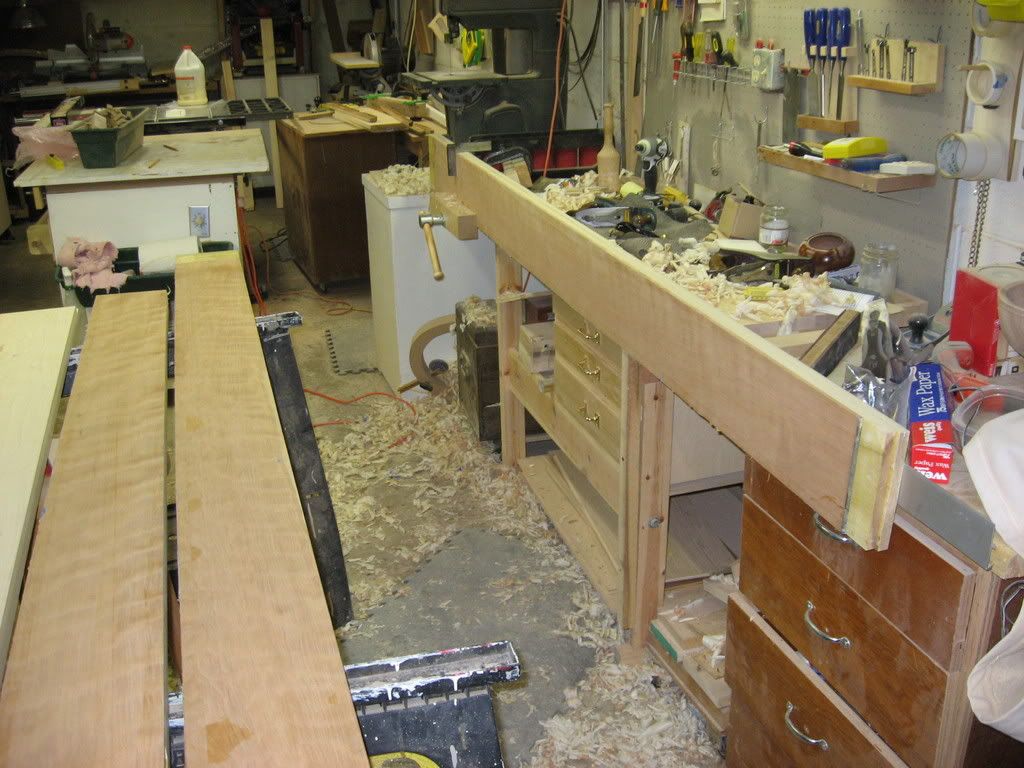 Well that all for now (hope you didn't fall asleep yet). I will post more as I get more done.
-- Mike www.flickr.com/photos/paturner
---