My son is remodeling several rooms in his house. In the living room he replaced the walls but he didn't know what to do with the corner that had the radiator in it. He ask if I could build something to cover the radiator and the pipe, so I came up with a radiator cover/corner cupboard.


I did the radiator cover part but was not sure how to go about making the top part. One of my problems was that it had to fit between the windows on each wall. The wall to the left is 27 inches from the corner out and the one from the right is 32 inches from the corner to the window. Lucky for me Charles Neil just started his webepisodes on making a corner cupboard. After watching the 1st episode on making a story board I was ready to tackle the top part. Mine is different then the one Charles is making but I could still follow what he is doing to make mine. Since this piece will have to stay with the house if they ever move I did not want to put a lot of money into it so I make the lower part out of MDF and the top part out of recycled plywood wood, Poplar and a lot of Timbermate. Also they did not want doors on it and it will be painted both inside and out.

Since I was building this in my basement I was not able to put the two pieces together to see how things were fitting so I had to drag it to my son's house to check it then bring it back home to make any adjustments.


Working on big projects gets a little tight in my basement shop.
Having everything on wheels sure helps.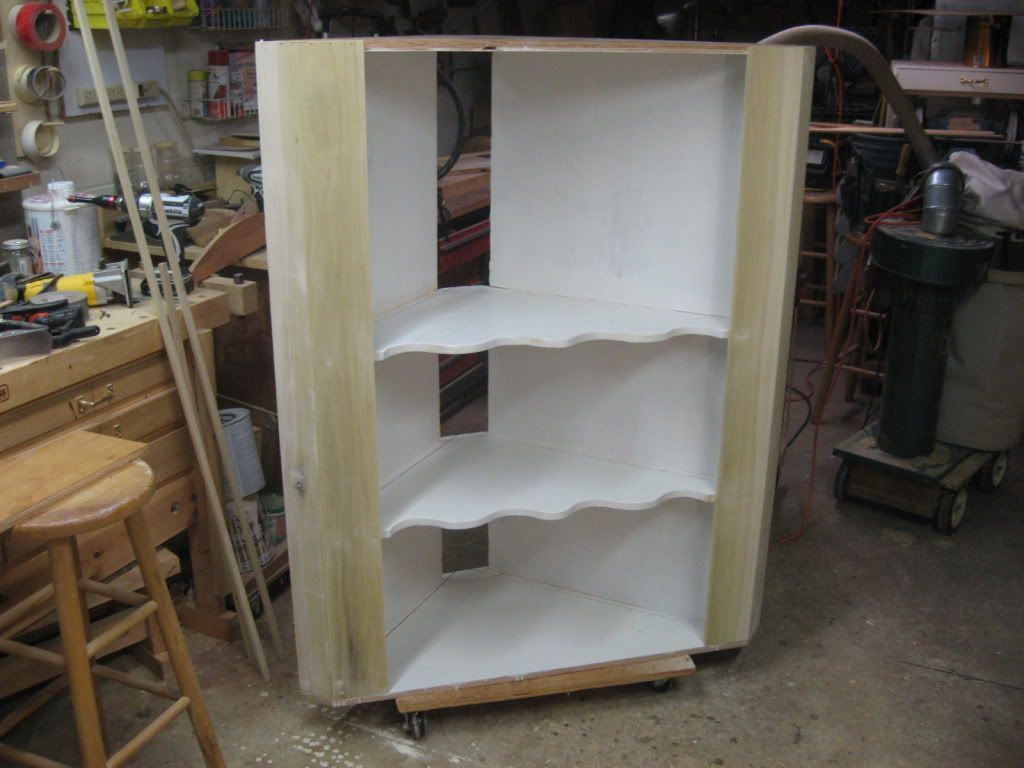 I wanted to put an applied bead edge all around the top. I was not sure how to go about putting it on the arch at the top so I sent Charles an email and he explained how to cut out the arch and save the cutoff to be used as a caul to re-clamp the bead after soaking it in very hot water for about 30 minutes then let is sit overnight to dry.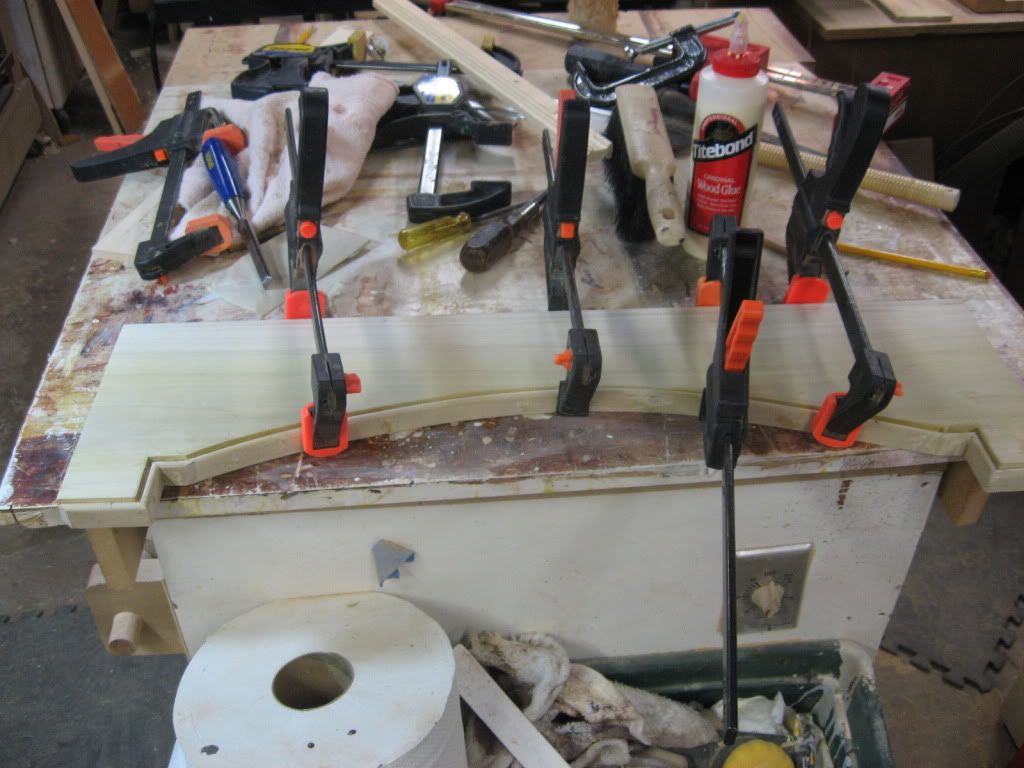 Since I wanted to get this project done before Christmas I had jump ahead of the webepisodes to figure out how to put the rest of it together. Now I watch each episode just to see what I could have done better and easier.
Here is what I ended up with.


My son and daughter in-law love it and thanks to Charles I learned a lot and continue to improve my woodworking skills.
NOTE: If you would like a sneak peek at the weekly online show 'Mastering Woodworking with Charles Neil it is available through midnight Friday, January 1, 2010. Use the link below and the username:Guest, the password is: password (they are case sensitive) http://mw.charlesneilwoodworking.com/
-- Mike www.flickr.com/photos/paturner
---