Well guys, a few projects ago I told you of a gorgeous 8' stick of beeswing aniegre I saw at Clarks Hardwood here in town, and how I couldn't afford it. This past Saturday, I went back for a 8/4 piece of black walnut for my Walnut Chippendale Chest I plan on building this Fall.
I looked in the stand up bins for something that matched the grain of my walnut, but no luck! So off to the rough lumber warehouse I went. You guys should really take time to visit Clarks if you're ever here in Houston. Once I found my 8/4 stick of walnut, I have to tell you I started window lumber shopping!!
There, just to the left of the 8/4 rough walnut, was 8/4 rough cherry. In that stack, about 3/4 of the way down was a 8/4 thick piece of cherry that was 17 1/2" wide!! I couldn't get the timbers moved around enough to get a closer look at it for color/grain/sapwood, but man it sure was an impressive piece of cherry. I bet it was 12' long!
Tired from my attempt to look at the 17 incher, I grabbed my walnut, and headed back to the front office to pay. On my way there, I passed the stand up bins on the opposite side (they are in alphabetical order) there I found another gorgeous piece of beeswing aniegre! It was over 2 years ago that I saw the first one. I don't remember seeing any rough aniegre in the rough stock warehouse. Just looking at the grain alone made me want to put the walnut back, and grab the aniegre! Well my buddy Lee at Clarks made me a deal I couldn't refuse, and now I'm the proud owner of a gorgeous 8' stick of beeswing aniegre! Looks like I'm going to get me a vacuum bag next month, so I can start veneering. I want to savor this piece of gorgeous lumber!!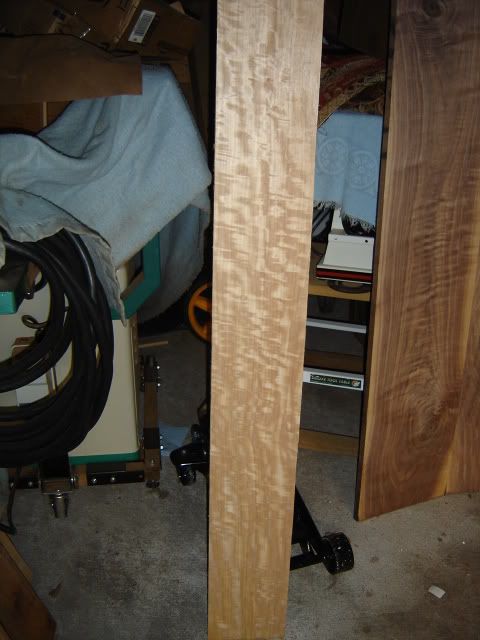 I think I could bookmatch 3 slices into a table top, and build a frame in cherry and really set this beauty off!!
-- Matt Garcia Wannabe Period Furniture Maker, Houston TX
---