The strongback is completed and the molds are in position. Starting to take shape! The strongback is the very flat, level and squared box in the photos below. It is attached to short (2 foot high) sawhorses on each end. The molds are attached and braced to the strongback. The boat will be constructed upside down over the molds. So far, I haven't built anything that will be an actual piece of the boat when it's completed! Everything in the pictures below will eventually go to the lumber pile for some future project. Ah well. More exciting stuff is coming up soon.
Next is building the transom (the back of the boat) and attaching that to the strongback. This will be the first "real" piece of the boat.
Thanks for reading!
Photos shows the view facing the front of the boat.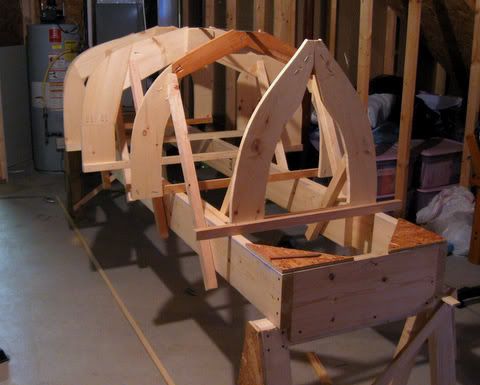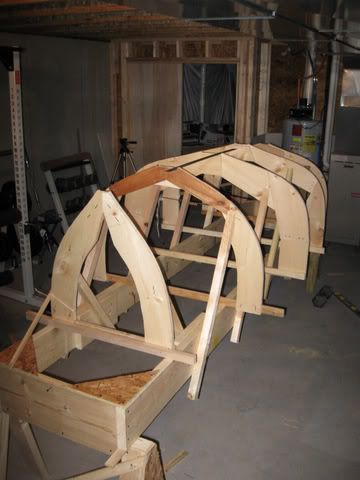 Strongback Materials List:
(2) 2×8x12, Lowes
(1) 2×10x10, Lowes
(2) 2×4x8, Lowes
Total for above: $33
Misc nails and scrap lumber
Project Materials Summary:
Plans and Book: $60
Lofting Supplies: $47.88
Mold Supplies: $36
Strongback Lumber: $33
- Total Project Expenses so far: $176.88
Labor Hours Summary:
5/29/09 – 6/8/09: Lofting – 12 Hours
6/14/09 – 6/20/09: Building Molds: 5 Hours
6/25/09 – 6/27/09: Building Strongback: 7.5 Hours
- Total Project Labor Hours so far: 24.5 Hours
-- Matt - Syracuse, NY
---