Finished the molds today! The molds create the form upon which the boat will be built. There are 5 mold forms for this boat.
The shape of the molds are taken right from the lofting drawing. Picking Up refers to techniques of transferring shapes on the lofting to boards so that the shapes can be cut out. To pick up the mold shapes, I ground off half of the heads of a few dozen nails so that they would lay flat exactly on the lines in the drawing that I wanted to transfer. I then placed boards over the nails and lightly hammered down until the nails stuck into the wood. The boards are flipped over and a batten is used to draw a curve along the impressions left by the nail heads. The molds are then cut out on a bandsaw (both sides at the same time). The 2 sides of the mold are then compared to the lofting for any fine tuning. They are then nailed in place on the lofting and tied together with cross-spalls and cleats.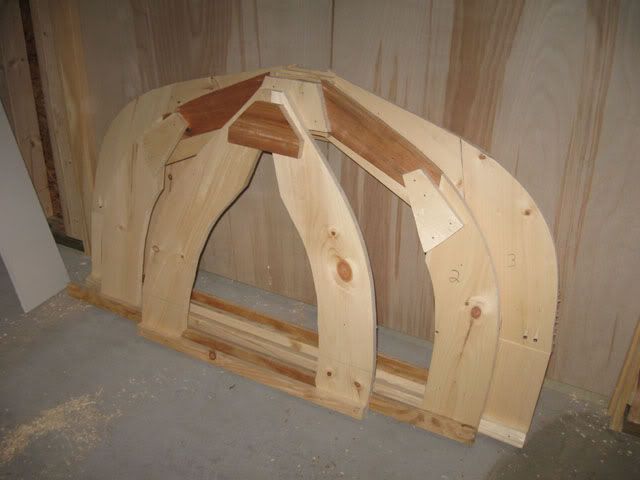 Next is building the strongback and placing the molds.
Mold Materials List:
(2) 1×8x12, Lowes, $24
(2) 1×6x12, Lowes, $12
Misc nails and scrap lumber
Project Materials Summary:
Plans and Book: $60
Lofting Supplies: $47.88
Mold Supplies: $36
- Total Project Expenses so far: $143.88
Labor Hours Summary:
5/29/09 – 6/8/09: Lofting – 12 Hours
6/14/09 – 6/20/09: Building Molds: 5 Hours
- Total Project Labor Hours so far: 17 Hours
-- Matt - Syracuse, NY
---